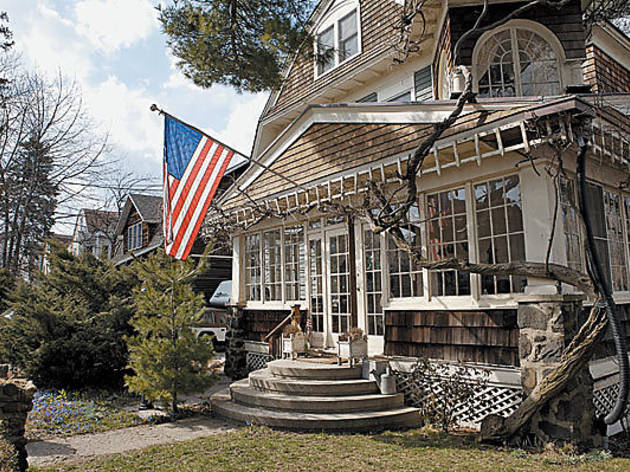 Stats
What you'll pay: $550,000
What you'll get: A three-bedroom house in coveted north Bayside
Distance to midtown: Half an hour to Penn Station on the LIRR; 25 minutes by car (without traffic) on the LIE
So you've been fantasizing about walking barefoot across your front lawn to retrieve the Sunday Times. Instead of moving to Mamaroneck, check out Bayside. Lined with quaint Colonials set back on picturesque lots, the northeast Queens neighborhood bordering Little Neck Bay has some of the highest-rated schools in the city. It also adjoins three sprawling parks. "Alley Pond Park is right across the street and it's never crowded," says Carolina Stapleton, mom of three-year-old Dylan and baby Lia. "It's the biggest backyard anybody could have." The family, who moved to Bayside two years ago, enjoy summer hikes in the woods; in winter, the park offers sleigh rides (Alley Pond Park, Grand Central Pkway at Cross Island Pkwy, 718-229-4000).
The commercial backbone of the 'hood is Bell Boulevard. Stapleton's neighbor Brigitte Lanzer, mother of Jake, 5, and Erik, 1, picks up Sunday breakfast at the Bagel Shoppe (215-03 73rd Ave between 215th St and Bell Blvd, 718-423-6692) on her way to the park's picnic area. On Monday mornings, she brings her boys to Barnes & Noble (23-80 Bell Blvd at 26th Ave, 718-224-1083) for story hour. Also on Bell, Maggie Moo's Ice Cream & Treatery (39-33 Bell Blvd between 39th and 40th Aves, 718-229-0229) offers children's birthday parties and school trips to learn about making ice cream.
The huge Bay Terrace shopping plaza (Bell Blvd and 26th Ave, bayterrace.com) rivals any suburban mall with its convenient lineup of chain stores (including the Children's Place, Gap, Duane Reade and Baskin-Robbins), plus essentials like a post office, a gas station, several banks and a six-screen AMC Loews Theatre. The Samuel Field/Bay Terrace YM & YWHA (212-00 23rd Ave at 212th St, 718-423-6111), next door, presents a comprehensive roster of kids' programming, from early childhood and nursery school to Little League and summer camp. Its pool and tennis center draw crowds in warm weather.
Parents praise Bayside's elementary schools for small class sizes and high test scores. One of these, P.S. 205 (75-25 Bell Blvd between 75th and 77th Aves), was exempted from citywide uniform curriculum standards because of its top performance; it hosts educators from nearby Queens College to help develop programming, according to InsideSchools.org. Unlike in many tristate burbs—or even some Manhattan nabes—residents of Bayside range from blue-collar to white-collar and from young families to old-timers who settled here after World War II. The housing reflects this demographic diversity, in a mix of high-rise luxury apartment buildings (a local broker claims that 50 Cent and members of the Mets have called Bayside home), hulking McMansions, low-slung brick garden co-ops and boxy stone Colonials, some overlooking the water. The small but charming garden co-ops in south Bayside provide a good entry point for first-time buyers, starting at $235,000 for a two-bedroom. Prices, square footage and amenities increase as you head north of Northern Boulevard. There, a three-bedroom brick Colonial was recently listed for $550,000, while homes in gated communities such as Bayside Gables start at about $1 million, says Rene Nario of RE/MAX Universal Real Estate.
Bottom line: Water, woods and first-rate schools add up to an urban Eden.