Best of the boroughs for NYC kids: Brooklyn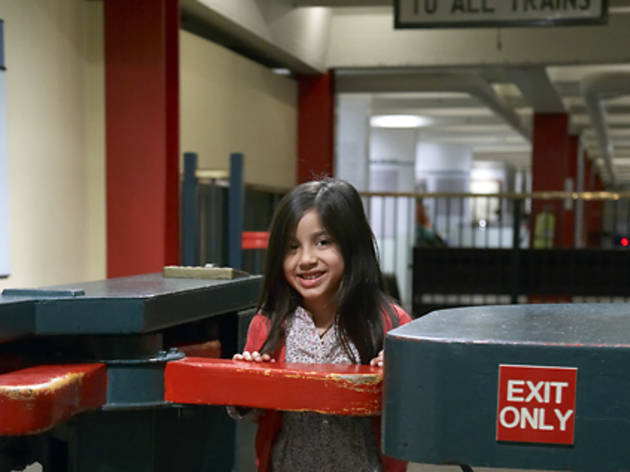 1/9
Photograph: Dan Hallman
The New York Tranist Museum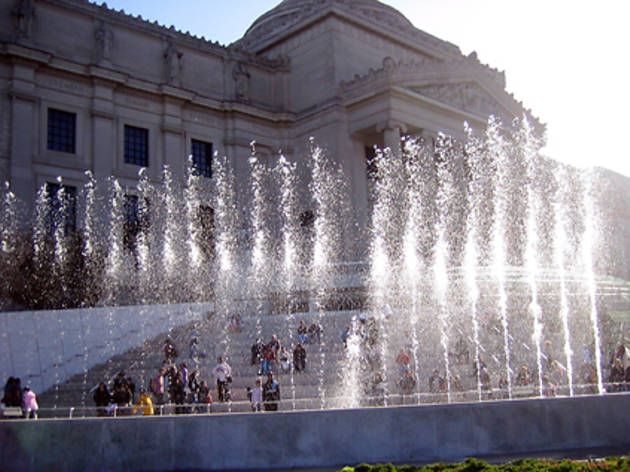 2/9
Photograph: Courtesy of Brooklyn Museum
Brooklyn Museum fountain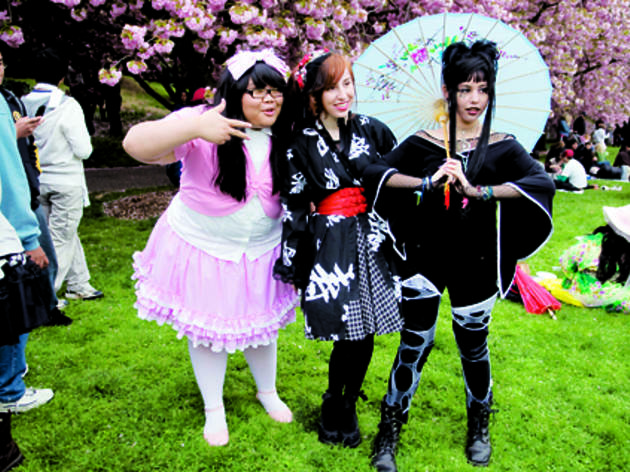 3/9
Photograph: Joseph O. Holmes courtesy Brooklyn Botanic Garden
Brooklyn Botanic Garden Sakrua Matsuri Cherry Blossom Festival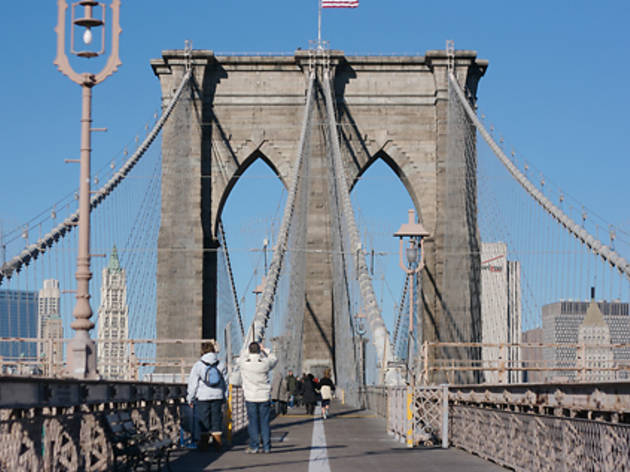 4/9
Brooklyn Bridge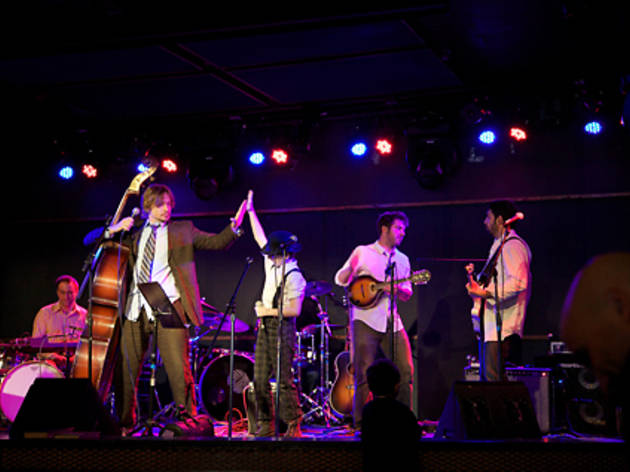 5/9
Photograph: Rachel Loshak
The Deedle Deedle Dees at The Knitting Factory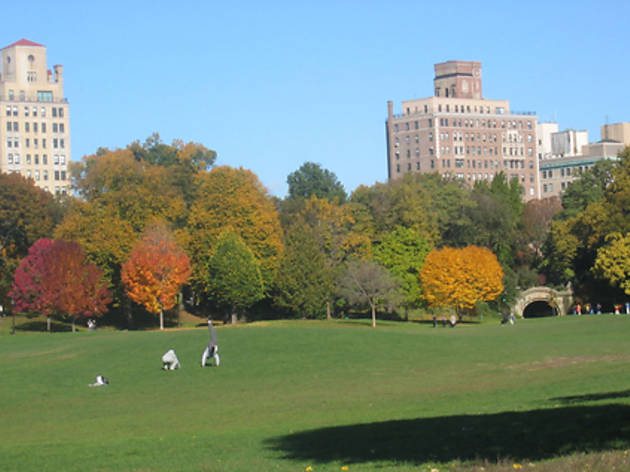 6/9
Prospect Park Brooklyn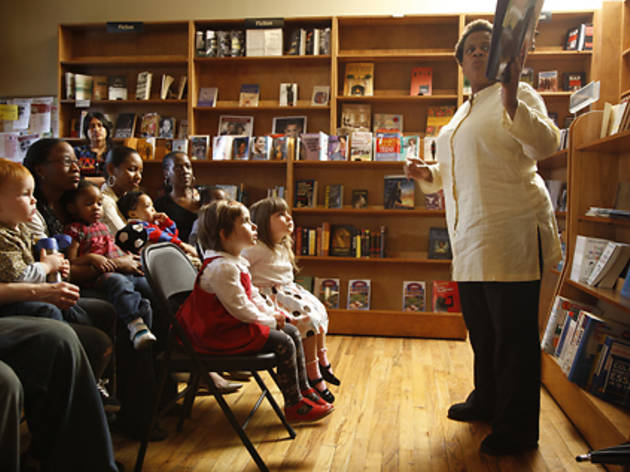 7/9
Photograph: Alex Freund
Brownstone Books Story Time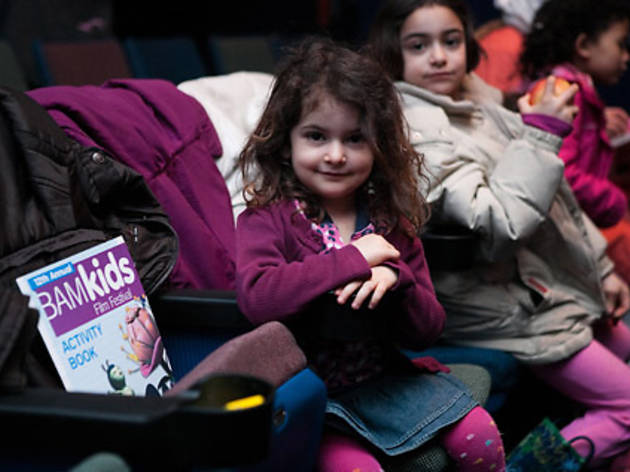 8/9
Photograph: BAM Children's Film Festival
Beowulf Sheehan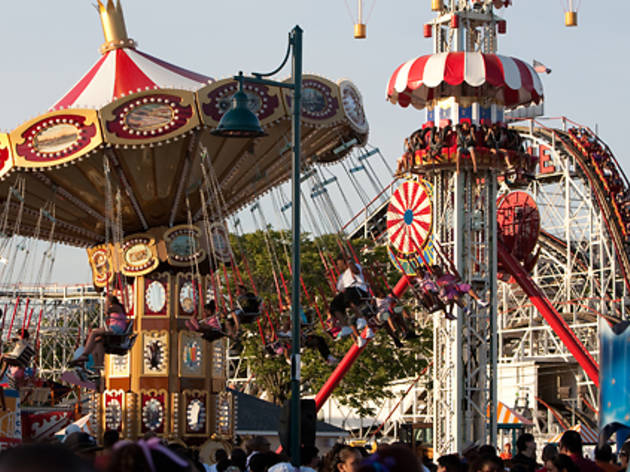 9/9
Photograph: Robert & Robbie Bailey
Luna Park Coney Island
Best place to (legally) jump a turnstile
The New York Transit Museum
Strange but true: There's a place that makes the MTA seem like a source of goodness, magic and whimsy. The Museum's simulated traffic intersection (replete with traffic lights and DON'T WALK signs) cleverly brings the city down to kid-scale, just as every child dreams it should be. Tots can interact with different generations of turnstiles and subway cars, gawk at tokens and play at driving a real, decommissioned bus. As for parents: Marvel as your own cynicism evaporates. Boerum Pl at Schermerhorn St, Downtown Brooklyn (718-694-1600, mta.info/mta/museum)
Best unsung edibles
Gratis pickles, cole slaw and pickled beets at Junior's
The cheesecake is the restaurant's claim to fame, but we like to work our way up to the sweet slab of loveliness. There's no better way to begin than with the perfectly salty-sour pickles and other crunchy bites that are served before every meal at Junior's. The jury's out on whether nutritional value is lost in the pickling process, but we're guessing your kids won't mind either way. 386 Flatbush Ave at DeKalb Ave, Downtown Brooklyn (718-852-5257, juniorscheesecake.com)
Best place to study the physics of water
The fountain in front of the Brooklyn Museum
The dancing display was designed by the same folks who created the fountain at Las Vegas's Bellagio. On some days, the spouting jets can entrance children into a quiet bliss, as they watch the rhythmic crescendo of water and light. On other days, the playful droplets stir kids into a screaming frenzy, drawing some of them across the barrier to get soaked. Not yours, of course. 200 Eastern Pkwy at Washington Ave, Prospect Heights (718-638-5000, brooklynmuseum.org)
Best introduction to Cosplay and the Goth-Loli subculture
The Sakuri Matsuri Festival at the Brooklyn Botanic Garden
Yes, the Cherry Esplanade is breathtaking in late April and early May. But what really opens kids' eyes is the multiethnic gathering of teens dressed as anime heroes or modeling Victorian garb during the two-day festival that occurs, ideally, when the blooms are at their peak. The celebration has incorporated elements of Japanese youth culture into its offerings—and the setting's a lot more scenic than that of Comic Con. 900 Washington Ave at Eastern Pkwy, Prospect Heights (718-623-7200, bbg.org)
Best reason to go on a 45-minute walk
The Brooklyn Bridge
Your young ones may normally greet the prospect of a stroll with protests of mysteriously crippling leg cramps. The world's first steel-wire suspension bridge, though, holds the cure for what ails them. Its soaring spider-web cables will beckon them forward toward the massive granite arches as Manhattan (or Brooklyn) falls away. Soon, they'll feel the exhilaration of the exposure to the elements—wind, sun, speeding cyclists—and be stunned by views of the skyline and the perilous drop to the waters below. They just might forget they're even walking.
Best introduction to hipster culture
Knitting Factory Brooklyn
At this venue, best known for scenester bands like Les Savy Fav and A Sunny Day in Glasgow, you can get your family groove on at near-monthly concerts from local groups the Fuzzy Lemons and the Deedle Deedle Dees. That's just for starters: Soon, your children will graduate to the Knitting Factory's Muppet Vault, a recurring screening of Jim Henson material that's carefully curated by the Factory's Muppet archivists. As you, your kids and the inebriated twentysomethings with hefty sideburns all sing along to Kermit's "Rainbow Connection," you'll wonder who's following whose lead. 361 Metropolitan Ave at Havemeyer St, Williamsburg (347-529-6696, bk.knittingfactory.com)
Best place to reap the benefits of a suburban lawn without actually moving out of the borough
Prospect Park
After a major snowstorm, that kid in Westchester has nothing on the child who stands in the park's Long Meadow. With a 100-plus--yard slope in the northeast corner that's prime for sledding, and a mile-long stretch dotted with snowmen and snow castles, the urban oasis can't be beat. Of course, it's not just a winter wonderland: At other times of the year, Brooklyn families plunk down their picnic baskets, raise their kites and kick their soccer balls as if it's their own personal backyard. prospectpark.org
Best first step toward being a Jonathan (Lethem or Safran Foer, that is)
Hanging out at your local independent bookstore
Brooklyn is the city's literary hub, and children's events abound at the borough's many indie shops. Check out powerHouse Arena in Dumbo and Cobble Hill's BookCourt, in particular, for A-list author appearances. Greenlight Bookstore in Fort Greene and P.S. Bookshop in Dumbo host weekly storytimes; Bedford-Stuyvesant's Brownstone Books holds its session twice a week. Add major gatherings like the annual Brooklyn Book Festival to the mix, and "author" might replace "fireman" as your kid's fantasy profession.
Best gateway to a Film Forum membership
The BAMkids Film Festival
The late-winter festival's programming can sometimes be awkward and unpolished, but it's always wonderfully idiosyncratic and endearing. No Disney Channel fare here, thank you very much. Your budding cinephile may give the thumbs-down to the occasional boring, hard-to-hear animated short from Denmark, but most of the time, she'll be lapping up films that are rich in creativity and wonder. 30 Lafayette Ave between Ashland Pl and St. Felix St, Fort Greene (718-636-4100, bam.org)
Best place to scream, feel like you're going to throw up, and then beg to do it again—and again
Luna Park in Coney Island
Although the Cyclone rattles on, a new generation of adrenaline junkies is swarming Coney Island's Luna Park. Soon-to-be legendary rides include the bone-shaking Tickler roller coaster, the spinning, death-defying Air Race and the scary, 100-foot-high Brooklyn Flyer swing. Sorry, shorties: You must be four feet tall to ride the big-kid attractions. And parents: Bring along the Dramamine. 1000 Surf Ave at W 10th St, Coney Island (718-373-5862, lunaparknyc.com).