Best of the boroughs for NYC kids: Manhattan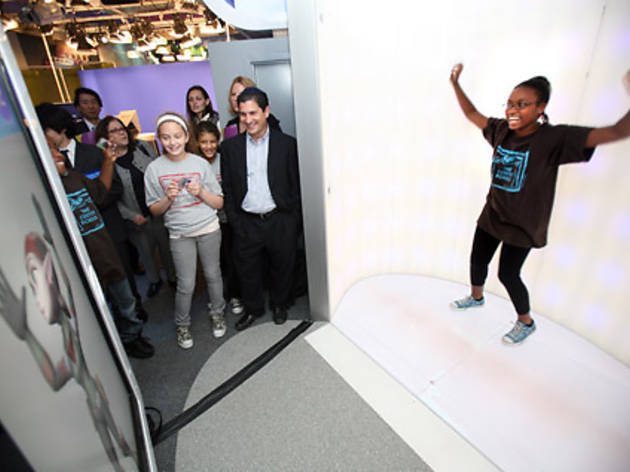 1/10
Photograph: Courtesy of the Sony Wonder Technology Lab
Dance Motion Capture exhibit at Sony Wonder Lab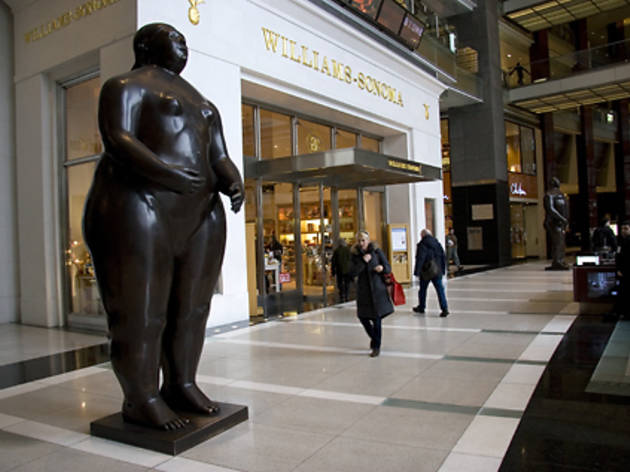 2/10
Photograph: Caroline Voagen Nelson
Fernando Botero statues at the Time Warner Center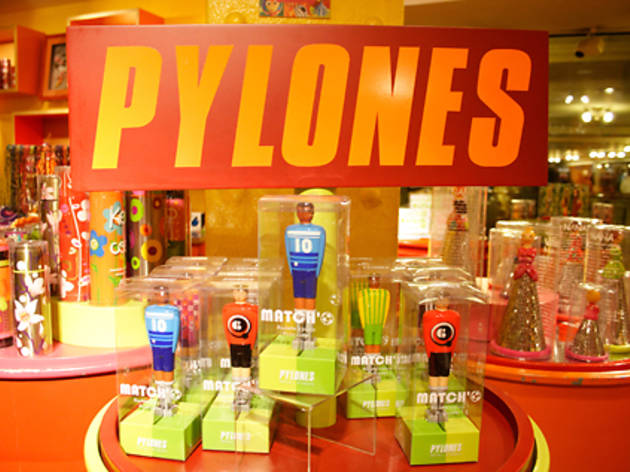 3/10
Photograph: Robert Nguyen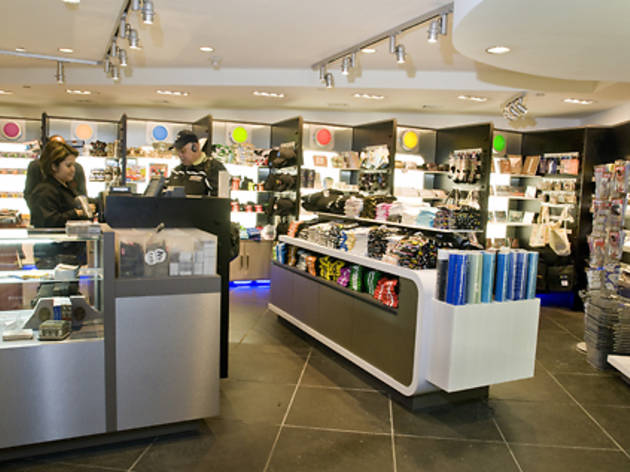 4/10
Photograph: Patrick J. Cashin
The Transit Museum shop at Grand Central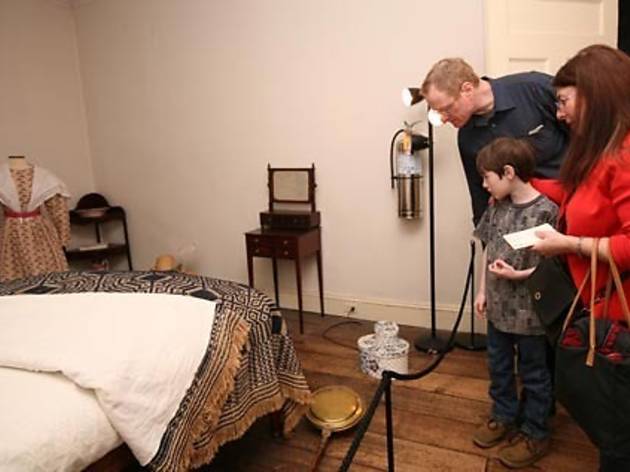 5/10
Photograph: Imogen Brown
Exploring a display inside the Mount Vernon Hotel Museum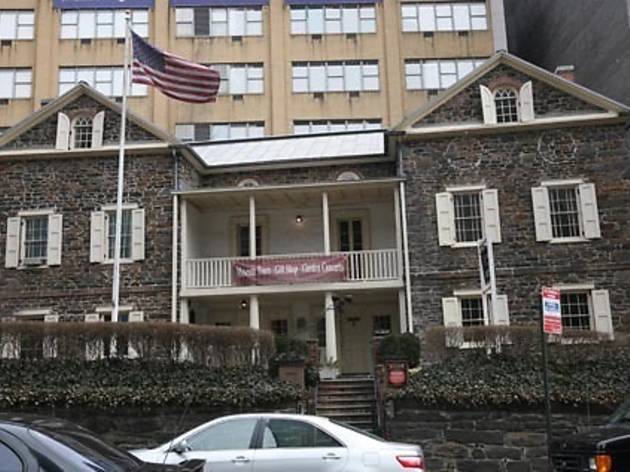 6/10
Photograph: Imogen Brown
The exterior of Mount Vernon Hotel Museum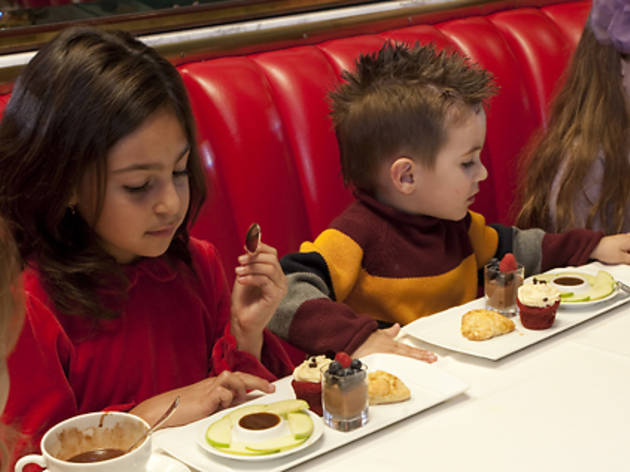 7/10
Photograph: Cinzia Reale-Castello
Tea time at Russian Tea Room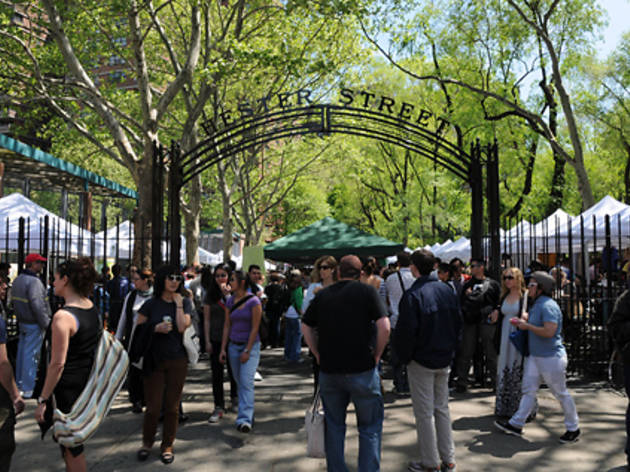 8/10
Photograph: Ron Castellano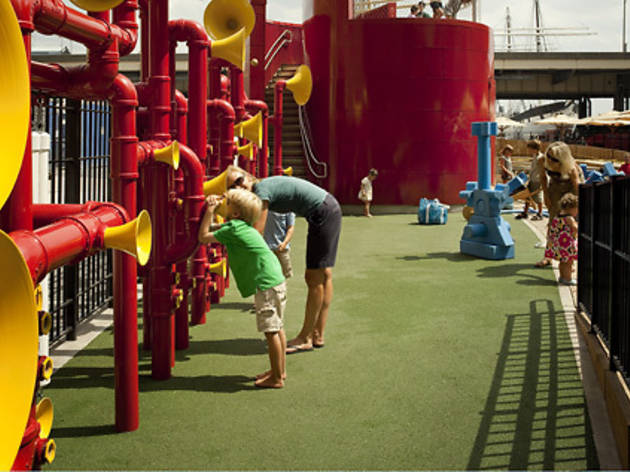 9/10
Photograph: Frank Oudeman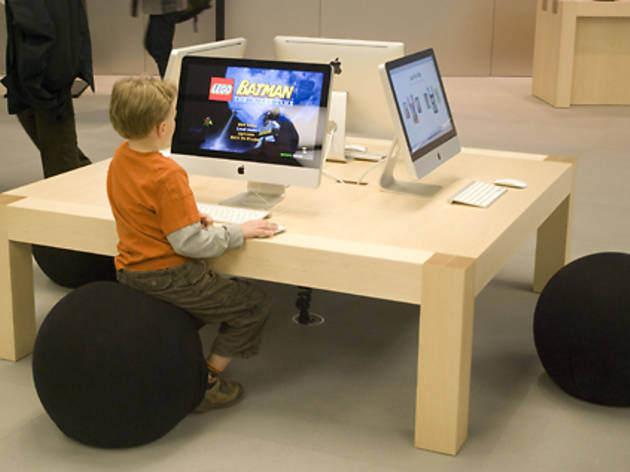 10/10
Photograph: Jolie Ruben
Apple Store on Upper West Side
Best place to bust a move
Sony Wonder Technology Lab
Ever wonder how they got those animated penguins to dance like Savion Glover in Happy Feet? If so, check out the Dance Motion Capture exhibit at this midtown spot. Kids stand in front of the camera and do their best booty shake and hand jive. Then, they choose an avatar and watch as the character performs their unique moves. Have your kids wear dark clothes, which the camera can capture better. 550 Madison Ave at 56th St (212-833-8100, sonywondertechlab.com)
Best place to giggle at naked statues
The lobby of the Time Warner Center
Looming roughly 20 feet tall over the lobby of the Time Warner Center, a pair of whimsically zaftig nude sculptures by Fernando Botero have been amusing curious city kids for the past six years. It's not just children who love to laugh at the tubby bellies and naked bits, though—so many hands, big and small, have touched the man's privates that they've been burnished to a color lighter than the rest of the statue. After your crew gets its giggles out, there's plenty more to see—grab a good read at Borders or ogle the cookies at Bouchon Bakery. Be sure to wave good-bye to the statues on your way out. They'll be waiting, in all their glory, for your family's next anatomy lesson. 10 Columbus Circle at 59th St (212-823-6300, shopsatcolumbuscircle.com)
Best preboarding time killer
Browsing the shops at Grand Central Terminal
If you're visiting Nana and Poppy on Long Island, maybe you can pick up a paperback and a slice of pizza as you wait in Penn Station. But lucky are the kids who pass through Grand Central on the way to Westchester or Connecticut: Not only does the Beaux-Arts beauty boast the most ooh-inspiring ceiling in all of New York, but you can browse to your heart's content. At Pylones, jump ropes look like frogs, pens wear ballerina tutus, and hairbrushes come in explosively colorful designs. Train-obsessed tots can score engineer caps, wooden whistles, or a replica of that subway or bus they rode to the station at the Transit Museum Store. The terminal's other shops are worth exploring too—even if you don't have a train to catch. Grand Central Terminal, 42nd St at Lexington Ave (212-340-2583, grandcentralterminal.com)
Best museum that never has a crowd
Mount Vernon Hotel Museum & Garden
We love the American Museum of Natural History, but the weekend crowds can get so thick that both parents and kids need a two-hour nap to recover. Instead, take a step back in time at this charming museum even many life-long city dwellers have missed (the 1799 building was a hotel in the days when the UES was considered a country getaway). Older kids will marvel at gadgets like a 19th-century toaster; little ones will love the monthly story hour. 421 E 61st St between First and York Aves (212-838-6878, mvhm.org)
Best reason to get dressed up
Russian Tea Room
Everything about the Russian Tea Room sings "special occasion"—the top-hatted doormen, the jeweled eggs, the gleaming samovars. The special children's tea ($25 per kid) grants tots a sumptuous spread of blinis with PB&J (instead of those icky fish eggs), cucumber sandwiches, scones, cupcakes, and herbal tea or hot cocoa. It'll make little ones feel like Russian royalty (without the revolutionary ending, that is). 150 W 57th St between Sixth and Seventh Aves (212-581-7100, russiantearoomnyc.com). Tea available daily from 2 to 4:30pm.
Best thrill in Central Park
The Granite Slide
There are slides, and then there are sliiiides. This extra-long stone chute, built into the hillside at the Billy Johnson Playground in Central Park, is known by adventure-loving grade-schoolers as the best ride this side of Coney Island. Extra-daring kids often bring along cardboard to make the journey down even faster. Ride at your own risk. Near Fifth Ave at 67th St
Best place to have a snack
Hester Street Fair
A hundred years ago, pushcarts sold sour pickles and "slightly damaged" eggs in this area of the Lower East Side; today you'll find tables piled high with 21st-century treats such as red velvet macaroons, butterscotch blondies, fresh tamarind ice pops and chocolate peanut-butter pretzel pie. Tots are sure to leave with happy bellies and smiles on their faces. Hester St at Essex St (hesterstreetfair.com); Saturdays and Sundays through October, 10am--6pm
Best way to spend allowance
The Dollar Spot at Target in East Harlem
There are plenty of Targets in the 'burbs, but the experience at this megastore, perched over the East River on the edge of El Barrio, is uniquely New York: Neighborhood moms wheel carts through mammoth displays of bananas, frozen Chinese food and canned beans, while fashionistas from further afield check out designer labels and cheap-chic towel racks. But for kids, the single best reason to hop the 6 train is the dollar section at the front of the store—a continually replenished treasure trove of things you must have now. A recent haul included Chinese-silk headbands (four for a dollar!), a bag of plastic dinosaurs, tins of flavored lip gloss and a Star Wars yo-yo. 517 E 117th St between FDR Dr and Pleasant Ave (212-835-0860, target.com)
Best nonbeach spot to get sand in your shoes
Imagination Playground: There's been something of a playground renaissance in
NYC recently, but our fave by far is the Imagination Playground at the South Street Seaport, designed by architect-dad David Rockwell. Instead of the usual monkey bars and slides, this 18,000-square-foot wonderland has water spouts, sand tables and an almost endless supply of giant blue foam pieces; they fit together like Tinker Toys to make whatever Rube Goldberg--esque contraption your kid can dream up. Parents know this kind of play stimulates creativity and fosters collaboration, yada yada yada, but kids just know it's awesome. Burling Slip, John St between Front and South Sts (imaginationplayground.org)
Best place to get digital
Apple Store on the UWS
At any of the city's Apple stores, tech-savvy kids can play on iPads, iMacs and iPods to their hearts' content—or until another waiting customer gives them the evil eye. While all locations get busy, the UWS outpost is generally the least crowded; it also has the most accommodating staff. Go on an off hour and your little ones can probably play for hours. Getting them out the door without a "buy me" meltdown is a whole other issue.1981 Broadway at 67th St (212-209-3400, apple.com).