Best of the boroughs for NYC kids: Queens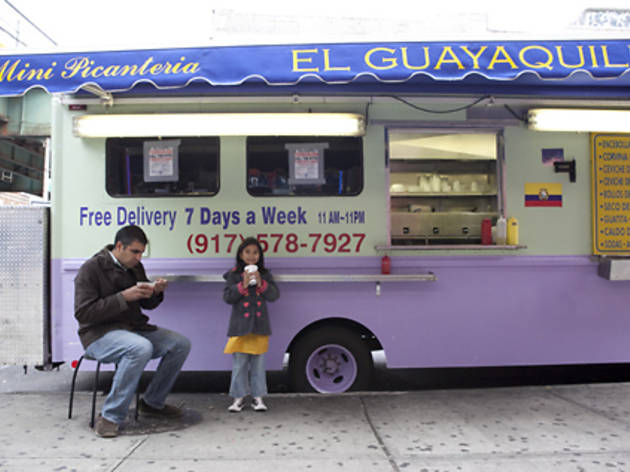 1/14
Photograph: Tory Williams
Jackson Heights food trucks- El Quayaquileno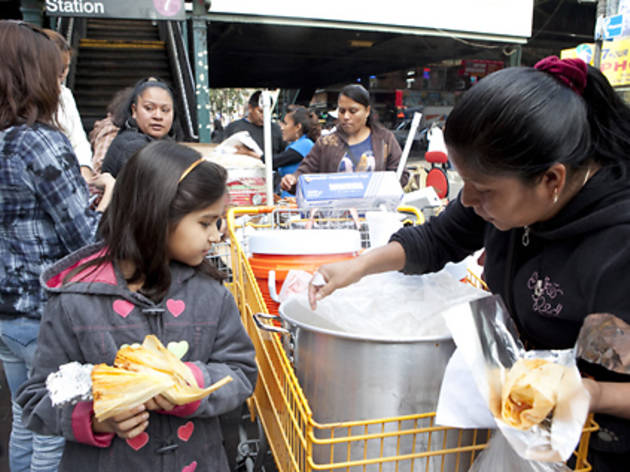 2/14
Photograph: Tory Williams
Jackson Heights food trucks- Tamale Lady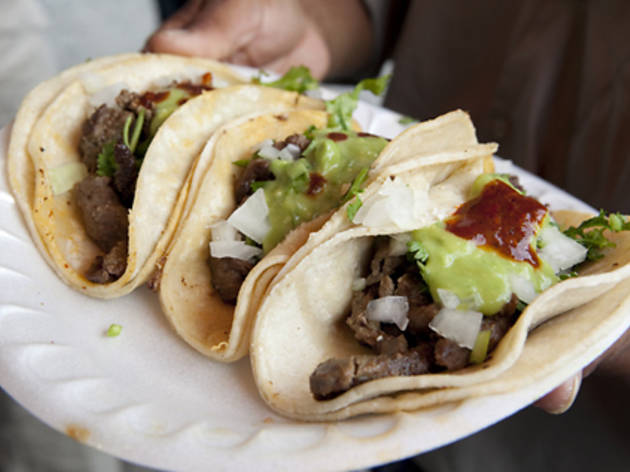 3/14
Photograph: Tory Williams
Jackson Heights food trucks-  El Mexico Lindo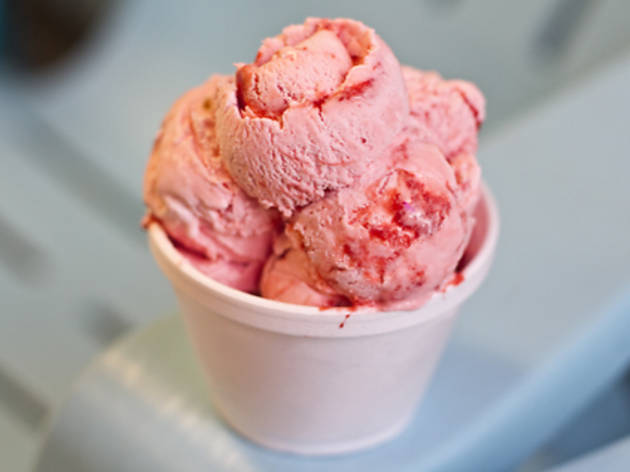 4/14
Photograph: Caroline Voagen Nelson
Max and Mina's Ice cream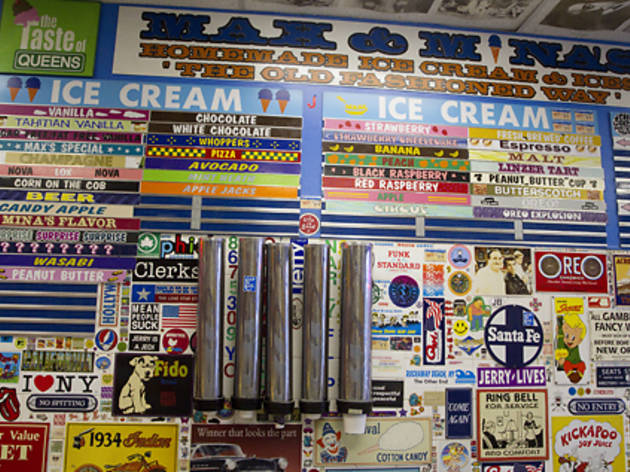 5/14
Photograph: Caroline Voagen Nelson
Candy Apple ice cream at Max and Mina's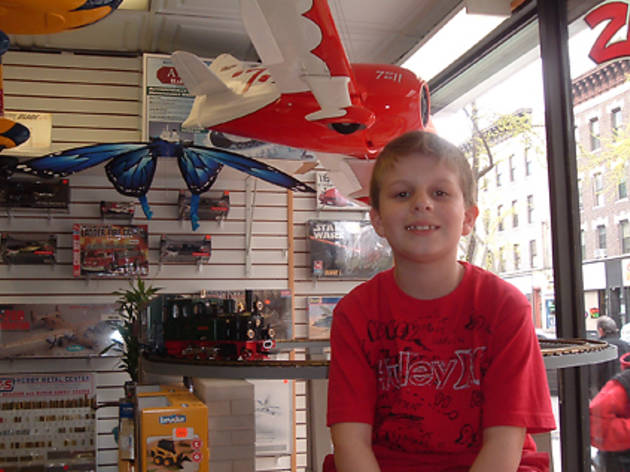 6/14
NHS Hobbies in Queens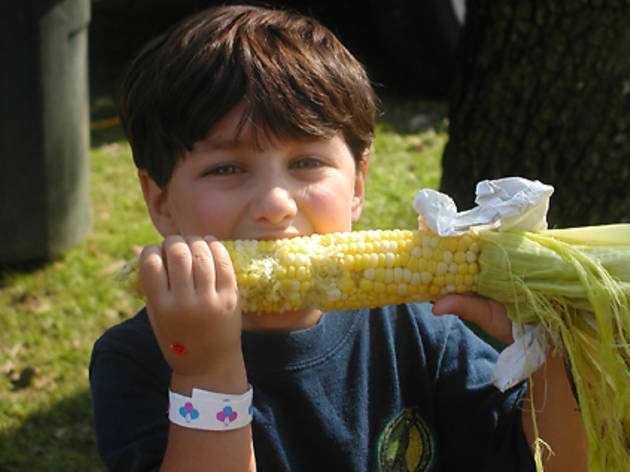 7/14
Photograph: QCFM staff
Queens County Farm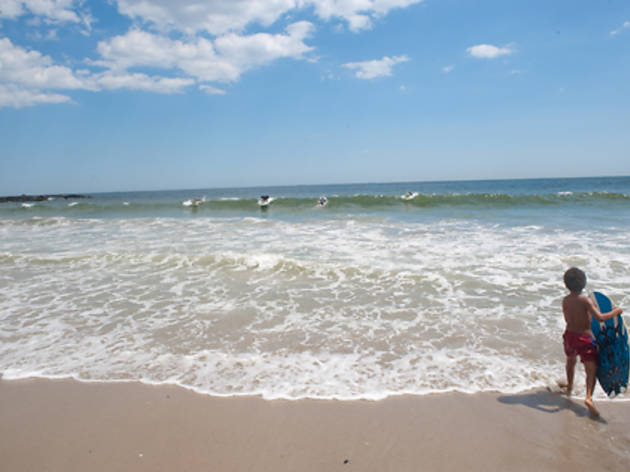 8/14
Photograph: David Rosenzweig
Rockaway Beach Queens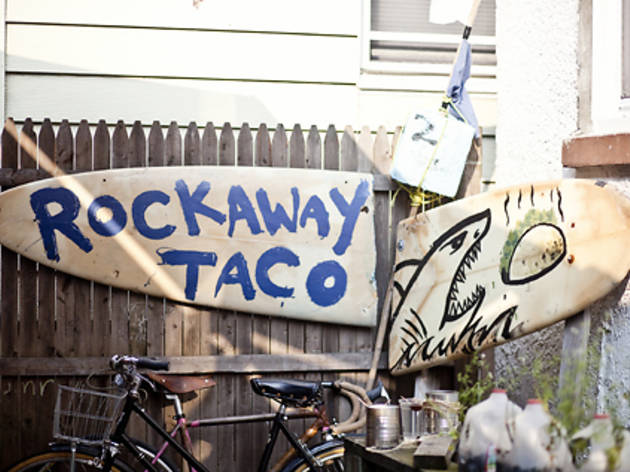 9/14
Rockaway Taco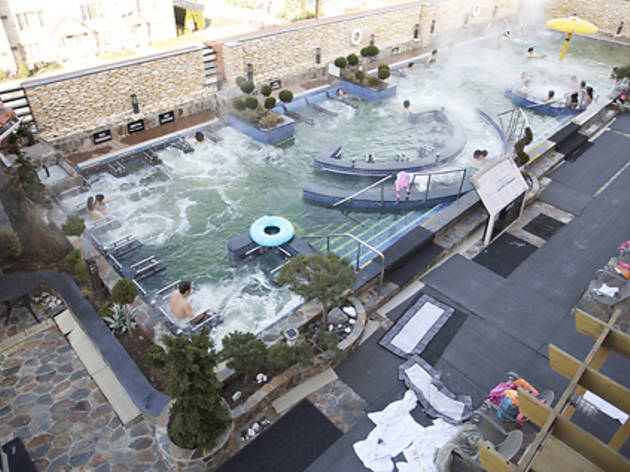 10/14
Spa Castle in College Point Queens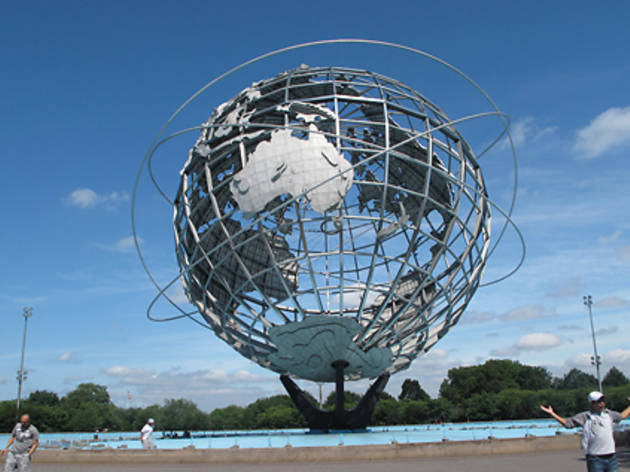 11/14
Unisphere in Queens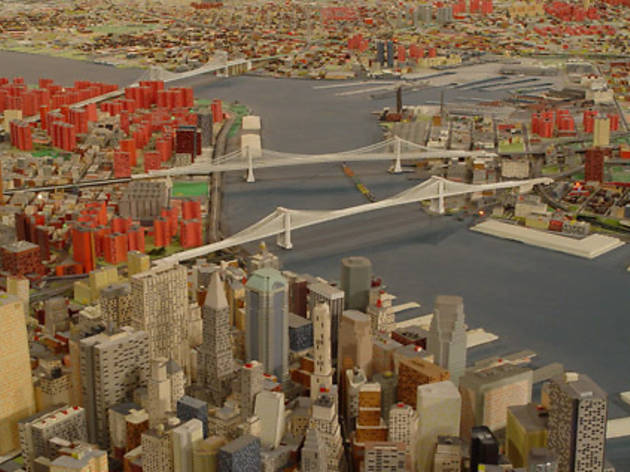 12/14
Queens Museum of Art Panorama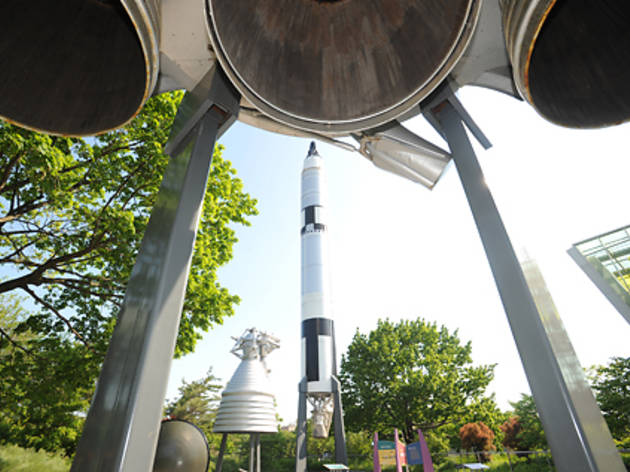 13/14
Photograph: NY Hall of Science
Rocket Park at the New York Hall of Science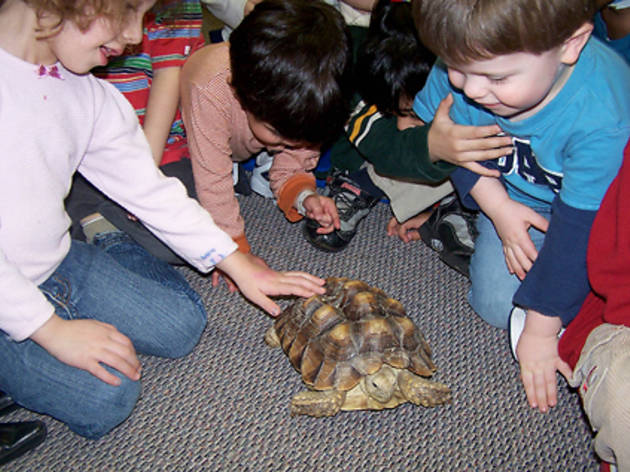 14/14
Photograph: APEC Staff
Alley Pond Park in Queens
Best way to pretend you're at Epcot
Sample the Jackson Heights food carts
Earnest library programs and multiculti classroom lessons have their place, but the tastiest approach to international understanding is found in Jackson Heights, where carts park under the 7 train on nearly every corner of hectic Roosevelt Avenue. Start your family's global tour in the Middle East—also known as the intersection of Broadway, Roosevelt and 74th St—with fragrant chicken over rice at Sammy's Halal (sammyhalalfood.com. Then walk up to Ecuador for plantain-and-cheese empanadas from El Guayaquileno (Roosevelt Ave at 80th St). A few blocks north the Tamale Lady (Roosevelt Ave at 82nd St) dispenses her fluffy creations, paving the way for the lovingly made carnitas and avocado tacos served by the sweet ladies of Mi Mexico Lindo (Roosevelt Ave at Gleane St). The kids say they're full? Hey, it's all in the service of world peace.
Best place to discover a world beyond vanilla and chocolate
Max & Mina's
Any kid who's ever cleaned out the fridge to make a kitchen-sink sundae will appreciate Max & Mina's. The ice cream shop's mad scientists—whose wares are also found at Dylan's Candy Bar—have been dreaming up unconventional flavors since 1997. The wackiest (horseradish? Nova lox?) may be a bit much, but blue-hued Cookie Monster (studded with chunks of Chips Ahoy) or Circus (cotton candy ice cream with bubble gum) could become your tot's new favorite. Don't let her become too attached, though: Flavors change daily. 71-26 Main St between 71st Rd and 72nd Ave, Flushing (718-793-8629, maxandminasicecream.com)
Best cure for a Wii obsession
NHS Hobbies
Young gamers may find themselves saying arrivederci to the New Super Mario Bros. after a trip to we-take-play-seriously NHS Hobbies. Its painstakingly assembled toys of yore—like balsa-wood model airplanes and AFX slot-car race sets—could easily start a low-tech revival. Stop in during the holidays, when the store is abuzz with vintage Lionel trains. 68-16 Fresh Pond Rd between 68th Ave and 68th Rd, Ridgewood (718-821-1319, nhshobbies.com)
Best taste of the locavore lifestyle
Queens County Farm Museum
The average kid doesn't care whether his burger is made from grass-fed beef, or if her milk shake originated with a cow in the faraway Midwest. But a visit to the borough's 47-acre working farm illuminates the sustainability concept in a truly relatable way. Meeting goats, dairy cows, Cotswold sheep and heritage pigs—who feast on feed made with spent grains from Brooklyn Brewery—will lend a little more immediacy to the next road-trip chorus of "The Farmer in the Dell." 73-50 Little Neck Pkwy, Floral Park (718-347-3276, queensfarm.org)
Best place for California dreamin'
Rockaway Beach
Summer in the city's surf mecca feels decidedly more So-Cal than Southern Queens, stoking the imaginations of every wanna-be California girl (and boy). Kids too young to brave the waves—even when lifeguards are on duty—can gape at daredevil boarders from the safety of their beach blanket. The left-coast spirit also rules at seasonal food shack Rockaway Taco (95-19 Rockaway Beach Blvd at Beach 96th St; 347-213-7466, rockawaytaco.com), where the fish tacos and elotes (Mexican-style corn on the cob) are so satisfying, your water babies won't mind adhering to the 30-minute rule. Boardwalk at Beach 117th St, Rockaway Beach (718-318-4000, nycgovparks.org)
Best place for a playground romp
Juniper Valley Park
Long beloved by the bocce and shuffleboard crowd, the historic green space gained major tyke appeal in 2010 with renovations to the Juniper South Playground. Highlights include a lily pad--adorned spray shower, a frog statue and a painted turtle game. The whimsical wetland theme pays homage to the park's early-20th-century origins as a swamp—we agree with the kids who think slides and bucket swings are a huge improvement. Juniper Blvd South at 72nd St, Middle Village (nycgovparks.org)
Best place to change perspective
Flushing Meadows Corona Park
The 140-foot-high Unisphere, a relic from the 1964 World's Fair, may be the borough's most breathtaking icon. Gazing up at the stainless steel globe, little ones can contemplate their place in the big, wide world. Afterward, usher them inside the nearby Queens Museum of Art for a gander at the Panorama, the famed scale model of New York City also built for the fair. They'll feel like Gulliver among the Lilliputians. Enter park from the Mets--Willets Pt station of the 7 train or from 49th Ave at 111th St (nycgovparks.org)
Best water-park fix
Spa Castle
Aqua jets! Outdoor pools! Waterfall showers! Spa Castle is more theme park than tranquil getaway, and that's why we love it. Older kids will enjoy darting in and out of the various huts in "sauna valley," while their younger sibs will dig splashing around in the hot-but-not-too-hot plunge pool (note to the shy: the ground floor's single-sex facilities are clothing-free). The spa attracts a diverse swath of neighbors from across the borough, creating an only-in-Queens tableau. 131-10 Eleventh Ave at 131st St, College Point (718-939-6300, nyspacastle.com)
Best place to have a blast
Rocket Park at the New York Hall of Science
The museum's mini-golf course gets a lot of love, and much of the appeal lies in its setting, in the shadow of two space-race missiles—the Gemini Titan II and Mercury-Atlas D Rocket. Go ahead and blow your kid's mind: Not only were these bad boys built before Neil Armstrong walked on the moon, but they predate the widespread availability of color television. 47-01 111th St at 47th Ave, Corona (718-699-0005, nysci.org).
Best place to play tortoise and hare
Alley Pond Environmental Center
Kids flock to the science center's animal room for its menagerie of small mammals and reptiles, but the star summer attractions are Millennium and Mini Me, the resident African spurred tortoises (the world's largest mainland species). In the warmer months, supervised tykes can pet the amphibians outside—though we'd recommend against challenging the critters to a race. 228-06 Northern Blvd at Cross Island Pkwy, Douglaston (718-229-4000, alleypond.com)