Fairs and festivals in New York for kids
Enjoy games, entertainment, food and rides at these New York City fairs and festivals for kids.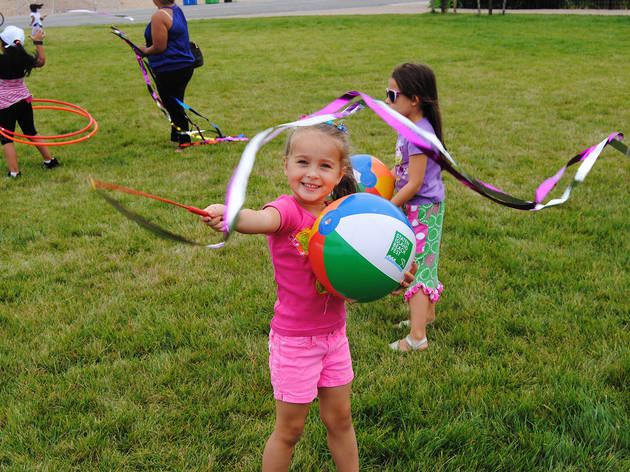 Co-presented with the Mostly Mozart Festival, this all-ages, all-abilities event is led by the excellent performed at Mark Morris Dance Group. Participants learn the choreography of Morris' Love Song Waltzes. After learning the steps, come back in August to see how the pros perform the dance with the Mostly Mozart Festival. All ages.
Some of New York's best barbecue joints head to Hudson River Park's Pier 97 for this 19th annual bonanza. Chow down on savory, finger-licking offerings from restaurants like Dinosaur BBQ, Mighty Quinn's BBQ, and Pig Beach and some sweet treats from Melt Bakery. Between bites dance to music from musicians like The Slam Allen Band and Canadian blues singer Dawn Tyler Watson. All ages.
At this celebration, kids enjoy free fun like a puppet show, an amazing circus show, dance performances and more. You can even use the visit as an excuse to grab a burger and a strawberry shake at Shake Shack. Ages 12 and under.
Young explorers can dive into the world of marine science at Hudson River Park's NYC marine science festival SUBMERGE. Kids of all ages will love meeting real scientists and learning more about things like oysters, underwater robots, horseshoe crabs, knot-tying, whales, pollution and plankton (just to name a few). Check out hands-on activities and kid-approved science entertainment. There are also kayaking and fishing opportunities. All ages. 
Adventurous eaters descend upon the Chile festival, where taste-testing is reserved for the brave, to send off summer with a bang. Try some artisanal spicy snacks and desserts featuring products exclusively created for the festival (like chile chocolates). While you nosh, take the sizzling tunes from bands from all over the world while your kids enjoy fun activities. All Ages.
Spend Saturday catching (and releasing!) East River fish. There will also be games, snacks and crafts for younger sibs or those less familiar with the sport. Afterward dance to the nautical-themed music of Funkinships. Ages 5 and up. Meet on the Southern Shore, south of 103rd Street Footbridge
Manhattan's last remaining (and most adorable) lighthouse fetes its special day with free tours, live music, theatrical performances, arts and crafts and fishing clinics along the Hudson. As always, families can listen to a reading of the 1942 children's book, The Little Red Lighthouse and the Great Gray Bridge by Hildegarde H. Swift, which prompted an effort to save the lighthouse when it was decommissioned in 1948 after the "gray bridge" (the George Washington Bridge) was built overhead. All ages.
It's been another bountiful season at the Urban Farm! Celebrate all the Earth gives us at this annual festival, brought to you by Randall's Island Park Alliance. There will be live music, self-guided tours of the Urban Farm, face painting, kite-flying and other fall fun! All ages.
The colorful harvest celebration returns to the Brooklyn Botanic Garden to host Halloween revelers of all ages. Visitors can participate in a wacky costume parade, play festive games, hear the best children's stories and listen to live performances. Ghouls and goblins of all ages will get a kick out of this spooktacular event. All ages.