Family portrait
Narang family, West Village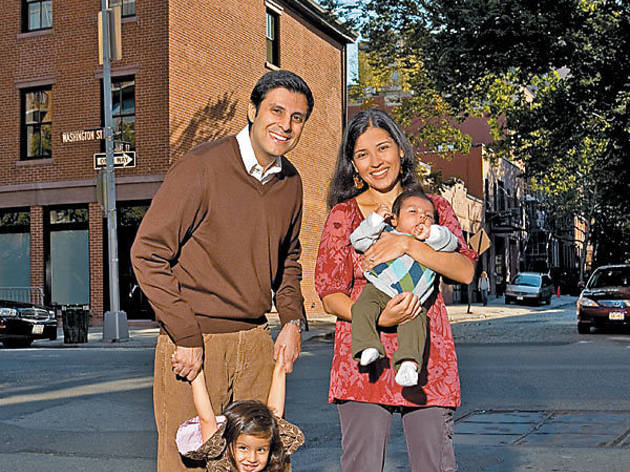 What do you like best about raising your kids in New York?
Vinit We're Indian-American, and we love the ethnic diversity of the West Village. We also like that there are so many things for kids to do here, and that it's a walking town.
How do you deal with space constraints at home?
Vinit To maximize our space, we've done all kinds of crazy things. The doors to the closet opened out and took up a lot of room, so we took them out and put up curtains. And we've created a vertical work space, as opposed to having a wide desk.
Where do you like to take the kids?
Veenu We go to Bleecker Playground and Hudson River Park. We also love Chelsea Market; it has great family events on Sundays.
Favorite restaurants?
Veenu Vento, in the heart of the Meatpacking District, is a hip, happening place at night, but during the day it has coloring and high chairs, and the staff is super-friendly. We also go to Cowgirl, and another unlikely choice for the daytime, Barbuto. Kareena tried octopus there.
Most essential service?
Vinit Diapers.com. That's my company! But it's true: Diapers, wipes and baby products are delivered within two days. Veenu We're just big on online shopping. We use Fresh Direct for our groceries and Barnesandnoble.com to order books.
Any big Thanksgiving plans?
Vinit We celebrate Thanksgiving, but also in November is Diwali, the biggest holiday for Hindus. We celebrate that by turning our home into the traditional festival of lights.
What's the strangest thing about the city that you've had to explain to your kids?
Veenu Probably a mouse that we saw in our elevator. But seriously, it's been interesting to see how Kareena and her little friends accept all the city's eccentricities, like sirens, the subway, taxicabs, elevators and doormen. There are things about the city that you might have to explain to your parents but that you don't need to explain to your kids.