Family portrait
The Rensky family, Tribeca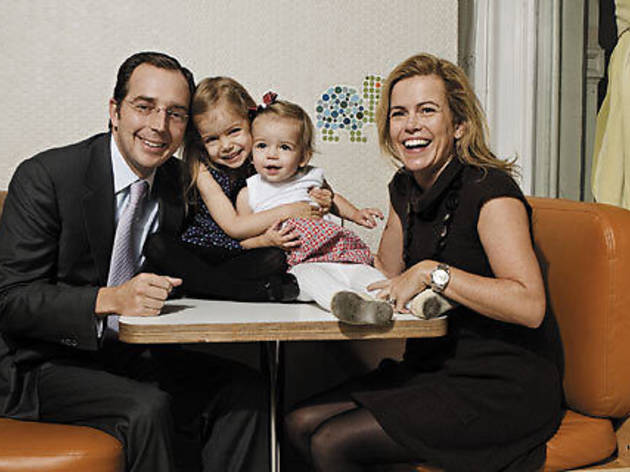 As cofounder and co-owner of the Soho family club Citibabes, Tracey Frost Rensky has an easier time than most women balancing her career with motherhood. The deluxe facility features an indoor playground, tons of toddler classes, a preschool, a summer camp, a gym and spa for parents, and even a babysitting service. That means her kids can hang out with her, at her side or just a room away, most days of the week. She and her investment banker husband, Filip, have lived in their Tribeca apartment with their daughters for three years; they've called the neighborhood home for eight.
Tracey, Citibabes recently loosened its by-referral-only membership policy. What was the logic behind its being restricted in the first place?
TFR It was about having somewhere parents felt was safe and secure. Most important is that the children feel comfortable—it's a second home to them.
Did you get flak for being exclusive?
TFR I'm sure there were people who didn't understand why we chose that route.
FR I don't want to go too much into Tracey's business, but there were some pieces written that compared Citibabes to Soho House. That's never what it was. The idea was to have people understand that this wasn't going to be too unwieldy—that if they were going to pay a premium for a club membership for kids, which was an untested concept, the results weren't going to be a free-for-all. Now that Citibabes has established itself as a safe place to take kids, it doesn't have to be referral-based only.
TFR We're like an Equinox: If you walk in the door, you can join.
Has that changed the population of the membership?
TFR Absolutely not. It's a reflection of the downtown community. It's a nice mix of mothers who are the primary caregivers, women who do freelance work and have caregivers to help them, and working mothers.
FR One of the objectives was to create a self-perpetuating situation where members meet other parents, and then they end up joining, and it becomes a community. And that still happens, and fosters new members.
What's your favorite new activity going on there?
TFR We have a green art class, using all recycled materials. It's really important now to be teaching kids from a very early age about conserving and reusing things. And our Scarsdale building is going to be green.
That's right—you're expanding into Scarsdale. Are you calling it Suburbsbabes?
TFR [Laughs] I know, I know. No! We're still calling it Citibabes.
Does having children and running Citibabes ever put you into kid overload?
TFR There are things I love about it and things that are frustrating about it, but what I love is that I get to see my kids a lot. They're there every day. Obviously, the lines get blurred when my daughter is sitting on my lap in the office. But I don't get the kid overload. It's my world. Fil and I feel we never get quite enough time with our daughters.
Is there any one city service—other than Citibabes—that you really rely on?
TFR Kid Car. It's a car service where the cars all come with car seats, and the drivers have been CPR-trained and tested as good, safe drivers. If my daughter's going to a doctor appointment with my nanny, it's great.
What do you do for fun?
TFR Within the city, we love going to the parks along the West Side Highway and taking long walks with the kids. I'm a big "throw them in the stroller and walk around the city" person. We also go out to Long Island in the summer. We're big-time beach people.