Family portrait
The Wallace--Saal Family, Upper West Side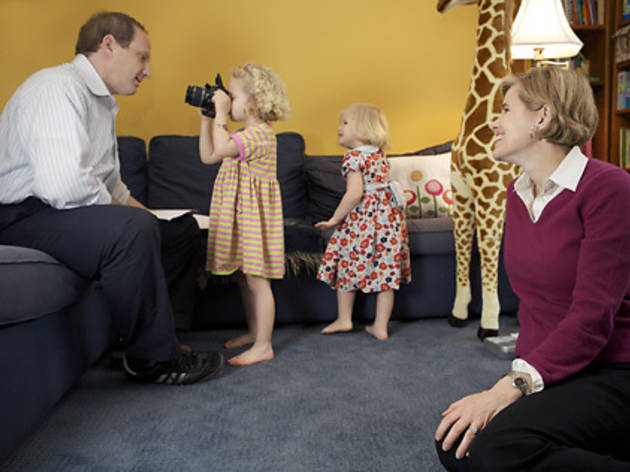 1/7
Photograph: Imogen Brown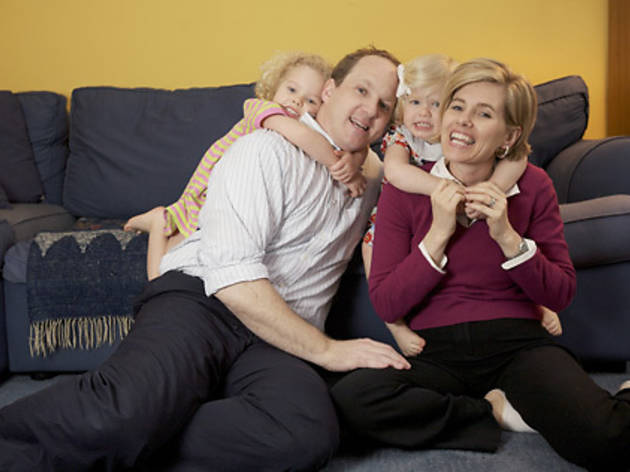 2/7
Photograph: Imogen Brown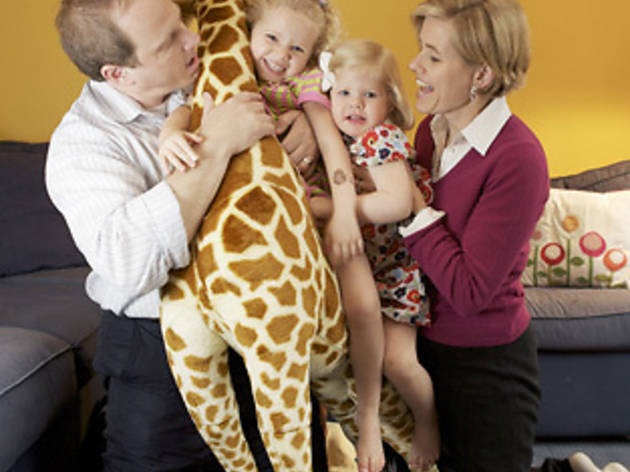 3/7
Matt Saal; Hattie Saal, 4; Lily Saal, 2; Kelly Wallace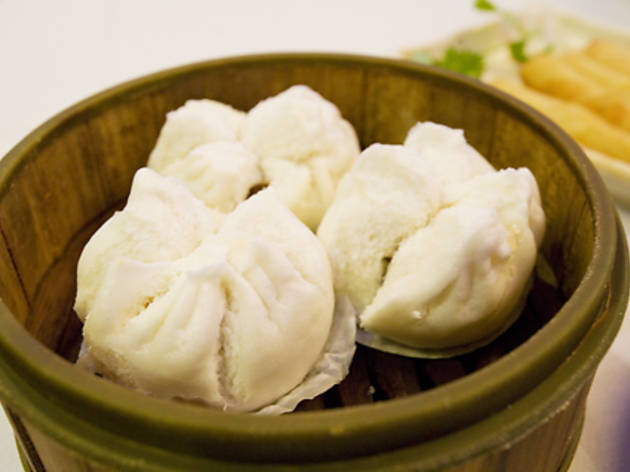 4/7
Jing Fong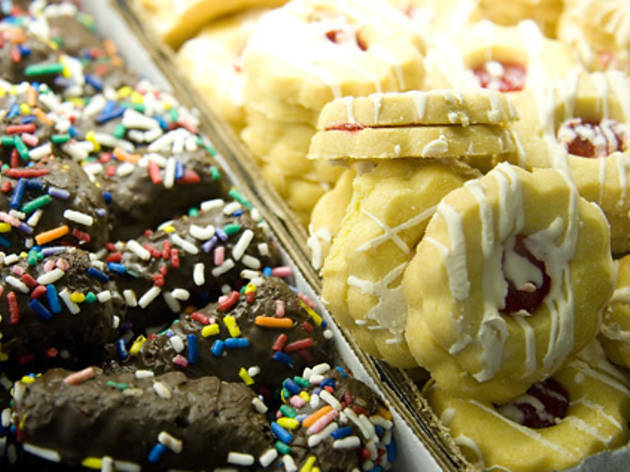 5/7
Hungarian Pastry Shop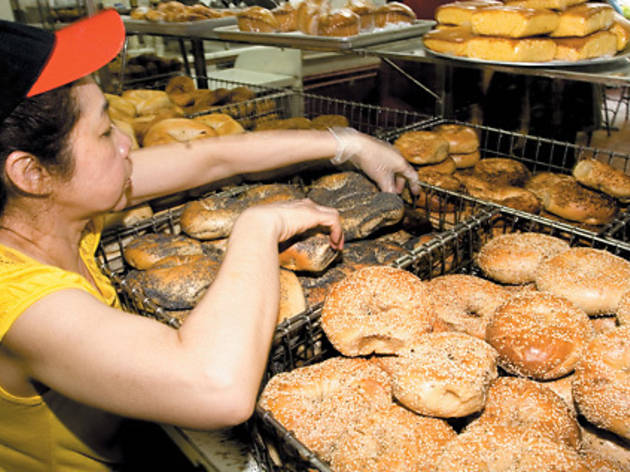 6/7
Absolute Bagels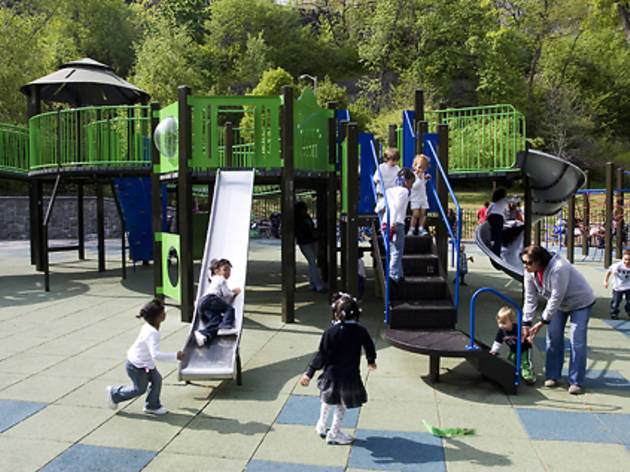 7/7
Morningside Park
As a busy CBS News correspondent, Kelly Wallace realized her BlackBerry shouted louder and more often than her two children, Hattie, 4, and Lily, 2. Tired of racing to the newsroom to cover breaking stories, Wallace decided in April that it was time to take a breather. Encouraged by her husband, Matt Saal, an executive producer for The Rachel Maddow Show, Wallace left her job to spend more time with her kids—and work on an online news and talk show for mothers that will be hitting the web in the next few months.
How do the girls like having you at home more?
KW They love it. I've been able to watch Hattie at soccer practice and pick up Lily from school. I even chaperoned my first school trip.
MS And there's less breakfast splattered on the walls. That's a real plus.
What's harder, being a news correspondent or a stay-at-home mom?
KW Being a mom. As I've spent more time handling child-care duties solo, I've thought, this is the hardest job on the planet. At the same time, I want to have a vibrant work life. I know that as long as I can make my work fit into my life, as opposed to my life fitting into my work, I will feel fulfilled.
What can we expect from your new webshow?
KW It's going to be a look at the top news stories affecting moms. The plan is to cover everything from whether pesticides on fruit and veggies cause ADHD to increasing desire in the bedroom. If mothers are talking about it, so will we. I hope this show will be a place where they can join a conversation and laugh a little. Because if we don't laugh, how will we ever make it to bedtime?
You two are obviously news junkies. Do your kids ever watch with you?
KW N-O. You never know what the next story will be. Are there going to be images of Haiti or violence in Iraq? As they get older, their current-events knowledge will only increase, thanks to us and their interest and questions—and we want and support that. But we're trying to control the images—at least for now.
MS It's censorship. It's outrageous!
KW It sounds like we're a communist regime. Hattie and Lily are going to be like, "Whoa, I didn't know we had dictators in the family."
What do you love most about raising kids in New York?
MS Hattie and Lily are growing up with the vibrancy and vitality of the city. They see all different kinds of people and every day can be an adventure. That outweighs hearing them say, "Where's our backyard?"
KW My sister lives outside the city in a house with a big yard and Hattie's been saying to me, "Mommy, how come we don't have a yard?" And I say, "You have a yard. It's called Central Park."—Shandley McMurray
Our favorite...
SPECIAL OCCASION SPOT
"For dim sum, we go to Jing Fong (20 Elizabeth St between Bayard and Canal Sts, 212-964-5256, jingfongny.com) in Chinatown. It's the best place to go when we want to celebrate with hundreds of our closest friends! We can't get enough of the food."
DESSERT PLACE
"The pink-and-green chocolate cookies at the Hungarian Pastry Shop (1030 Amsterdam Ave between 110th and 111th Sts, 212-866-4230) are a household favorite."
CULTURAL ATTRACTION
"We adore the Children's Museum of Manhattan (212 W 83rd St between Amsterdam Ave and Broadway, 212-721-1234). It's our destination most winter weekends. How can you go wrong with an entire floor devoted to Dora and her friends, and another featuring a fire engine and an indoor sandbox?"
NEIGHBORHOOD HANGOUT
"We're lucky to live near one of the best bagel shops in town—Absolute Bagels (2788 Broadway between 107th and 108th Sts, 212-932-2052). The folks behind the counter have mini-bagels ready for our little ones the minute we arrive. We head there early most Saturday and Sunday mornings."
DINNER RESTAURANT
"Our whole family loves the piping-hot, cheese-dripping pizza at V&T Pizzeria (1024 Amsterdam Ave between 110th and 111th Sts, 212-663-1708, vtpizzeriarestaurant.com). We enjoy the warm, neighborhood feel—locals gather there for hours over red wine—and the staff seems to ignore meltdowns."
BRUNCH EATERY
"Sure, Artie's Delicatessen (2290 Broadway at W 83rd St, 212-579-5959, arties.com) is always crowded, but the kids like the grilled cheese sandwiches, and cookies for dessert. There are also plenty of great eat-quick choices for Mom and Dad!"
WARM WEATHER ACTIVITY
"We pack up the stroller and trek to the wonderful playground in Morningside Park (Morningside Dr at 116th St), which has a spout-from-the-ground sprinkler. The soft rubber surface makes it relatively Band-Aid-free, and it also has varying levels of sprinkler action for kids of different ages."
EXTRACURRICULAR ORGANIZATION
"Music Together (212-592-4627, gabrieletranchina.com/musictogether) is magical. The classes led by Gabriele are the most popular. She has a special way with the children, and her class becomes their most cherished activity each week."