Family Portrait: Ronen Glimer and Amy Abrams
1/6
Photograph: Imogen Brown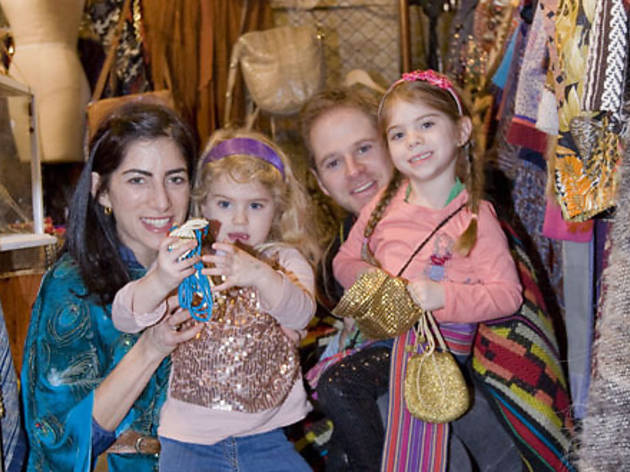 2/6
Photograph: Imogen Brown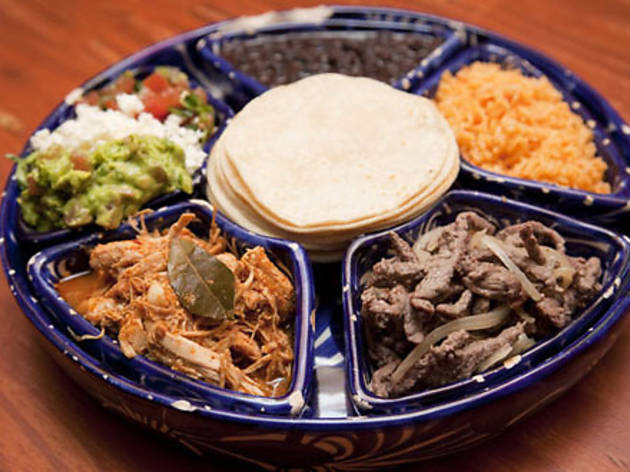 3/6
Photograph: Andrew Fladeboe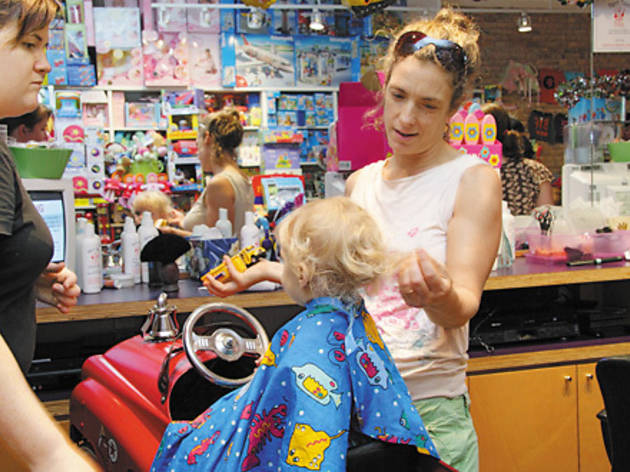 4/6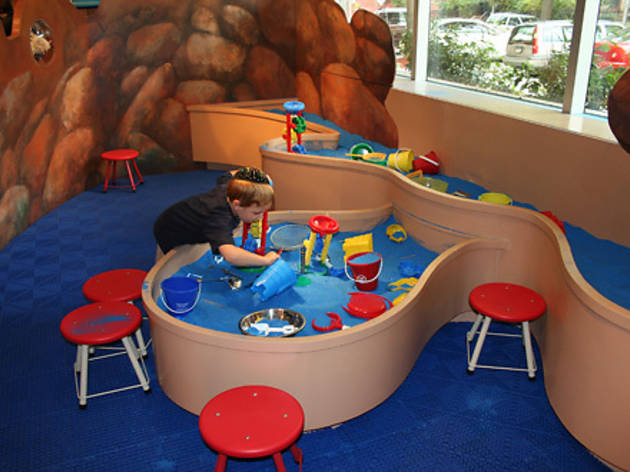 5/6
brooklynchildrensmuseum16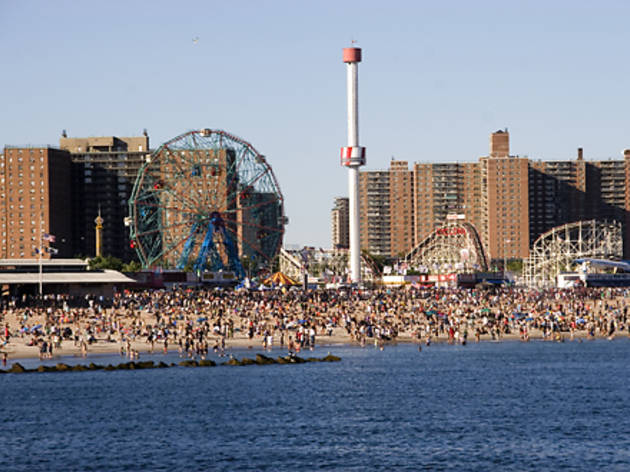 6/6
Ronen Glimer and Amy Abrams love to shop. Having browsed souks, bazaars and arcades all over the world, the husband-and-wife team decided to create a market of their own. In 2003, they founded Artists & Fleas, the Williamsburg hub where local creatives hang out and sell art, jewelry and other handmade works. Now the parents of two girls, Ruby, 5, and Noa, 3, the Prospect Heights couple is hosting the market's first family day, complete with workshops and activities for kids, on April 9 and 10.
Are Ruby and Noa regulars at Artists & Fleas?
RG They've been coming since they were born. Any vendor that has a dog is generally their favorite. Or that has food.
AA They're like little mayors! They know the vendors, they can try on shoes for hours, they love playing with jewelry—and they've learned some valuable principles about commerce.
Such as?
AA Well, Ruby got $5 last Hanukkah. She sorted out what she could afford and chose very carefully. Since then, she sets up her toy cash register, lays out her things and tells you how much they cost.
I see a lemonade stand in her future...
RG She's already done that!
AA Last summer. The only drawback was the sanitary issue surrounding Noa sticking her fingers in the ice and then in her mouth and then in the cup. Ruby was funny. She offered fresh mint, which she picked from our garden, but she wasn't very generous with the pours of lemonade. I think she lasted about 45 minutes and made about $15.
Nice! Amy, given that you also run In Good Company, a business providing office space and services for women entrepreneurs, how do you divide the parenting chores?
AA Ronen does all the cooking, and he's just as capable of hanging out with the kids as I am. Ronan is great at the playground, and I'm more into the art projects.
RG I work half from home and half from the market. Even though it's our business, and it's important we're there, weekends are the only time we can really hang out as a family, so we have people who help us at the market. Like anything, it's a balance.
How's Prospect Heights as a place for raising a family?
AA It's lovely. We walk the three blocks to Underhill Playground, and on the way the kids stop to talk to everyone in the neighborhood.
RG We live on St. Marks. When the weather's nice, the kids are outside all day long. Fire hydrants are open, children are riding bikes. Our kids have grown up as part of the street.—Clare Lambe
Our favorite...
DINNER SPOT
"The girls love Chavellas (732 Classon Ave between Park and Prospect Pls, Prospect Heights, Brooklyn; 718-622-3100, chavellas.com). They make their own tacos and get their guacamole "kid style"—not too spicy. There's a dish of canelas [mini Mexican gum] for after dinner."
TOY STORE
"Lulu's Cuts and Toys (48 Fifth Ave between Bergen and Dean Sts, Park Slope, Brooklyn; 718-832-3732, luluscuts.com). Ruby chats with the staff to let them know which gifts she's hoping to receive for her birthday."
CULTURAL ATTRACTION
We're walking distance from the Brooklyn Children's Museum (145 Brooklyn Ave at St. Marks Ave, Crown Heights, Brooklyn; 718-735-4400, brooklynkids.org) and have been members since Ruby was six months old."
NEIGHBORHOOD TO VISIT FOR THE DAY
"Williamsburg—and not just for the market! Noa is a fan of the water playground at McCarren Park (Lorimer St between Bayard St and Driggs Ave), and Ruby loves browsing the goods at Flying Squirrel (96 North 6th St between Berry St and Wythe Ave; 718-218-7775, flyingsquirrelbaby.com)."
DESSERT
"Ruby gets the birthday-cake ice cream at Uncle Louie G's (178 Park Pl between Carlton and Vanderbilt Aves, Prospect Heights, Brooklyn; unclelouiegee.com). Noa just points to the sign and asks for the blue flavor."
BRUNCH RESTAURANT
"Sit and Wonder (688 Washington Ave between Prospect Pl and St. Marks Ave, Prospect Heights, Brooklyn; 718-622-0299) is our go-to place on the weekends. Ruby digs the buttery croissants, and Noa raids their mini fridge for juice. In the summer they open the backyard, which keeps the kids entertained while we read the paper.
YEARLY ACTIVITY
"Coney Island (Boardwalk at Stillwell Ave, Coney Island, Brooklyn) has become their version of summer camp. They hit up the beach, the boardwalk and the kiddie rides."