Heads up! We're working hard to be accurate – but these are unusual times, so please always check before heading out.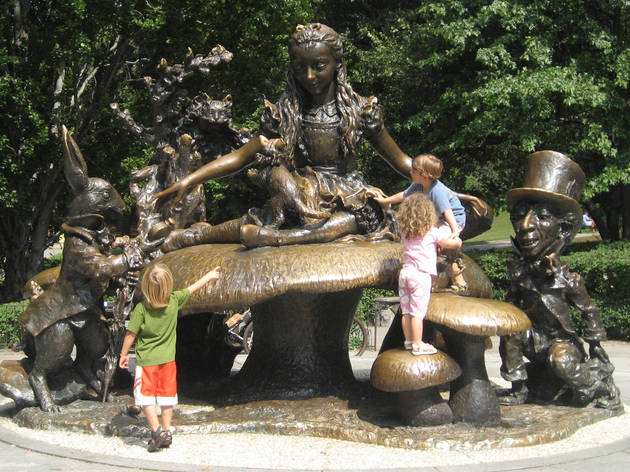 1/10
Photograph: Luciana Golcman
Alice in Wonderland Don't fret if the kiddies climb all over this bronze statue of Alice and company—that's what it's there for. Dedicated to the children of NYC and commissioned by George Delacorte after the passing of his wife, who enjoyed reading Alice to their children, the larger-than-life figures have been explored by children since 1959. Relive your youth and join them on the mushroom, or if you can't let go, read the engraved verses of the poem "Jabberwocky," by Alice scribe Lewis Carroll, portions of which line the sculpture. East side at 75th St, enter at Fifth Ave and 76th St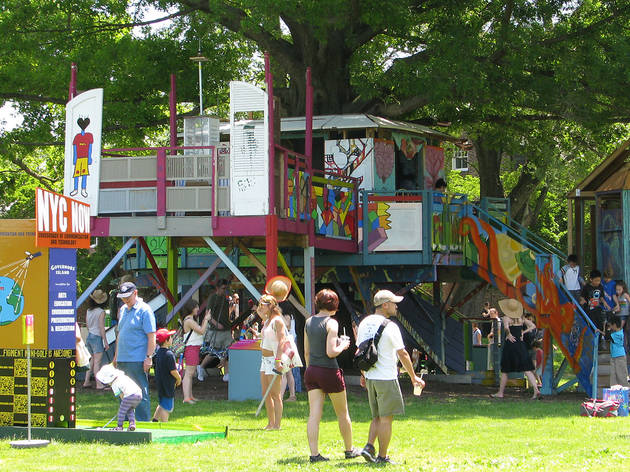 2/10
Photograph: Nate Dorr
FIGMENT TreeHouse Every year, FIGMENT NYC (an exciting interactive art event for families) takes over Governor's Island, complete with several amazingly colorful sculptures and structures. TreeHouse, a hugely successful artist-designed creation that's made an appearance at FIGMENT since 2011, is open to the public annually starting with the FIGMENT NYC festival (June 6–7 2015). The TreeHouse itself is a large raised structure for families to climb in, and inside there are interactive installations in four spots: the house, the balcony, the lookout and the gazebo. FIGMENT TreeHouse is on view through September 22.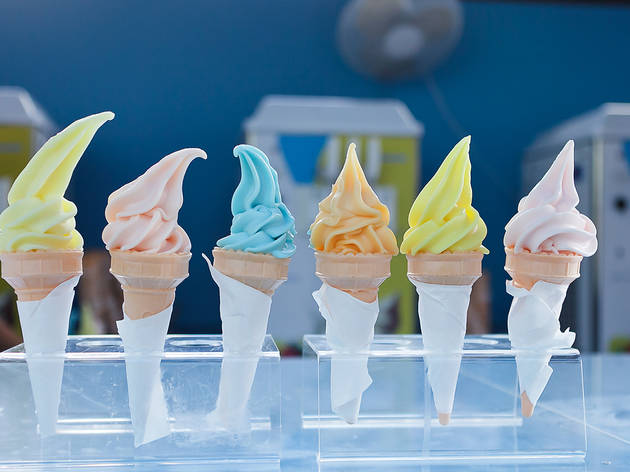 3/10
Courtesy Randall's Island Park Alliance
"Drifting in Daylight" Describing itself as a "dreamy springtime pathway of art winding through the world's most iconic park," "Drifting in Daylight" consists of a series of interactive installations and site-specific performance pieces situated around Central Park's Harlem Meer just off Central Park North. Meant to call attention to the northern end of the Park, the program includes a solar-powered truck offering soft-serve ice cream colored the hues of a Central Park sunset, and a brass band performing on a boat as it cruises around the lake. "Drifting in Daylight" is on view through June 20.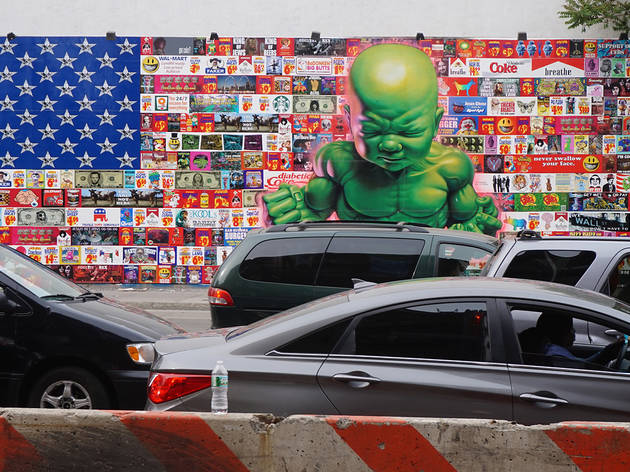 4/10
Courtesy Public Art Fund
Bowery Graffiti Wall Keith Haring first splashed this wall in 1982, and it's been a destination ever since. In 2008, it went somewhat legit when late real-estate man Tony Goldman took over the location, invited Os Gemeos, Shepard Fairey, Lady Aiko and more to rotate murals. Ron English's "All American Temper Tot" was recently plastered over the expanse, displaying an American flag mosaic, made up of parody ads, riffing off of brands including Quaker and 7/11. Though youngsters will miss the politically-fueled sarcasm of the messages, they're sure to giggle at the green, Hulk-like baby taking up a large part of the wall. E Houston St at Bowery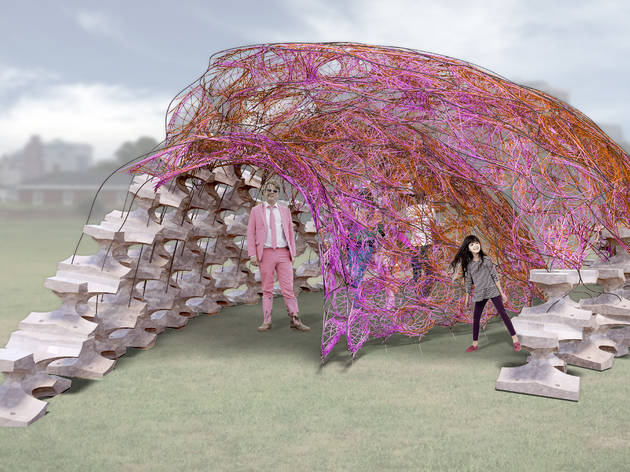 5/10
Photographer: Lesley Chang
Billion Oyster Pavilion by BanG Studio This year's City of Dreams Pavilion on Governors Island is an artificial reef for aquatic life, created by architectural firm BanG Studio. Visitors can walk beneath the whimsical structure, which is designed to be towed out to New York Harbor at the end of the summer, where it will function as a reef for oysters to grow. The longterm goal is to repopulate the city's waters with the bivalves, which have been driven out by industry and toxic waste. Billion Oyster Pavilion is on view through September 22.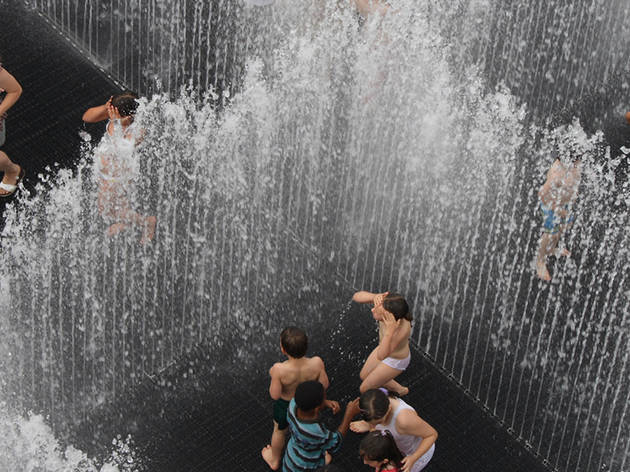 6/10
Photograph: Marielle Solan
Please Touch the Art by Jeppe Hein A standard afternoon in Brooklyn Bridge Park becomes a unique interactive experience thanks to Danish artist Jeppe Hein's installation. Curious kids will love walking through three separate works, discovering quirky additions to the landscape like benches that twist and curve, a mirror labyrinth that lets visitors see double (or triple) and a grid of sky-high water jets that create sporadic walls of H2O rising up from the ground. Families wander from the Manhattan Bridge along the waterfront to Pier 6, and get their hands on works of art instead of just observing from a distance, so make sure to bring a camera—the crazy-awesome photo opportunities will be more than worth the trip. Please Touch the Art is on view through December 31.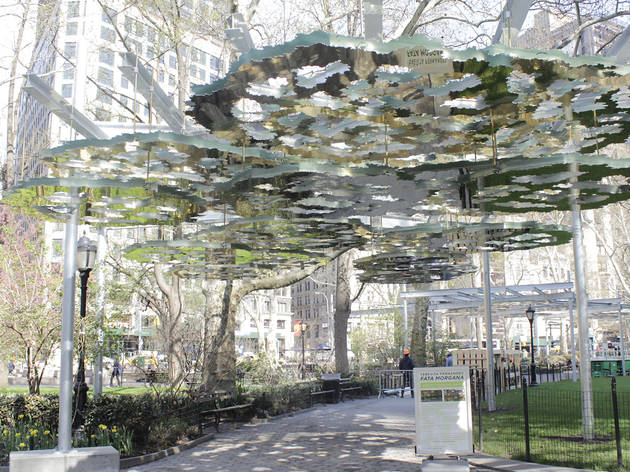 7/10
Courtesy Madison Square Park
Fata Morgana by Teresita Fernandez Fernández's series of reflective gold canopies hanging over the paths in Madison Square Park takes its title from the term describing a mirage shimmering along the horizon line where water or land meets the sky. In a similar vein, the suspended disc-shaped forms making up the piece are perforated, allowing the sky to bleed through a mirror view of the ground below. Wander beneath the reflective piece and tell little ones to look upward—they'll love seeing their face staring down from above. Join The Art Yard family workshops throughout the summer for even more fun with the installation. Fata Morgana is on view through December 31.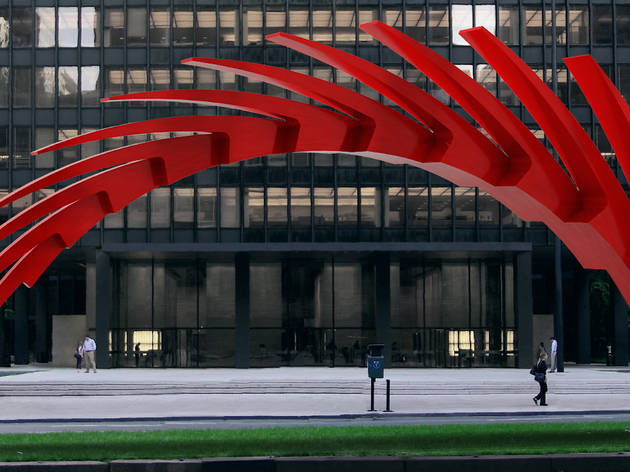 8/10
Courtesy Marian Goodman Gallery
Santiago Calatrava: On Park Avenue The architect commissioned to design the majestic (and expensive) World Trade Center Transportation Hub will also drop seven aluminum sculptures along Park Avenue this summer, situated on the malls between E 52nd to E 57th Sts. The spiky and vertebra-like structures will be red, black and silver, making a stroll along the avenue all the more scenic. Santiago Calatrava: On Park Avenue is on view through November 2015.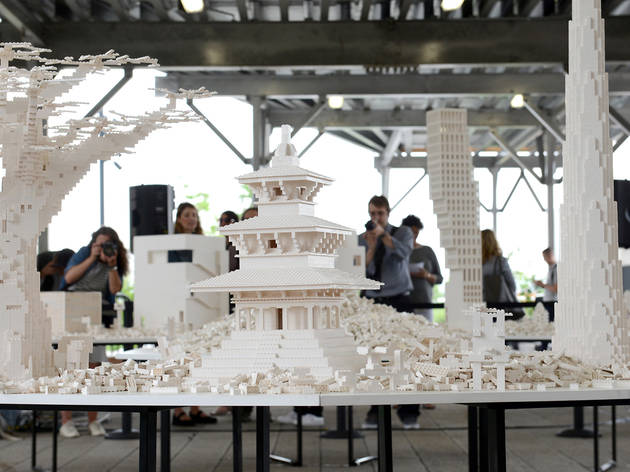 9/10
Photograph: Lee Magill
The collectivity project by Olafur Eliasson Danish-Icelandic artist Olafur Eliasson invites those strolling along The High Line to add their own creative touch to his installation. Towers constructed of white LEGO bricks form an imaginary cityscape, which passerby can manipulate to their liking. Little builders (ages 4 and up) will love the chance to contribute to or deconstruct parts of the scene—all on a petite scale, compared to the towering Hudson Yards development growing overhead. The collectivity project is on view through September 30.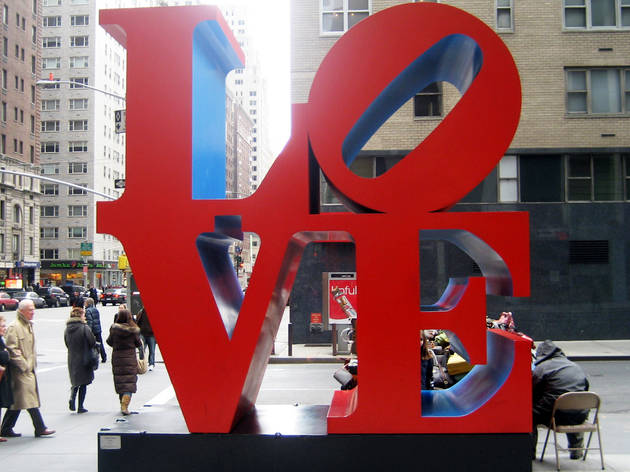 10/10
Courtesy Socrates Sculpture Garden
LOVE by Robert Indiana One of the world's most widely recognized and copiously replicated motifs began with three paintings in 1965. MoMA helped to popularize the design by commissioning it for use on its Christmas cards. The artists began creating these one-word poems in sculptural form in 1966, and a monumental, Corten-steel variation was displayed in Central Park for six weeks in 1972. New York's current version—a 12-foot-high, red-and-blue iteration made from polychrome aluminum—has stood proudly in midtown since 2000. Don't forget your camera—this spot deserves a photo or two, no matter how many times you've passed by.
Outdoor art in NYC for families
These 10 creative outdoor art installations turn all of NYC into a free museum for families to enjoy
RECOMMENDED: Full guide to outdoor activities for kids in NYC
We're mega-fans of NYC museums of course, with their constant stream of fresh exhibitions that cater to our little ones. But we also relish the city's outdoor art, including everything from massive sculptures to interactive installations, scattered throughout Gotham. They get you and your family out into the sunshine and fresh air, and there's no admission fee! Here are ten installations to visit with the kids—you might even want to sign them up for some art classes for kids to channel their newfound inspiration! And if the weather doesn't cooperate, there are always free museum days to keep them busy indoors.