The best after school programs in NYC
Sign your kids up for these stellar, engaging after school programs in NYC. Your kids, tweens and teens will love them!
Give kids something other than homework to look forward to with these after school programs and classes! These NYC-based picks will keep city kids busy with fun things like science experiments, improv theater, karate, gymnastics and even new languages (with some, you'll even find cooking classes and yoga for kids opportunities too)!
RECOMMENDED: Full guide to get your kids back to school in NYC
These great after school picks are perfect for energetic, eager kids of all ages.
The best after school programs in NYC
1
The 92nd Street Y holds classes for every discipline under the sun, and the after-school offerings at their top-notch facilities are always family favorites. Young U.S. Open hopefuls practice their swing and footwork in Peewee Tennis classes (ages 4–7), hosted by CityView Racquet Club, while budding yogis work on breathing techniques and try downward dog in Bean Yoga (ages 5–11). Ballers can hit the basketball court for coaching sessions in the 92Y Dribblers program (ages 4–6), and high-energy kids jump and climb around in the Studio in the Sky during Parkour classes (ages 5–8). All ages.
Read more
2
When it comes to after-school sports, few facilities in the city rival Chelsea Piers' extensive roster of youth classes. You name it, it has: soccer, basketball, baseball, football, parkour, gymnastics, tennis, ice hockey and rock climbing, as well as competitive teams and leagues to put their skills to use. Best of all, its CP After 3 program offers local school pickup for kids in kindergarten through third grade. Once they arrive, kids get a healthy snack and help with their homework before jumping into the Field House sports class of their choice. During downtime, table games, art and computer skill development will keep your kid happy and busy until it's time to head home for dinner. Hudson River Park, Pier 62, Eleventh Ave at W 22nd St (212-336-6666, chelseapiers.com). Fall session Sept 10–Jan 22; various classes and prices; check website for details. Ages 5–16.
Read more
3
In the Brooklyn Boulders Kids Academy, kids build strength, concentration and problem-solving skills while stretching, bouldering, roped climbing and slacklining—with a 1:5 belayer to climber ratio, kids are always well-supervised and can pretty much climb to their heart's content. For older climbers, there's a Teen Academy for kids 12 and up. Ages 4 and up.
Read more
4
Tots who love to tumble can improve their balance and coordination in this Long Island City training center's after-school program. Little gym stars settle in for snack time, plus one hour of homework with assistance from onsite tutors. Next, they'll break into groups based on skill level and hit the mats for a two-hour learning program, where certified USAG coaches lead them through exercises on vault, balance beam, bars, floor, pommel horse and parallel bars. Parents can choose between one and five days per week, but must commit to the full semester. Once-per-week, 45-minute classes are also available Monday through Saturday during the semester. Ages 4 and up.
Read more
5
With the concrete jungle as their playground, city kids are always moving at a fast pace. Choreographer Elizabeth Streb, founder of STREB Extreme Action Company, channels their endless energy in her KidAction classes, combining aspects of dance athletics, boxing, rodeo, the circus and Hollywood stunt work. Divided into appropriate age groups, kids explore impact, velocity and gravity through exercise, acrobatics and aerial arts. Little daredevils (ages 5 and up) can take on the trapeze in KidFly or even bounce and flip in Trampoline or Parkour sessions. Ages 18 months–16.
Read more
6
With an adjustable floor that switches from shallow to deep, Asphalt Green arguably has the best pool in Manhattan. The sports hub's comprehensive class offerings also include pilates, yoga, spinning and martial arts. Bring sporty kids who love hoops to Battery Park City to hit the court with Asphalt Green's Basketball Academy. With classes capped at about eight students, players get plenty of one-on-one instruction from coaches. Tiny tots learn game in Little Shooters (ages 3–4) and Pee Wee (ages 5–6) classes, and then move up to Middies (ages 7–8) and Sharp Shooters (ages 9–10) to try out defensive strategies and face off in five-on-five games. For a bit of friendly competition, kids can join the rec league where age groups are divided into four teams for specialized weekly practice with an assigned coach, followed by formal game play. Locations in Battery Park City and on the Upper East Side. Ages 3–13.
Read more
7
This organization's stellar after-school soccer classes are not only offered at its home location, but also at approximately 100 locations in greater New York City (often at local schools). Little kickers can start super young (ages 2 through 4) to learn the basics in a noncompetitive way. Grade school-aged kids kick it up a notch with exercises that focus on dribbling, passing, shooting, defending and shielding and end with a friendly scrimmage to get 'em accustomed to the game structure. Older, more experienced players can move on to the Premiere and Advanced Development sessions and teams, where they deepen their understanding of team positioning and strategy, passing and ball control. Various locations (212-877-7171, supersoccerstars.com). Fall session Sept 8–Nov 25 (outdoor) or Dec 23 (indoor); $250 and up depending on class. Ages 2–16
Read more
8
This spacious indoor rink operates even when all the ice has melted at Rockefeller Plaza. Kids can strap on their skates year-round, beginners learning basic skills like edge work, stroking and turns and advanced skaters practicing graceful spins, jumps and more fancy footwork. Skate School students dress in costume and perform choreographed routines that they've practiced throughout the year during the annual Skating Spectacular in June. Young NHL hopefuls can opt for the center's USA Hockey Learn to Skate program, which helps them find their balance through athletic drills. Ages 5 and up.
Read more
9
Sports team practices are a great way to keep kiddos active outside of the classroom, but if they have a hard time choosing one activity, let them sample several at this high-energy after school program. Gymnastics, baseball, soccer, dance and self-defense are all on offer at this massive sports facility, with guidance from trained instructors to help kids improve their physical fitness. Pick-up from area schools is included, plus they'll fuel up with a snack get help with homework before heading home. Ages 5–12.
Read more
10
The martial arts are fantastic for introducing kids to competition, in a respectful and nurturing environment. They can get started as young as toddlers at AmeriKick's two Staten Island facilities, honing their listening skills and working together with other students in the Tiny Tigers program (ages 3–4). Self-discipline and focus become more important once kids become Little Dragons (ages 5–7) and practice coordinated grabs and kicks. They'll work their way into the Karate Kids program (ages 7–13), which incorporates elements of Tae Kwon Do, boxing, kung fu and judo, and focuses on character development. Students are given assignments to ensure they're being kind and generous outside of class. Various locations in Staten Island. Ages 3–13.
Read more
11
Supplement your little pupil's school day with a three-hour block of activities in Afternoon Club at locations across the city. NY Kids Club makes use of its state-of-the-art play space to let kids run off some steam by playing sports, dancing, trying karate or honing their gymnastics skills. More low-key fun includes art-making, chess and cooking, plus there will be time to get a head start on homework with help from staff. A big bonus for busy parents: There's complimentary pick-up from local schools!
Read more
12
This private kids' tennis club providesoffers group and individualized instruction on perfectly kid-size (36-by-18-foot) courts! Preschoolers (called Freshmen) learn basic coordination, balance and visual-motor skills through exercises like catching drills, free form running and jumping. Sophomores (ages 5–6) learn basic skills, like the forehand and backhand swings,. Juniors (ages 7–8) further develop their technique a and discover the spirit and fun of competition. And seniors (ages 9–11nine through 11 years old) use all they've learned for more intense, strategy-driven play that, learning to control the point and builds confidence for full-size court matches. As an added convenience, Court 16 offers after-school pickup at certain local schools if five kids sign up. Ages 3–11.
Read more
13
Homage
Is your kid determined to master a half cab? (That's a skateboard move, FYI!) Hook them up with group lessons at their own indoor skate park. Youngsters learn basic skills and safety, like how to stop or fall without injuring themselves, before they graduate to more advanced tricks. Homage breaks for snack time (not included), then gives kids free skate time to practice or do homework. Local working parents think the after-school pickup option is totally rad—Homage is open every day public school is in session until 6pm and offers camp options when school is closed. 615 Degraw St, Brooklyn (718-596-8151, homageskateboardacademy.com). Sept 9–June 28; enroll at any time; $45 and up/day. Ages 7 and up.
14
Kids aged 3–10 can get flexible with class offerings at three different locations (and one in Central Park!) that employs age-appropriate techniques, games and props to teach young yogis the benefits of a regular practice. In Me & My Bean program, caregivers and kids bend, stretch and bond; Central Park Yoga allows moms to tone with a cardio-Yoga regime while their offspring (Mini Beans) learn the basics nearby. School-age kids, tweens and teens can also refine their skills in classes that put more emphasis on the correct alignment for poses. Ages 6 weeks to 16 years.
Read more
15
If your child wants to learn how to swim—or learn how to swim better—you'd be hard-pressed to find more options than those offered at the Y. Kids are grouped by age and capability, and certified instructors teach classes for ages that range from super young to teen beginners. The courses cover personal safety and stroke techniques like paddling, treading and floating so your guppies can hold their own on your next beach vacation. If your offspring prefer dry land, the Y also offers dance, basketball, tae kwon do and football. Various classes and locations (212-630-9600, ymcanyc.org). Visit website for class descriptions and detailed price information; registration staggered throughout the year. Ages 5–18.
Read more
16
Tots who love to tumble can improve their balance and coordination in this Long Island City training center's after-school program. Little gym stars settle in for snack time, plus one hour of homework with assistance from onsite tutors. Next, they'll break into groups based on skill level and hit the mats for a two-hour learning program, where certified USAG coaches lead them through exercises on vault, balance beam, bars, floor, pommel horse and parallel bars. Parents can choose between one and five days per week, but must commit to the full semester. Once-per-week, 45-minute classes are also available Monday through Saturday during the semester. Ages 4 and up.
Read more
This kid-centric art museum not only offers its signature drop-in art-making programs but also a series of skill-building after-school classes for various age groups. Teaching Artists lead the classes to help crafty kids refine their techniques, find their own artistic style and explore their imaginations. The museum's imaginative and rigorous offerings include typical art classes like painting and sculpture but also Experimental Animation, Filmmaking and Refining Techniques: Graphic Novel for comic book fans. Before class begins, youngsters can join in on supervised play with other students. School pick-up is available from select West Village and Tribeca schools for an additional fee. A limited number of scholarships available. Ages 5–15.
Read more
Kids from 42 Bronx public schools flock to DreamYard for free programs that help them discover their talents and passions through the arts. Youngsters (ages 6–10) gain confidence through a rotating series of theater, visual arts, dance and digital arts classes with their peers in the MINIs program. Middle school kids (ages 11–13) and high school students (ages 14–18) get to try exciting opportunities like arts activism, poetry and hip-hop, while working with professional artists. The center has the ability to connect driven kids with internships and mentorships in the community, as well as to prep students for the transition to college. Ages 6–18.
Read more
Since it's original building closed back in 2010, BRAC has held art classes in various locations throughout the community, but soon the non-profit will reopen its doors after $10 million in renovations. Young artists will be able to channel their creativity into a variety of classes, including fine arts like drawing, painting and ceramics as well as digital arts like animation, game design and 3D modeling. The fall programs will take advantage of new classrooms, studio spaces, a computer lab, and a ground floor art gallery where works by emerging and established artists in the community will be on display. Older kids can apply to the free Teen Project Studio where they'll focus in on their craft during a 10-week session. Ages 7 and up.
Read more
At this school of fine and applied arts, talented artists from throughout the city mentor young creatives and help them bring their visions to life. Classes divided by age group tackle various mediums and techniques, providing art instruction as well as inspiration via exhibitions in the onsite gallery space. Children's Art (ages 5–7) offers an intro to drawing, painting, sculpture and more basic art-making skills. Young People's Art (ages 8–12) focuses in on more specific passions, including comic book art (manga and anime), sewing and fashion. Teen Art courses (ages 13–18) assist students interested in art colleges with building a portfolios that will stand up to other applicants at places like Pratt, F.I.T. and more. Ages 5 and up.
Read more
With locations in Greenwich Village and Park Slope, crafty kids in Manhattan and Brooklyn can experiment with new art forms. On a typical day, budding artists have time for homework and a snack (included) before beginning class at 4pm. They experiment with textiles through eight-week workshop cycles in Weaving, Printing & Dyeing, Felting & Soft Sculpture and Sewing & Fashion, led by professional artisans. Sign up for one cycle or continuous cycles through the year. 505 Carroll St, Brooklyn (718-369-0222) · 26 W 8th St (646-225-6554, textileartscenter.com/afterschool). Ages 5–14.
Read more
Artsy projects go far beyond tempura paintings at this Staten Island studio. Creativity is merely a jumping-off point that leads kids to focused courses like Architecture & Design (ages 8–12) where students absorb concepts like perspective points and 3D drawing; or Comic Art (ages 6–12) which involves designing characters as well as elements of storytelling. Kids can channel their ideas into a plethora of other classes as well, including drawing, painting, fashion boutique, animation, human anatomy, digital design and photography, which each introduce young creators to new and exciting materials and tools. Driven artists even get a chance to show off their full range by putting together impressive portfolios made up of works using graphite, pastels, watercolors, acrylic and more. Ages 4–19.
Read more
Little girls will flip for the Mindful Crafts classes put together by Mischievous Goddess founder, Lucie McQuilkan. The group dives into artsy activities with a spiritual twist, creating projects like glittery mobiles, fairy houses and goddess eyes using paint, beads and natural materials like sticks, shells and fresh flowers. Good vibes flow throughout the sessions, which incorporate tales of mermaids and unicorns, plus tranquil music and time outdoors (weather permitting). Little ones (ages 3–7) who prefer to move around more can get in on Goddess Dancing classes at other locations in Brooklyn and Manhattan. Ages 4–6.
Read more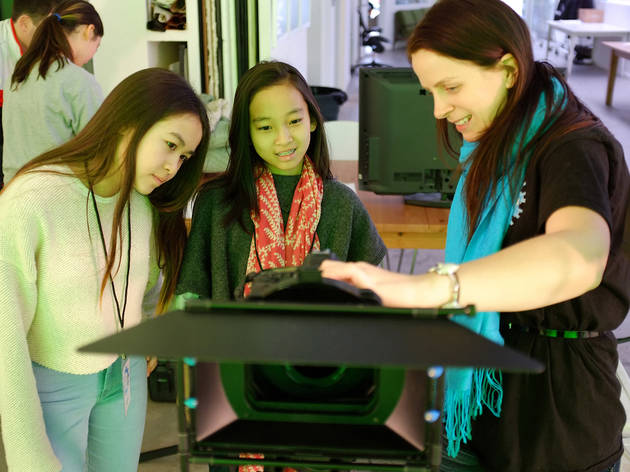 Automatic Studios
Kids get a behind-the-scenes look at movie magic through this Brooklyn studio's Movie Arts after-school program. Experts coach small groups of young cinephiles (12 students max) aged 8-10 and 11-13 through the entire movie-making process, from scriptwriting to production to editing. The program culminates in a final screening of their short film. Ages 8-13.
If you're after the language de l'amour, look no further than FIAF—a full-immersion school that ties its exploration of the language to French art and culture. Highlights include A Petits Pas, designed especially for toddlers. Some classes held at International School of Brooklyn (477 Court St between Nelson and Luquer, Carroll Gardens, Brooklyn). Ages 1 and up.
Read more
This UES arts-and-crafts emporium offers kids engaging classes in painting, sculpting, design and other crafting skills. Wednesday's Foodie Art (ages 6 and up) teaches kids how to turn edible objects into objects of art. Construction & Science sessions lets kids build volcanoes, twisters and terrariums (ages 6 and up, Mondays 3:00–4:00pm) while Rockin' Craft Class invites youngsters to design T-shirts and make holiday centerpieces (ages 3.5–9, Thursdays 3:30–4:30pm). Ages 2 to 9.
Read more
Show more
Brooklyn Music Factory
Got a young rocker on your hands? Brooklyn Music Factory lets kids develop their skills in private lessons (voice, drums, guitar, bass or keys). They learn to play instruments and jam with kid-made bands in their preferred genre, grouped by age and skill. Offerings include Big City Country, Rock, Girl Pop, and Write and Record (kids pen original tunes and produce a recorded track!). 295 Douglass St, Brooklyn (877-767-3560, brooklynmusicfactory.com). Ages 4–16.
The comprehensive curriculum at this music school founded in 1897 and housed in a five-story Victorian Gothic mansion ranges from House Party classes for toddlers (featuring the music of kid-crooner Dan Zanes) to advanced Rock Band Workshops (ages 8–12) an on-trend Youth Pop and Broadway Chorus (ages 5–11) and chamber ensembles for teens. Ages 1 and up.
Read more
Laurie Berkner's The Music in Me
The Pied Piper of little music lovers, Laurie Berkner's parent/child music class will be featured at three NYC locations this fall. Taught by Berkner-trained instructors, kiddos discover the wonder of music by singing, expressing their feelings and bopping along to catchy favorites like "Me and My Energy" and "We Are The Dinosaurs." Ages 6 mos to 3. Themusicinme.com. Third Street Music School Settlement, 235 E 11th St (212-777-3240, thirdstreetmusicschool.org) * Children's Museum of Manhattan, 212 W 83rd St (212-721-1223, cmom.org), Discovery Programs, 251 W 100 St (212-749-8717)