It's been a long, strange trip for Marvel's Asgardian God of Thunder. What started as a fish-out-of-water adventure with Shakespearean overtones in 2011's Thor jack-knifed into one of the MCU's most bawdily hilarious and visually inventive yarns. All it took was for somebody somebody – specifically writer-director Taika Waititi – to realise 'hey, maybe a bro-y space warrior who rides around on rainbows, throws a big hammer and drinks like a Viking should be played for laughs.' Ever since Thor: Ragnarok emerged from the Devil's Anus and embraced the comedic superpowers of swole Aussie demigod Chris Hemsworth, the franchise hasn't looked back.

Now, following a stint with crippling depression, a lost eyeball, the death of his entire family and a whole lot of time cosplaying The Big Lebowski in Avengers: Infinity War and Endgame, Hemsworth is back to his galactic shenanigans with the hotly anticipated Thor: Love and Thunder. The film promises to up the ante on the chaos of Ragnarok – no small feat considering the film's glorious amalgam of Flash Gordon, pinball-machine art and Heavy Metal. Here's what we know about Marvel's next voyage to the cosmos.
When will Thor: Love and Thunder release?
Love and Thunder was originally slated to release on May 6, 2022, sandwiching it between MCU entries Doctor Strange in the Multiverse of Madness and Black Panther 2. However, after a recent re-shuffle, the film will now release on July 8, 2022.
Is there a Thor: Love and Thunder trailer?
Not yet, and it's hard to say when one will drop. According to Marvel itself, the film wrapped on July 1, no doubt much to the relief of Hemsworth's weary biceps. Considering Spider-Man: No Way Home took its sweet time giving audiences a first look – the trailer dropped only three months ahead of its planned release – Thor could follow suit and keep audiences antsy for footage.
What is Thor: Love and Thunder about?
Appropriately for a character steeped in dense Nordic lore, Thor's story is all over the damn place: Kenneth Branagh's first film played out like a sci-fi succession fable in which Thor and his brother Loki (Tom Hiddleston, Marvel royalty at this point) vied for father Odin's throne. That led to an Earthbound battle with Loki alongside the Avengers, plus whatever occurred in the best-forgotten Thor: The Dark World and Avengers: Age of Ultron, which continued to posit Thor as a brooding god of emo.
It wasn't until Ragnarok that the truly cinematic madness of creator Jack Kirby's creation found its potential. Waititi – at the time a Kiwi indie darling thanks to Hunt for the Wilderpeople and What We Do in the Shadows, now an Oscar nominee for Jojo Rabbit currently working on his own Star Wars) – ditched the self-seriousness and went heavy on improv and LSD. What emerged was a rollicking, daffily violent space adventure complete with gladiator battles against Hulk, an ultra-horny Jeff Goldblum with a blue soul patch and Cate Blanchett dining heartily on the colourful scenery as Thor's sister Hela, the goddess of death. Well, you can't pick your family.
Despite all the fun, Ragnarok ended on a down note: It's the Norse apocalypse, after all, and Thor was left fleeing his destroyed home with the last surviving members of his race. Things got worse in Infinity War, when Thanos showed up and promptly killed Loki and gatekeeper Heimdall (Idris Elba) before the title card even appeared. He became a bloated alcoholic on Earth, then returned to form with a newfound sense of adventure once the Infinity Saga wrapped. He was last seen boarding the spaceship Milano with the Guardians of the Galaxy… or as he called them, the Asgardians of the Galaxy. Tessa Thompson's Valkyrie, meanwhile, has been named ruler of earth's New Asgard colony.
All caught up? Good.
According to reports, Love and Thunder will take a cue from Marvel scribe Jason Aaron's Mighty Thor run. The film will at least partially focus on Thor's adventures with the Guardians – whose roles are reportedly minimal – but will also reunite the hero with his beloved Jane Foster, the human scientist played by a bored-looking Natalie Portman in the first two solo outings.
Portman will likely be less bored in this outing, as she is reportedly assuming the mantle of Mighty Thor after proving herself worthy of carrying the Mjolnir hammerGet ready to meet the Goddess of Thunder.
What the pair will get up to is anyone's guess – there's a lot of comic lore to dig through for the more casual viewer – but we do know they'll be faced with the grave threat of Gorr the God Butcher, played by Christian Bale in what promises to be his most frothing and terrifying villain turn since Vice. In the comics, Gorr is a murder-crazed powerhouse with a mythical sword and a serious hatred of the gods he blames for his family's death. Which is to say, things could get downright apocalyptic – or Ragnarockic – for our heroes.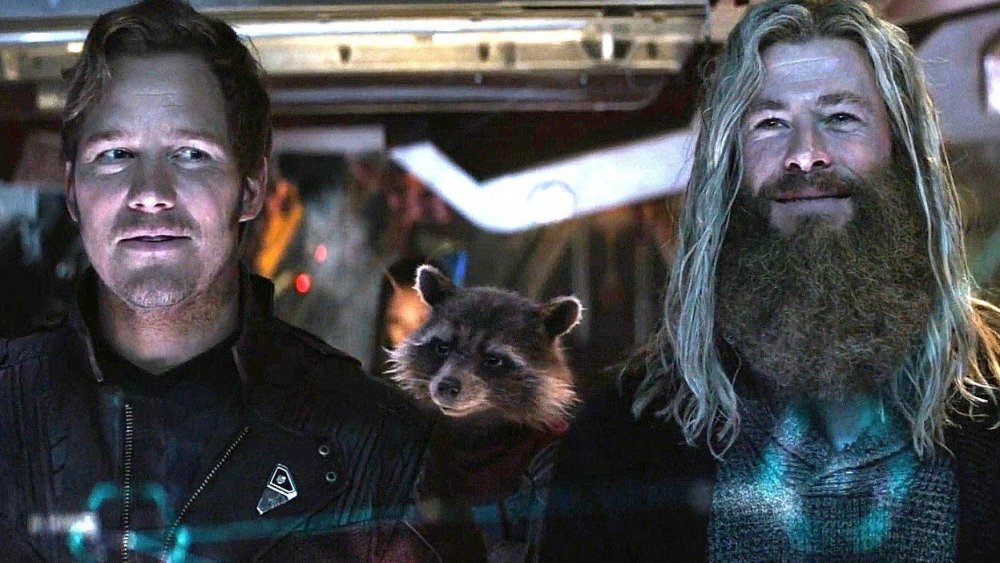 Who is returning for Thor: Love and Thunder?
Hemsworth and Portman are the topliners, obviously, but they'll be joined by many familiar faces. The principal surviving Guardians – Chris Pratt, Pom Klementieff, Dave Bautista, Karen Gillan, Vin Diesel and Sean Gunn (plus probably an unconfirmed Bradley Cooper, given Thor and Rocket Raccoon's bromance) – are on board, along with Thompson.
The film will also see the return of Jaimie Alexander's Lady Sif, Thor's sometimes love interest who was off-world during Ragnarok. Lucky for her, too: Thor's other buddies were unceremoniously slain by Hela.
Goldblum's Grandmaster is also slated to return alongside Waititi's comic-relief rock-monster Korg.
Much to fans' chagrin, Hiddleston's Loki will reportedly not appear: This reality's version of the character is officially dead, and the actor is currently preoccupied over at Disney+ for his Loki solo outing, which is getting a second season. (Get ready for a lot of confusing 'multiverse' shenanigans in Marvel's future.)
No word yet on whether Kat Dennings' D'Arcy – last seen in WandaVision – will return, and Mark Ruffalo's Hulk seems to be MIA this time. But the cast list does include the curious return of Matt Damon, Sam Neill and Luke Hemsworth, last seen as actors forced to re-enact Asgard's history at the whims of an in-disguise Loki.
Who is new to the Thor: Love and Thunder cast?
Bale is the biggest new addition so-far announced. However, after being spotted on set, it appears Russell Crowe will be on hand to play Zeus, a puzzling bit of cross-mythology world-building with serious echoes of the PlayStation saga God of War.
Meanwhile, Melissa McCarthy was spotted on set wearing Hela's signature headwear, potentially spoiling a gag involving a recreation of Ragnarok with Damon, Neill and Luke Hemsworth reprising their cameos.
Will Love and Thunder keep Ragnarok's tone?
'I've done some crazy shit in my life. I've lived, like, ten lifetimes. But it's the craziest film I've ever done,' Waititi told Empire magazine this summer. 'If you wrote down all the elements of this film, it shouldn't make sense… I mean, you'd never work again. Maybe I won't after this.'
Letting Waititi run wild is actually kind of a big deal, given Marvel's history of enforcing its house style. But considering Waititi delivered an $850 million megahit that's heralded as one of Marvel's best-received films, it appears the studio is giving the Kiwi iconoclast a very expensive playground to play in.
Will it include another needle-drop on par with Ragnarok's perfectly deployed 'Immigrant Song'? If rumours are to be believed, the film will prominently feature Dio's 'Rainbow in the Dark.' So… yup.
There is still now word on whether some of Thor's zanier characters – Beta Ray Bill, basically what would happen if BoJack Horseman was Thor, is high on most fans' wish lists – but given the lunacy Waititi got away with previously, expect things to get delightfully batty.
How will Love and Thunder tie into the greater MCU?
Despite its seeming standalone nature, Ragnarok proved hugely important to Marvel's master plan, heralding the arrival of Thanos and signaling a wider cosmic sandbox. Given Loki's embrace of the multiverse narrative, the Asgardian adventurers could help set up huge swaths of the MCU's next phase… or at the very least set up the next Guardians film, scheduled for May 5, 2023.
See where Ragnarok falls on our list of cinema's greatest comic-book films
Love and Thunder is further proof that Marvel's future is female