The top 20 NYC subway art installations
Check out our selection of the most amazing subway art installations in stations across the Five Boroughs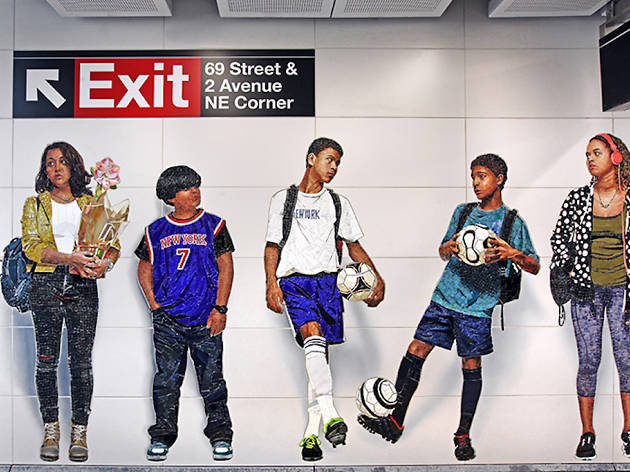 World-class art in New York isn't limited to galleries or to museums such as MoMA, the Guggenheim or The Met. For the price of a Metro Card, you can visit some of the best art in New York just by riding the NYC Subway. More and more, subway stations across all five boroughs feature amazing installations by some of the biggest names in contemporary art. To find the best ones, consult our guide to the top subway art installations in New York City.
Best subway art installations
1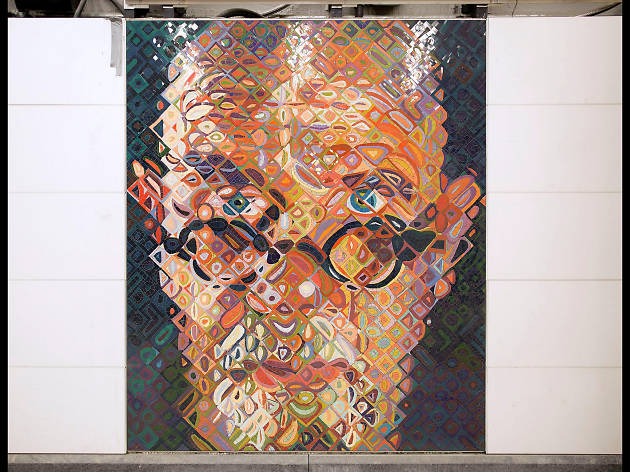 Photograph: Courtesy Governor Cuomo's Office
Chuck Close, Subway Portraits, 2017
Second Avenue–86th Street
Famed for his monumental photorealistic portrait heads, Chuck Close translates his inimitable style into mosaic tiles for a series of 12 images of his artist friends—among them Philip Glass, Cindy Sherman and Lou Reed. Two self-portraits round out this group of remarkable renderings.
2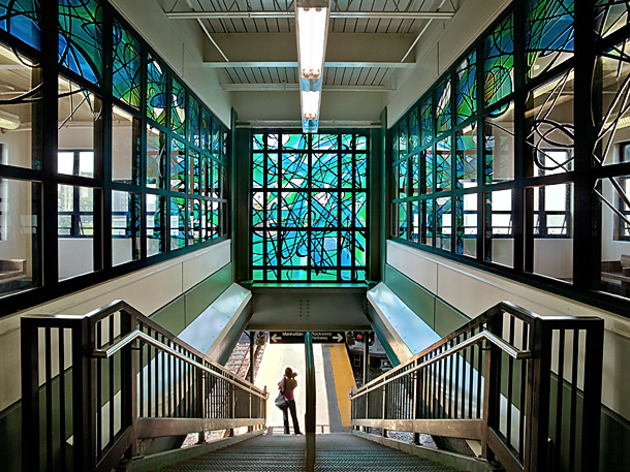 Photograph: Courtesy the MTA
Michael Ingui, Crescendo, 2007
E. 105th Street
The architectural environment of the L train's penultimate stop is echoed in the design of this energetic installation made of laminated glass.
3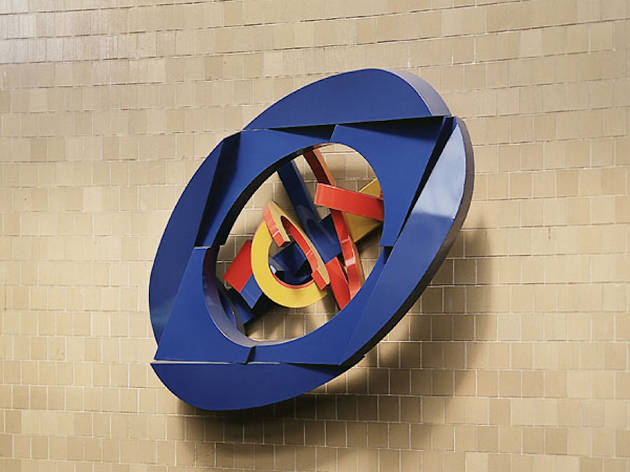 Photograph: Courtesy the MTA
Sam Gilliam, Jamaica Center Station Riders, Blue, 1991
Jamaica Center-Parsons-Archer
For the final stop on the E, J and Z lines, artist Sam Gilliam created this abstract aluminum relief meant to convey images of "movement, circuits, speed, technology and passenger ships." Its palette employs the same colors used to denote the E, J and Z on the subway map.
4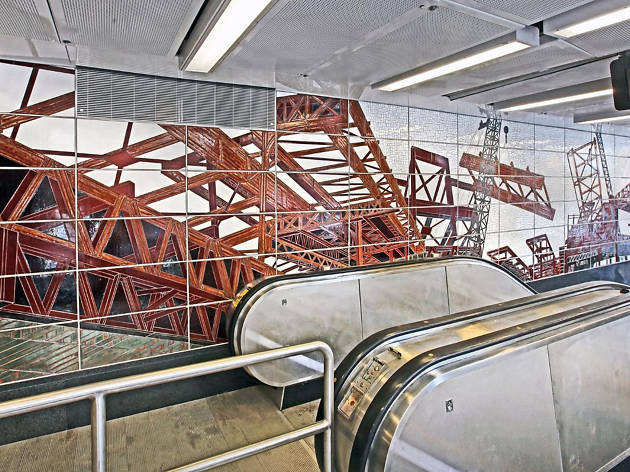 Photograph: Courtesy Governor Cuomo's Office
Jean Shin, Elevated, 2017
Lexington Avenue-63rd Street
The El trains that used to run up Manhattan's East Side are recalled in a series of expansive mosaic murals for the F/Q station at Lexington Avenue and 63rd Street. Made of ceramic tile, glass mosaic and laminated glass, the installation is based on photos of the old 2nd and 3rd Avenue Elevated train. In addition to this image of elevated tracks, Shin's project includes scenes of commuters from the '30s and '40s, along with an expanse of empty sky meant to represent the absent El.
5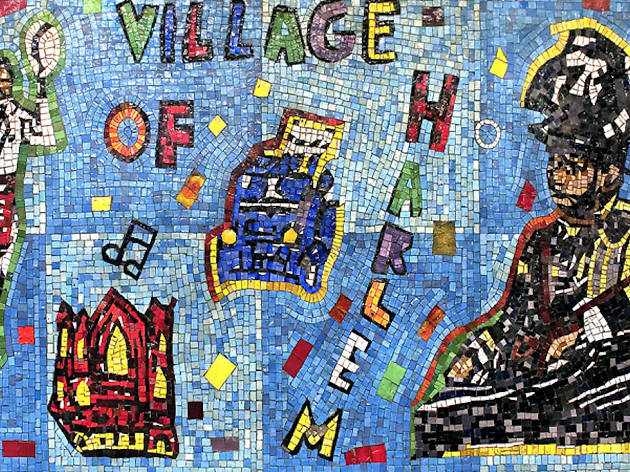 Photograph: Courtesy the MTA
Willie Birch, Harlem Timeline, 1995
135th Street
Luminaries from Harlem's history—Langston Hughes, Charlie Parker, Thelonious Monk—mingle with ordinary straphangers in this mural on the 3 train, which borrows stylistically African-American quilts, textile designs of Mexico and Africa, and visionary folk art.
6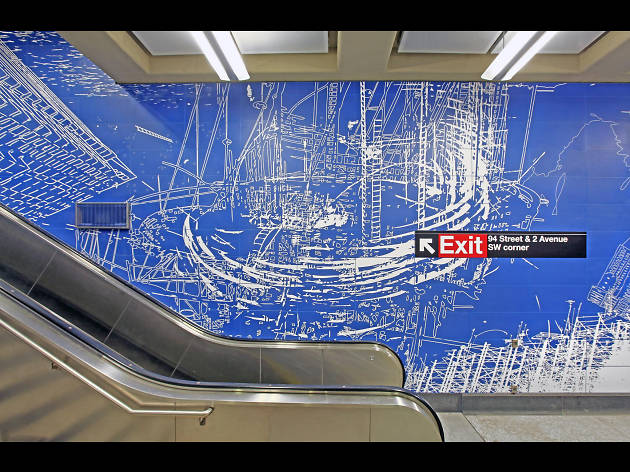 Photograph: Courtesy Governor Cuomo's Office
Sarah Sze, Blueprint for a Landscape, 2017
Second Avenue–96th Street
Some 4300 unique porcelain wall tiles, spanning 14,000 square feet make up this schematic cityscape capturing the frenetic tempo of New York life.
7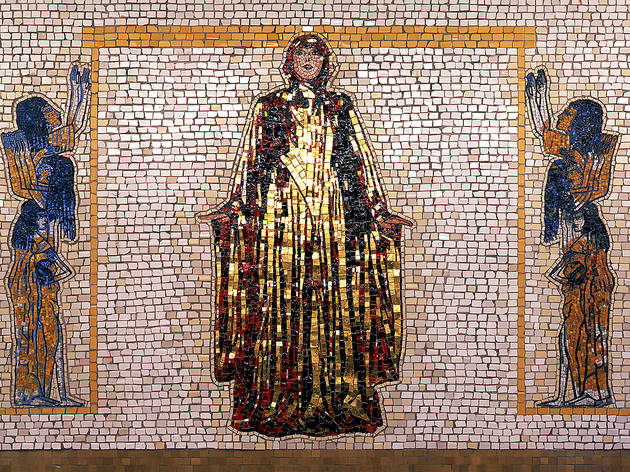 Photograph: Courtesy Rob Wilson
Nancy Spero, Artemis, Acrobats, Divas and Dancers, 2004
66th Street-Lincoln Center
The 1 train stop at 66th Street-Lincoln Center is the gateway to the city's premier performance complex, so this series of glass mosaic murals depicting scenes of theater, dance and orchestra-related subjects by noted artist Nancy Spero is perfect station decor.
8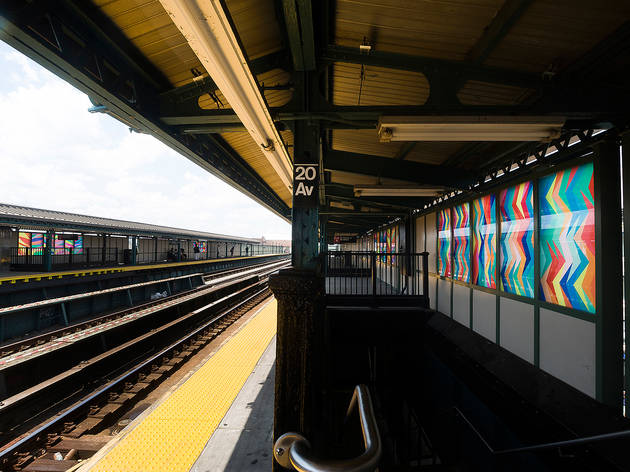 Photograph: Courtesy Karen Mauch
Odili Donald Odita, Kaleidoscope, 2012
20th Ave
Odita, whose abstract works reflect the artist's personal response to and visual memory of specific sites, created this laminated glass mural for the 20th Avenue D train stop in Bensonhurst, Brooklyn. Rendered in bright colors, the piece is meant to evoke "a symbolic cultural quilt of the surrounding neighborhood," describing "all the life, energy, and movement that can be found at the 20th Avenue subway location," as the artist puts. The piece consists of 40 individual panels running the length of the elevated station platform.
9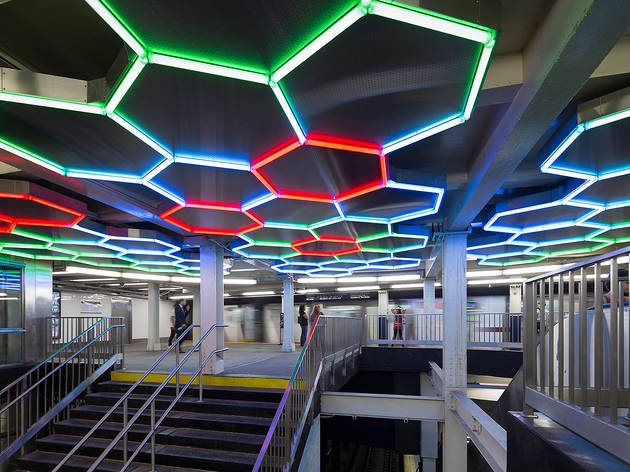 Photograph: Courtesy James Ewing
Leo Villareal, Hive, 2012
Bleecker Street
Once upon a time, you couldn't transfer to the F from the northbound 6 train at Bleecker Street. The MTA finally remedied the situation at no small cost, and then decided to punctuate their accomplishment with this LED light installation by Leo Villareal. The fixtures are formed to created an outline of a honeycomb in a piece titled, appropriately enough, Hive. The name is equally appropriate for a transfer point where straphangers frenetically change trains at rush hour like so many busily buzzing bees.
10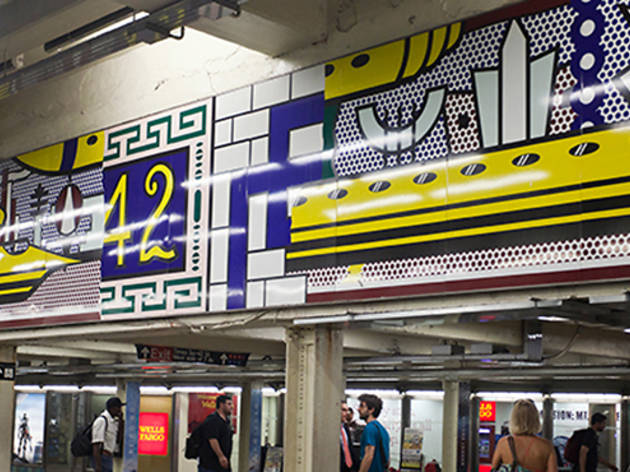 Photograph: Laura Gallant
Roy Lichtenstein, Times Square Mural, 2002
42nd St–Times Sq
The MTA's busiest station is home to more than just people trying to give you a stress test. It also features the work of five major artists, including pop master Roy Lichtenstein's Times Square Mural, a 53-foot-long mash-up of Art Deco, comic-book and retro-futuristic imagery. The massive piece is mounted among the rafters in the main mezzanine, so follow the example of the clueless tourists on the street above and look up!
11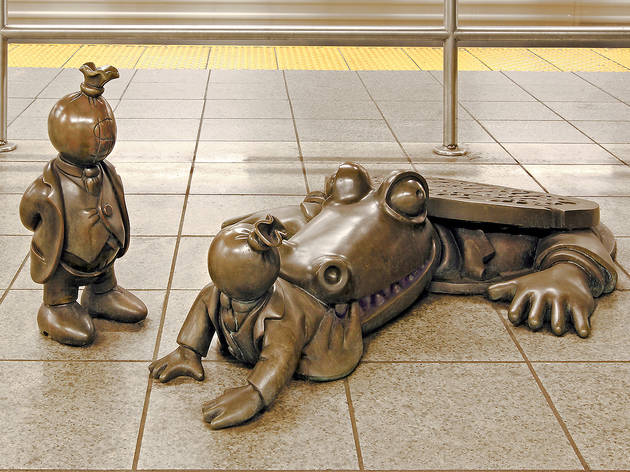 Photograph: Rob Wilson
Tom Otterness, Life Underground, 2004
14th St at Eighth Ave
On your way to the A, C, E or L, you can spot dozens of sculptor Tom Otterness's adorable bronze figurines perched on railings, benches and support beams. Keep your eyes peeled for the artist's playful renditions of city life, including one tiny figure trying to beat a fare and another getting gobbled up by a sewer alligator turned businessman. Fucking alligator businessmen, man.
12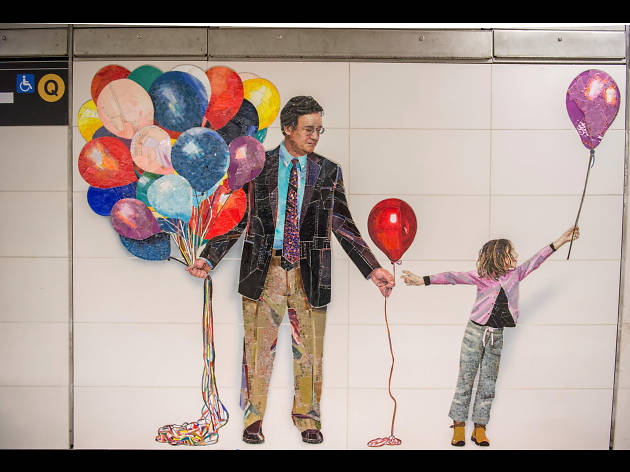 Photograph: Courtesy Governor Cuomo's Office
Vik Muniz, Perfect Strangers, 2017
Second Avenue–72nd Street
New Yorkers of all stripes come alive in these mosaics by Muniz, a Brazilian artist based in New York City and Rio de Janeiro, featuring life-size figures who are depicted as if they were waiting for a train.
13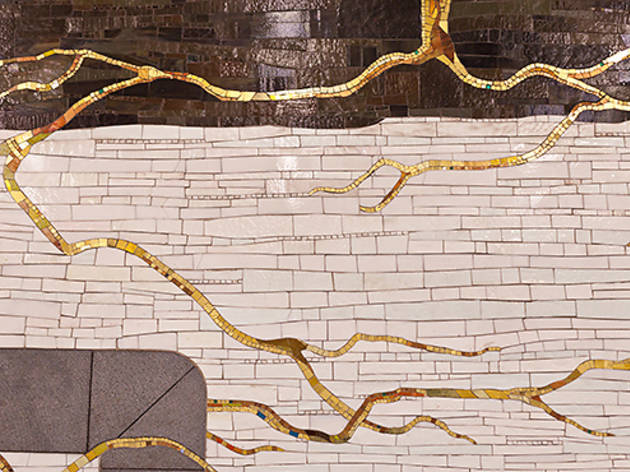 Photograph: Laura Gallant
Samm Kunce, Under Bryant Park, 2002
42nd St–Bryant Park
One of the subway's largest commissioned pieces, Samm Kunce's mural spans the length of the tunnel connecting the orange trains and the 7 and goes a long way to lighten the slog of an extended transfer walk. Mosaic roots intertwine with literary quotations, paying homage to the Public Library (quotes!) and Bryant Park (roots!) overhead.
14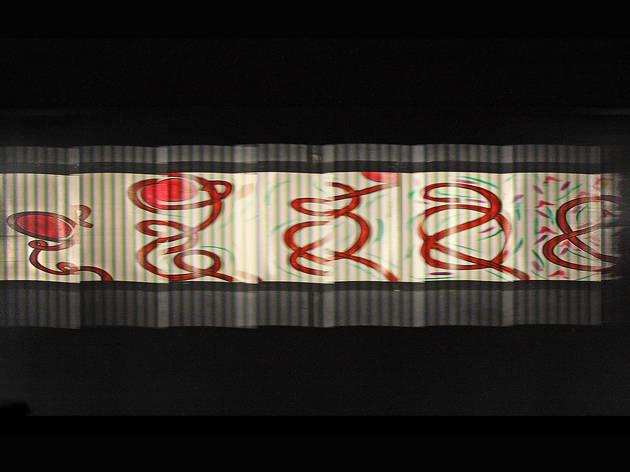 Photograph: Rob Wilson
Bill Brand, Masstransiscope, 1980
B,Q from DeKalb Ave
Installed in the abandoned Myrtle Avenue station, Bill Brand's Masstransiscope uses the principles of the zoetrope, a 19th-century visual-illusion device. When seen from moving Manhattan-bound B and Q trains leaving DeKalb Ave, the images on a long panel begin to animate: Abstract shapes twist, a rocket ship blasts off, and commuters whose phones have died are provided a brief, glorious moment of stimulus.
15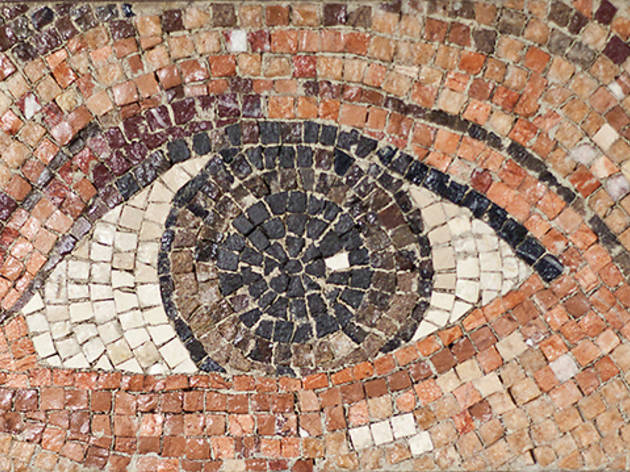 Photograph: Laura Gallant
Andrew Ginzel and Kristin Jones, Oculus, 1999
Chambers St/Park Pl/World Trade Center
If you feel like someone's watching you the next time you're waiting for a downtown A or C, don't freak out—it's probably just one of the 300 mosaic eyes installed throughout the station by artists Andrew Ginzel and Kristin Jones. The images are based on photos of real New Yorkers' eyeballs, including one extra-large peeper that stares up from the floor. (Okay, this last one is admittedly pretty freaky.)
16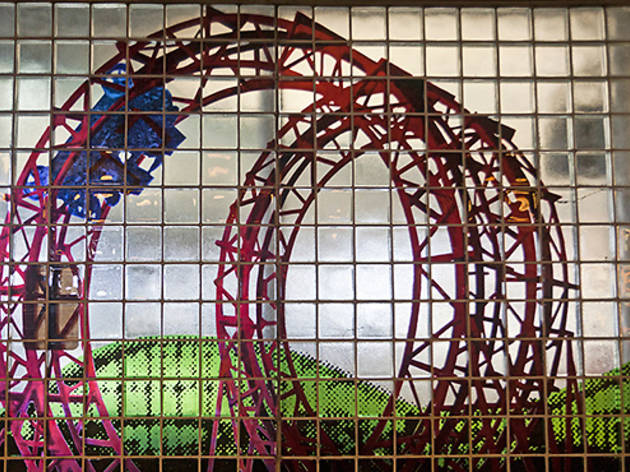 Photograph: Laura Gallant
Robert Wilson, My Coney Island Baby, 2004
Coney Island-Stillwell Ave
No, it's not a huge portrait of Lou Reed (but how cool would that be?). This station's street-level walls are dominated by colossal iterations of the 'hood's icons (hot dogs, Ferris wheels). During the day, sunlight streams through the silk-screened glass brick, giving artist Robert Wilson's scenes an alluring glow. (One piece of advice: If you plan to eat a supersized frank à la Wilson's, wait at least 30 minutes before riding the Cyclone.)
17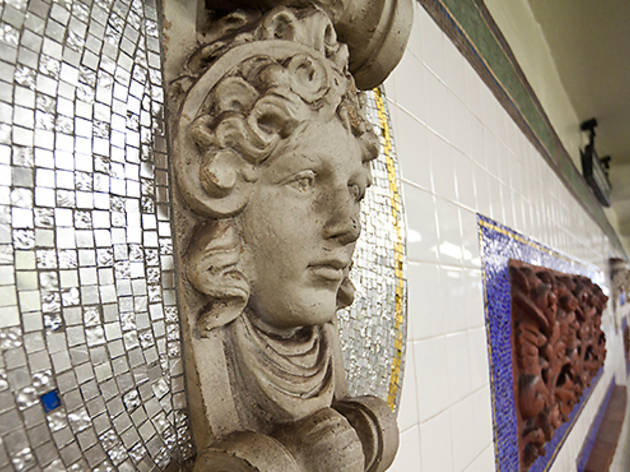 Photograph: Laura Gallant
New York City Architectural Artifacts from the Collection of the Brooklyn Museum
Eastern Pkwy-Brooklyn Museum
If the institution's $12 fee is too steep for you, head underground to get a small sampling of the collection for just one swipe of your MetroCard. The station's walls are adorned with more than 70 busts, gargoyles and abstract designs salvaged from buildings scheduled for demolition.
18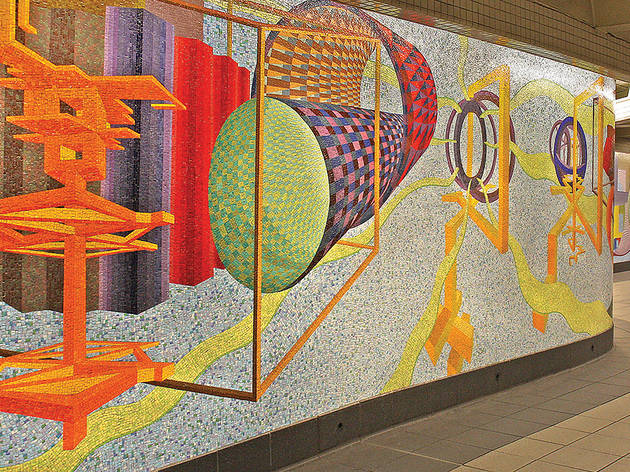 Photograph: Rob Wilson
Al Held, Passing Through, 2004
Lexington Ave-53rd St/51st St
This glass mosaic weaves its way along more than 100 feet of undulating wall within the station's mezzanine in a combination of vibrant color and shifting geometry. The images suggest an alternate universe unrestricted by time and space, which may seem pretty attractive when you're stuck waiting for a late-night 6 train.
19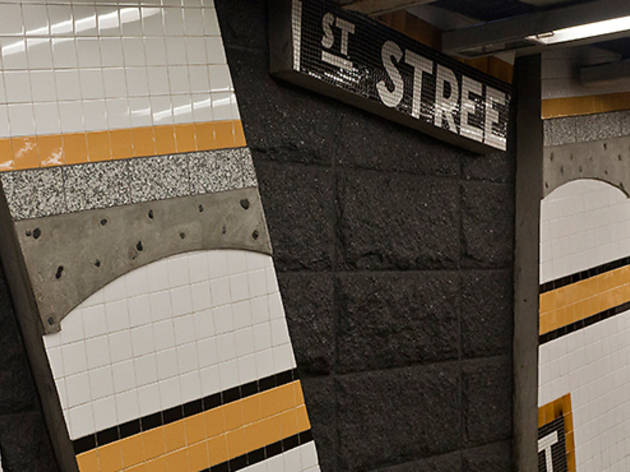 Photograph: Laura Gallant
Vito Acconci, Wall-Slide, 2002
161st St/Yankee Stadium
Vito Acconci's 2002 installation spans every floor of the commuter hub, thoughtfully cutting into and rearranging pieces of the station itself. On the bottom level, chunks of wall jut out to form makeshift seats, while on the top one, the brightly colored tile is sliced into sections that appear to slide down beneath the floor. (Like a wall slide!)
20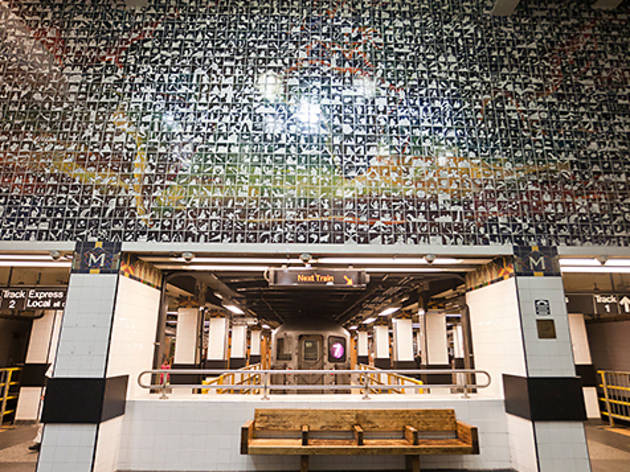 Photograph: Laura Gallant
Ik-joong Kang, Happy World, 1998
Flushing-Main St
The diversity of Queens is captured in Ik-joong Kang's immense mural on the Main St station's mezzanine wall, made up of more than 2,000 tiles, each presenting a different scene from the city of 8 million stories (think: an Italian dude flipping a pizza or a hipster smoking a cig). Keep it in mind the next time you doze off and end up at the end of the line: There are worse ways to kill time than peeping thousands of cool little tiles.