Street art and graffiti in New York: Where to go and who to see
New York has a storied history of street art and graffiti. Find out where to see the best pieces, and go behind the scenes at the making of a mural in Brooklyn.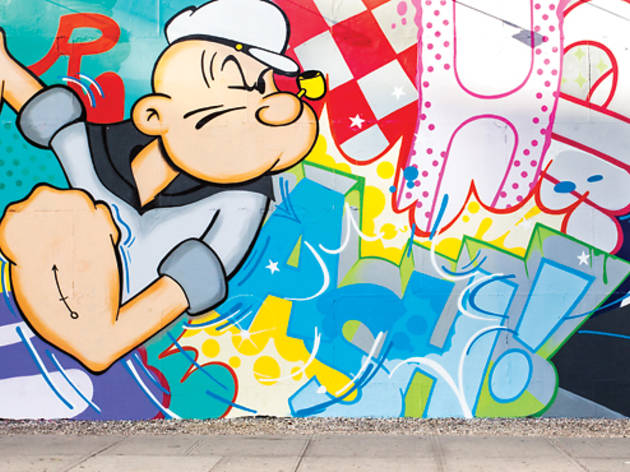 One of NYC's many pleasures is turning a corner to find a street-art mural taking up an entire wall, or spotting a piece by your favorite artist. Enjoy more of these moments with our guide to the best places to see street art and graffiti—from the best curated walls to art galleries, alternative spaces and walking tours. Plus, gain a new understanding of what you're seeing with our breakdown of common styles of street art, a brief history of the discipline in New York and a behind-the-scenes look at the creation of a giant mural in Brooklyn.—Edited by Jonathan Shannon

RECOMMENDED: Complete outdoor art guide
More street art coverage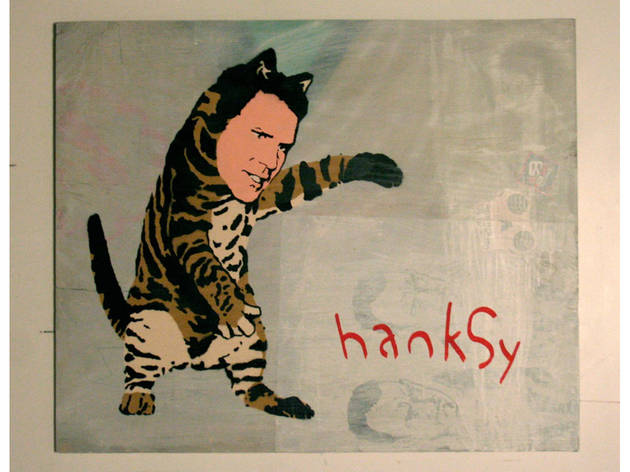 Interview: Hanksy still loves Tom Hanks, but only sort of likes Banksy (2012)
Satirical New York street artist Hanksy grants an exclusive interview in the lead-up to his second solo gallery show, "Young Puns 2—Now with More Pun." Hanksy (tomhanksy.tumblr.com) is a street artist known for combining Banksy's familiar stencil images with the head of actor Tom Hanks. The popularity of his work resulted in major online attention (which caught the eye of Mr. Hanks himself) and a successful solo gallery show in December 2011. His second exhibit, "Young Puns 2–Now with More Pun"—running November 8–28 at Krause Gallery—includes new pieces that gently lampoon celebrities such as Will Ferrell, Bruce Willis and Vanilla Ice. We caught up with the enigmatic pun-lover to talk about his rapid ascent from unknown wall-sprayer to internet sensation.TONY: For those who have never heard of Hanksy, explain what you do.Hanksy: I started out taking the iconic works of the British artist Banksy and adorning them with the mug of Academy Award winner Tom Hanks. I coined it Hanksy; it's just kind of a play on words. I've since moved on to utilizing other pop-culture figures and carrying on with the word play. I take those images and put them up on the street, both legally and illegally.TONY: How did the original concept come about?Hanksy: I've been a fan of Banksy for a while now, and I've always had a deep love for Tom Hanks movies [from when I was] growing up in the '80s and '90s. And I'm a fan of the stupid joke, so it all just worked together. I came up with this idea that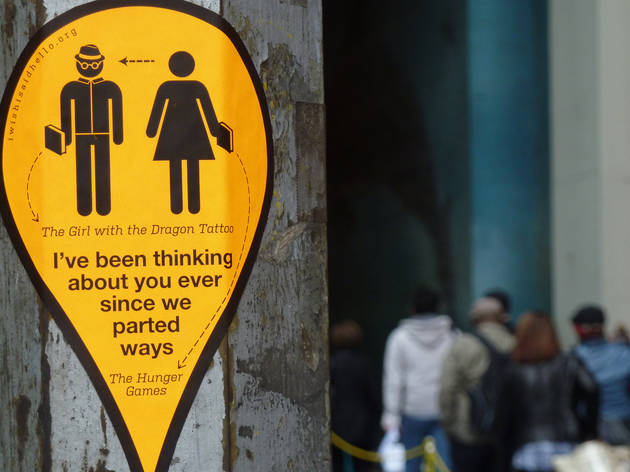 I Wish I Said Hello: Making street art out of missed connections (2012)
Newly launched online project I Wish I Said Hello invites members of the public to create street art out of missed connections. Remember when we ran a missed connections competition, and the winning entry was illustrated by author Sophie Blackall? Well here's your chance to visually portray some of those poignant, public expressions of unrequited love/lust. Lisa Park and Adrià Navarro—the team behind I Wish I Said Hello (iwishisaidhello.org)—have created a street art project based around other people's crossed paths. Here's how it works: Choose a suitable missed connection from Craigslist or some other source, making sure it mentions the specific location where the event unfolded. Download the template (which is in the shape of a Google Maps pin) and fill in the details. Print it out and stick it at the site of the missed connection.The site launched in May with six stickers proclaiming thoughts like "You caught my eye. Didn't want to be creepy so I tried not to look your way" and "Next time you bum a smoke, we're falling in love together" at various Manhattan locations. But Navarro is quick to point out that this is a street art project, not a platform to help people find each other. "Although we would love it if the two main characters passed by our stickers and reconnected, we think the chances of that happening are very low," he says. Instead, the focus is on the street art itself, and the reactions it provokes in passersby. "There's something poetic about this desperate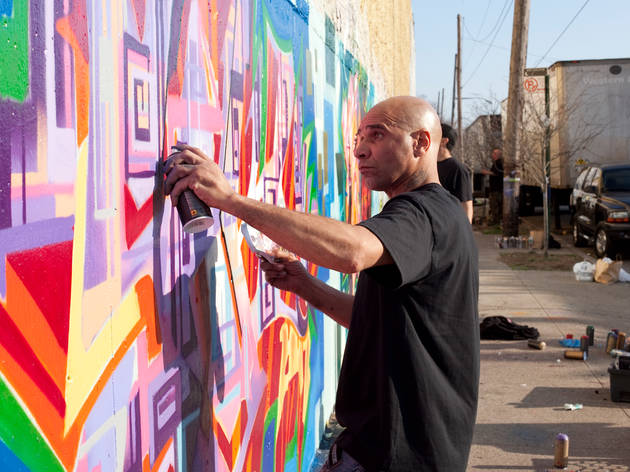 Photos: Goldie and Tats Cru mural in the Bronx (2012)
The yoga-practicing drum 'n' bass DJ reconnects with his old graffiti crew. When he's not eating sushi at Morimoto or playing three-hour sets that involve putting on "Smells Like Teen Spirit" and launching himself into the crowd, Metalheadz label boss Goldie can be found spraying walls with his old friends in Tats Cru. A graffiti artist from way back ("My music kind of accidentally took over," he tells us), he first worked with the Bronx muralists 26 years ago during the filming of hip-hop documentary Bombin'. Last week, fresh from his daily bikram yoga practice, we hung out with him in Hunts Point while he put up a piece inspired by his daughter, Sakuko.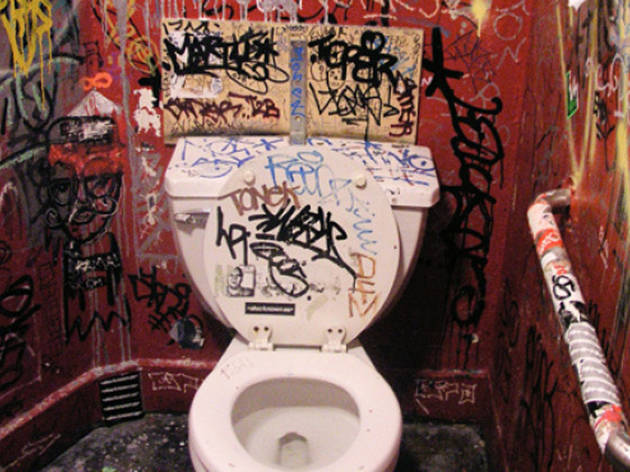 Photos of graffiti: Bathrooms in New York City (2012)
Find pictures of graffiti in New York City bathrooms, as well as the best art and tags that NYC's toilets have to offer. There's something quintessentially New York about a graffiti-strewn bathroom. So to continue our documentation of this city's finest sights (for more photos of graffiti, check out the best subways for street art and the Goldie and Tats Cru mural in the Bronx), we descended into Gotham's dives and hot spots—and more specifically, their restrooms—to snap shots of the coolest tags and wall art around. During our search for photos of graffiti, we found classic downtown-punk decor (Max Fish), neato collages (Pine Box Rock Shop) and much more. Related Best subways for street-art spotting Take a self-guided graffiti tour with a swipe of your MetroCard. When the MTA Arts for Transit program (mta.info/mta/aft) began commissioning public art in the subway system more than 25 years ago, graffiti and street artists were already adorning the platforms and trains with their own brand of creative expression. Blogger Jowy Romano (subwayartblog.com) has been photographing unofficial subway art for the last three years. For him, the illegal work carries the essence and personality of the city. "Subway art is a big part of what makes New York New York," he says. "We have a healthy disregard for the rules and feel some ownership over the subways." Because street art and graffiti are short-lived, the best place to view good pieces is online. But if you want to try hunting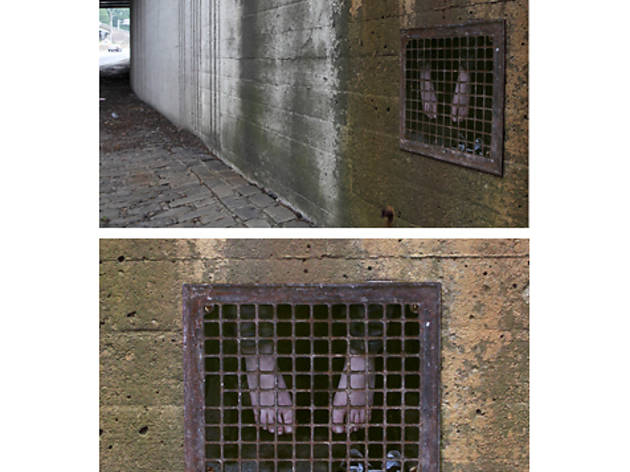 The new street-art class (2011)
These seven artists are doing their part to make NYC more beautiful. Dan Witz (danwitz.com)Who he is: Having worked on the street since 1978, Witz's style has evolved with police enforcement. "I used to paint tiny hummingbirds that took two hours to do, but the zero-tolerance graffiti policies of the '90s forced me to adapt," he says. "Now I paint them on plastic and install the pieces on-site in under 10 seconds. These new techniques have actually helped me do way more street art than if Giuliani had left well enough alone." Look behind grates on highway interchanges and buildings for Witz's creepy, trompe l'oeil "WTF" paintings, which resemble human parts lurking in the darkness. The artist always has a new project in the pipeline: "The Williamsburg and Bushwick area is like a giant self-replenishing collage," he says. "I can't resist." Where his work has been:1. Suicide Girl: Find it at a secret location on the Van Wyck Expressway. Says Witz, "Keep an eye out for it on the way to JFK."2. West Side Highway, NYC: It's located on the eponymous highway, but as for the exact location, Witz is mum—you'll have to hunt it down. XAM (xambuilt.com)Who he is: XAM is a whimsical mainstay in the street-art scene. Last year, he began building and painting small, hardwood birdhouses and attaching them to street signs. Since August, he's installed more than 25 in Manhattan and Brooklyn neighborhoods ranging from Bushwick to the Upper East Side—including in front of the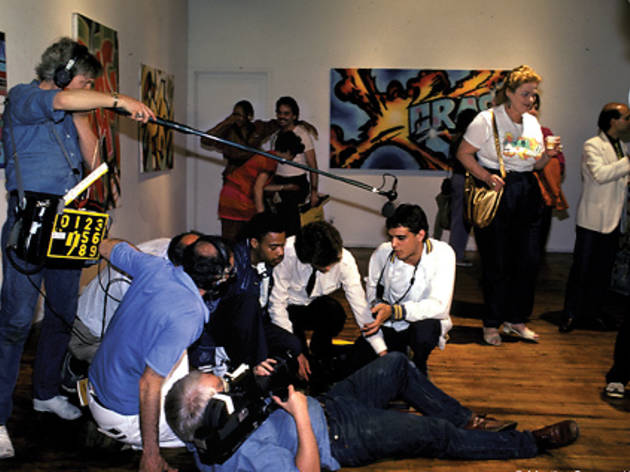 Looking back on Style Wars (2010)
Producers of and participants in the film share their memories. Linda Habib, coproducer and logistical coordinator"My favorite part of making the film was getting to select subway cars with the best top-to-bottom burners [paintings on subway windows] with the cooperation of the MTA, then filming the opening sequence of the movie. I was in the control room with the dispatcher, sending out the trains to showcase the graffiti for our cameras as requested by our director, Tony Silver. It was so cool. I remember feeling hugely grateful and relieved that our film crew and artists made it out safely after shooting and walking around the subway tracks with all their equipment on many a night shoot. Also, I was kind of nervous having Burleigh Wartes, one of our cameramen, lying on his belly hanging out of the front of a subway car to get a point-of-view shot of the tracks on a moving train. But look at the great film we got because of our brave and wonderful crew." Henry Chalfant, coproducer"Graffiti didn't start out being consciously political, it was just fun. But with time people saw it as a great tool for expression of all kinds, including political subversion. And it still is, because unsanctioned graffiti is free and no one can control your message. " Crash (a.k.a. John Matos), artist"Hip-hop was the name the press gave to what was being done in and around the city. Graffiti was always the bastard child or the black sheep, because of the constant illegality revolving aroun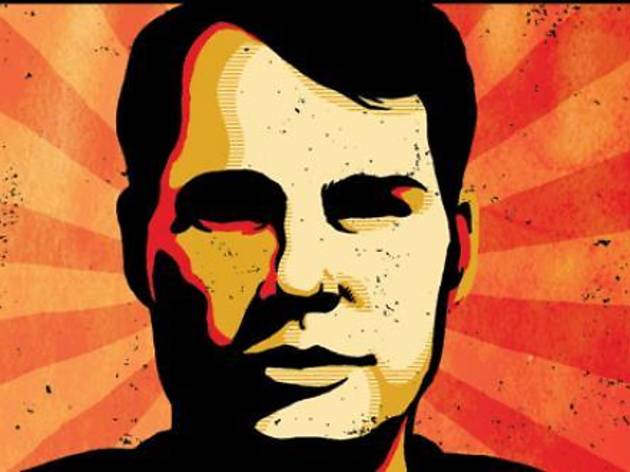 The Hot Seat: Shepard Fairey (2010)
The notorious street artist reflects on a turbulent year. It's the best of times and the worst of times for Shepard Fairey, who shot from countercultural notoriety to international fame thanks to a poster featuring a certain victorious presidential hopeful. His roll started with his Obama HOPE icon, and culminated not only with a museum survey at the hoity-toity Institute of Contemporary Art in Boston, but also with his major involvement in the acclaimed Banksy film, Exit Through the Gift Shop. Recently, Fairey's solo show "May Day" opened at Deitch Projects in Soho, but while the exhibition's title refers to the starting date, it might just as easily be read as a distress call, since the happily-ever-after ending for this Fairey tale has been elusive. First, he was sued by the Associated Press for using its image of Obama without permission. Then, a grand jury convened to look into whether Fairey was criminally liable for withholding information during the course of the suit. Shortly thereafter, he was arrested in Boston for creating an illegal mural. As if that weren't bad enough, a legal mural he put up on the corner of East Houston Street and Bowery has been repeatedly vandalized. TONY reached Fairey in L.A. to discuss the highs and lows of being one of the two celebrity street-artists in the world—but the only one with a face to put to the name. RECOMMENDED: Full list of Hot Seat interviews So what happened up in Boston? You were arrested....When I was in Boston, I did a