Heads up! We're working hard to be accurate – but these are unusual times, so please always check before heading out.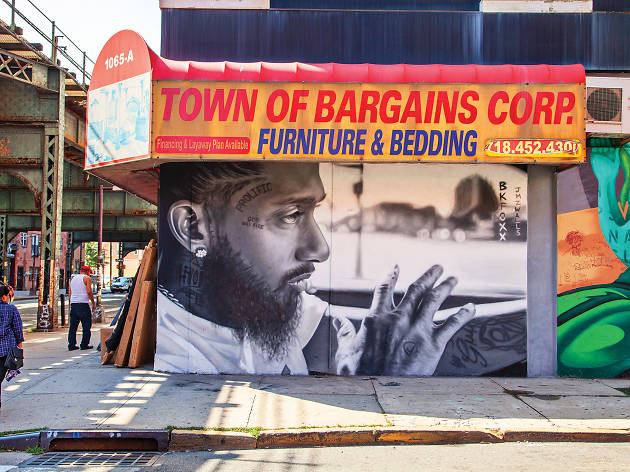 The top spots to see graffiti in NYC
From storied walls to exciting new spaces, here are the must-see outdoor spots displaying the city's best street art and graffiti
Street art was born in NYC during the 1970s, a time when the city was bankrupt and wracked by crime. Almost as a response to the chaos, young kids from the Bronx and Brooklyn began bombing subway cars and buildings with graffiti tags. It was an illegal and sometimes dangerous activity, but it created an art form that would spread around the world, and find its way into NYC galleries and museums in NYC.
Since the days when President Ford told New York to drop dead while the Bronx and Alphabet City were burning, Manhattan has become a haven for billionaire financiers and foreign oligarchs whose real estate investments have jacked up rents to the point of making the five boroughs unlivable for anyone who isn't rich, or willing to spend their entire income on an apartment. Still, street art thrives, ironically as a sanctioned activity sponsored by business owners, community groups and even developers. But don't worry: It's still imbued with the same panache and attitude that made it so compelling back in the day—as you'll see by checking out our list of the top spots to see graffiti in NYC.
Graffiti in NYC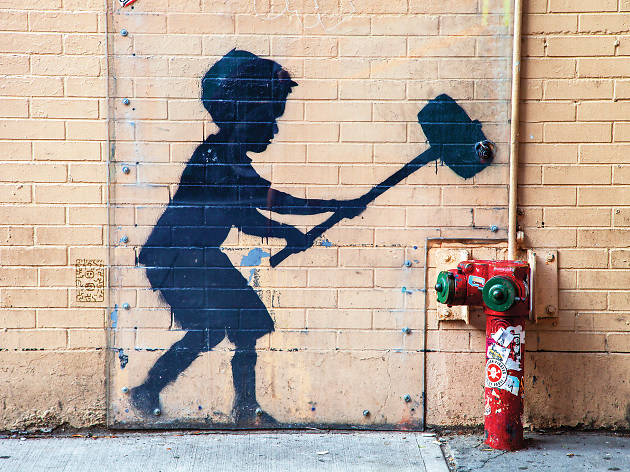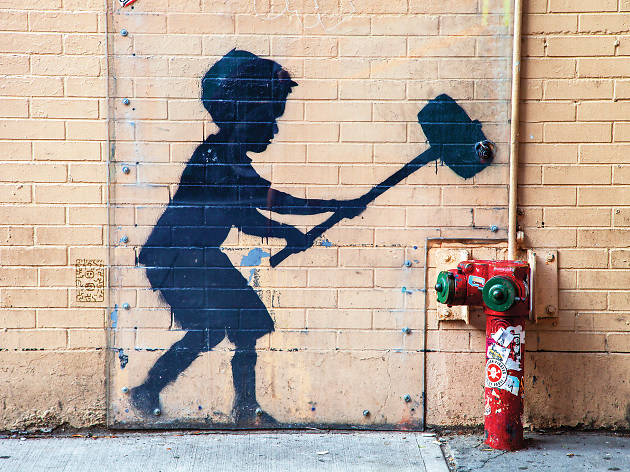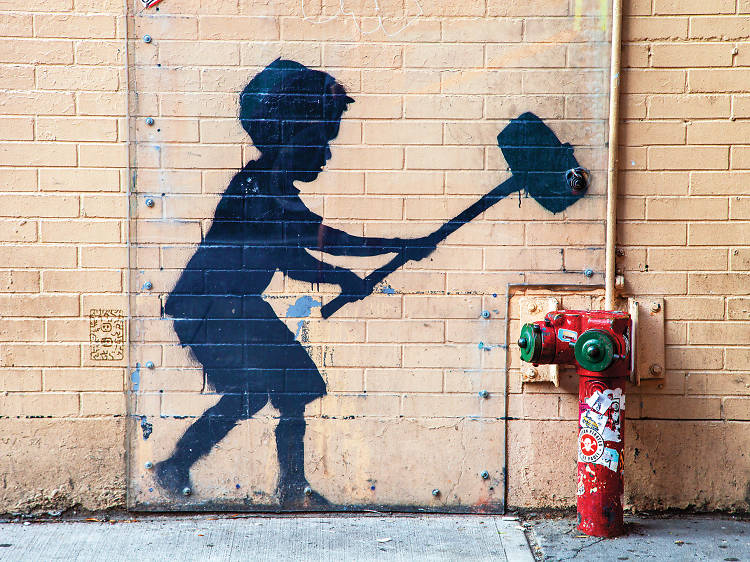 Photograph: Time Out/Ali Garber
Banksy famously loves New York City—in 2013, he staged a monthlong, citywide "show" called "Better Out Than In"—but most of his work here has been covered over, torn down to be sold or defaced by taggers. At least this modest stencil piece on the Upper West Side is still intact, thanks to the building owner, who installed a Plexiglas shield in an act of guerilla art preservation.
79th St between Broadway and Amsterdam Ave
Photograph: Courtesy Foursquare
2. Big Pun Memorial Mural
This tribute to the beloved Puerto-Rican rapper Big Pun (aka Big Punisher, aka Christopher Lee Rios) who passed away in 2000 was created by Bronx-based graffiti artists Tats Cru, and gets repainted annually on Pun's birthday, Nov 10. It's a fitting reminder of the deep ties between the community and Pun, who was the first Latino rapper certified platinum as a solo act.
910 Rogers Place, Bronx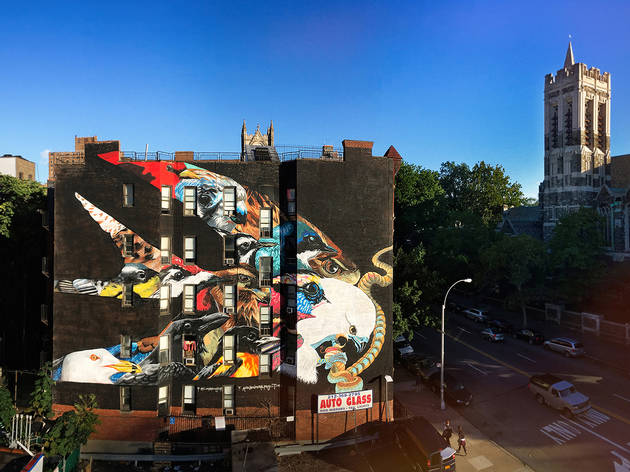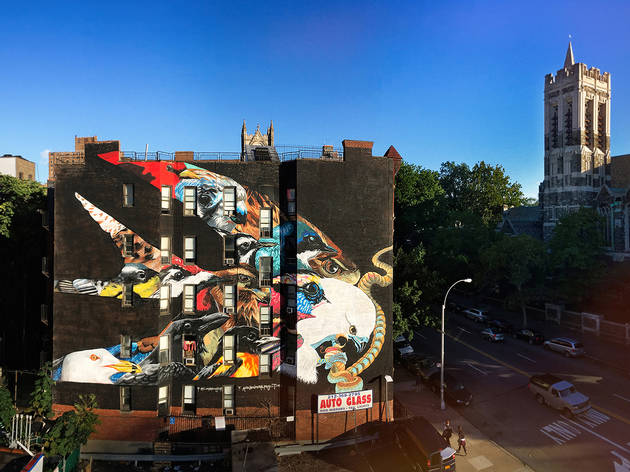 Photograph: Courtesy Mike Fernandez/National Audubon Society
3. The Audubon Mural Project
The Audubon Society has been partnering with the Gitler &_____ Gallery in Hamilton Heights to commission street art murals around Upper Manhattan dedicated to birds threatened by climate change. Their fine feathery plumage makes for eye-popping images, and you can find out where to see them by downloading this map from the project's website.
Hamilton Heights and Washington Heights (audubon.org)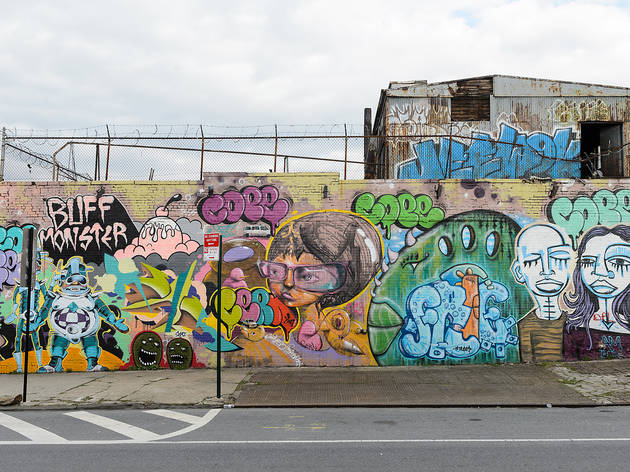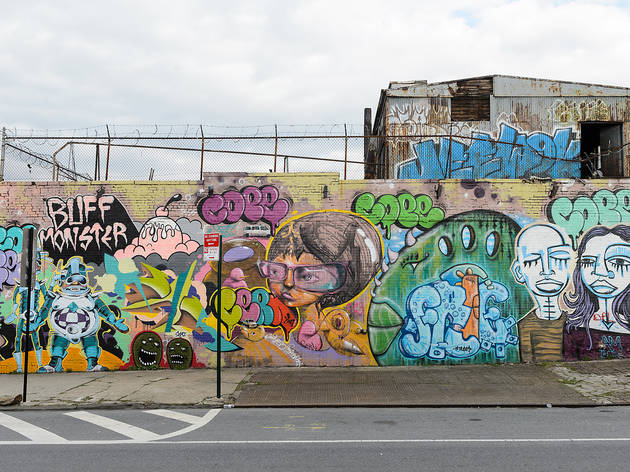 Photograph: Filip Wolak
This epic South Bronx block is only unofficially dubbed the Wall of Fame. That's too bad since it could benefit from landmark status; plans are afoot to raze this community beacon in favor of affordable housing. The wall's pedigree is indisputable: Late Queens legend Iz the Wiz, Long Island's Phetus and L.A.'s MSK crew represent a tiny fraction of the artists who've painted remarkable wild styles, fills, murals and messages across its bricks. The clock is ticking for you to see history before those bricks come crashing down.
E 173rd St at West Farms Rd, Bronx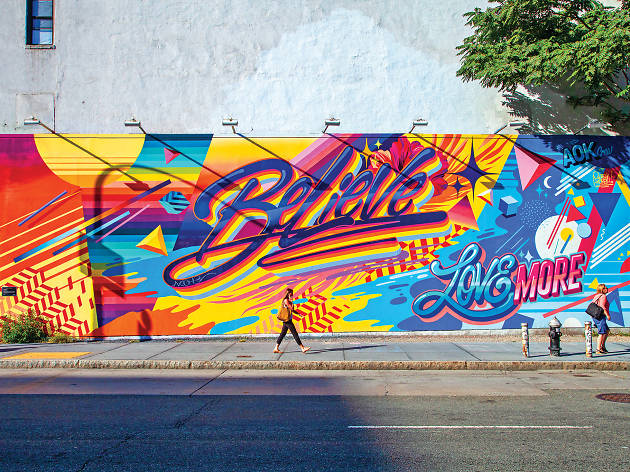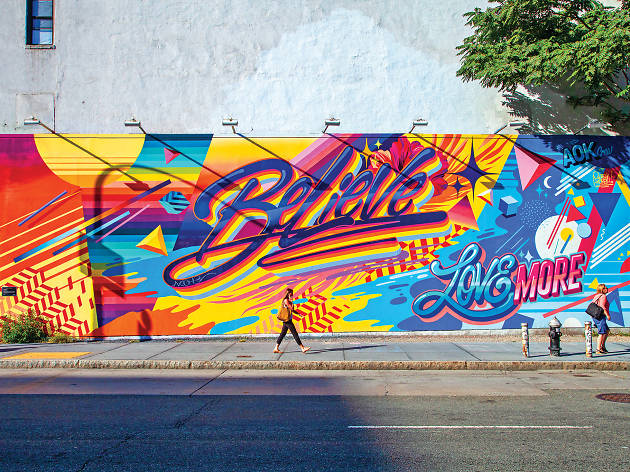 Photograph: Time Out/Ali Garber
Keith Haring was the first big name to paint this wall, in 1982, but its generous surface area and enviable location have inspired an untold number of artists to follow his lead, including legends like Banksy, JR and Shepard Fairey (who just completed a city-approved portrait of Rosario Dawson on a nearby LES water tower; see page 11). The latest installment is an inspirational message by local talent Queen Andrea, who brings a modern sensibility to classic graffiti typography.
Houston St at Bowery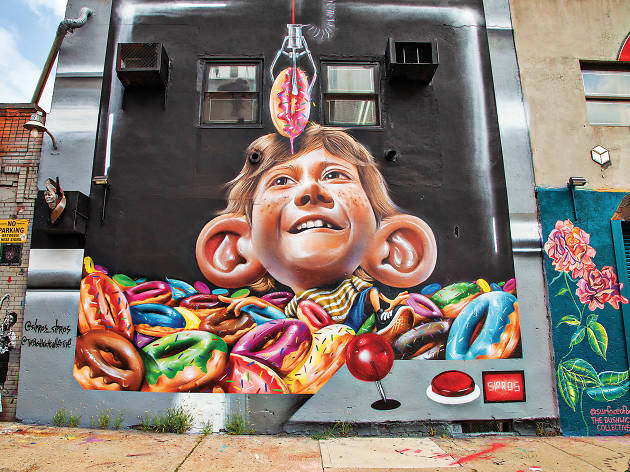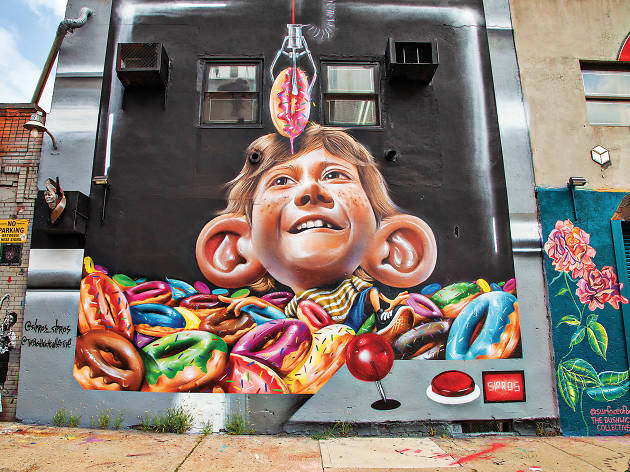 Photograph: Time Out/Ali Garber
6. The Bushwick Collective
Bushwick native Joe Ficalora has made his neighborhood a go-to by transforming it into a sprawling, 12-square-block outdoor museum that features artists from around the world. While strolling the streets just off the Jefferson Street L train stop, keep an eye out for a moving, photorealistic portrait by the rising Sicilian duo Rosk&Loste, as well as the trippy tiger mural by Vexx.
Starts at Troutman St and St. Nicholas Ave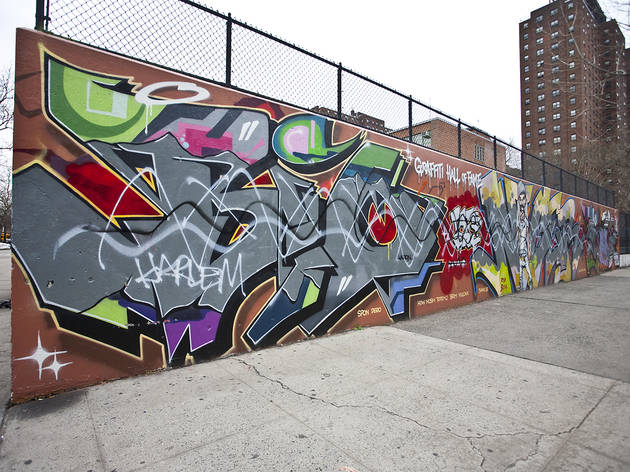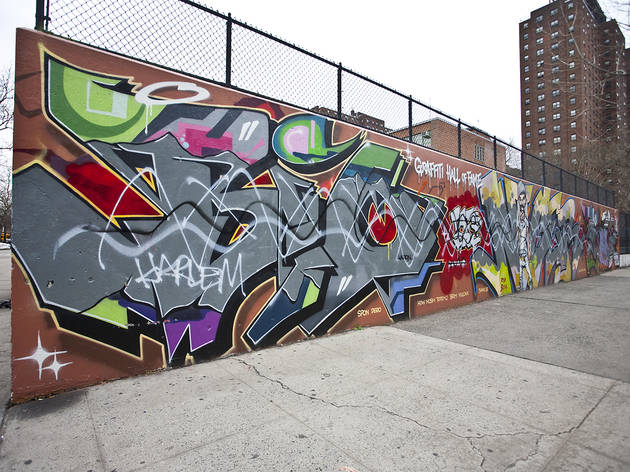 Photograph: Camille A Fernandez
Founded in 1980 by activist Ray "Sting Ray" Rodriguez as a way to promote graffiti's positive attributes, this East Harlem wall has evolved into a place where classic graf styles—and the hip-hop culture they're associated with—can thrive. The massive mural spelling HARLEM doubles as a storybook tour through the city's street-art history.
106th St at Park Ave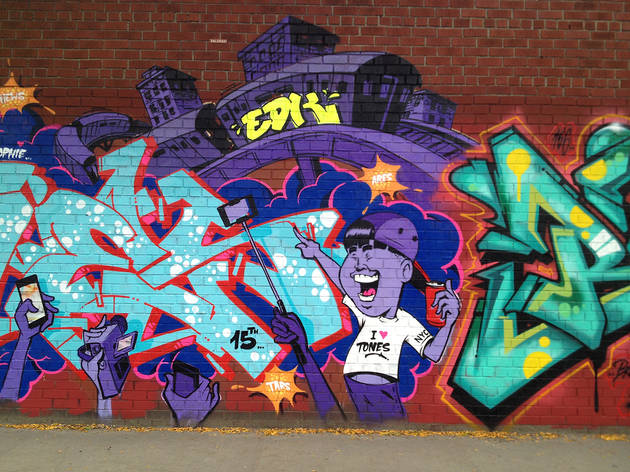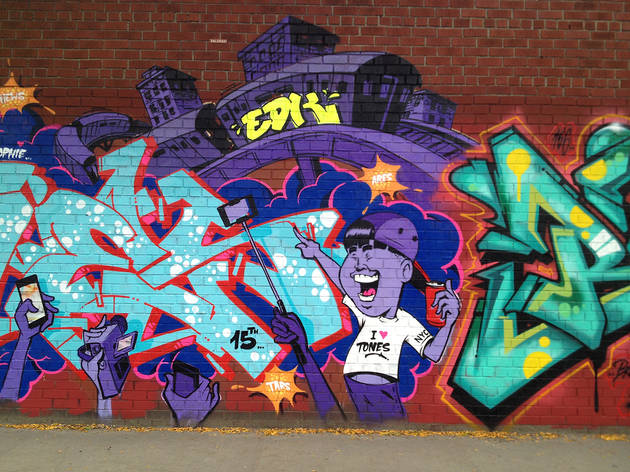 Photograph: Courtesy RIME MSK/jerseyjoeart.com
This industrial block in Bushwick offers prime wall space for street artists from around the world including right here in NYC. A stroll past the warehouses along the avenue might lead you past colorful murals by the likes of Rime (aka Jersey Joe), Swiss artist Tones One and Host 18.
Johnson Avenue off Bogart Street, Bushwick, Brooklyn
Photograph: Joe Woolhead
If you need additional proof that street art has gone legit, look no further than these eye-catching murals painted on a metal shed covering the foundation for 2 World Trade Center—the future skyscraper that will rise on the site in the next few years. Artists Todd Gray, Hektad, BoogieRez, Stickymonger, and husband-and-wife duo Chinon Maria and Sebastian Mitre, have covered the structure in bright images inspired by Pop Art and anime, creating a welcome oasis of color in an area (the Financial District) where the palette is, to put it mildly, muted.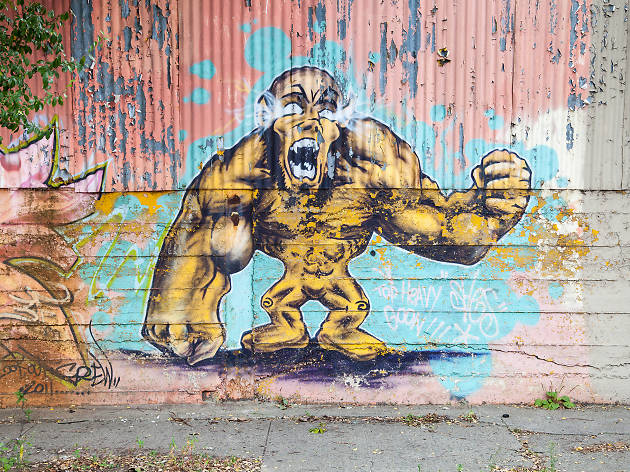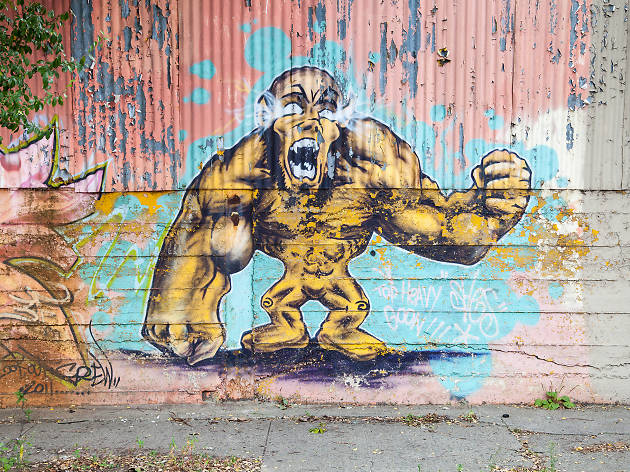 Photograph: Time Out/Ali Garber
Longtime Bronx trendsetters Tats Cru (Bio, BG183, Nicer, How and Nosm) found their latest ripe facade in 2008 and invited, among others, old friend Goldie, U.K. stencil pioneer Nick Walker, L.A.'s reputed Seventh Letter crew, Crash and Evoke to paint. Out of respect for the building's owner, they avoid carving, wheatpaste and overt politicizing, but anything else goes. Check Facebook for their next big artist gathering and perhaps an eventual contribution from original Tats collaborator Fat Joe.
Drake St at Spofford Ave, Bronx (tatscru.net)
Photograph: Krista Schlueter
It's no secret that Williamsburg's industrial Northside has been almost entirely reconfigured as a young urban professional's paradise. But not every abandoned warehouse has been claimed. In recent years, Banksy and Nick Walker have left their unique brand of artful vandalism on this strip, and there are still plenty of throwups, murals and even the odd wild style popping up along the drag—development be damned.
North 6th St between Bedford and Kent Aves, Williamsburg, Brooklyn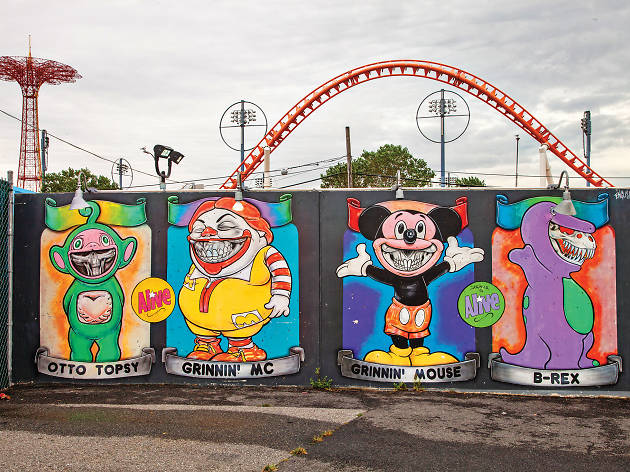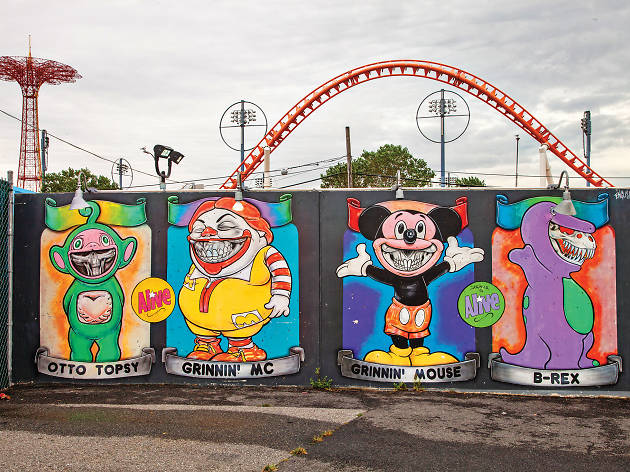 Photograph: Time Out/Ali Garber
Curated by real estate mogul Joseph J. Sitt and superstar art dealer Jeffrey Deitch, this ongoing exhibit still has street cred thanks to its focus on old-school innovators like Lee Quiñones, Crash, Tats Cru and Mister Cartoon. The current batch includes a Pop Art–inspired mural by D*Face and a mermaid fantasia by the cheeky duo the London Police.
3050 Stillwell Ave, Coney Island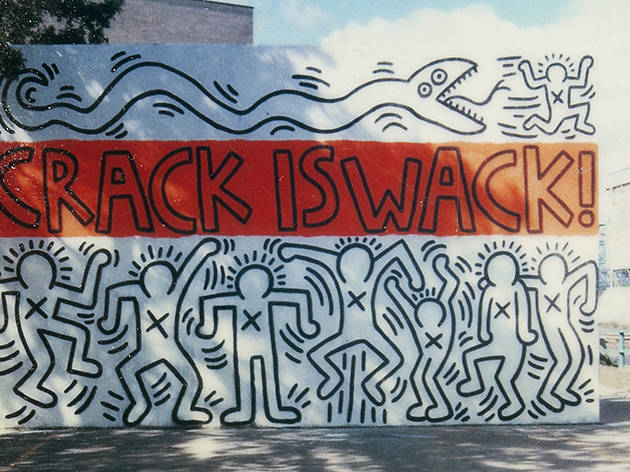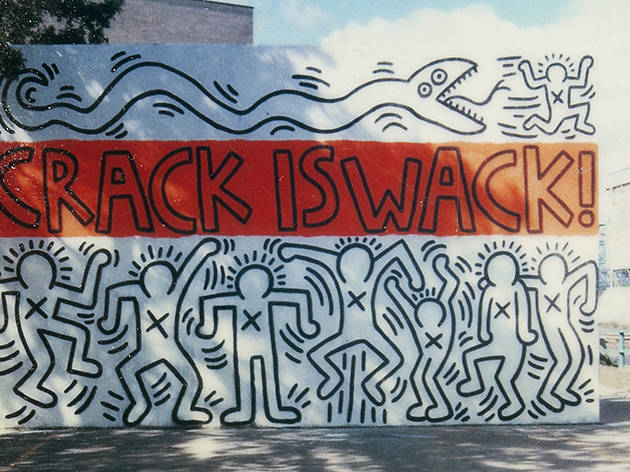 Photograph: Courtesy Keith Haring artwork/Keith Haring Foundation
On a Harlem handball court in 1986, Keith Haring threw up this exuberant public service announcement inspired by a studio assistant who had become addicted to the titular drug. While he painted the piece without permission, just as crack was becoming notorious, the work's message—and Haring's stature—quickly earned the mural the blessing of the city, which is now restoring it.
128th St at Second Ave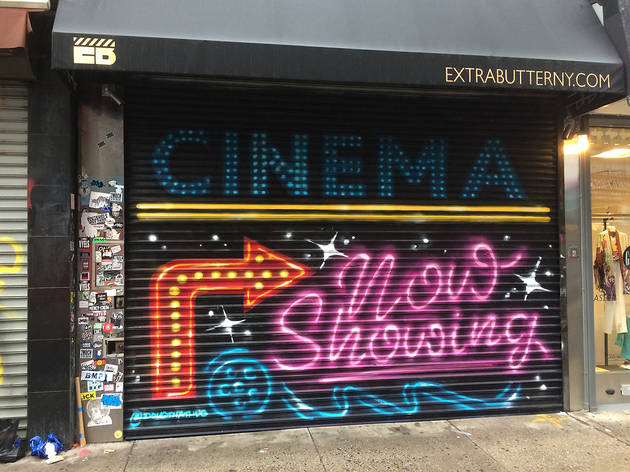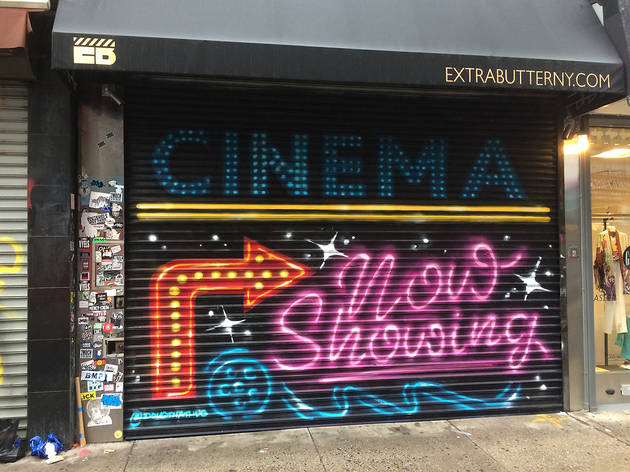 Photograph: Courtesy Nina LoSchiavo
The storefront gates in question belong to businesses participating in this unique street art program covering the Lower East Side, in which retailers looking for some of that sweet street creed are matched with artists looking for a legally permitted space to do their thing. So far, some 75 plus murals have gone up, ranging from Buff Monster's elastic flying brain cum cyclops for Bondy's Cameras and Appliance to Billy the artist's Picassoid faces for Michele Olivieri's sneaker mecca. A complete rundown on works and locations can be found on the 100 Gates Project website.
Lower East Side (100gatesnyc.com)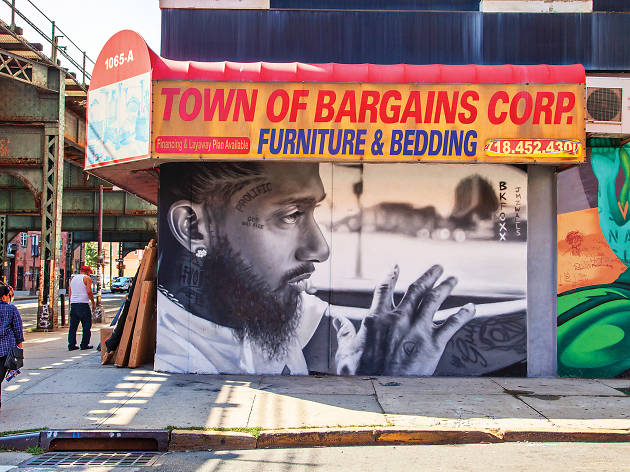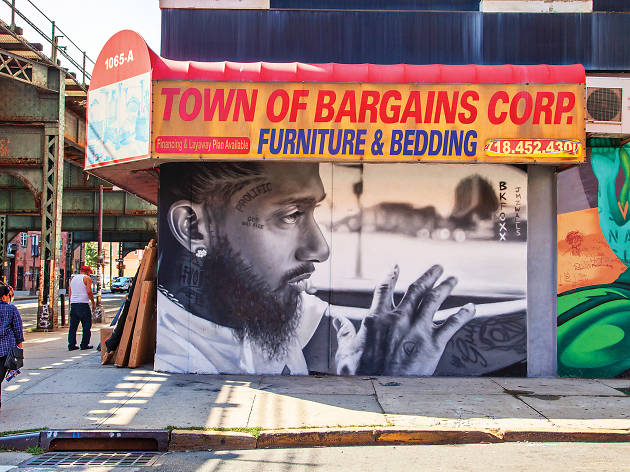 Photograph: Time Out/Ali Garber
The captive audience aboard the MTA's longest elevated train line has inspired artists from across the city and around the globe to pack the stretch of Brooklyn near the J/M/Z with as many tags, throw-ups and murals as it can handle. It's even inspired a group called JMZ Walls (@jmzwalls) to not only archive it all but also to bring artists together with property owners who want to support their work.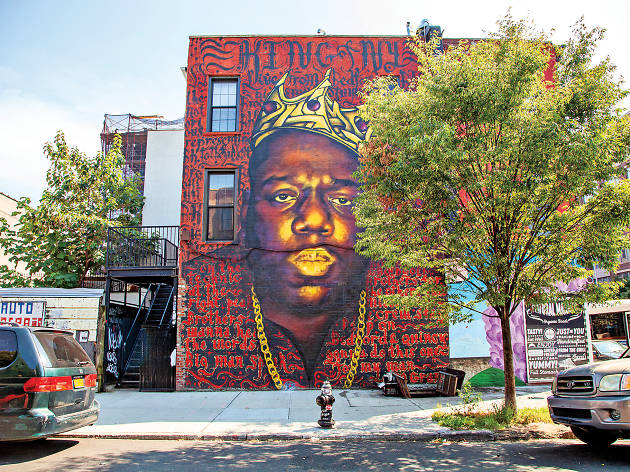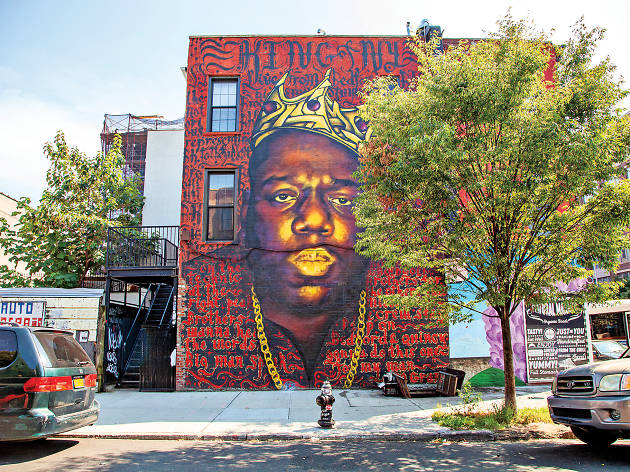 Photograph: Time Out/Ali Garber
Based on the iconic portrait by NYC photographer Barron Claiborne, this three-story mural of the Notorious B.I.G. is both the biggest of the city's many painted memorials to gone-too-soon rappers (including Big Pun and Sean Price) and the most popular, bringing a stream of visitors to Biggie's old stomping grounds.
Bedford Ave at Quincy St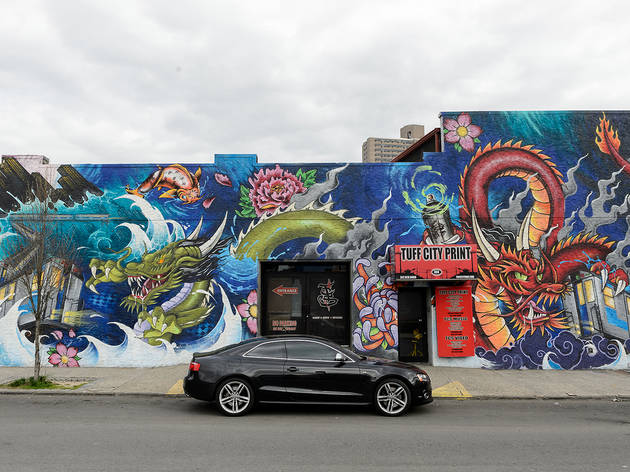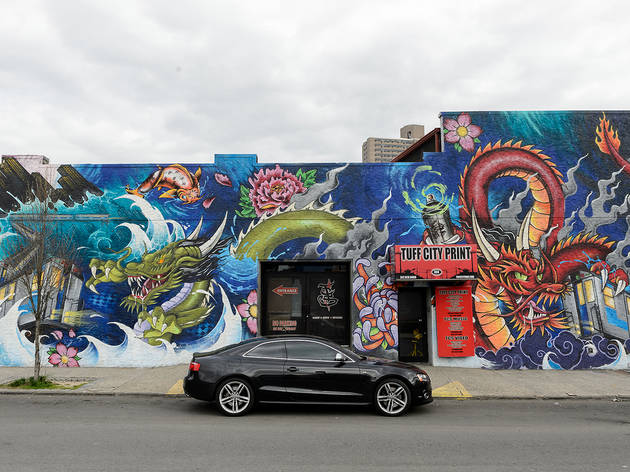 Photograph: Filip Wolak
This landmark tattoo shop and gallery's uptown location (the sister outpost's on the Lower East Side) has doubled as a haven for graffiti heads since 2007. Signature lettering wraps around the building, but the main attraction is the awe-inspiring 45-foot subway car—a decorative tribute that's becoming more common these days—out back that's boasted full-scale pieces, colorful characters and throwups of all stripes by Brazilian twins Os Gêmeos, Cope2, the late Iz the Wiz and scores of their peers.
650 Fordham Rd at Belmont Ave, Bronx (718-563-4157, tuffcitystyles.com)