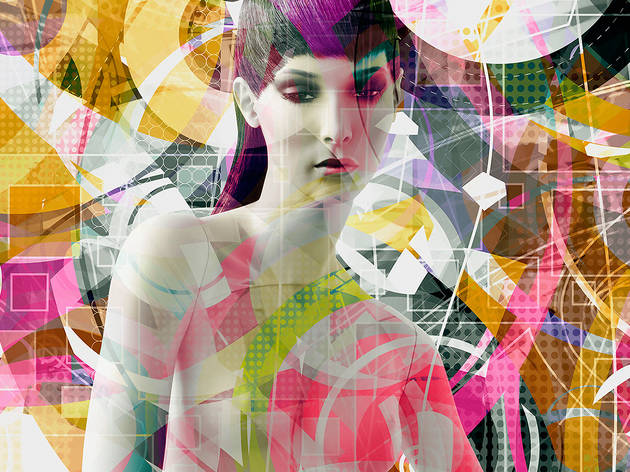 The top 15 photo shows on view in NYC
Check out the bizarre and the beautiful at fall's top photography shows
As art mediums go, photography is relatively young, but its impact on art history has been enormous, and it's already evolved into a countless array of styles. Many photo shows currently on view evidence just how caried photography can be: They range from familiar Western landscapes to complex works of Conceptual art. This variety comes into focus here with our picks for the best photography exhibits now showing at top art galleries and museums in NYC.
Top 15 photo shows in NYC
This show presents a trio of photographers who share a skill for coaxing formally abstract images from recognizable subject matter. Grayscale still lifes of monochromatically painted bottles and packaging by Swedish artist Dawid (Björn Dawidsson), long-exposure photos of drive-in theater screens by Hiroshi Sugimoto and Harry Callahan's nature studies and nudes point to the endless possibilities afforded by the constraints of rigorous composition.

DAWID, #1141, 1983
Photograph: © Dawid/Åmells Fine Art Dealer
If Ruhter's large-format images (which measure 4 by 6 feet) remind you of classic 19th-century landscape photos, that's totally intentional. He even goes so far as to use period photo technology, shooting his images with collodion wet plates taken with a large delivery truck converted into a giant mobile camera and traveling darkroom. The results are as rugged and majestic as the Western desert itself.

Ian Ruhter, Monument Valley (John Ford), 2015
Photograph: Courtesy Danzinger Gallery
Before she married a Beatle, Linda McCartney was a photographer, and in fact the former Linda Eastman—who was an American—met her future husband while on assignment in the U.K. to shoot pictures of bands. During her married life, her images turned more personal, often focusing on family. Eventually her daughter Mary also became a photographer. This exhibition, which includes celebrity portraits, presents the work of both women to explore commonalities of style and subject, as well as familial dynamics as seen through two points of view.

Linda McCartney, James, Sussex, 1980
Photograph: © 1980 Paul McCartney/Photographer: Linda McCartney. Courtesy Gagosian Gallery.
Lichtenstein's metier is still life, and here she's engaged in a collaborative recycling project of sorts with artist Josh Blackwell. On view are images she took of Blackwell's sculptural works, which are stitched out of discarded plastic shopping bags from bodegas. In Lichtenstein's photos, Blackwell's pieces are framed in close-up, exposing topologicalfeatures that result from his process of cutting, puncturing, ironing, painting and sewing together the bags.

Miranda Lichtenstein, Thank You (Orange), 2015
Photograph: Courtesy Elizabeth Dee Gallery
The Dutch photographer known for her deadpan studies of adolescents in the midst of forging their identities returns with new images taken at a school for young Russian gymnasts in St. Petersburg. They are seen training in photos that metaphorically link physical development with emotional states.

Rineke Dijkstra, The Gymschool, St. Petersburg, 2015, still
Photograph: Courtesy the artist and Marian Goodman Gallery
"Unique" in this case refers to Mapplethorpe's medium of choice for these images taken from 1970 to 1975: Polaroid film. Dating from his early years, the photos deal with the same subjects (self-portraits, figure studies, still lifes and portraits of lovers and friends) that characterize Mapplethorpe's mature style, revealing that his aesthetic sensibility was pretty much formed from the outset.

Robert Mapplethorpe, Lucy, Paris, 1973
Photograph: © Robert Mapplethorpe Foundation
The French photographer presents large-scale color photos of female mannequins superimposed over vector graphics sourced from Internet stock-image sites. Imposing in their strangeness, they explore such issues as beauty and artifice with kaleidoscopic verve.

Valérie Belin, Ananké, 2015
Photograph: ©Valérie Belin
A musician, writer and filmmaker as well as a photographer, Parks was a giant of his profession. An African-American, he virtually invented the blaxploitation movie by directing Shaft, earning him a place in the pop-cultural canon. Despite the genre name given to the films that followed in its wake, Shaft, with its super cool detective protagonist, was intended as a symbol of black empowerment and heroics. In many respects, those same qualities come through in these photos of the segregated South during the mid-1950s. Shot in color for Life magazine, the images document ordinary African-Americans going about their daily business in the constant shadow of Jim Crow—made evident by the conspicuous presence of "White Only" and "Colored Only" signs above department store entrances, windows at ice cream stands and city bus seating areas. The way Parks captured his subjects almost as if they were in a Norman Rockwell painting, and the restraint with which they endure the unendurable, makes the injustices pictured here seem all the more pronounced.

Gordon Parks, Department Store, Mobile, Alabama, 1956
Photograph: © Gordon Parks Foundation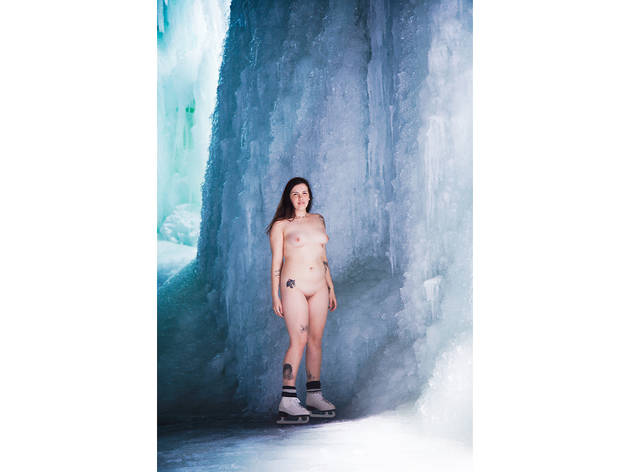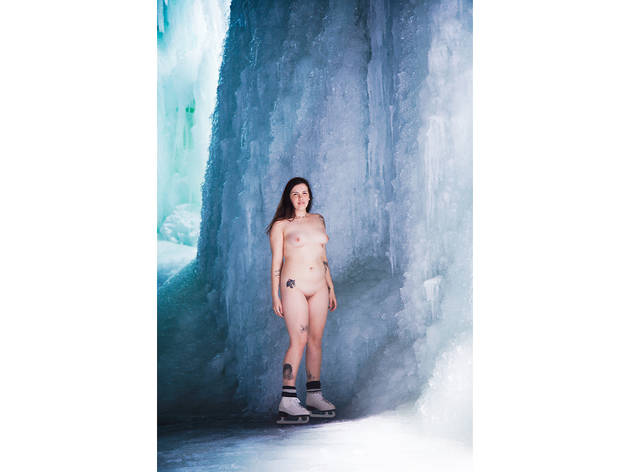 Courtesy Team Gallery
It wouldn't be completely out of line to assume that the subjects in McGinley's latest photos are freezing their tushes off: As is the past, the artists has set loose lithe, young nude models scampering across open landscapes in celebration of ecstatic adolescence—only here, they're leaving themselves open to the tender ministrations of snow, ice and frigid temperatures. A concurrent series being presented at the gallery's L.A. location features similar scenes of liberated youth cavorting amid the brilliant foliage and gentler climate of fall.

Tessa (Ice Skates), 2015
Photograph: Courtesy Team Gallery

A Harvard dropout whose life remains something of a mystery, Barlett is best known for creating a fantasy family of lifelike dolls of children ages 6 to 16, which he dressed up and posed before the camera. But he also shot other photographic subjects, including conventional images of kids, which he hoped to market. Here his signature work is presented alongside archival material to chart his development from hobbyist to outsider artist.

Morton Bartlett, Untitled (self portrait with Joyce Ricker), c. 1934
Photograph: © Morton Bartlett
A midcentury photographer, Metzker pushed darkroom techniques to create extreme contrasts of dark and light, resulting in images of stark, abstract beauty. Compositionally rigorous, his street scenes and figure studies are formal, but also exquisitely poetic.

Ray K. Metzker, Frankfurt (61 DZ‐31), 1961
Photograph: Courtesy Laurence Miller Gallery
In view are nearly 80 photographs taken between the 1870s and the 1970s that together reflect the evolution of portrait photography in the region spanning Senegal to Cameroon and Mali to Gabon. The images on view range from casual snapshots to formal studio photos.

Unknown Artist (Senegal) Portrait of a Woman, c. 1910
Photograph: The Metropolitan Museum of Art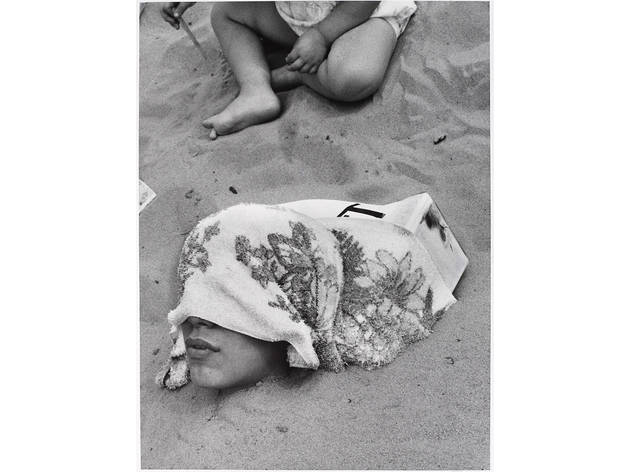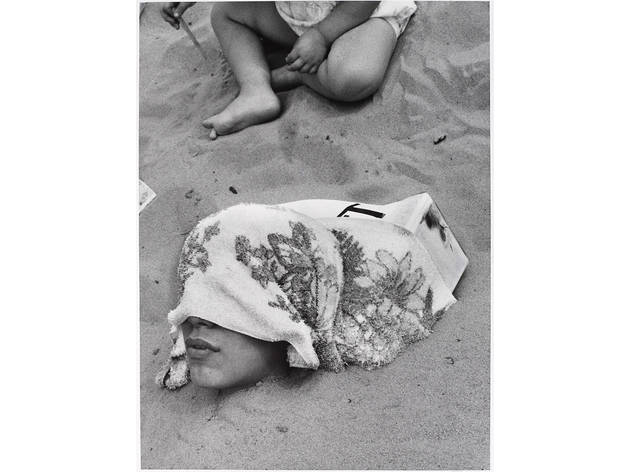 © Estate of Harry Lapow. (Photo: Sarah DeSantis
"Forever Coney: Photographs from the Brooklyn Museum Collection"
As part of its multi-exhibit celebration of Coney Island, the Brooklyn Museum reaches into its collection for these images of the grandaddy of all amusement parks, which span Coney's history from shortly after the Civil War through its 20th-century heyday.

Harry Lapow (American, 1909–1982). Untitled (Buried Alive), c. 1960s or 1970s.
Photograph: © Estate of Harry Lapow. (Photo: Sarah DeSantis
Nineteen artists and artist collectives from 14 countries are included in the latest edition of MoMA's annual showcase of emerging contemporary photographers; this year the focus is on "on connectivity, the circulation of images, information networks and communication models."

DIS, Positive Ambiguity (beard, lectern, teleprompter, wind machine, confidence), 2015
Photograph: The Museum of Modern Art
In recent years, contemporary photographers have created narratives conspicuously couched in highly mediated, self-referential deconstructions of photography in which the medium itself becomes a kind of character in a story. This show surveys the trend in a selection of 70 works by a roster of 10 artists that includes Claudia Angelmaier, Erica Baum, Anne Collier, Moyra Davey, Leslie Hewitt, Elad Lassry, Lisa Oppenheim, Erin Shirreff, Kathrin Sonntag and Sara VanDerBeek.

Elad Lassry, Untitled (Woman, Blond), 2013
Photograph: Solomon R. Guggenheim Museum