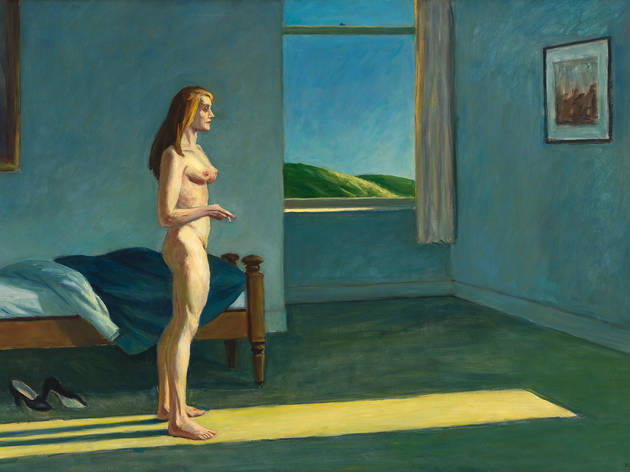 The best artworks at the Whitney Museum in NYC
The Whitney Museum's sterling collection of modern paintings and sculptures loudly proclaims "made in America"
The Whitney Museum is named for Gertrude Vanderbilt Whitney, the Gilded Age heiress who, in the first decades of the past century, began to devote herself to the then-quixotic mission of promoting American artists. It is that mission which continues to distinguish the Whitney Museum—NYC's top art museum for American art—from the Museum of Modern Art, the Guggenheim and even the Met. Its collection tells the story of modernism's growth in America, and more indirectly, the tale of a country evolving from provincial backwater to superpower. Both can be seen in this list of the nine best examples of work from the museum's permanent collection of paintings, sculptures, photographs and drawings.
RECOMMENDED: Full guide to the Whitney Museum in NYC
What to see at the Whitney Museum in NYC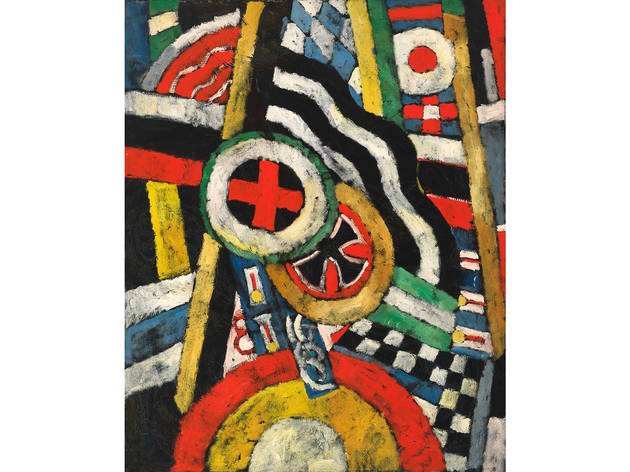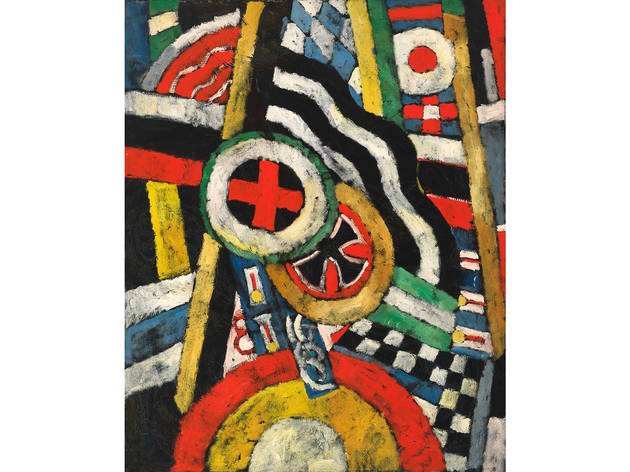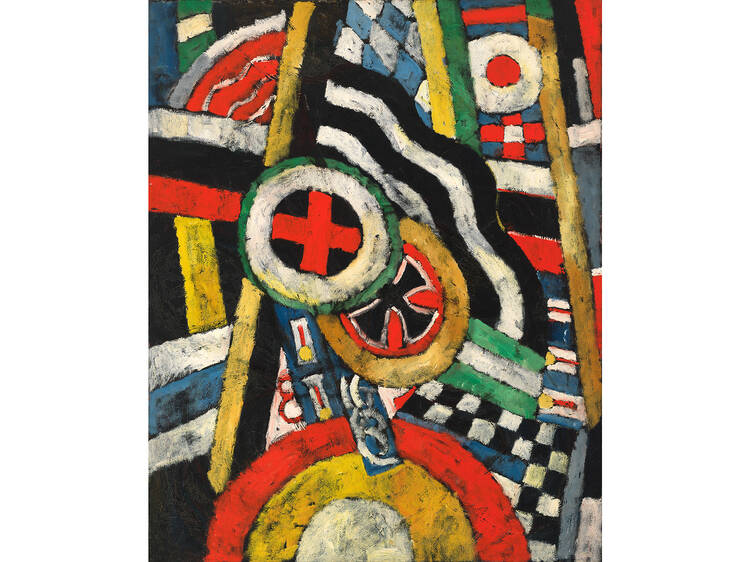 Photograph: Courtesy Whitney Museum of American Art
1. Marsden Hartley, Painting, Number 5, 1914–15
Hartley was a key figure in early American modernism, his work arguably an expression of something like queer aesthetics avant la lettre. This painting is one of several inspired by Hartley's infatuation with a young German army officer he met while living in Berlin during the lead-up to World War I. It's also a document of the artist being swept up in the pomp and spectacle of Prussian militarism as Germany girded itself for war. Hartley translates all of these feelings into an abstracted language that balances Eros and poetry, transforming ribbons, medals and insignia into a controlled riot of bold, boisterous color.

Photograph: Courtesy Whitney Museum of American Art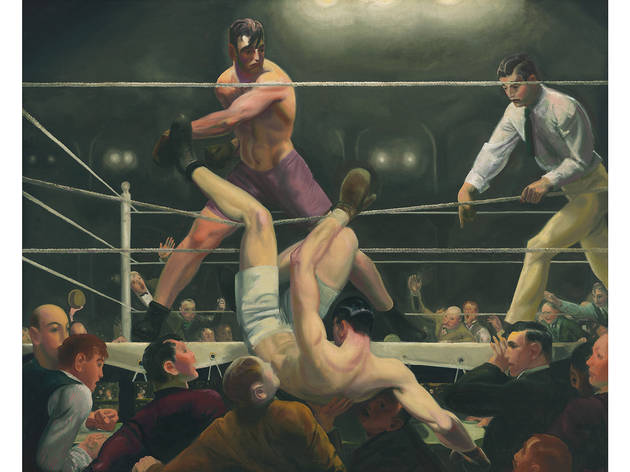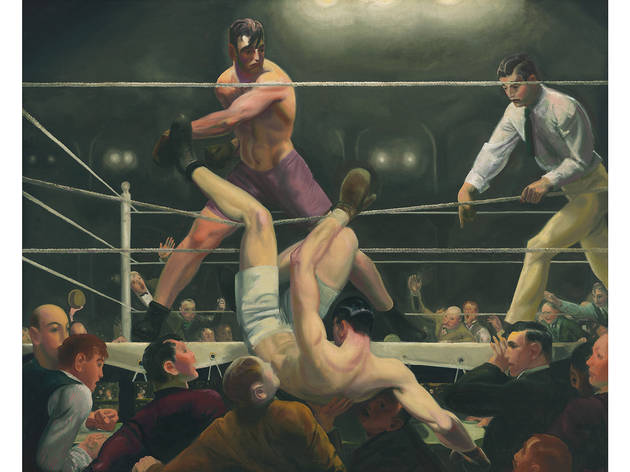 Photograph: Courtesy Whitney Museum
2. George Bellows, Dempsey and Firpo, 1924
This canvas recounts the bout between American champion Jack Dempsey and Argentine challenger Luis Ángel Firpo on September 14, 1923, at New York City's Polo Grounds. Bellows, one of the great painters of the Ashcan School, had been assigned by the New York Evening Journal to sketch the fight. Firpo wasn't given much of a chance against Dempsey, and was knocked down seven times in the first round. But then, suddenly, Firpo landed a roundhouse right on Dempsey, sending him sailing through the ropes and onto the sportswriters' ringside table. That's the moment captured here, made all the more epic by the painting's friezelike scheme. Bellows conflates an instance frozen in time with timelessness, as the two pugilists are locked together in a dynamic symmetry of muscle and limb. For the record, Dempsey rebounded in the second round, finishing off Firpo to retain his crown.

Photograph: Courtesy Whitney Museum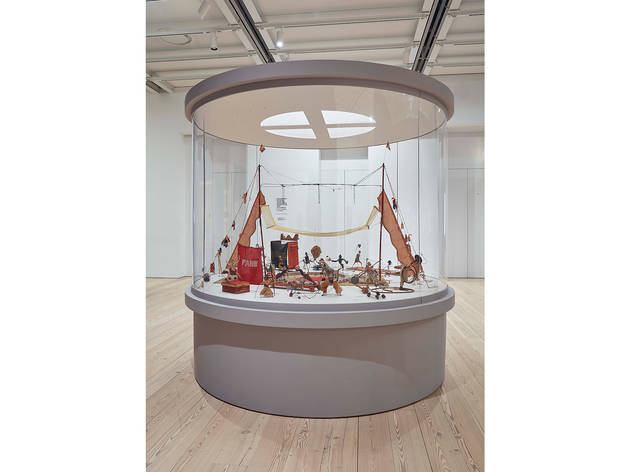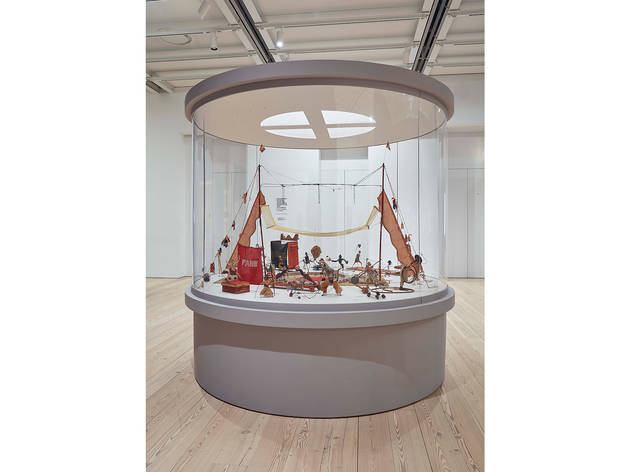 Photograph: Courtesy Calder Foundation
3. Alexander Calder, Calder's Circus, 1926–31
The Whitney considers this Calder work its signature possession, and no wonder: Each element—some 70 figures of performers and animals, as well as 100 additional pieces making up the flags, carpets and nets—was fashioned by hand to create a miniature big top. The work was originally made in Paris, where Calder would use it to put on performances—first for an audience made up exclusively of the Parisian avant-garde; later for friends and family—moving the figures around and supplying the voice of the ringmaster, while also using records of circus music to create the proper ambience. It's a marvelous mix of childlike innocence and modernist sophistication.

Photograph: Courtesy Calder Foundation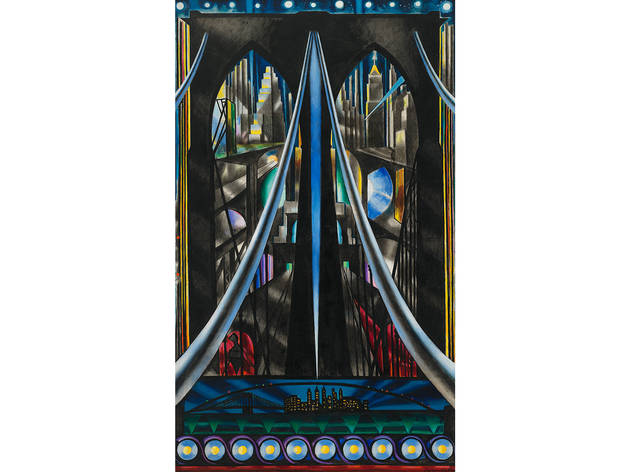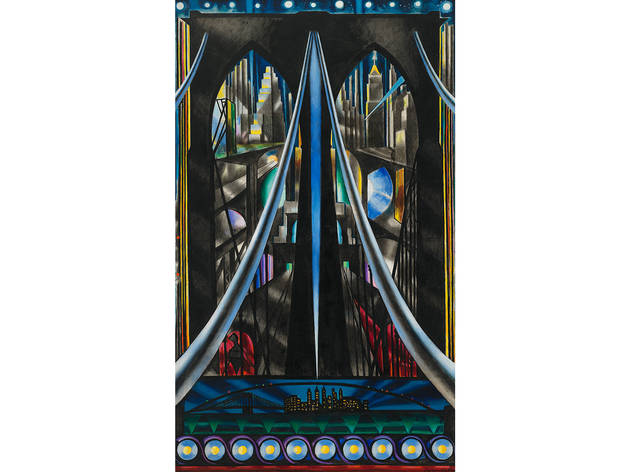 Photograph: Courtesy Whitney Museum of American Art
4. Joseph Stella, The Brooklyn Bridge: Variation on an Old Theme, 1939
Stella is sometimes associated with the Precisionist School, though his work was far more fantastical. He painted six views of the Brooklyn Bridge; this one, perhaps the best known, shows the view toward Manhattan through the bridge's Gothic arches and suspension cables. It's a religious icon, a stained-glass window on canvas for an imagined church of New York and its indomitable energy.

Photograph: Courtesy Whitney Museum of American Art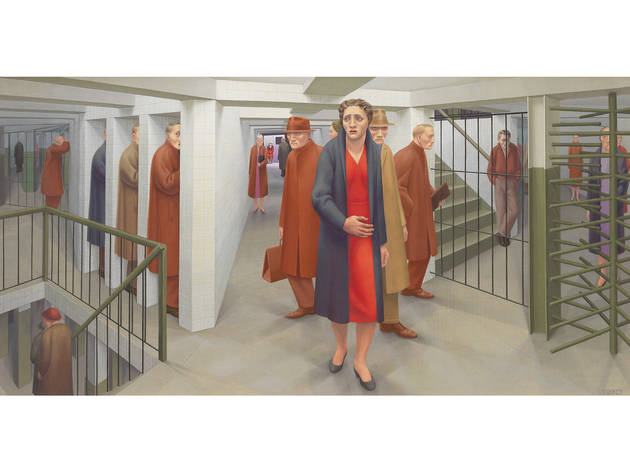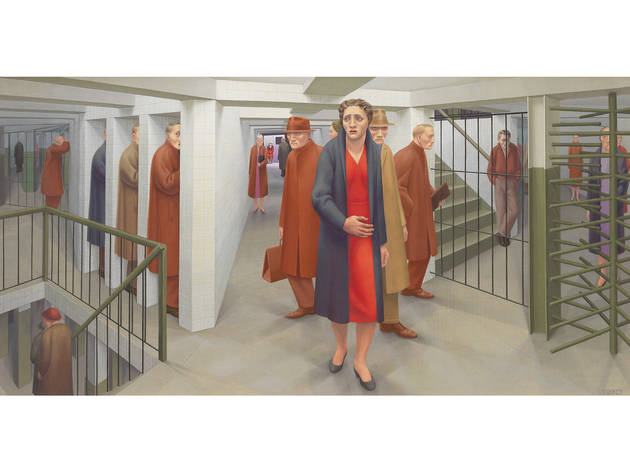 Photograph: Courteesy George Tooker/D.C. Moore Gallery
5. George Tooker, The Subway, 1950
An intimate of Paul Cadmus and Jared French, George Tooker was, like French, a Magical Realist who employed the technically demanding medium of egg tempera. He was also gay, and the Cold War paranoia captured in his work also speaks to the outsider status of being a gay man during the 1950s. This painting is Tooker's best-known work, and its depiction of straphangers moving like sleepwalkers through a prisonlike realm of tiled hallways and staircases suggests an odd cocktail of Piero della Francesca and M.C. Escher—a classic of its genre.

Photograph: Courtesy George Tooker/D.C. Moore Gallery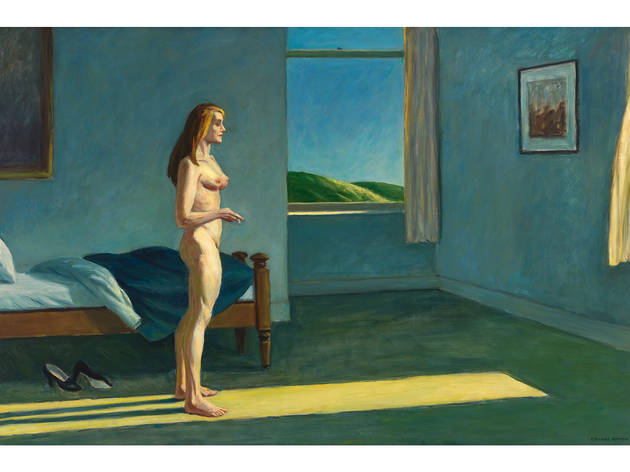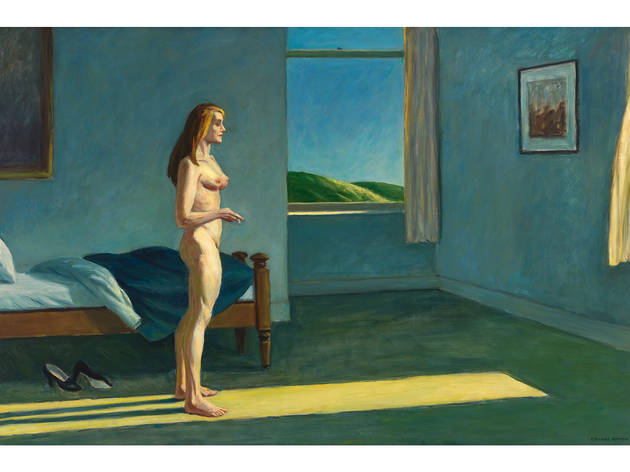 Photograph: Courtesy Whitney Museum NY
6. Edward Hopper, A Woman in the Sun, 1961
The Whitney is pretty much Edward Hopper central, with a dozen or so of his works in its holdings. This painting, created late in the artist's career, is one of his most iconic. The stark nakedness of the figure, plus the louche details—the cigarette in the subject's hands, the kicked-off high heels under the bed—provide vague hints of a walk-of-shame backstory, while the fall of bright light in which the model stands seems to deliver redemption and harsh judgment at the same time. The alienation and resignation pervading this scene—the sense that in America, you are nakedly on your own—is Hopper at his best.

Photograph: Courtesy Whitney Museum NY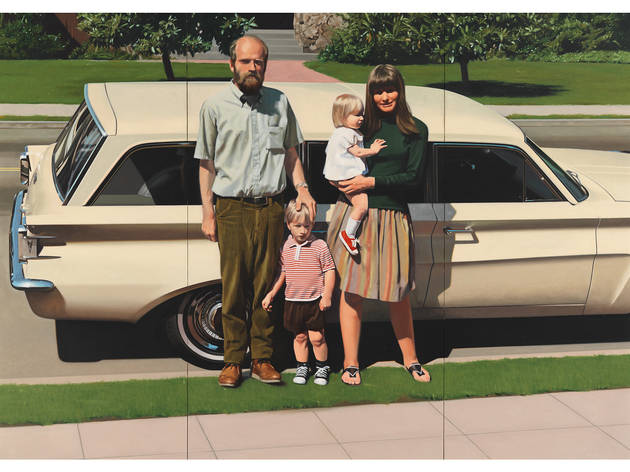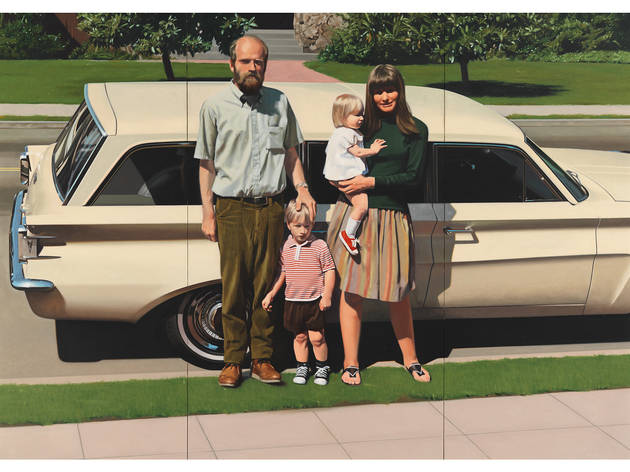 Photograph: Courtesy Robert Bechtle
7. Robert Bechtle, '61 Pontiac, 1968–69
Bay Area painter Robert Bechtle might be described as the great luminist of midcentury suburban America; his work revels in the light bouncing off that most conspicuous symbol of the era's prosperity—the family car. However, his paintings have never been characterized by the sharply delineated, dazzling reflections that are such a feature of '70s Photorealism, a genre he has been often—and wrongly—associated with. Rather color, as in this self-portrait of the artist with his family, seems to emanate from the surface of the canvas—most notably in the creamy tones of the station wagon that stands just behind the young couple and their small children, unifying them with the composition. As in the best of the Dutch sill-life tradition, '61 Pontiac is a scene in which the matter-of-fact becomes transcendent.

Photograph: Courtesy Robert Bechtle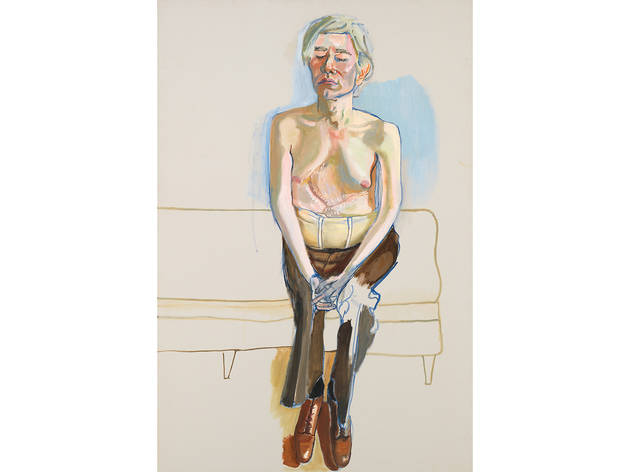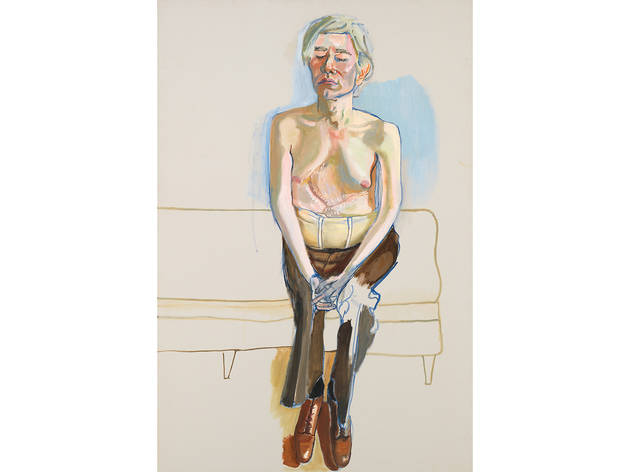 Photograph: Courtesy The Estate of Alice Neel
8. Alice Neel, Andy Warhol, 1970
On June 3, 1968, Valerie Solanas shot Andy Warhol in his studio, firing a .32 caliber automatic at him three times. Two bullets missed their mark, but the third tore into Warhol's left side, passing through one lung and exiting the other. In between, the bullet ripped through his spleen, stomach, liver and esophagus. He was rushed to Columbus Hospital, where doctors gave him a 50-50 chance to live. Warhol survived to sit for this astonishing portrait by Neel. It's one of several, actually, chronicling his trauma, if you include photographs taken by Richard Avedon, in which the artist bares his wounded torso. But while there's something almost brazenly sexual about Warhol's poses for Avedon's camera—Andy can be seen coyly pulling up a leather jacket and black turtleneck to reveal stitches worthy of Frankenstein—Neel uses her inimitable style to capture the shirtless Pope of Pop as a vulnerable wraith. His shoulders and chest sag, his arms are alarmingly thin, and an elastic orthopedic brace pops out of his trousers just under the scars crisscrossing his body. These stark reminders of mortality are juxtaposed with Warhol's expression: eyes and mouth closed, face lifted as if he were awaiting benediction or the carrying out of a final sentence. His body forms a cross with the schematically rendered couch that serves as the portrait's setting. It's a kind of crucifixion scene, in which one genius of American art plays out his passion for another.

Photograph: Courtesy The Estate of Alice Neel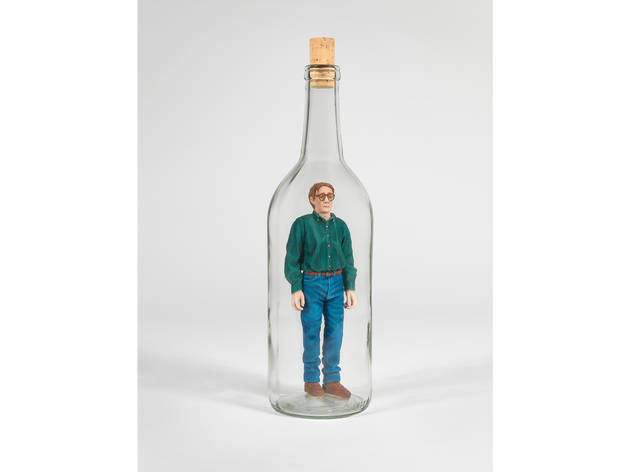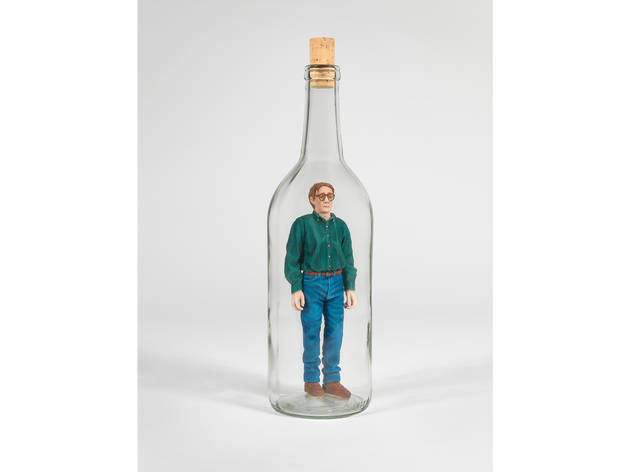 Photograph: Courtesy Charles Ray
9. Charles Ray, Puzzle Bottle, 1995
Ray's works have always been distinguished by perceptual sleights of hand, whether the piece in question was, say, a large solid cube in black which turned out to be a tank perfectly filled with india ink, or a toy fire truck the size of the real thing. This ship-in-a-bottle self-portrait of the artist with a slightly worried expression likewise plays with the viewer's experience, posing the titular conundrum: How did the figure get in there? The work also draws a parallel between the artist and the work of art as a container of ideas.

Photograph: Courtesy Charles Ray
See more of New York's best art
Our essential list of museums in NYC includes exhibitions at the Whitney, the American Museum of Natural History and more