The best current and upcoming MoMA exhibits
Here are the exhibitions and collection highlights that should not be missed at the Museum of Modern Art (MoMA) in NYC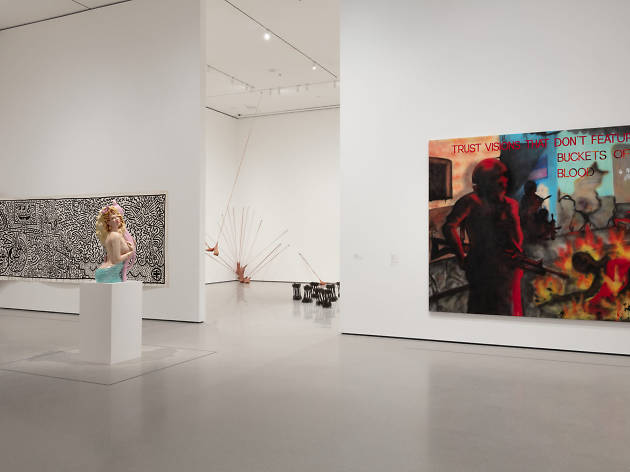 The incubator for 20th century art, the Museum of Modern Art (founded in 1929) has shepherded cutting-edge movements such as Cubism, Futurism, Surrealism, Abstract Expressionism, Pop Art and Minimalism into the mainstream. MoMA's collection of Modern painting, sculpture and architecture is arguably the most complete of its kind anywhere in the world, and it continues to grow with the addition of artworks by contemporary artists—many of whom have been fostered at MoMA's Long Island City satellite, MoMA PS1. In 2019, the midtown Modern underwent a significant expansion, which included a major reshuffling of its collection. You can find out about which shows are on view with our list of the best current and upcoming exhibits at MoMA and MoMA PS1.
RECOMMENDED: Full guide to the Museum of Modern Art (MoMA)
MoMA and MoMA PS1 exhibits current and upcoming
1
Photograph: Rob Gerhardt, courtesy The Museum of Modern Art, New York, and The Candace King Weir Endowment for Women Artists
"Betye Saar: The Legends of Black Girl's Window"
Over the course of 50 years and more, Betye Saar's legendary career has put her in the forefront of African-American artist working today.
Starts Oct 21
2
Photograph: © Pope. L, courtesy the artist and Mitchell-Innes & Nash, New York
"member: Pope.L, 1978–2001"
The artist known simply as artist Pope.L is best known for performances such as one piece in which he crawled along the entire 22-mile length of Broadway, dressed as Superman.
Starts Oct 21
3
Photograph: Courtesy The Museum of Modern Art, New York
"Sur moderno: Journeys of Abstraction—The Patricia Phelps de Cisneros Gift"
Latin American abstract painting at midcentury is the subject of this survey.
Starts Oct 21
Paintings photos, sculptures and installations by more than 50 artists from Iraq and the U.S. meditate on the wars against Sadam Hussein.
If a museum could morph into an airport, it might look something like the newly expanded, refurbished and reimagined Museum of Modern Art.