The best current and upcoming MoMA exhibits
Here are the exhibitions that should not be missed at the Museum of Modern Art (MoMA) this spring and summer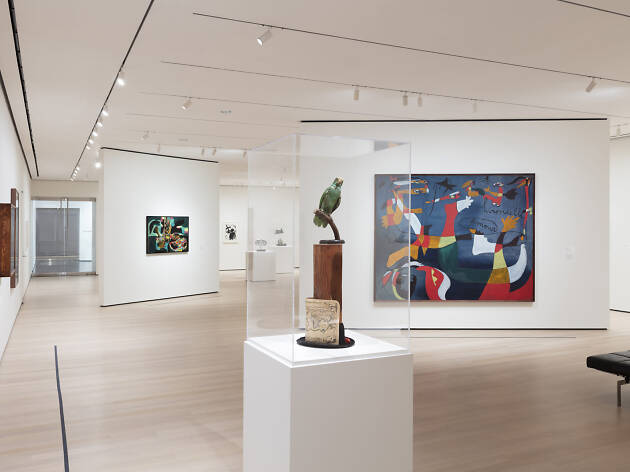 The incubator for 20th century art, the Museum of Modern Art (founded in 1929) has sheparded cutting-edge movements such as Cubism, Futurism, Surrealism, Abstract Expressionism, Pop Art and Minimalism into the mainstream. MoMA's collection of Modern painting, sculpture and architecture is arguably the most complete of its kind anywhere in the world, and it continues to grow with the addition of artworks by contemporary artists—many of whom have been fostered at MoMA's Long Island City satellite, MoMA PS1. You can find out which shows are at both locations—including exciting exhibitions of Joan Miró and midcentury modernist design—with our list of the best current and upcoming exhibits at MoMA and MoMA PS1.
RECOMMENDED: Full guide to the Museum of Modern Art (MoMA)
MoMA and MoMA PS1 exhibits current and upcoming
Art, Design
Museum of Modern Art (MoMA), Midtown East
Furniture, kitchen wares, electronics—even a car—make up this selection of midcentury modern objects from around the world whose appeal spoke to the democratizing potential of design. The show spans the hey-day of the aesthetic, from the 1930s to the 1950s.
Art, Arts centers
Museum of Modern Art (MoMA), Midtown East
This show is organized around the outsize cultural impact of Lincoln Kirstein, a curator and choreographer (he co-founded the New York City Ballet) who was a key figure of the New York art scene during the 1930s and 1940s, a period that is generally considered provincial, but in hindsight was a hotbed of post-abstract figurative art and queer aesthetics.
Art, Contemporary art
Museum of Modern Art (MoMA), Midtown East
MoMA looks back to the 2000s and to the work of several artists who delved into the aesthetic and social ramifications of computers, genetic engineering and digital culture.
4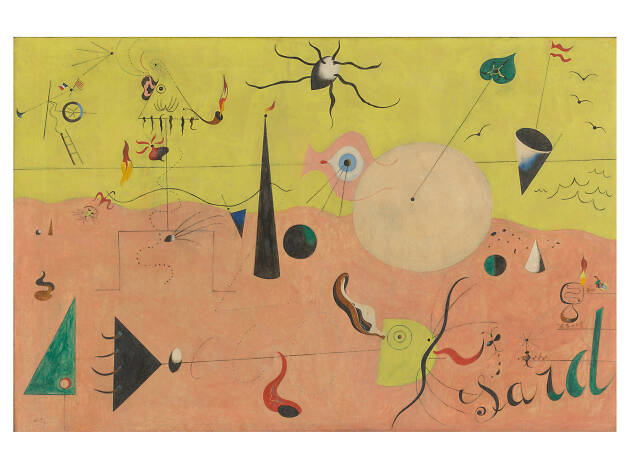 Photograph: © 2018 Successió Miró/Artists Rights Society (ARS), New York/ADAGP, Paris, courtesy Museum of Modern Art, New York
Art, Painting
Museum of Modern Art (MoMA), Midtown East
The Modern dips into its superb holdings of works by Miró (1893–1983) to survey the pioneering Modernist known for fluid dreamscapes populated by biomorphic forms that walked the line between abstraction and figuration. Bolstered by loans from other collection, the show pays special attention to the development of the artist's pictorial language and the role poetry played in inspiring it. With some 60 artworks spanning the period between 1920 and the early 1950s, the exhibit revisits Miró's vital place in the annals of 20th-century art.
Art, Contemporary art
MoMA PS1, Long Island City
Nancy Spero (1926–2009) spent nearly six decades as a pioneering feminist artist and activist whose efforts went against art-world trends. Starting out as painter, Spero switched to working primarily on paper after 1966. She often appropriated depictions of goddesses from ancient art, using them like hieroglyphs for fierce, frieze-like critiques of male privilege and violence. Spero's work took an even more ferocious tone during the Vietnam era, when she addressed the conflict through scathing antiwar imagery. This show collects 100 examples of her work, spanning the entirety of her courageous career.
6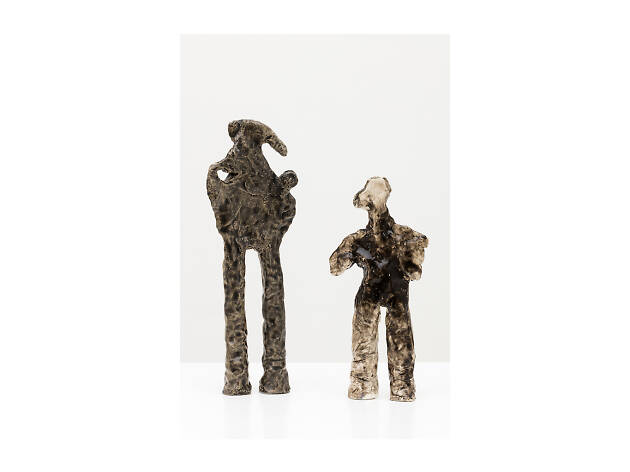 Photograph: Courtesy the artist and kaufmann repetto, Milan, New York; Balice Hertling, Paris; Karma International, Zurich
Art, Contemporary art
MoMA PS1, Long Island City
In her first solo museum show, Lebanese-American artist Simone Fattal presents ceramic sculptures, paintings and collages spanning her 40-year career. An amalgam of figurative and abstract art, Fattal's work often deals with the issue of war and is inspired by ancient history, mythology and Sufi poetry.
Art, Contemporary art
MoMA PS1, Long Island City
This artist's paintings have been described as visceral, vexing and often grotesque. In a nutshell, her art is a kind of a punk-rock version of Marilyn Minter's. This exhibition represents the artist's first solo in a museum.
Art, Contemporary art
MoMA PS1, Long Island City
A member of the Cheyenne and Arapaho nations, Hock E Aye Vi Edgar Heap of Birds has been making art for more than 30 years, creating politically piquant paintings, drawing, prints and videos. His work draws upon Native American culture and its rich, proud heritage, while also reminding viewers of the centuries of depredations inflicted on native communities by the white man. This exhibit features large-formant prints resembling yard signs covered with crudely lettered, haiku-like meditations on this ugly history.
9
Photograph: Rob Gerhardt, courtesy The Museum of Modern Art, New York, and The Candace King Weir Endowment for Women Artists
"Betye Saar: The Legends of Black Girl's Window"
Over the course of 50 years and more, Betye Saar's legendary career has put her in the forefront of African-American artist working today. Now in her nineties, Saar was a part of the Black Arts Movement of the 1970s, a group of leading cultural figures that included Maya Angelou among many others. Inspired by the example of Joseph Cornell, Saar began to make boxlike assemblages. These became her signature works, notable for narratives that delved into themes such as family, history and mysticism. Saar's art took stands against racism and sexism as well: Many of her pieces featured racist collectibles featuring caricatures like Aunt Jemima, which Saar used to leverage white supremacy against itself. This show draws from MoMA's collection and focuses on Saar's considerable production of prints, from the 1960s to the present.
Starts Oct 21
10
Photograph: © Pope. L, courtesy the artist and Mitchell-Innes & Nash, New York
"member: Pope.L, 1978–2001"
Although the artist known simply as artist Pope.L pursues a multidisciplinary practice that includes painting, drawing, installation, sculpture, theater and video, he is best known for performances such as one piece in which he crawled along the entire 22-mile length of Broadway, dressed as Superman (a feat executed in segments over nine years). In another performance, he sat covered with flour and wearing nothing but a jockstrap and boots on a toilet atop a ten-foot tower. From this perch, he consumed, and then regurgitated pages of the Wall Street Journal dressed with ketchup and washed-down with milk. Absurd and abject, these career-defining acts commented on the interrelationship between race and class in America, and 12 of them are revisited here through a presentation of videos, photos, sculptural elements and live actions.
Starts Oct 21
11
Photograph: Courtesy The Museum of Modern Art, New York
"Sur moderno: Journeys of Abstraction—The Patricia Phelps de Cisneros Gift"
Latin American abstract painting at midcentury is the subject of this survey of works by artists from Brazil, Venezuela, Argentina and Uruguay.
Starts Oct 21