Best exhibitions, current and upcoming, at the Guggenheim Museum
Check out the fall and winter crop of exhibitions at the Solomon R. Guggenheim museum in our essential guide
Designed by original starchitect Frank Lloyd Wright, the Solomon R. Guggenheim Museum is arguably the only New York museum that shows art inside a work of art. The Gugg's famed nautilus-shaped home on Fifth Avenue sets it apart from other NYC art institutions, such as the Metropolitan Museum of Art, the Museum Modern Art (MoMA) and the Brooklyn Museum, but what truly makes the building a global icon is its stunning interior rotunda and oculus. There, along its ascending ramps, you'll find a world-class collection, as well a full slate of temporary shows as noted in our complete list of the best exhibitions, current and upcoming, at the Guggenheim Museum.
RECOMMENDED: Full guide to the best NYC art museums
Current and upcoming Guggenheim exhibits
The latest in a series of commissioned-work exhibitions mounted at the Guggenheim by The Robert H. N. Ho Family Foundation Chinese Art Initiative, "One Hand Clapping" presents five artists—Duan Jianyu, Wong Ping, Lin Yilin, Cao Fei and Samson Young—whose contributions delve into "the ways in which globalization affects our understanding of the future" through a range of mediums, from painting to VR technology.
Friend and colleague to Marcel Duchamp, Fernand Léger and Amedeo Modigliani, among others, Constantin Brancusi (1876–1957) was one of the seminal figures of modern sculpture. His marriage of folk motifs from his native Romania with abstract forms produce some of the masterpieces of 20th-century art. The Guggenheim dusts off it's considerable holdings of Brancusi's work for this show, which include the photos he shot of his own sculptures and studio surroundings—images that are as sublime as the sculpture for which he's celebrated.
Hilma af Klint (1862–1944) was a pioneer of abstract painting, though admittedly, something of an accidental one. Although she produced purely non-objective paintings well before the likes of Vassily Kandinsky or Kasimir Malevich, she created them as part of her involvement in occult and mystical practices that sought contact with the spirit realm. When Klint did exhibit, she mostly showed conventional portraits and landscapes. Nonetheless, there's no denying that the Swedish artist anticipated one of the most important aesthetic revolutions in 20th-century art. This show takes the measure of her singular artistic achievement.
Quaytman doesn't see her paintings as singular compositions, but rather as parts of an overall scheme detailing the arc of her career—a "book in which each successive show is a chapter," as she describes her process. For her exhibit at the Guggenheim, Quaytman has created a new series of compositions that pay homage to Hilma af Klint (1862–1944), the Swedish artist, mystic and pioneering abstractionist whose work is featured in a concurrent show at the museum.
Few photographers have obtained the mythic stature of Robert Mapplethorpe (1946–1989), whose style imparted an austere, almost brutal, beauty to controversial subject matter. Mapplethorpe's large-format, black-and-white photos (produced, more often than not, within the controlled environs of a studio) reflected his life as a gay artist working in the Downtown demimonde of post-Stonewall, pre-AIDS new York—a period when the utopian promise of sexual liberation gave way to the fear of plague. Indeed, Mapplethorpe seemed to find a connection between eros and thanatos in almost all of his photos, from floral still-lives to homoerotic celebrations of the male body. Those images and more are recalled in this two-part retrospective marking the 30th anniversary of the his death.
For this deep dive into the Guggenheim's holdings of 20th-century art, curatorial duties are being handed over to six artists—Paul Chan, Cai Guo-Qiang, Jenny Holzer, Julie Mehretu, Richard Prince and Carrie Mae Weems—who've had previous solo shows at the Gugg. Some 100 paintings, sculptures and works on paper will chart the course of modernism, from the avant-garde energy of its early days to the fin de sciecle weariness of its closing chapters, through the differing perspectives of each artist.
The Guggenheim bestows the twelfth edition of its annual prize and accompanying solo exhibition on one of this year's six finalists: Bouchra Khalili, Simone Leigh, Teresa Margolles, Emeka Ogboh, Frances Stark and Wu Tsang. Who will the lucky winner be?
8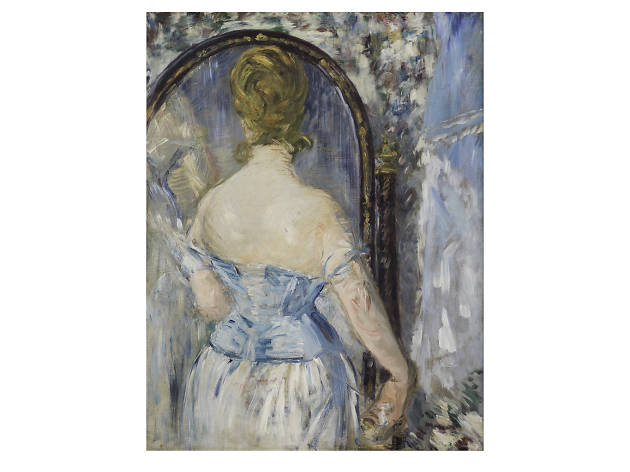 Photograph: Courtesy Solomon R. Guggenheim Museum, New York
Presented as an ongoing exhibition, The Guggenheim's core collection of 19th- and early-20th Century European art comprises works by Manet, Matisse, Gauguin and Picasso, to name just a very few. It was permanently gifted to the museum in 1978 by the family of eponymous benefactor Justin K. Thannhauser, whose father Louis was a pioneering modern art dealer in Munich during the early 1900s.
Want to know more about mid-century architecture?
These buildings, designed by some of history's greatest architects, recall the glamour of mid-20th century New York