Heads up! We're working hard to be accurate – but these are unusual times, so please always check before heading out.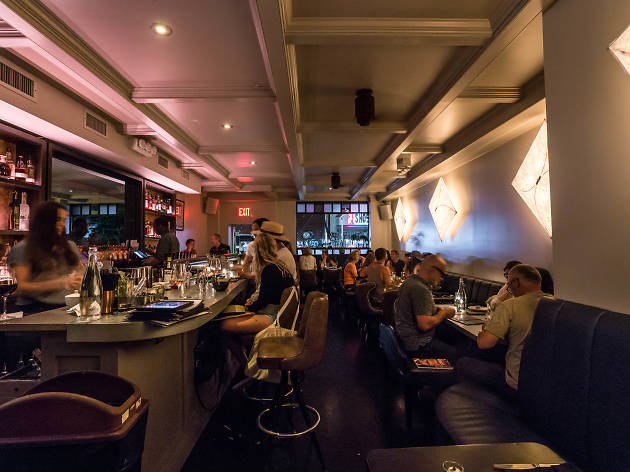 The craziest bar stories from NYC bartenders
Bartenders do a whole lot more than just pour your drinks—we got the inside scoop on the craziest bar stories in NYC
New York City is certainly known for having some of the best bars in the world, from sophisticated speakeasies to fun-loving beer gardens and laidback wine bars—ours are lauded across all five boroughs. But what about the men and women behind the counter? These bar managers, bartenders and cocktail consultants not only create and stir a mean quaff, but they also bear witness to your most embarrassing, inebriated human moments. Whether it's a laughably bad date or a belligerent blow-up, these top NYC bartenders spill their dirt on their craziest bar stories.
RECOMMENDED: Full guide to Time Out New York's Bar Awards
Craziest bar stories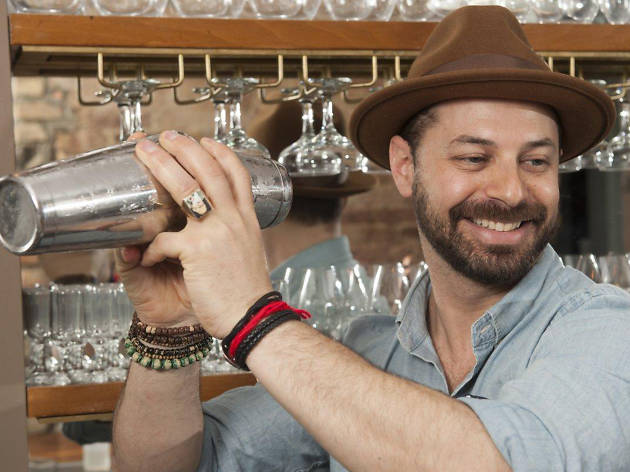 Cody Goldstein, Beverage director, The Fat Monk
"A first date was going less then desirably: The guy was talking about all of his famous friends and how much money he had—a real gem. After 30 minutes, the woman excuses herself to the bathroom. This guy immediately starts swiping away on his phone. He must have messaged someone to come to the bar, because 10 minutes later another woman shows up. He then proceeds to ask the first girl to leave, as his next date is here. I couldn't believe the audacity of this man. I made sure the woman stayed; she had drinks on the house all night."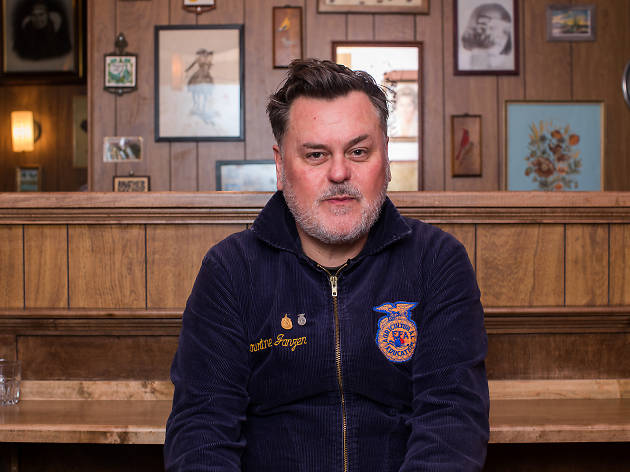 Photograph: Kylie Thompson
Spanky Van Dyke, Lead bartender, The Flower Shop
"I was bartending once, and this woman was in tears. Apparently, she had just been dumped and was inconsolable. After a few drinks, she calmed down, and we talked until I was finished with my shift. We left the bar to get a drink somewhere else. After a few more drinks, we started making out and—she claims—I proposed to her that evening. We're not married yet, but we're still living together!"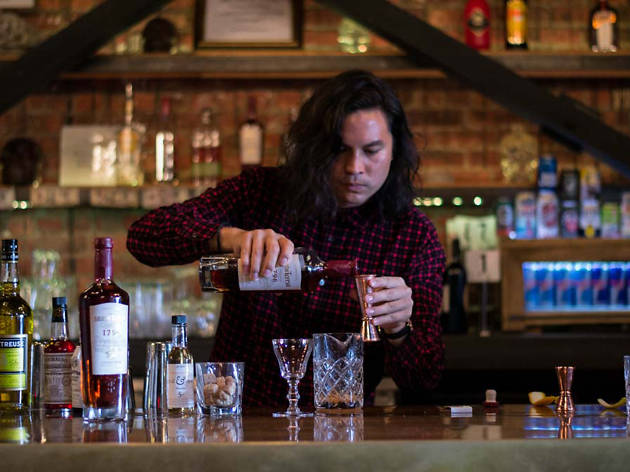 Rael Petit, Beverage consultant, Delilah
"I made the mistake of telling a regular I'd take a challenge to make a cocktail with anything edible. He brought me bacon lube the next day."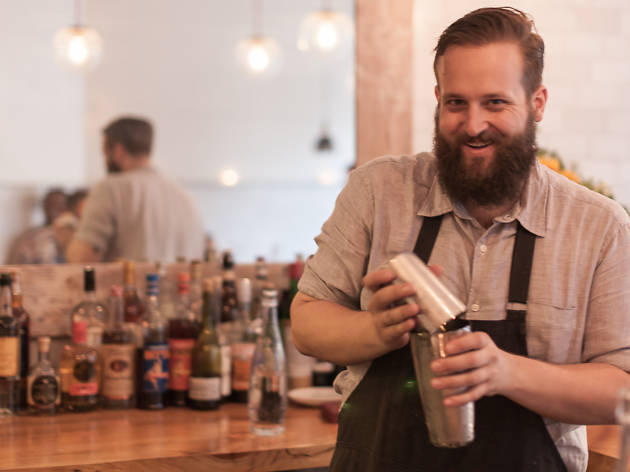 Photograph: Toralf Suemmchen
Billy Nichols, Head bartender, Faun
"One night around 3am, the bar turned into an impromptu catwalk—a clothing-optional catwalk. Guys and girls got up to strut their stuff in different stages of undress, kicking shot glasses across the room. I think I looked pretty good up there."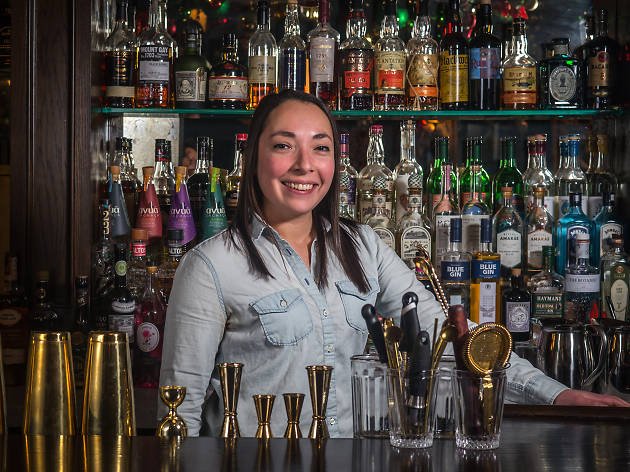 Photograph: Paul Wagtouicz
Jessie Dure, Head bartender, Chumley's
"I met a couple on their first date at one of my shifts at Bar and Books in 2009. After paying the check, the guy went to the restroom. The girl, waiting at the bar, was taken over with nausea and projectile vomited all over as he was walking back. She was unbearably embarrassed as they cleaned it up together. I didn't see them again until a year later when they came to recount the story after getting engaged."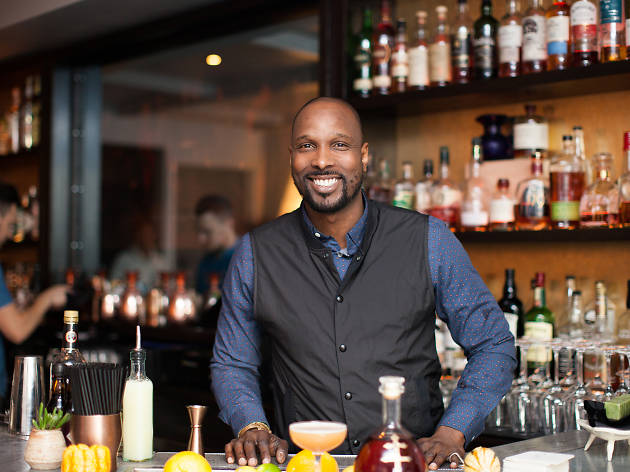 Cyllan Hicks, Head bartender, Midnights
"I used to work on a party boat that went around the city. Sweet gig, good money, nice crowd. A crowd that drank…heavily. One night after a show, we're on our way back to dock, and all I heard was, 'Someone jumped off the boat into the water!' We were less than 20 feet from the dock when he jumped. He easily could've been crushed. Luckily, we got him out in time. He did get an ass-whipping from security though."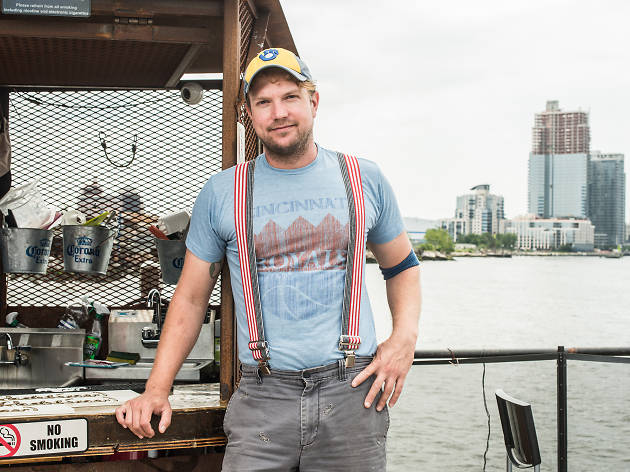 Photograph: Teddy Wolff
John Wernke, Head bartender, Brooklyn Barge
"I got to refuse Carson Daly drinks at Pastis on a Sunday morning. He asked for mimosas before noon, and you can't serve alcohol before noon. I told him, 'I apologize, but you'll have to wait 40 minutes.' He said, 'Even for me?' 'Even for you, Carson.'"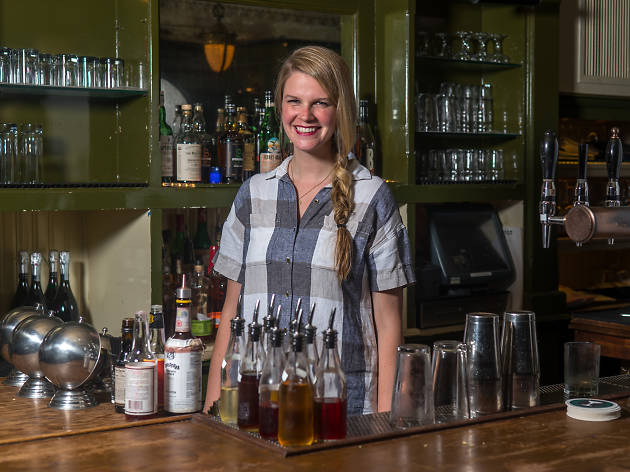 Photograph: Paul Wagtouicz
Laura Lashley, Head bartender, the Breslin
"One time, when I worked at a fairly civilized cocktail bar, this guy got so mad because we cut him off that he went into the bathroom and ripped the porcelain sink off of the wall. There was water spraying everywhere."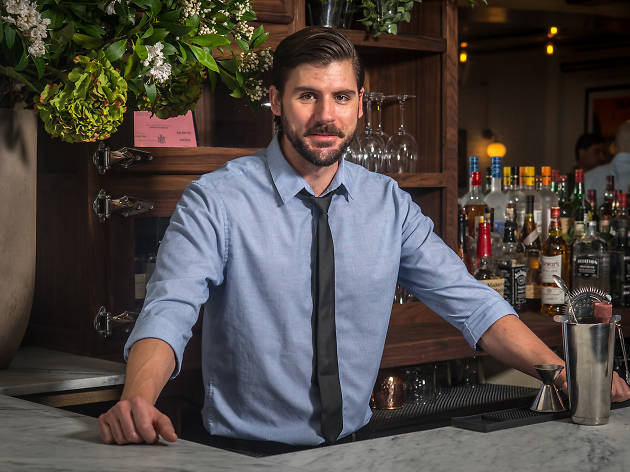 Photograph: Paul Wagtouicz
Tom Boess, Head bartender, Eastfield's
"A woman came in at closing time and decided to do a headstand in the middle of the bar—with splits and everything. She was wearing a skirt, so people were treated to quite a show."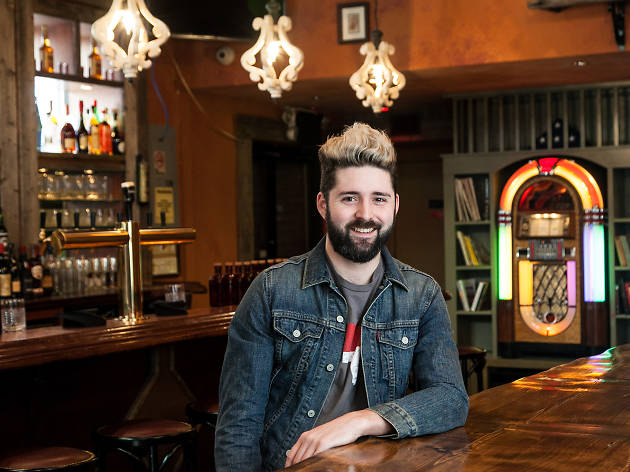 Andrew Kist
Jimmy "Jimbo" Palumbo, Head bartender, Belle Shoals
"I once had a guy punch through a glass door trying to hit me because he was on acid, and I'd kicked him out of bar. I was standing there covered in glass, and my other bartender was like, 'Don't let him get away!' I ran outside, and he was just looking at his hand—the pain had sobered him up—and I was like, 'Just sit down and stay calm. The ambulance is coming.' It's not all just fun and wild times. You have to deal with crazy shit, too."
Looking for spring cocktails?
Transform your wintry drinking habits to fit the warmer temperatures with punches and plenty of rosé