The best quiet bars in New York for having a conversation
Get away from the holiday hustle and bustle and post up at one of these quiet bars, which offer a relaxed vibe and great drinks.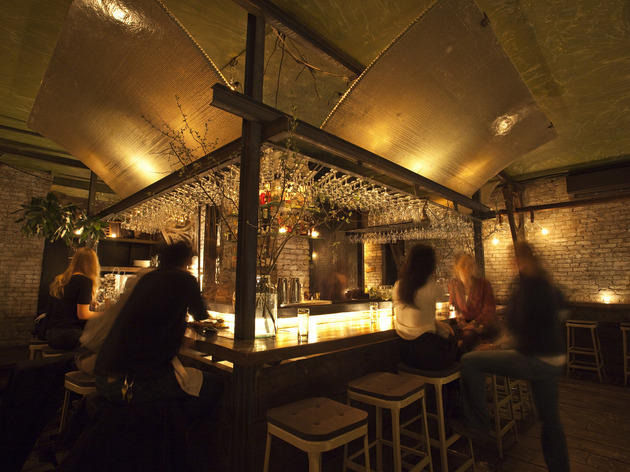 1/3
Photograph: Virginia Rollison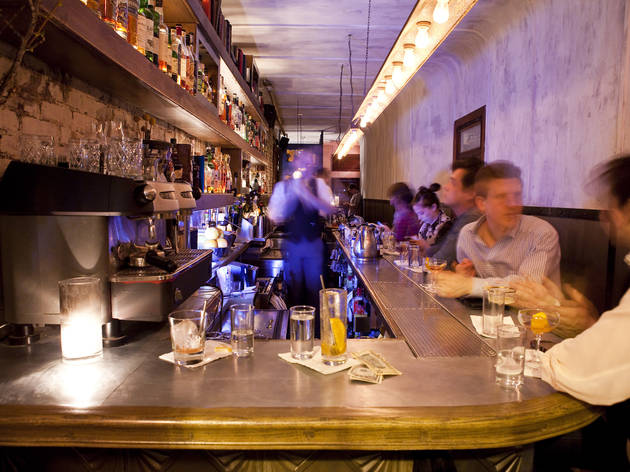 2/3
Photograph: Jessica Lin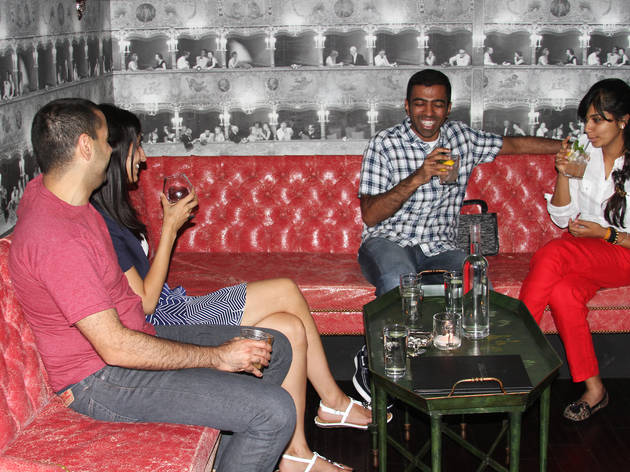 3/3
Photograph: Amanda Bruns
parties
, you may need a quiet bar where you can relax
with a friend
­ (or a book—hey, it's one of the greatest pleasures of living here) and get away from the maddening crowds. Head to one of these five quiet bars, where you'll find plenty of
warming drinks
, room to relax and—most importantly—a chilled-out vibe.
RECOMMENDED: Best Winter cocktails and cozy bars in NYC
Duck into this subterranean den, whose fortresslike stone walls and robust selection of soul-warming whiskeys offer a veritable stronghold against a chilly winter night. A serious spirits list (most pours $9–$18) calls for sipping over slugging: Choose from single-malt Scotches organized by region—find Glenmorangie under "Highlands" and Bowmore under "Islay"—plus other international brands (Japan's Hibiki, Ireland's Bushmills) and stateside tipples (Widow Jane, Blanton's). Wide leather couches opposite the bar form a quiet area for nursing your drinks and people-watching: Instead of the rowdy Bedford scene, you'll see whiskey geeks and postgame soccer players from nearby McCarren Park. 347-384-2772, isleofskyepub.com
Read more
This candlelit nook captures the intrigue of its film noir namesake, but with friendly bartenders and a date-night crowd standing in for mysterious strangers. Thanks to a broad, U-shaped bar and wraparound counter seating, it's usually easy to nab a pair of stools for you and your confidante (though peak weekend hours are a gamble—it's still the East Village). Swap secrets over cocktails such as the Harry Lime (named for one of the 1949 flick's central characters), which riffs on the classic Last Word by swapping out gin for mezcal in the traditional recipe of green Chartreuse, maraschino and lime ($12). 212-598-1040, thethirdmannyc.com
Read more
Helmed by longtime Milk & Honey bartenders Sam Ross and Michael McIlroy, the heir to that iconic venue's legacy bucks most of the old rules (reservations only, no loud behavior), but a knock-for-entry policy ensures the snug space never gets too noisy or crowded. Once you're in, start the conversation with your bartender: There's no menu, so they'll create a customized quaff based on your preferred flavors or liquors. Recently, a "citrusy" request yielded an Eastside (gin, lime, mint, cucumber; $16). The proprietors make sure to find a seat for everyone—a mix of after-work groups, dates and restaurant-industry folks—but arrive early if you want to confer in the privacy of one of three leather booths in the back. No phone
Read more
Meet for a cortado and stay for a cocktail at the newest location of Long Island City's coffee darling, the first outpost to offer booze. Each day at 6pm, the cozy spot shifts gears but retains its relaxed vibe (and subdued volume). Stave off the cold with drinks by Dutch Kills owner Richard Boccato; a list of "Sprituous and Caffeinated" offerings showcases Sweetleaf's house-made coffee liqueur in drinks such as the Long Island City Special ($12), a fizzy concoction with Cruzan Black Strap rum, seltzer, lemon and agave. Mingle with neighborhood regulars and Queens cocktail buffs, or snag a perch on the L-shaped red couch in a side nook. 347-527-1038, sweetleaflic.com
Read more
Dynaco
It's hard not to feel welcome at this '70s-inspired watering hole, outfitted in warm-toned wood and stained glass, with a soundtrack of classic rock and soul tunes just loud enough to set a chilled-out mood. Take a seat at the knotted, irregular wood bar, where locals shoot the breeze and a dozen taps dispense craft beers like Heavy Seas Loose Cannon IPA ($7) and Ommegang Scythe & Sickle Harvest ale ($7). A wall of stacked-up vintage speakers opens to a cozy back room, featuring a blazing metal stove. No phone
Sponsored listing
Dromedary Bar
Looking for a bit of island spirit in the city? Head to Dromedary Bar for the urban tiki experience. The Bushwick bar serves up riffs on classic tropical drinks, like the banana daiquiri–esque Marlin Chasing a Mermaid ($11), a combination of cognac, mezcal, banana, lemon and rose. Island flavors crop up all over the drink menu, like in the gin-based Coconut Soda ($11), which gets a frothy texture fro creamy coconut milk and sparkling LaCroix. If cocktails aren't your thing, there's also a selection of beers on tap ($5–$8). In the kitchen, Chef Galen Duncan churns out a menu of classic pub fare. Think burgers ($11), sloppy joe sliders ($4), chicken tenders ($6) and lots of fries ($3). The exposed brick barroom also hosts a variety of events, from trivia nights to weekly karaoke to comedy shows.
Venue says: "TUESDAY: DRINKS TILL 2am w/ MICHAEL! DUNCAN'S BURGERS' TACOS; $1.25 ALL NITE! FREE TRIVIA @ 9pm! Food till midnite! FUN! Happy Hour, 5-8pm!"