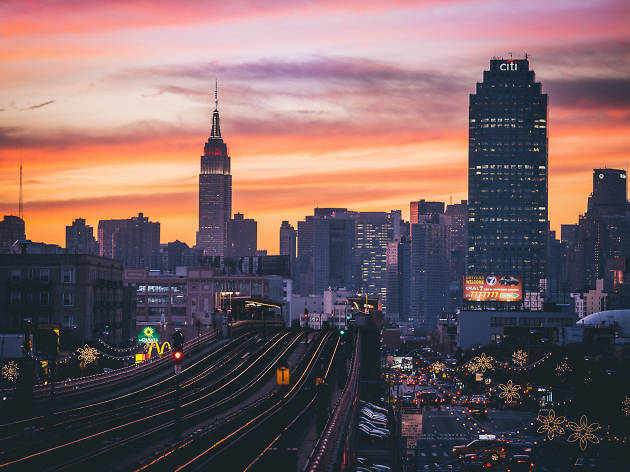 15 wonderful things to do in NYC this weekend
Posted: Friday March 31 2017, 10:55am
Fri 31
Affordable Art Fair Metropolitan Pavilion; 11am; $18–$20
The price-conscious art fair returns for its 23rd edition in NYC. For an $18 ticket, you can shop original paintings, drawings, photographs and sculptures from over 70 local, national and international galleries. With price tags ranging from $100 to $10,000, you can fix up your apartment without breaking the bank.
Native New Yorker: the Party Good Room; 10pm; $15
For those hotheads who can't keep still, this legendary rager promises to deliver a volcano of sexual and social dynamism. Join the "master of disco soul" Nicky Siano—whose DJ résumé includes Studio 54 and the Gallery—and host Rebecca Lynn for hard beats and sweaty dancing. It's sure to set your weekend ablaze.
Prospect Park 150th Anniversary Weekend Prospect Park; 7pm; free
Brooklyn's beloved backyard gets a Goliath birthday send-up, just in time for spring. The celebration opens with Lola Star's Ice Disco on Friday 31, then features barbecues, a Smorgasburg meal, baseball games, bird-watching sessions and more for the rest of the weekend. And did we mention the frolicking dogs?
The Photography Show Pier 94; noon; $30, run of show $60
More than 100 galleries descend upon Pier 94 for the 37th edition of this expo. Peruse pieces from the 19th century through present day, head to talks like "When Is Documentary Photo Art?" and "Vision and Justice" with industry luminaries, and find something special for your home. And #nofilter required.
Pop Punk/Emo Karaoke Brooklyn Bazaar; 9pm; $10
Pop punk lovers, rejoice. Gone are the days when the only venue you could find to belt out your favorite hits was your own shower. Take your love of My Chemical Romance and Good Charlotte onto dry land with the help of emo band Be Yourself at this karaoke night at Brooklyn Bazaar.
K2 Lounge at the Rubin Museum; 6pm; free
Head to the Rubin Museum's Café Serai to partake of a special pan-Asian tapas menu and listen to the R&B, soul, funk, reggae and pop selections of DJ Gigi Gray. Museum admission is free from 6–10pm; be sure to arrive before 7pm to nab happy hour specials like two-for-one beer, wine and well drinks.
Sat 1
Target First Saturdays Brooklyn Museum; 5pm; free
Brooklyn Museum opens its doors for a packed night of tours, performances and more. At this month's edition "Beyond Blues," grab a happy-hour drink, check out a curator-led tour of the exhibition "Infinite Blue," join a workshop with Brooklyn Dance Festival, and get down to Afro-Latin diva worship with DJs Geko Jones and Chiquita Brujita.
Party Like It's 1999: 20 Years of Third Eye Blind; The Bell House; 10pm; free
The popular throwback rager returns this month to celebrate the 20th anniversary of Third Eye Blind's debut album. Be prepared to sing along to hits like "Semi-Charmed Life" and "Jumper," plus all the best pop, R&B, hip hop and dance james the '90s had to offer, courtesy of DJ Steve.
Orchid Evenings New York Botanical; 6:30pm; $35
Indulge your senses with custom cocktails and yummy vittles while DJs and performers from Somapa Thai Dance Company delight you under an arched facade of colorful orchids. You're sure to find inner peace beside the verdant flowers.
MoCCA Arts Festival Metropolitan West; 11am; $5 per day
This excellent comics and cartooning festival welcomes more than 300 publishers—major and minor—to display their wares. Hear a lineup of expert cartoonists, illustrators and creators, including iconic Wonder Woman artist Cliff Chiang and Gotham Academy creator Becky Cloonan.
Body Painting Dance Party Lot 45; 10pm; $15–$25
Strip down and get painted (or just watch) at this dance party featuring DJs spinning Colombian tunes, African rhythms, soul classics, hip hop jams and more. Make sure to bust a move on the dance floor, to let those onlookers know you're more than just a nice piece of art.
Smorgasburg East River State Park 11am; free to attend
At this massive grub hub, there's only one rule: Come hungry. The Brooklyn Flea spin-off draws more than 10,000 visitors per day with a slew of 75 to 100 incredible food vendors. Our pro tip? Make sure you peruse the lineup before you go—those mouthwatering scents and the bevy of choices can make you dizzy (and the dense crowds can make you hangry).
Sun 2
Macy's Flower Show at Macy's Herald Square; free
Folks flock to this floral-filled exhibition at Macy's Herald Square, where jaw-dropping arrangements are on display for two weeks. The theme for this 43rd annual installment is "Carnival," which means you can expect whimsical statues built with brightly hued blooms, which mimic the bedazzlement of a traveling road show.
An Idle Afternoon with Passerbuys, Sand & Such, RUDAS Canal Street Market; noon; free
Passerbuys (a fashion blog spotlighting awesome women in NYC) teams with Canal Street Market to create an installation all about the hygge life with West Elm. Rest on a Casper mattress, sip delicious tea from the Primary Essentials, and relax to music provided by Sonos. Experts from the Ritualist are also offering skin consultations and acupressure to ensure your mug is stress-free (R.S.V.P. here). Be on the lookout for more events happening at this calming nirvana, and follow Passerbuys on Instagram (@passerbuys) for upcoming news on readings, talks and panels.
Grand Bazaar NYC; 10am; free
Spend a Sunday afternoon browsing the wares of local artists, designers and vintage dealers at this weekly market. It's a great place to pick up limited-edition art, handmade jewelry, unique home furnishings and tasty artisanal treats. Plus, 100% of the bazaar's net revenue is donated to four neighborhood public schools, so no risk of buyer's remorse here.
Share the story