By Time Out contributors, edited by Sophie Harris
Thanksgiving gives even the most cynical New Yorker a welcome check-in on the reasons we truly love our city. You don't have to look hard, of course—Gotham is the city that dreams built, and you can see it in our beautiful buildings and the stories of New York niceness that we've all experienced. But sometimes it's the little things that really warm your dressed-in-black New York heart.
What did we miss? Tell us what you are thankful for in the comments below.
RECOMMENDED: The New York guide to life
RECOMMENDED: A full guide to Thanksgiving in NYC
New Yorkers should be thankful…
1. For our city's new mascot, Pizza Rat, which managed to scurry his way into our collective unconscious.
2. For Manhattan's newest subway station, Hudson Yards - 34th St, which looks like the fanciest regional airport on all of Space Mountain.
3. When we're in a rush (which is every day) and our MetroCard goes through in one swipe. Zing!

4. Every now and again, a bartender's free pour will be so vigorous that you only need to buy one drink all night. God bless you all, drunk New York bartenders.
5. Adele's new album is the best late-fall, walking-through-the-city soundtrack any of us could ask for.

6. For the fact our city looks more beautiful and twinkly than any other city in the world in the holidays.

7. Pizza by the slice. The greatest thing since, well, sliced bread.

8. Those moments where a regular cab shows up mere seconds before your Uber in the middle of a price surge.
9. NYPD bee detective Anthony "Tony Bees" Planakis who saved a woman from 40,000 bees in her apartment.

10. This unprecedented run of perfect weather in November.

11. That you can drink delicious beer, see cutting-edge comedy and awesome music for FREE. Seriously, our free scene is the greatest in the land (check our list of the 50 best free things to do in NYC for proof).

12. Our subway runs 24/7. Yeah, we know it's dirty and noisy and all that other stuff, but like Lionel Richie, it runs all night long, and for that we are truly grateful.

13. That magical morning where, for no apparent reason, your subway shows up right as you arrive, there's a free seat, there are no delays, and nowhere you go smells like pee.

14. The fact we live among the most drop-dead gorgeous buildings in the country.

15. When the subway doors close right in the face of the raging drunk frat-boy group of trashed squealing party girls/dude with bongo drums, leaving them cursing on the platform as you sail happily, quietly home to bed.

16. We have the best coffee.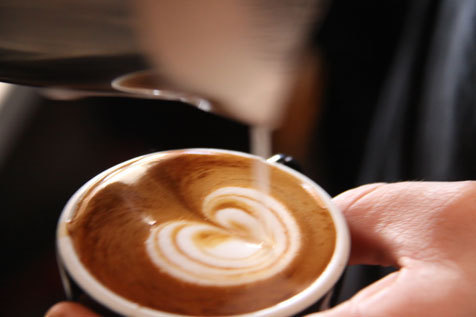 17. That silence that overcomes the city the morning after a heavy snowfall (before it all turns to a slushy hell.)

18. Kissing a new flame for the first time as hundreds of people walk around you. What a rush.

19. The camaraderie that comes with just being a New Yorker. We're all in this together, dammit!

20. When the performer on the subway platform is so good we kind of don't want the train to come.

21. Knowing that within a few blocks of wherever you live there is more diversity, opportunity and culture than in a massive swaths of other cities.

22. Neighbors. Whether it's the people in your building, the bodega owner, dry-cleaner manager, barista or pizza maker, interacting with your fellow New Yorkers makes for a unique sense of community.

23. Want new shoes? Lost your iPhone charger? Desperate for glass of wine? You can get all of these things delivered to you door in an hour.

24. The most insanely beautiful public library out of all of the public libraries in the world.

25. 4am pizza/kebab/ice cream/coffee/bagels.

26. Never having to drive a car (or worry about parking or who is driving home from the bar).

27. The way beautiful blocks of brownstones look with fall leaves or spring blooms.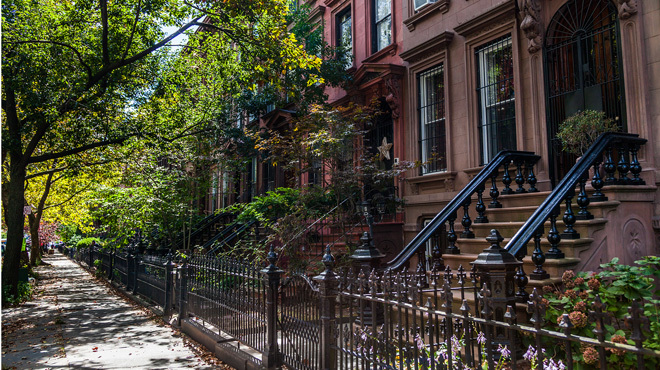 28. Being able to eat amazing Chinese food in in Flushing, Russian food in Brighton Beach and Greek food in Astoria… all in one day.

29. How everyone you know will probably want to visit New York at some point, so you get to see friends and family who don't live here without leaving the city.
30. Aggressive cabdrivers who manage to make that twenty minute journey in 12 (thrilling/terrifying) minutes.

31. The fact that the Macy's Thanksgiving Day Parade takes place HERE! Right here on our streets. (But don't judge us for watching it on TV, ok?).

32. Everything bagels with lox and cream cheese.