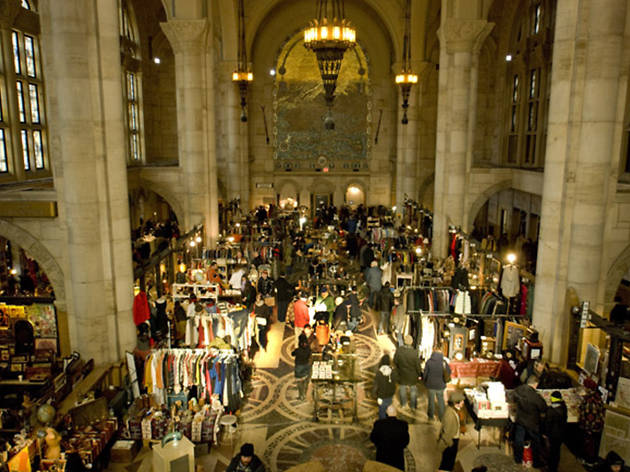 Brooklyn Flea, Smorgasburg and Berg'n to become one giant market this winter
Posted: Friday October 24 2014, 10:10am
Williamsburg's beloved Brooklyn Flea and Smorgasburg are packing up and moving to Crown Heights for the winter. From November 8 through sometime in March, the vintage and food markets are joining forces with the food-court-beer-hall (or, as we prefer, cafebeeria) Berg'n in a massive, 30,000-square-foot warehouse.

RECOMMENDED: Full guide to Smorgasburg
The supersize market will dominate an entire block between Dean and Bergen Streets, so you can enter on either side (899 Bergen St; 1000 Dean St) to eat, drink and shop to your heart's delight from 10am–5pm on the weekends. Expect Smorg favorites like Porchetta, Red Hook Lobster Pound and Milk Truck, who'll be slinging their usual bites. And, to prep for winter, Berg'n is putting brunch into full effect, offering butter-and-jam pizza at the Pizza Moto counter and Ramen Burger's noodled riff on the bacon-egg-and-cheese.

If you find yourself hunting for vintage pieces into the night, pop over to Berg'n afterward, where DJs like Erika Spring (10/25), Edan (11/1), and Ryan Naideau (11/15) will be spinning tunes on Saturday nights at 9pm.
But Billyburgers, fear not: The fleas will return to your nabe in the Spring.


Share the story