They make quite the glamorous pair: Augustine and Fowler & Wells, glowing 
and genteel on opposite ends of the grand atrium at the Financial District's new Beekman hotel, a ritzy restoration of the late-19th-century landmark building known as Temple Court.
Augustine, a swoon of a French restaurant from Balthazar bistro baron Keith McNally, is the more femme of the two, dazzling and dreamy with flower-bud sconces, wrought-iron chandeliers and enough warm light bouncing off the room's hand-painted tile walls and romantically distressed mirrors to melt the frostiest of hearts.
Fowler & Wells—Tom Colicchio's first new Manhattan restaurant since opening Colicchio & Sons six years ago—is less fanciful and luminous than Augustine but visually impressive nonetheless: The handsome brick-walled room is fitted with mohair-velvet banquettes, stained-glass wall panels and its own set of large custom chandeliers, which successfully distract from the industrial piping that also hangs from the restaurant's lofty ceilings.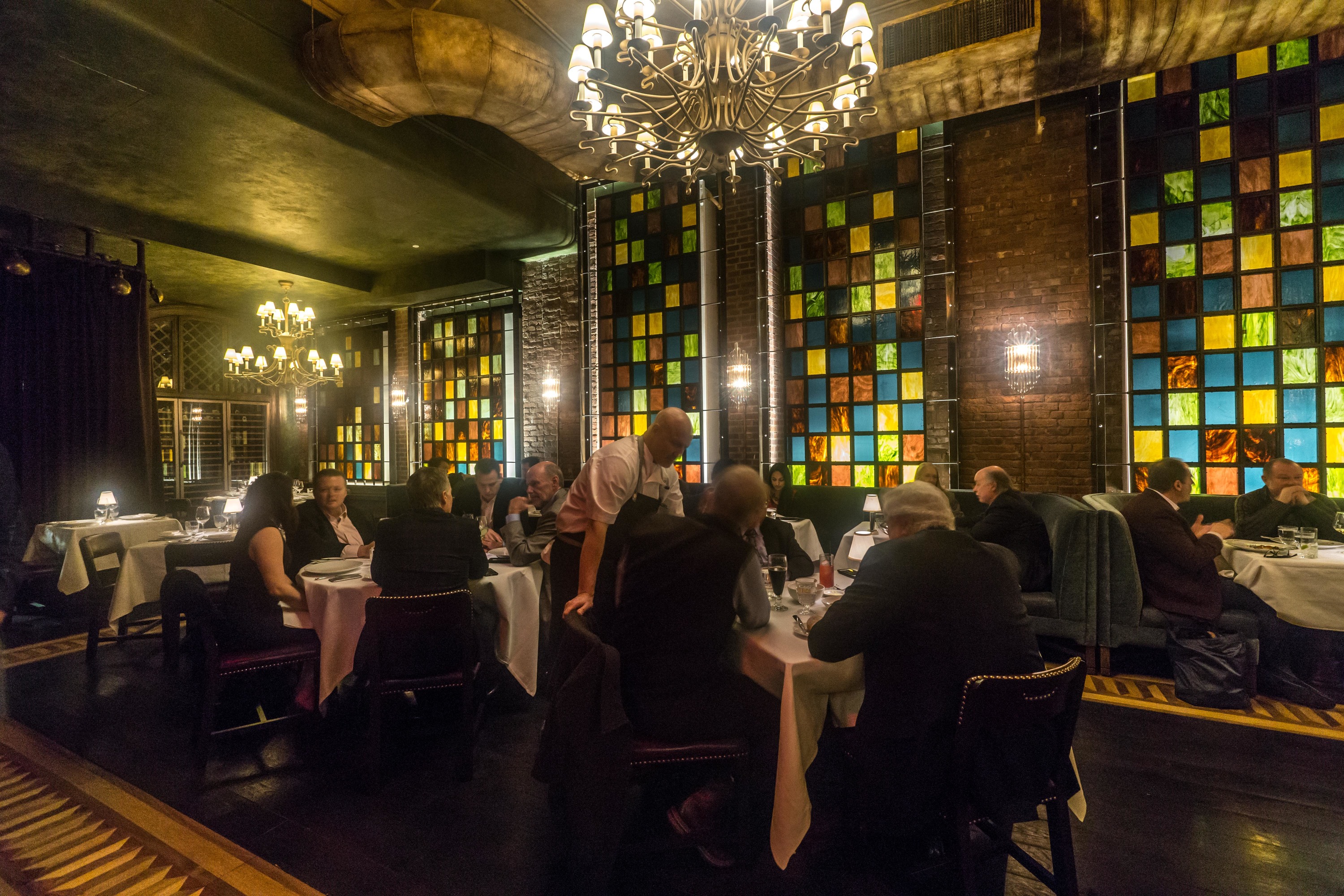 With such classically good looks, it's not a surprise that neither Augustine nor Fowler & Wells employ any highfalutin kitchen theatrics, and you won't find any of the ingredients du jour—no black walnuts, Calabrian chilies or beer whey—on either menu. This may be the new Financial District, but it's FiDi all the same, and hotel dining in FiDi at that.
In place of gastro nerdiness, Colicchio and executive chef Bryan Hunt offer polished, straightforward American food at Fowler & Wells, the kind of plates on which a smattering of shaved truffle is considered spicing up the relationship. You're here for seasonal, dependable cooking that's informed by the past but without any schmaltzy kitsch: sautéed foie gras ($27), hot-smoked monkfish ($39) and a Wellington, made here out of venison and trussed with huckleberries (part of the $135 tasting menu).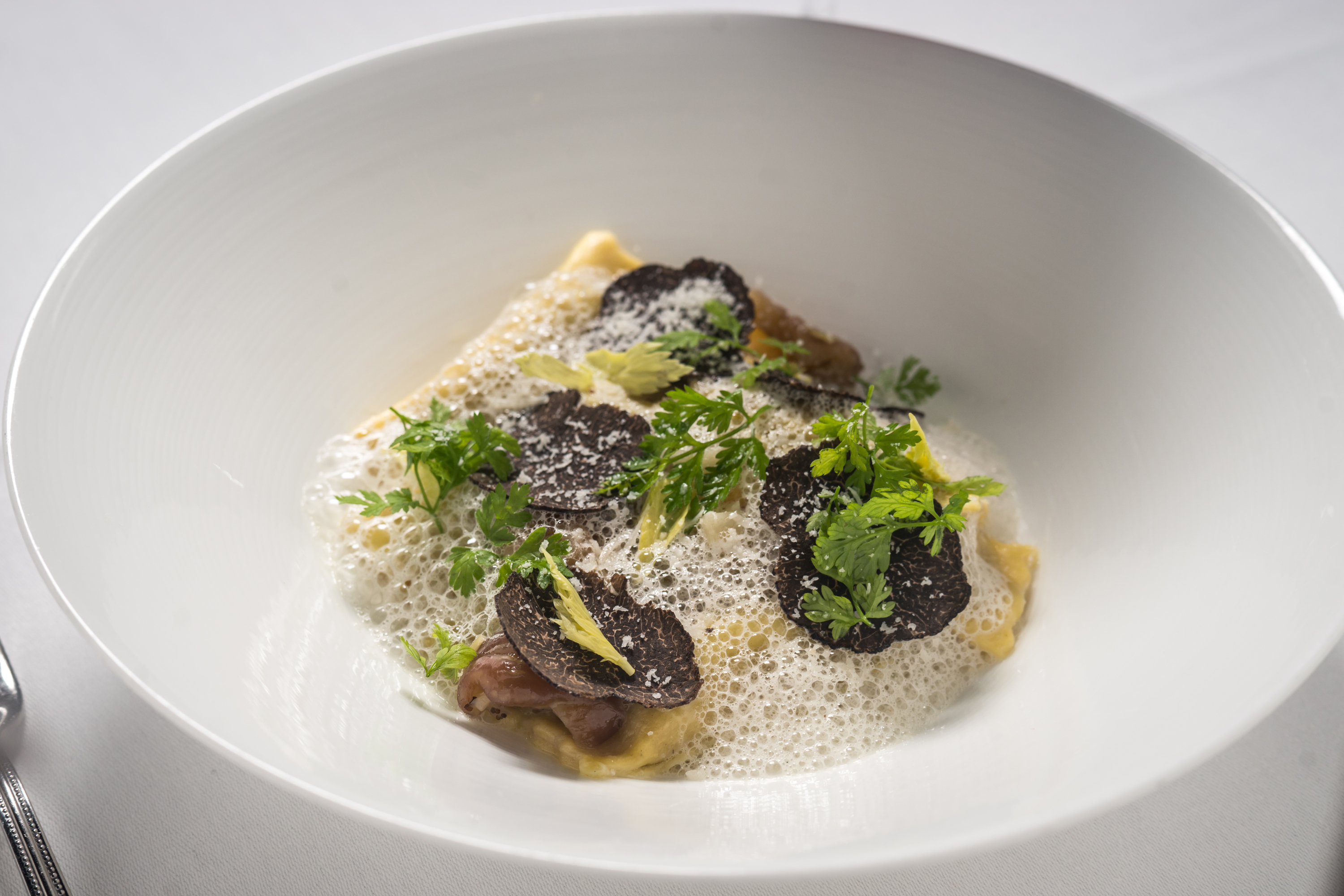 Rabbit schnitzel is lovely in its lightly crisp, golden coat ($37); more of that tender meat is tossed beneath the schnitzel with pistachios, blue foot mushrooms and roasted lemon. A bed of agnolotti ($21), filled with chestnut puree and topped with a froth of celery root sauce, lacks earthy depth; stouter in their woodsiness are a pot-au-feu of root vegetables and mushroom broth, which beefs up with each spoonful ($31), and the plump porcelet with its sweet apples and tart braised cabbage, though you'll have to wrestle with its at-times tough skin to reach the juicy pork sausage stuffed inside the loin ($35).
Augustine is similarly unconcerned with newfangled food trends, but why shouldn't it be? McNally has forged his own downtown food bubble (Cherche Midi, Minetta Tavern), one where old-world French charms bump against off-duty magazine editors talking shop over power burgers and Pernod butter. With inevitable buzz and the crowds that follow, it almost doesn't matter what's on the plate at a McNally restaurant.
Coexecutive chefs Shane McBride and Daniel Parilla, both of Cherche Midi, don't ruffle any feathers with their paint-by-numbers brasserie menu of steak tartare ($18), soufflé au fromage ($19) or salt-baked oysters ($19), although all three are well executed. The same can't be said for the halibut en cocotte ($38), which is overcooked and spongy beneath lobster jus and black truffles, or the burger ($27), a McNally standard that is choked with smoke to the point where the crowning Comté cheese and caramelized onions barely register.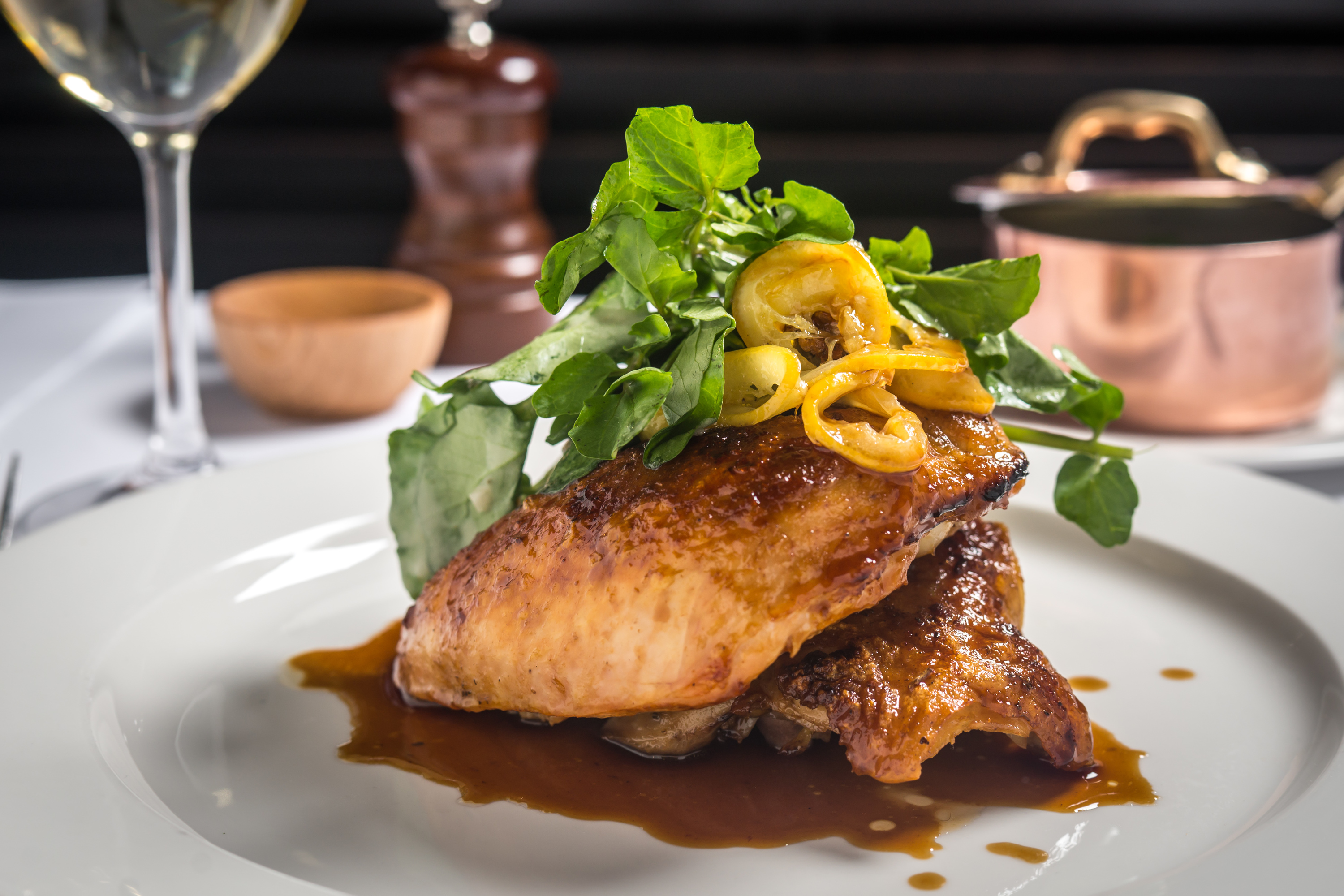 But even a slightly dry rotisserie chicken ($32), served with a picture-perfect copper pot of creamy pomme puree, tastes leagues juicier when consumed in the transporting glow of this gorgeous hotel dining room.
Fowler & Wells
★★★★
5 Beekman St (212-658-1848, fowlerandwells.com). Average main course: $40
Augustine
★★★
5 Beekman St (212-375-0010, augustineny.com). Average main course: $31