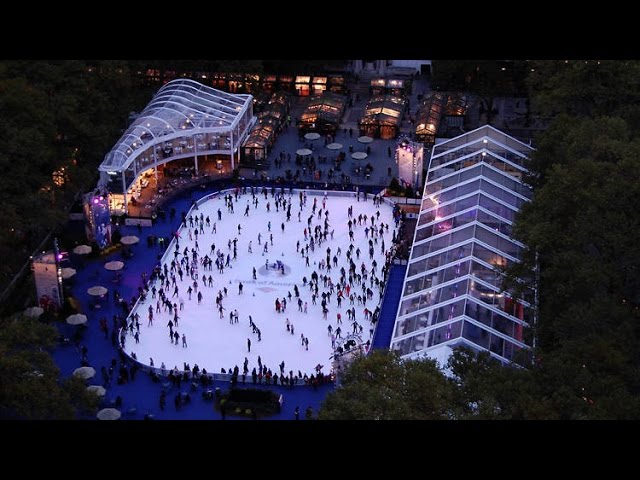 Ahh, don't you just love the holidays in New York? Out of all the things to do in fall in NYC, everyone looks forward to the return of The Bank of America Winter Village at Bryant Park the most. Why? Because once the 17,000-square-foot outdoor ice skating rink and more than 100 shopping and food kiosks open for business, this means that Christmas, Hanukkah and Kwanzaa are officially right around the corner. The most wonderful time of the year is nearly upon us!
RECOMMENDED: Full guide to Christmas in New York
The legendary holiday market will open to the public on Saturday, October 29 (similar to 2015's speedy opening date). However, unlike last year, Bryant Park Corporation has teamed up with some new and interesting local business partners.
Remember Bryant Park's rink-side pop-up restaurant, Celsius? Well, Danny Meyer's Union Square Hospitality Group is taking over by opening a fine-casual, seasonal eatery dubbed Public Fare—like Meyer's former Central Park takeout spot. The grub hub will sit on the northeast corner of The Rink, and will operate food concessions inside the Skating Pavilion. This all-day operation (open from 8am to 10pm) will serve locals and tourists tasty food such as sandwiches, soup and coffee, and will then transition into a wine and cocktail bar at night. The spot will also be co-designed by Crate and Barrel, so you know it will be festive and cute as f*ck.
Another change is that Urbanspace (y'know, the brand that's responsible for Union Square's and Columbus Circle's holiday markets as well as Mad. Sq. Eats), is operating the Winter Village holiday shops, bringing its vast collection of local and handmade retailers in New York, as well as an amazing lineup of food vendors. We'll be sharing the full holiday vendor list soon!
And Rink Management Service Corporation, which basically knows a thing or two about seasonal ice skating rinks, is officially taking over "The Rink." But don't worry—new management doesn't mean new prices. The Rink will still remain the city's only free admission public ice skating venue.
Show your love! Nominate your favorite local places for the Love New York Awards.