For many theater fans, there's nothing quite like a big Broadway musical. But there's something to be said for small Off Broadway musicals, too—and there will be plenty of those for next month or so, thanks to the 2017 New York Musical Festival, which begins on July 10 and runs through August 6. For the past 14 years, NYMF has been one of the musical-theater world's most prominent developmental stepping stones; shows that have appeared there, en route to bigger things, include Next to Normal, [title of show] and The Shaggs: Philosophy of the World. This year's NYMF includes 20 full productions, each running for five or six performances, as well as 18 concerts and 10 readings. Here are some of the options that seem especially promising in NYMF's first half; we'll follow up soon with recommendations for the second part of the festival. Happy hunting!
RECOMMENDED: Our complete guide to the New York Musical Festival 2017 (NYMF)
Errol and Fidel (Peter Jay Sharp Theater, July 10–16)
In 1958, as his legendary swash was buckling from middle age, adventure-film star Errol Flynn struck up an unlikely friendship with the young Cuban revolutionary Fidel Castro; a year later, Castro would be Cuba's leader and Flynn would be dead. Their relationship is now the inspiration for a new Australian musical with lyrics by Boyd Anderson, adapted from his novel Errol, Fidel and the Cuban Rebel Girls.


Matthew McConaughey Vs. the Devil: An American Myth (Acorn Theatre, July 10–15)
If you've ever wondered how a bongo-loving stoner stud became an Oscar-winning thespian, take comfort in the fact that he probably wonders the same thing. This new musical explores the most likely explanation: a deal with the Devil. The cast is led by Broadway vets Wayne Wilcox as Matthew, Max Crumm as his friend Woody and the never-bashful Lesli Margherita as Mephistopheles.


Killer Wigs from Outer Space (Playwrights Horizons South Studio, July 10–16)
An alien parasite transforms a simple carny into a wild-haired rock & roll prophet in a wiggy new musical by David Nehls (The Great American Trailer Park Musical) and Zac Miller. The cast includes Ryan Connolly, Kennedy Caughell and Rock of Ages alum Mitch Jarvis. (Note: Since the show is being presented as a reading rather than a production or concert, only those with fancy NYMF Passes can attend.)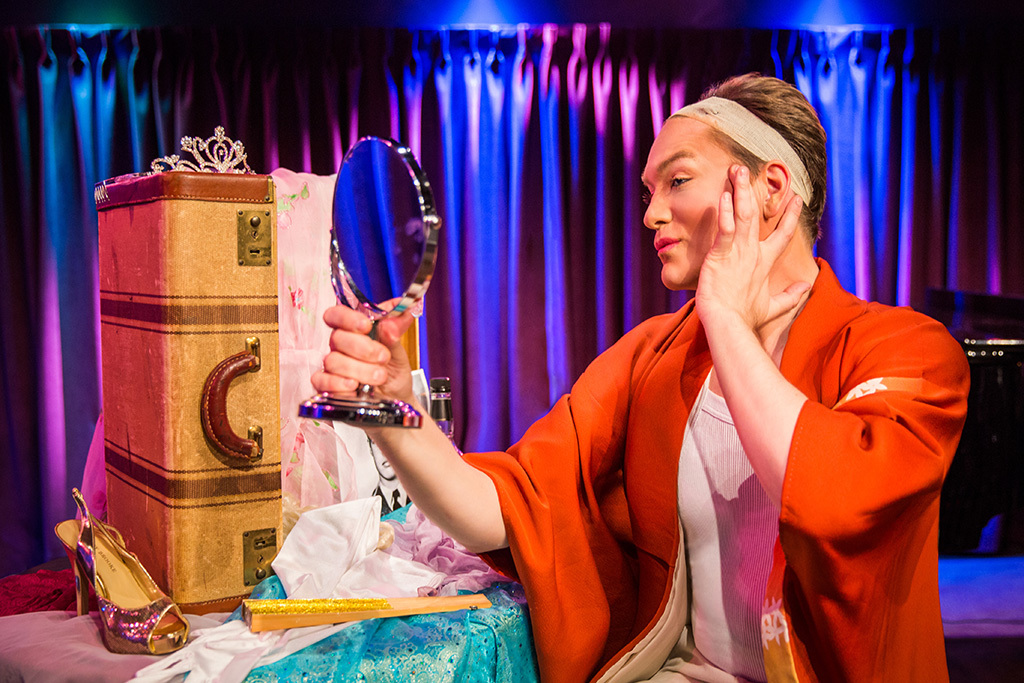 Miss Blanche Tells It All (Peter Jay Sharp Theater, July 12–16)
NYMF stalwart Brian Charles Rooney, who has appeared in six previous iterations of the festival (and won awards for two), stars as a 1969 New Orleans drag queen in a solo musical by Jason Jacobs and Matthew C. Pritchard, which draws from the overheated energies of Tennessee Williams. Expect to be wowed by the high-flying, gender-bending vocals Rooney has previously shown off in The Threepenny Opera and Bedbugs!!!


The Cadaver Synod (Acorn Theatre, July 17–23)
If you're looking for something on the weirder side, how's this for unconventional subject matter: Robbie Florian's musical is based on the true story of Pope Stephen VII, who conducted a grotesque mock trial and mutilation of the corpse of a previous pope in the year 897. (Spoiler: It did not end well for anyone, but what does?) Ryan Emmons, who worked on Broadway's Matilda and Groundhog Day, directs.


Night Tide (Peter Jay Sharp Theater, July 17–22)
A lonely sailor on shore leave is seduced by a sideshow mermaid who may be even fishier than she seems in this musical version of the 1961 B movie, which starred Dennis Hopper as the lovestruck seaman. The book and lyrics are by Taylor Tash, with music by Nathania Wibowo. In this version, Tara Martinez plays the mermaid and Patrick Dunn is the guy on her tail.


The Fourth Messenger (Acorn Theatre, July 18–23)
The excellent Nancy Anderson, who gave a breakout performance in last year's one-act musical The Pen, plays a spiritual teacher in Tanya Shaffer's contemporary riff on the story of the Buddha. The music is by indie singer-songwriter Vienna Teng; Matt August, who directed How the Grinch Stole Christmas! on Broadway, steers this musical voyage toward enlightenment.


The Body Politic (Peter Jay Sharp Theater, July 18–23)
Charles Osborne and Leo Hurley's transgender-themed opera, about a young trans man who moves from Afghanistan to the American South during the Afghan War, made news last year when it was staged at the North Carolina State Legislature in response to that state's restrictive "bathroom bill." Its concert staging at NYMF stars Lebanese-American trans actor Samy el-Noury.