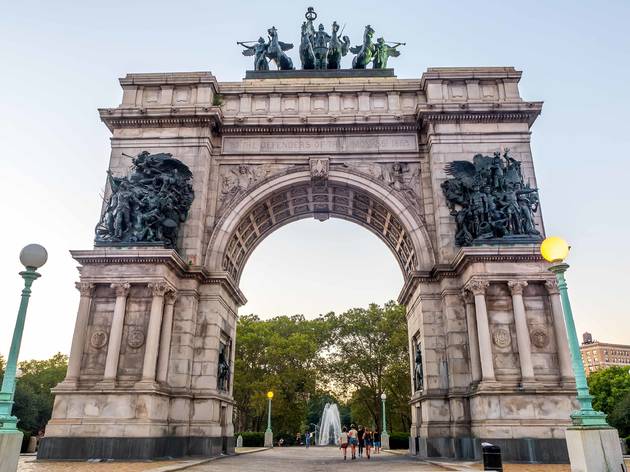 Prospect Heights, Brooklyn neighborhood guide
Old-school, family-friendly, and a bona fide destination for dining and drinking, Prospect Heights balances all of its amazing attributes.
What's the deal with Prospect Heights?
Prospect Heights in many ways is a small town in the middle of central Brooklyn. The Old-Brooklyn neighborhood is beloved for its cutesy mom-and-pop shops, sugary joints like Ample Hills (one of the best ice cream shops in NYC), and a flourishing dining and drinking scene that lines Vanderbilt Avenue.
But, apart from eating and boozing your way through the slew of restaurant picks that have put the area majorly on the map, Prospect Heights is home to the ever-iconic Prospect Park and conveniently located within walking distance of popular New York attractions like the Brooklyn Public Library and Brooklyn Museum.
If you only do one thing
Grab a sandwich and old-fashioned cake donut from R&D Foods and layout a picnic in Prospect Park.
Go off the beaten track
Veer off the main drag to Gold Star Beer Counter and have your own craft beer adventure, while nibbling on meats and cheeses. To dive further under-the-radar, crawl to speakeasy Weather Up that operates in a transformed church.
On a sunny day
Head to the Grand Army Plaza Greenmarket, which happens every Saturday at the northwestern entrance of Prospect Park. After, reward yourself with a big, chunky scoop from the original Ample Hills Creamery.
On a rainy day
Spend the afternoon probing for rare books and editions at Unnameable Books.
Chill out
Meet pals for brunch at retro-modern Meme's Diner. The queer-run spot has a menu full of comfort food, and instead of bread basket, brunch usually starts with a free bowl of sugar cereal (think: Fruit Loops and Lucky Charms).
Nearest subway stations
Get on the Q or B train and head to 7th Avenue station. Alternatively, you can take the 2 or 3 train to Bergen St or Grand Army Plaza.
What else is nearby?
Crown Heights, where one of the city's best Carribean restaurants, The Islands, tiki bar King Tai, and bustling Franklin Avenue is found.
RECOMMENDED: Full coverage of things to do in Brooklyn