Heads up! We're working hard to be accurate – but these are unusual times, so please always check before heading out.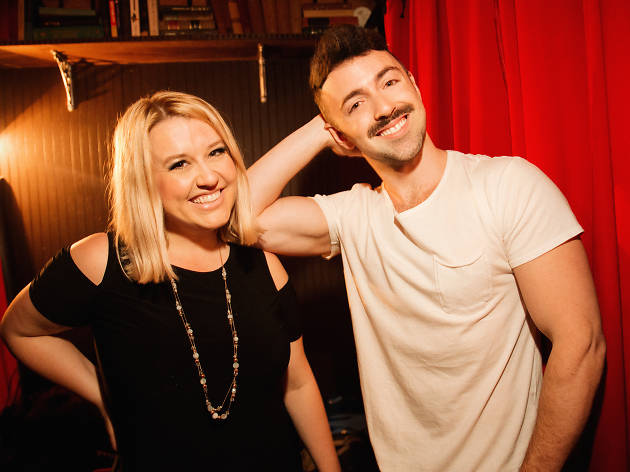 Battle of the Divas hosts Christi Chiello and Matteo Lane face off on their favorite queens
The outrageous stand-ups duke it out over Britney Spears, Taylor Swift and all your pop goddesses
Left Unmediated, some celebrity feuds can go on forever. Thankfully, very funny New Yorkers Christi Chiello and Matteo Lane have arrived to settle scores. At their brilliant and bonkers monthly show Battle of the Divas, they invite local comics to debate over the clothes, talents and histrionics of supreme queens like Cher, Madonna, Whitney Houston and Mariah Carey, all with shady commentary from Lane and Chiello. Before the Taylor Swift vs. Katy Perry edition at New York Comedy Festival on November 7, the duo face off on boy bands, pop icons and the greatest rivalry of all: NYC pizza vs NYC bagels.
Matteo and Christi face off on your favorite divas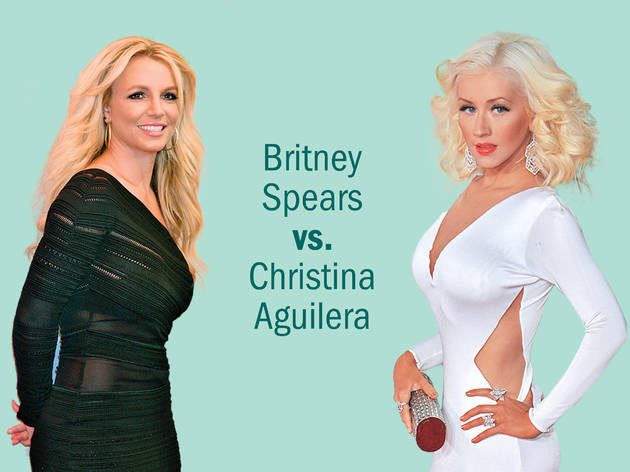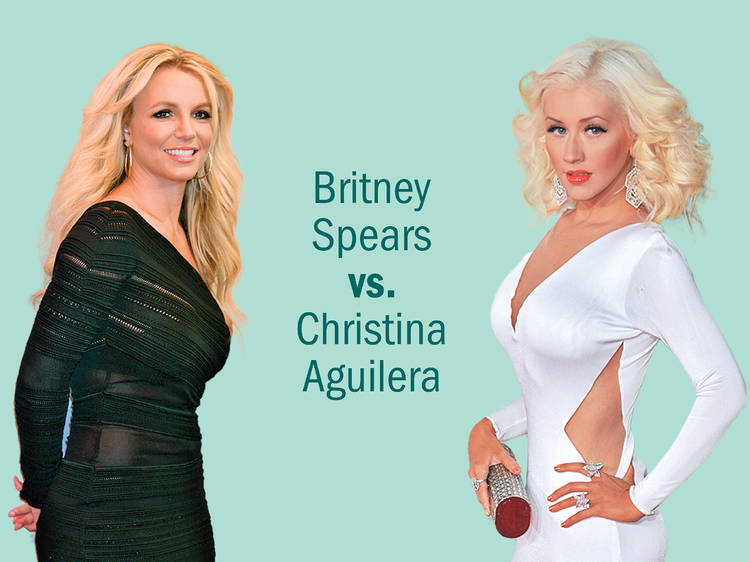 Britney Spears vs. Christina Aguilera
Christi Chiello (team Britney): Britney is the G.O.A.T. in terms of mediocre pop tarts who have also had a lobotomy! She set the limbo bar that repeatedly knocked out her wannabes Christina, Jessica and Mandy-fucking-Moore. I would take 2007 Britney over Christina in her prime! Britney's latest hits, her Instagram, her march-ography and most of her life choices are a monstrosity, but real talk: Britney defined a decade of pop music, and if you don't agree you can pull a Justin and cry me a river!
Matteo Lane (team Christina): Christina is a complicated person. I'd never want her in my home, I'd never want to go to a dinner party with her and I would not want her around my children. (I don't have children.) When she was on The Voice, her ONLY goal was to show that she could sing better than everyone else. And to be honest, she could. So for that reason, because she's very talented, I'd have to pick Christina. It's not that Britney isn't talented, she's just—she seems tired.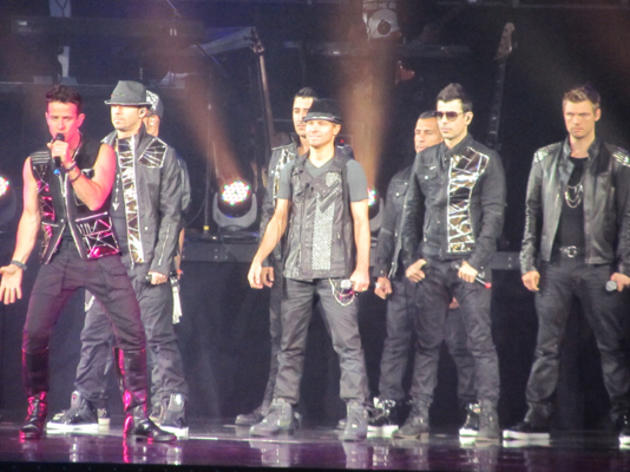 Photographer: Lindsay Esposito
Backstreet Boys vs. *NSYNC
Matteo (team Backstreet Boys): Looking back, this argument should be more about which boy band was gayer. They both awoke something in me as a 13-year-old gay—too many photos of them shirtless in pools and dancing in the rain. (I'm 31 and gay and I've NEVER danced shirtless in the rain.) But besides that, I think Backstreet Boys were slightly more real. They are still a band, and I like their songs better. That being said, I do love Joey Fatone. No shade.
Christi (team *NSYNC): *NSYNC is the greatest boy band of all time! [Flips table] I get my life to *NSYNC! They have catchy chart-topping songs, killer dance moves, stellar looks and winning personalities—What else could you ask for? Look at Joey Fatone: His last name is literally "fat one." And he never changed it, even though he weighed more than the rest of the group! I respect that. I also respect that Lance Bass tried astronauting, Chris Kirkpatrick tried to make a dreadlocks-goggles combo happen, JC Chasez never stopped trying to be better than Justin Timberlake, and he knew to Beyoncé the fuck out of that sinking ship!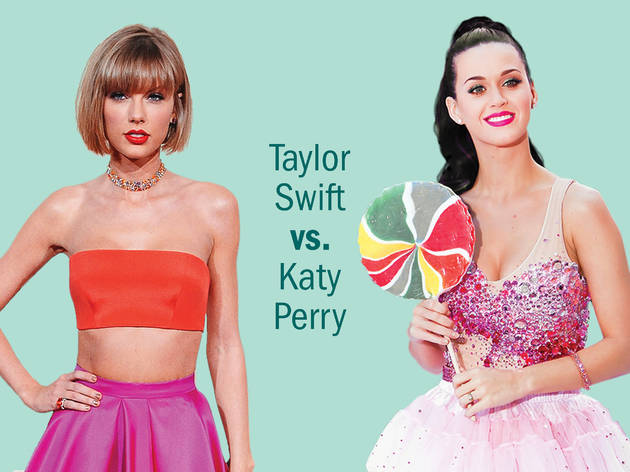 Taylor Swift vs. Katy Perry
Christi (team Taylor): "Shake It Off" is honestly my anthem, so yeah, I'm Team Taylor! Also Kitty Purry is too fun to make fun of! Honest question: Was Katy born during a heat wave at a strip mall when all the Claire's accessories melted together? She should stop making music and just be a mannequin. Taylor has cool friends! Remember Taylor's Fourth of July party photos that featured three dozen celebrities? I do, because the only bikini body I identified with was pregnant Blake Lively. Taylor has to win this!
Matteo (team Katy): This is so hard because they're both living on different planets. Taylor, who thinks a squad goal is 15 women in high fashion; and Katy, who thinks her haircut will destroy the world's view on her—I mean, they're both losing it. But Katy has more fun; she (for now) doesn't take life too seriously, and I think that shows. Also, she allowed us to see naked pics of Orlando Bloom. So for that, thank you.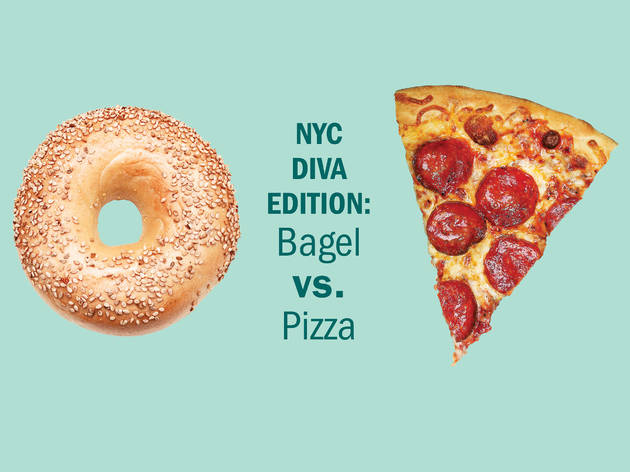 NYC Diva edition: Bagel vs. Pizza
Christi (team Bagel): My biggest accomplishment in 2017 was having the man that works at my favorite bagel place ask me, "Where have you been?" So, yeah, I'm a bagel girl. Pizza is messy and sloppy—two things a diva is not. A bagel's got class, sass, and it's given me my ass. And you have not had a bagel until you've had a New York City bagel. I like mine dense and doughy with a crackly crust! (Is anyone else getting horny right now?) Bagels come in so many flavors, and you can put other fun foods inside them! And if you're Team Pizza…Hello? Eat a pizza bagel! I lived on those for, like, four years because this city is expensive.
Matteo (team Pizza): She came from Naples [Italy] when Queen Margherita was visiting. It legit came from a queen. I love bagels, but pizza is so much more NYC. It's on every street corner, decorated differently, and half the time you get one, you can expect an Italian singing to you while you eat it (or maybe just at one place). Io sono Italiano ("I am Italian"). Pizza for the win!
Listen to your favorite comedians on these hilarious podcasts
Before they become household names, some of the funniest up-and-coming New York comedians are throwing down on podcasts covering sex, politics, pop-culture and working in the entertainment industry. And because they're in NYC, you can catch performances of these podcasts at live comedy shows all around town. What are you waiting for? Embrace your new addictions.