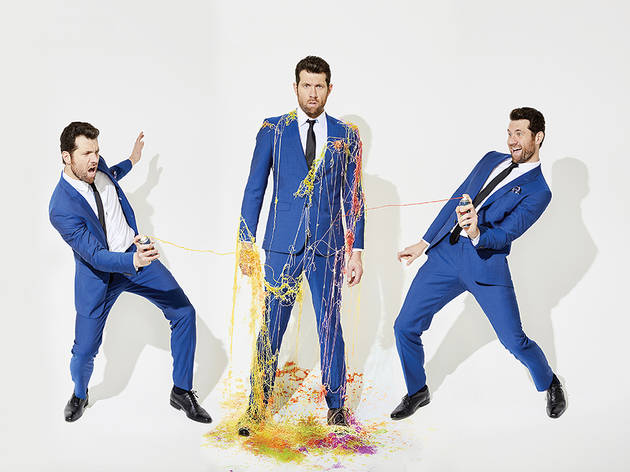 Billy Eichner talks Billy On the Street and why basic peeps suck
How can a local comedian known for confrontation break big? A surprisingly (almost) mellow Billy Eichner has some ideas.
Billy Eichner and I matched on Tinder once. When I mention this, he laughs: "When people meet me, sometimes they're almost disappointed by how normal and boring I am." And I have to admit that I was intimidated at the thought of meeting him. At a strapping six foot two, the comedian not only towers physically above most of the pedestrians and celebrities on his on-the-streets-of-NYC game show Billy on the Street but dwarfs them with his rabid—and aggressively quick-fire—way of asking questions. But when we get together at Funny or Die's Los Angeles offices, where Eichner edits the show, he seems more at my five-foot-nine level, sitting back and patiently listening to my questions before responding at the speed of a Gilmore girl.
In our increasingly PC world, Eichner refuses to be sterilized. Whether he's running down Manhattan streets with a microphone, screaming about Giuliana Rancic and The Angry Birds Movie on his show or trashing A-listers with his friend and fellow cultural carnivore Julie Klausner on Difficult People, the Queens native speaks (and shouts) his mind like the consummate New Yorker he is. Eichner has often remarked on the influence of his late friend Joan Rivers, and as he talks about his ambitions to act onstage, onscreen and beyond, it becomes clear to me that he might succeed her as America's definitive guerrilla comedian—an outsider using wit to break down a straight, self-serious culture of celebrity.
Eichner originated his manic persona in his NYC stage show Creation Nation while in his early twenties and used its popularity to launch Billy on the Street on Fuse Network in 2011. Recurring appearances on Conan and Parks and Recreation followed. Now the 38-year-old is busier than ever, cutting the fifth season of Billy on the Street, prepping for Difficult People and rehearsing for NBC's Hairspray Live! in December.
Which is all to say that, as much as I wish Tinder had worked in our favor, Eichner wouldn't have time for me anyway. He has his eyes on the prize and likely won't be satisfied until he's hosting the Emmys, the Oscars and the Tonys—or winning all of them. Until that day, I look forward to him acerbically bashing his exclusion.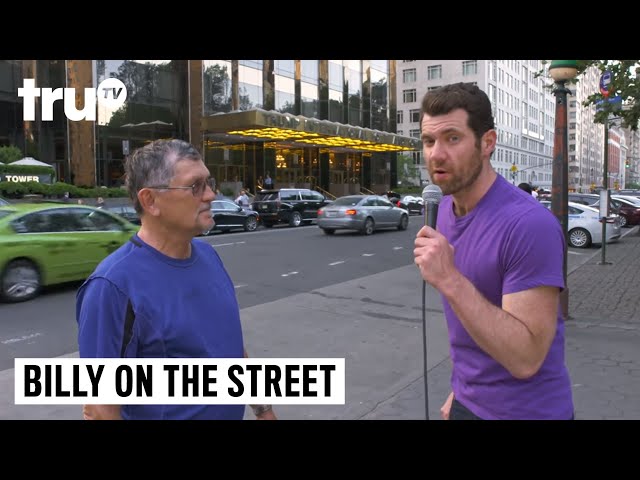 Happy National Coming Out Day.
And Yom Kippur is upon us!
I know. As gay Jews, it's a lot for us.
And for Julie Klausner. Two things on one day. That's a lot for Julie.
I just heard about you acting in Hairspray. What's your role?
I'm the newscaster that comes in at the end of the second act. It's a small role. There are a lot of people doing smallish roles: Sean Hayes, Andrea Martin, Rosie O'Donnell. It's quite a cast of characters.
Very gay.
Extremely gay. But I'm excited. It was very nice of them to ask me. I obviously love all of those people involved, like Marc Shaiman and Martin Short, who's like my personal god. Hairspray is a great show, and nothing against the musicals that came before, but I think this NBC show has a good shot to be the best one.
Well, Peter Pan…
Granted, we peaked early.
Did you always have the acting bug?
I started out as a child actor. Because I grew up in New York, my parents and I went to a lot of Broadway shows. I thought I was going to be on the musical-theater track. So if you had told me in college that my break was going to be talking to people on the street in improvised conversations about pop culture and screaming at strangers, I would have looked at you as if you were insane. It's really not in my personality. And that's an annoying actory thing to say, like: "I'm really shy in real life." I'm not grossly shy in real life; I'm just normal. This is a character I came up with on small stages in New York. Difficult People has been a step for me to go back to what I originally wanted to do: It's a three-dimensional character.
Joan Rivers once said that what's sacred to her is acting, not stand-up. Do you feel the same?
One hundred million percent. Joan obviously was a friend of mine and a mentor of sorts. One of the lessons that Joan taught me was that if you want to be an actor, go be an actor. If you want to be Billy on the Street forever, great. But if you don't want to, then you have to start planting those seeds now. The last thing I want to do is come across as someone who seems to be over the thing that broke them, because I hate that. That's like when rock stars go on tour and don't do their hit songs. I don't feel that way at all. I love Billy on the Street. I'm actually shocked, watching the footage, that it still makes me laugh.
You did a pilot with Rivers called Straight Talk in 2006, and after it was canceled, your agent dropped you. What kept you going?
Well, what kept me going was thinking that I had a lot to offer. When I would go onstage, a lot of people would laugh. People like Joan or other people in the industry would see my shows or my videos and say, "We think you're really funny, we think you're talented, what you're doing is unique, hang in there." And on some level, I knew how much I wanted it and wasn't ready to give up.
The Billy character on Difficult People is such a realistic portrayal of someone in New York trying to make it. When we finally see his apartment, it's heartbreaking.
I love that it's very specific to New York. Billy would rather live in that thimble-size apartment in Manhattan than live in Brooklyn. That's a particular type of person.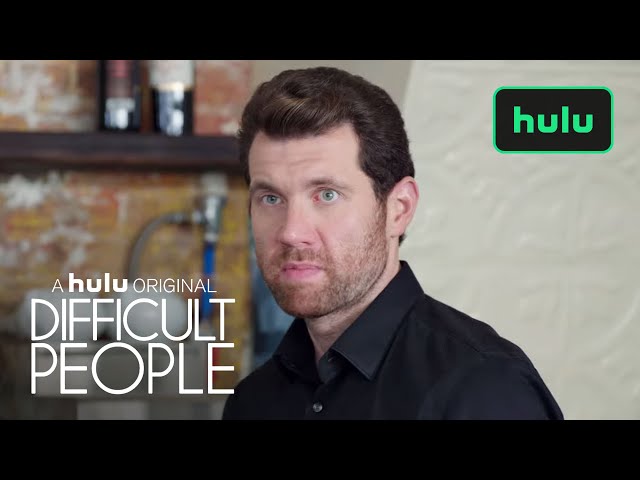 And Billy on the Street can only exist in New York.
Because it is half reliant on me. The other half is reliant on the people on the street. We don't stage it. We never precast it, so it really relies on the people I approach to have a certain attitude. A lot of the people I talk to don't give a fuck. I don't know if that would be the case everywhere; people all over might not give a fuck secretly, but I don't know if they would be able to do that on camera with no preparation. I'm energized by filming on the streets of New York and by the diversity of people. If you watch one episode of Billy on the Street, it's like the most diverse cast in television. You see everything! Poor, rich, gay, straight, trans, white, black, young, old, and you see old women who actually look older and not totally Botoxed. And even a New Yorker who isn't insanely well versed in pop culture probably has a certain level of media savvy that you wouldn't find elsewhere.
I love that the show seems to almost celebrate NYC crazies, but when you talk to a girl who is on her way to brunch, you trash her. Are you passing judgment on who is a real New Yorker?
Yeah. It's always fun—and necessary—to take down someone who is exceptionally basic. Especially in New York. There are plenty of places to go and be basic in the world. In fact, 95 percent of the world is a place to go and be basic if you want to be. So if you're going to come to New York to be basic—and by the way, we all have our basic moments, I love a Nancy Meyers film more than anyone—I'm going to call you out.
But then you have the woman who thought Denzel Washington was the Phantom of the Opera…
Yes. One of my favorites. Although she is blatantly wrong and possibly out of her mind—she's so adamant. The absurdity of what we're fighting over and the intensity with which we're fighting over it: That's what is being celebrated on the show. Billy on the Street is a satire. That character is the most intense, exaggerated, over-the-top YouTube commenter. He's entitled to go out on the street and shove his opinions in your face and get loud and aggressive about it if he chooses to. He's the ultimate tweeter.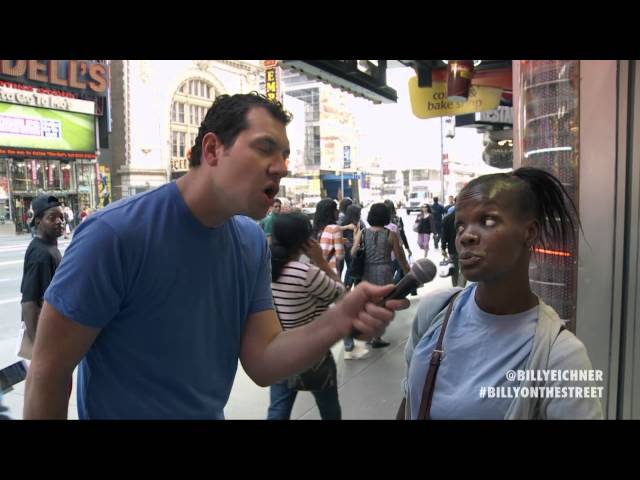 You tend to be self-deprecating on both Billy on the Street and Difficult People. Do you ever feel like you have to act less confident so that you'll seem relatable, or is that how you are in real life?
No, in the same way that I'm very different than the difficult people character professionally because I was so active and driven, I am not mopey in the slightest when it comes to relationships or dating. Which isn't to say I don't have the same issues or insecurities that everybody else does. And although I'm not as absurd or cartoonish as the Billy on the Street persona, I do share his confidence. Just being able to do that act requires a certain level of confidence.
Especially as a gay man.
Especially as a gay man. I don't only go up to little girls. I will approach people who aren't gay-friendly. I approach everyone. When I did a Billy on the Street segment with [David] Letterman—who basically invented what I do—even he was surprised by how big my balls are. I don't really know where that comes from. In real life I can be socially awkward as much as the next guy, but there is a confidence there that I share with the Billy on the Street persona more than I share with the Difficult People character. This requires a lot of perseverance and a lot of belief in yourself. So when it comes to dating and relationships, I'm not very self-pitying in that way. It doesn't mean I don't have bad breakups, or I don't feel bad if a guy doesn't like me or something. I'm human. It might ruin my day, but it won't ruin my year.
Have you ever felt pressure to apologize for something you've said on the show?
Never. I've never been asked to apologize. Perhaps it's because everyone knows how ridiculous [the show] is, so nobody's really taking it to heart. Perhaps it allows me to get away with certain things that other people can't. Context is everything. If I penned a very serious essay for Lenny about closeted celebrities, that would get a very different reaction than me screaming with a woman on the street about Les Misérables.
Even with your confrontational style, your career is becoming more mainstream. Is there a point where you think you'll have sold out?
If I ever sell out, I'll let you know.
The fifth season of Billy on the Street premieres Nov 15 on truTV.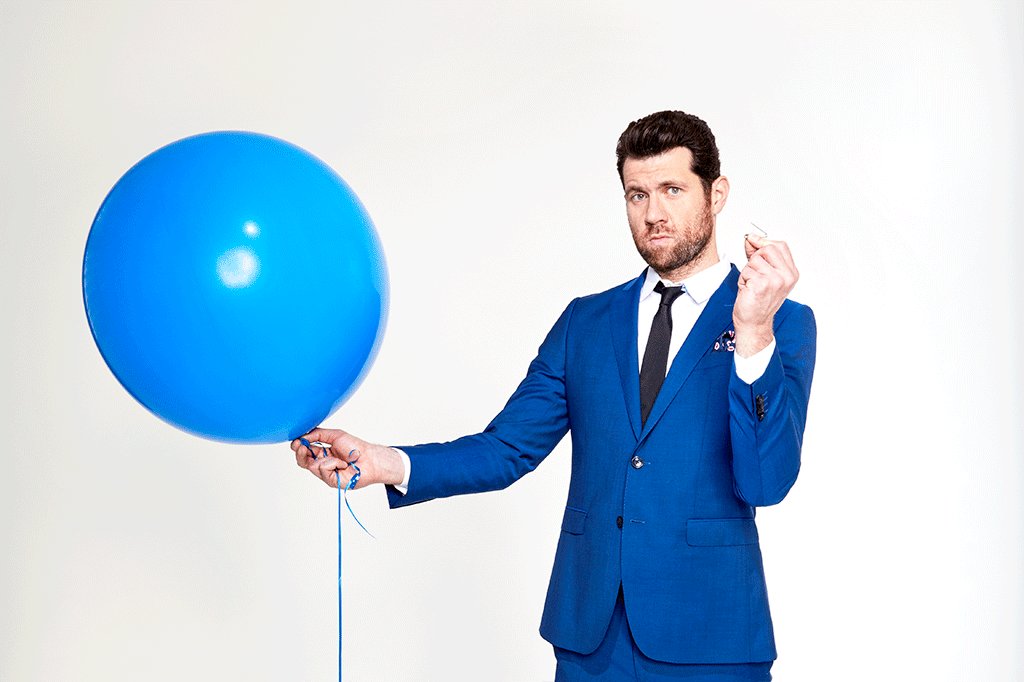 Photograph: Amanda Friedman
Interested in more comedy?
When the laughs need to be sure-fire, cut to the chase with our select list of the best comedies on Netflix streaming