Heads up! We're working hard to be accurate – but these are unusual times, so please always check before heading out.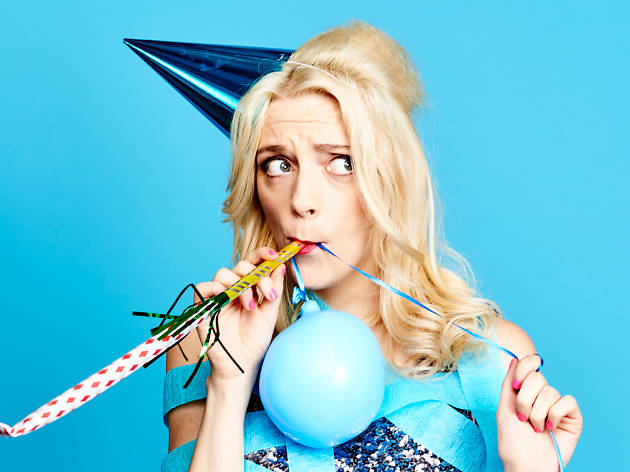 Escape cuffing season with comedian Carly Ann Filbin
The Single Blonde Failure star and host of Let Me Break You Up shares five reasons it's better to be single this spring
Spring is here, which means that the winter trend of coupling for convenience, warmth and indoor activities—known as cuffing season—is over. But how do you know if your hibernating partner is a real match or a seasonal distraction? We turned to very funny New Yorker Carly Ann Filbin, the hilariously self-deprecating star of the web series Single Blonde Failure and host of the dark take on The Newlywed Game, Let Me Break You Up, for answers. Here are her five reasons to drop your winter boyfriend this spring.
1. Holidays are over
"You took a selfie kissing under the mistake-toe, you took a selfie kissing on New Year's, and you forced him to take a selfie kissing on Valentine's Day (even though you got in this huge fight because he totally forgot to make dinner reservations, even when you reminded him three times). Boyfriends are only needed for cute holiday pics. The holidays are over, babe, and so is he."
2. It's too hot
"Those warm cuddles during cold nights will soon turn into sweaty cuddles during hot days. When the sun comes out, you don't want a human blanket by your side covering up the arms you worked on all winter or distracting you from your new collection of Forever 21 rompers."
3. Potential flings are everywhere
"From street fairs and fireworks displays to the F train, there are tons of places to meet people emerging from hibernation. Statistically, one in four will be hotter than the loser you picked up in that Bed-Stuy dive bar just so you could bring someone home for Thanksgiving to avoid the "So are you dating anyone?" conversation with your dying grandparents. Forget him, and hang around a Citi Bike station. Lots of hotties who care about fitness and the environment are to be found!"
4. Solo vacays
"After spending the winter months with a boring idiot who claims he's going to be the next John Mayer (as if), get back in touch with yourself! The warm-weather season is the perfect time to travel alone and do all things you've been migrating into your Bullet Journal—like going to Dollywood, causing a drunken scene at Dollywood and getting kicked out of Dollywood."
5. Sex on the beach
"Who doesn't want to have one too many margaritas and get nasty in the sand? (It actually sounds really messy and complicated and could maybe do some long-term damage depending on where the sand gets in, but what a memory you'll embellish later!)"
Looking for more comedy?
Find all the best stand-up, improv, storytelling and sketch-comedy shows in NYC over the next few weeks