Heads up! We're working hard to be accurate – but these are unusual times, so please always check before heading out.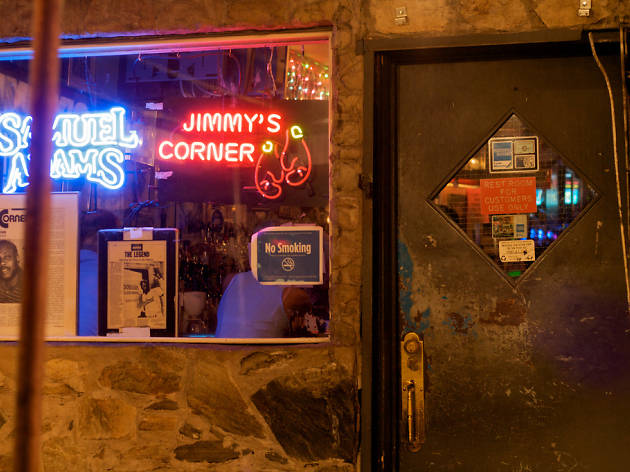 The best dive bars in NYC
With a bit of gritty New York disappearing each day, we sound off on the best dive bars still standing strong
NYC might be known for its gritty history, but the forces of gentrification have made the bona fide dive bar an increasingly rare commodity. And while we all love sipping on finely-crafted cocktails or clinking glasses at swanky wine bars in NYC, sometimes you just need to kick back at your favorite no-fuss spot and guzzle down some wallet-friendly booze. From Hell's Kitchen to Greenpoint, Brooklyn, these are the best dive bars in NYC to drink at right now.
Best dive bars in NYC
This bustling haven for native New Yorkers is just a stone's throw from Times Square's tourist traps. Split a pitcher (Rudy's Blonde goes for just eight bones), peep the wall of confiscated fake IDs, and ask for—if you dare—a free hot dog from the steamy roller behind the bar.
This unfussy hidey-hole remains firmly entrenched at the corner of 29th Street and Ninth Avenue, just across the street from a massive postal depot. (You'll likely encounter a few of its employees no matter the time of day; BillyMark's opens at 8am.) It has all the hallmarks of any self-respecting dive: pool table, reasonably priced (for Manhattan) beers and shots ($4 each), scuzzy bathrooms, amd nicer touches such as a truly excellent jukebox stocked with funk, classic rock and '80s pop.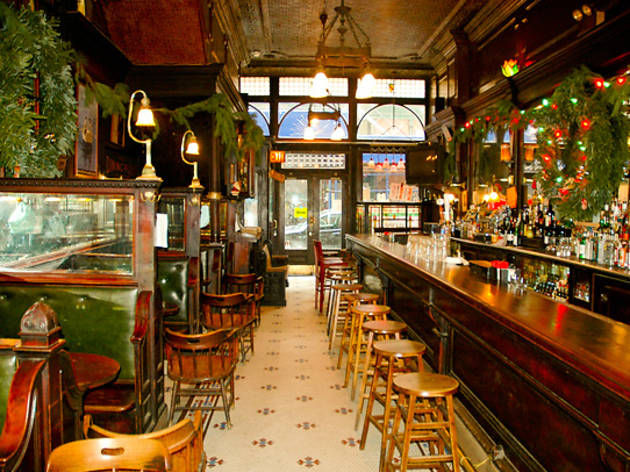 Amid the swank food sanctums sprouting around Park Avenue South, this classic tavern remains a shrine to unchanging values. Most old-time Old-Towners go for the much-praised burger, which we found needed a little salt. For lightweights, there's a smattering of salads and other sandwiches. Some things, however, do change. Bloomberg's antismoking legislation has made the once befogged booths and long mahogany bar strangely haze-free.
This unassuming wharfside tavern has been passed down in the Balzano family since 1890. On weekends, the bar buzzes with middle-aged and new-generation bohemians (the latter distinguished by their PBR cans), and the odd salty dog (canines, not sailors). Despite the nautical feel, you're more likely to hear bossa nova or bluegrass than sea chanties warbling from the speakers.
Feeling as if it were airlifted right out of the 1970s and plopped onto Avenue A, Lucy's evokes a nostalgia for the edgy East Village of yore. On a typical weekend night, the charmingly cluttered red-lit space is packed with groups of thirty- and fortysomethings in worn Pavement T-shirts and flannels, ordering bottles of Miller High Life while Lucy herself (full name Ludwika Mickevicius), a tiny, ageless Polish woman with close-cropped blond hair and a tight smile, holds court behind the wide dark-wood bar. "Lucy hides a bottle of Polish vodka under the bar, which she only brings out for regulars," whispers Barry Misenheimer, a retired lawyer whom the bartender's served for more than 25 years. (The 73-year-old eponymous owner has been slinging drinks in the 'hood since the late '70s, and the joint, originally called Blanche's, was named after her 18 years back.) Need more old-school cred? There's no lock on the men's room door—that's where junkies, or as Lucy calls them, "the skinny people," used to shoot up.
This boxing-themed dive bar, opened by former trainer Jimmy Glenn, is certainly more colorful than its Times Square brethren. Mirrors are emblazoned with photos of Glenn's right-hook big shots, but these days, it's magazine honchos, not KO kings, who slum it here. The joint ain't fancy—the full bar is standard: four beers are on tap and there's soul on the juke—, but it covers the basics just fine.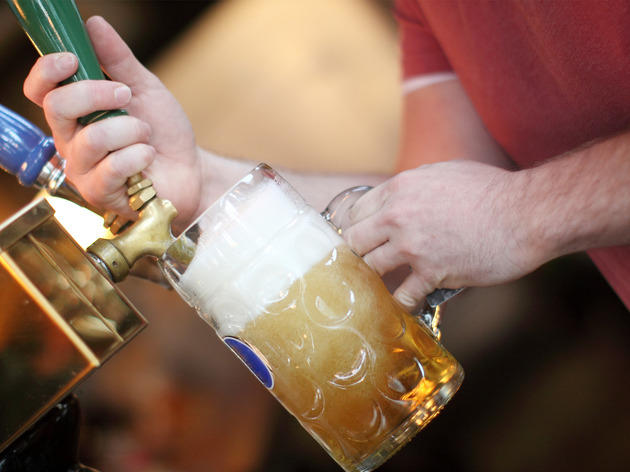 Photograph: Shutterstock
Ready Penny, like its home borough of Queens, is a melting pot. The classic Irish joint in Jackson Heights' vibrant Little India is a sort of cozily lit suburban man cave, with the requisite old-fashioned pub lights and chipped linoleum underfoot. It's the kind of joint where you could catch (like we did) an Indian man, an Asian fellow and a white guy engaged in a heated political debate (no, this isn't the start of a joke). Or a nebbishy young man describing, in careful detail, his expansive Harry Potter tattoos to a very confused older couple. Awesome.
Entering Duff's is like descending into hell—and we wouldn't have it any other way. It's a fitting introduction to this metal bar, which is as cheap and loud as they come, with layers upon layers of graffiti converging with discarded PBR cans, skulls, band posters and a rippin' jukebox. You won't feel out of place if you don't know Slayer from Black Sabbath, though: The bar's fiercely loyal customers are from all walks of life—a rarity in Williamsburg bar land—and happily shoot the shit while blanketed in Duff's deep-red lights.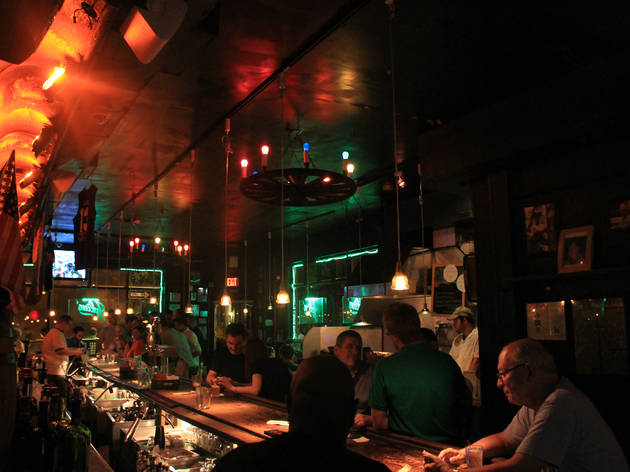 Much like the drunks who inhabit them, New York's dives come in many forms. Take Julius', a historic gay bar that's been kicking since it was a crime to be homosexual. (In 1966, the spot was the site of the Sip-In, during which gay men gathered together and demanded to be served at a time when doing so was illegal.) Despite the Village's constant evolution, not a lot has changed at this dive. You'll find a few rainbow flags in the back and a flat-screen TV up front, but otherwise, the well-worn place is decked out with black-and-white photos of celebs like Clark Gable, old clippings and ancient wooden tables and stools.
Montero's strong cocktails (two ingredients, max) served in plastic cups, Bud bottles, nautical ephemera hanging from the dusty, age-old rafters—cracked life preservers, eerie portraits of sunken ships—and teeming-with-stories bartenders already make the place essential. What puts the Brooklyn Heights pub a notch above others, though, is the karaoke, the most amazing and ramshackle version in town, where drinks slingers are known to dance on top of the bar and perform Heart songs together. (Get in on the action while you can—owner Pepe Montero says he'll sell the property if developers offer $56 million or more.)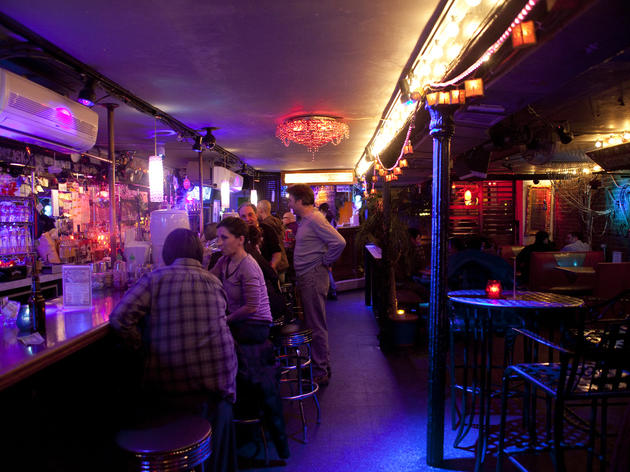 The bouncers at the door aren't window dressing—they're serious about keeping out the rough element that characterized this hangout for much of its more than-80-year history. True, the venerable dive has evolved, hosting cover-charged events and adding DJs who spin jungle and new wave. It hasn't evolved too much, though: 169 remains a satisfyingly obscure place to get a beer on the cheap and, until it's time to hit the pool table, pump the music and start dancing.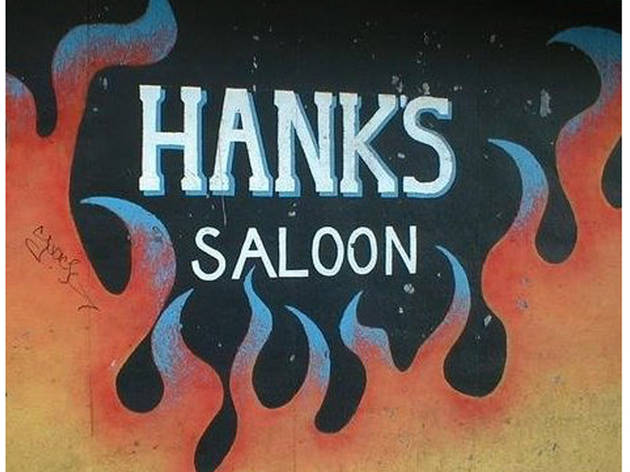 Don't let the flames painted on the exterior fool you: The vibe at Hank's is less terrifying biker bar, more ramshackle honky-tonk. (Old neon beer signs, a giant American flag hung behind the tiny stage and a John Wayne photo help with that.) Live acts lean toward the rockabilly end of the spectrum—and go well with a can of Schaefer ($3).
The second iteration of this dim, narrow saloon opened in 2005; its first was a nearby standby in the 'hood for 40 years. (Fun fact: Keef saunters by the original location in the music video for the Stones' "Waiting on a Friend.") Order a can of Schaefer and a whiskey shot ($4 for both) from the cramped bar, pop some punk on the jukebox, and bask in the lack of obnoxious coeds—a rarity around these parts.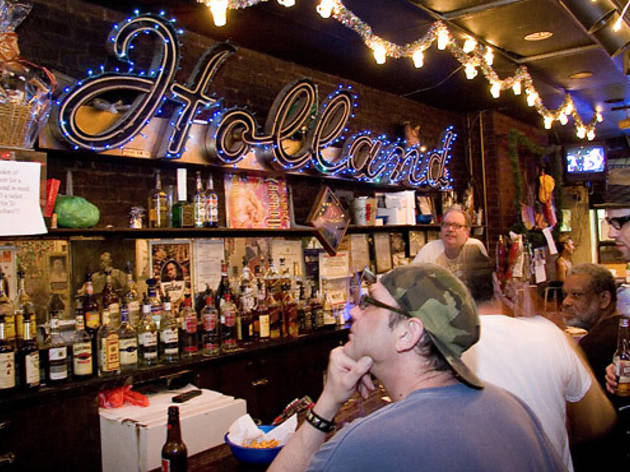 David Rosenzweig
"There's cheap drinks, free microwave popcorn and an assortment of dollar-slice joints nearby," gushes regular Jazmine Hughes. "It's everything I could ever want." And Holland Bar, a crusty-as-sin gem smack-dab in the middle of Hell's Kitchen, has likely seen everything. After-work types come and go in the evenings, mingling over bottles of Bud. It's a different scene come 8am, when a permanent cast of questionable characters line up for the day's first brew.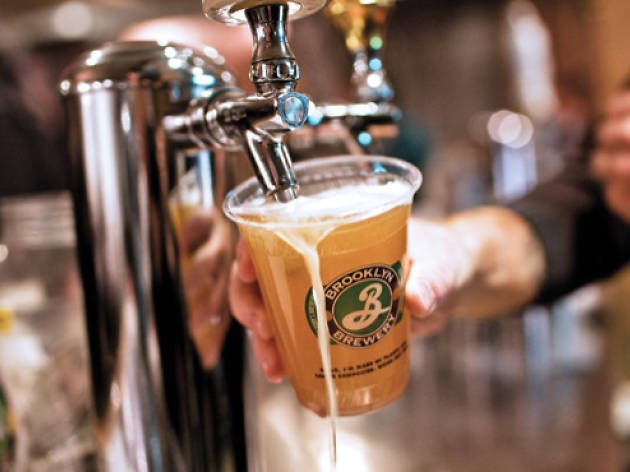 "You go in for a drink and leave seven hours later, wasted, having made lots of friends—but then you never remember anybody's name," says patron Adam Bunderson, with a laugh. And we can see what he means: A fun, brotherly feeling overwhelms the historic Yorkville space, which we fondly liken to a frat house, with a big front room, dart board, pool table and three massive backyard grills for BYO BBQing. The name of the game of the narrow favorite is sports—specifically the Bronx Bombers—so come with an opinion or be prepared to fake it. After a few rounds, the regulars—who typically take up three quarters of the stools—won't notice.
If Staten Island is the unfairly maligned dive bar of the five boroughs, Liedy's Shore Inn is its Gracie Mansion. At 110 years old, it just oozes with authenticity (and probably some other things). A true working-class joint straight out of a Steinbeck novel, Liedy's has a ghostly feel, a testament to the generations of sailors and factory workers who routinely stumbled over from nearby Snug Harbor for some post-shift unwinding. Mismatched lawn chairs and lantern-lit windows give way to creaky plank-wood floors, a pressed-tin ceiling, gingham-covered tables and the drink of choice: whiskey.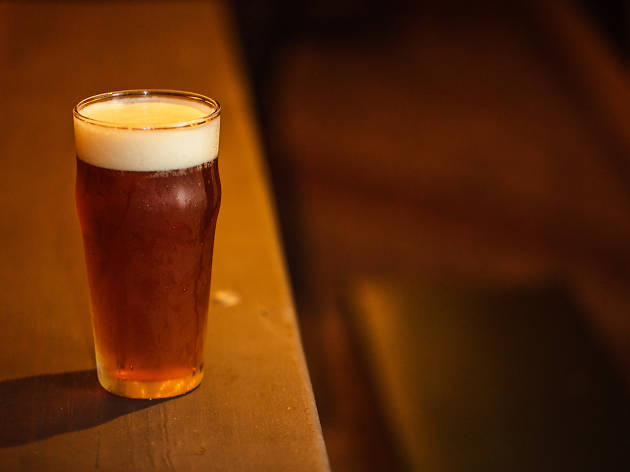 This neighborhood bar has been warming the hearts and tickling the livers of Bronx residents since 1901, even managing to survive Prohibition by posing as an ice cream parlor. Today, it's as unapologetic as a disgruntled Yankees fan: The dim interior is crowded with bargain buckets of beer and blaring TVs. And if you're questioning its dive-bar status, just ask local Travis Summit: "They get their bottled beer out of an old white Kenmore kitchen fridge, and there's always one or two older guys sleeping at the bar." We're convinced.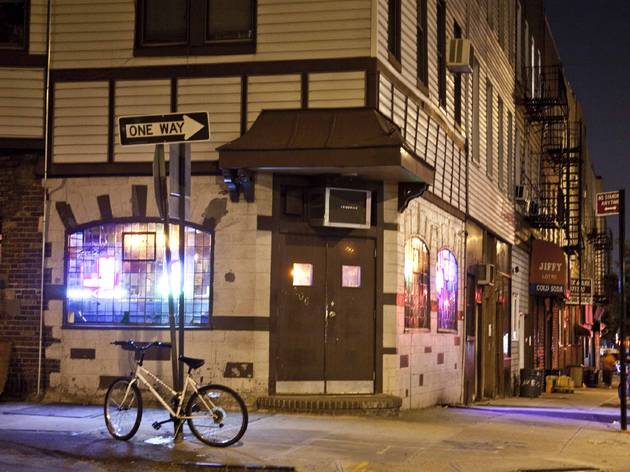 This corner hang, which dates back to the '30s, might have the diviest stained-glass windows ever—a real lowbrow-meets-highbrow feat. Toss in two-buck mugs of Bud, a worn U-shaped bar, and a soundtrack that caters to both metal fiends and Skynyrd beardos, and you're in for a booze-soaked evening on the cheap.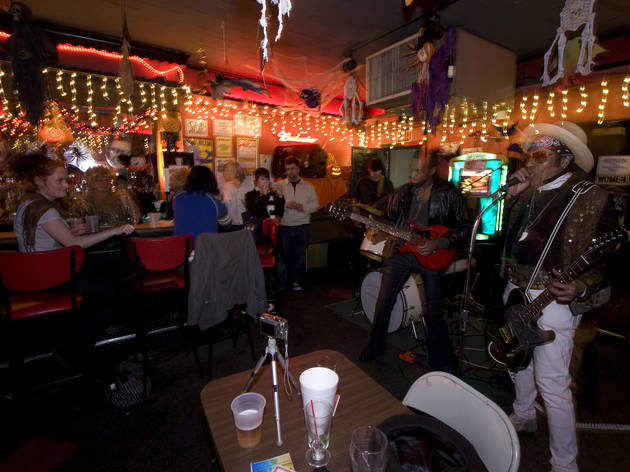 News flash: The Bedford Avenue of 10 years ago ain't the Bedford Avenue of today. Yet somehow this go-to for thrifty 'Burg dwellers feels almost exactly like it did back then. Its shambolic decor—hanging Christmas lights, wobbly red-and-black booths—as well as its mishmash of new-to-the-neighborhood party kids and weathered regulars creates a warm, come-one-come-all vibe. And its biggest draw, 32-ounce Styrofoam cups of Bud for five bucks, is tough to top.
Find more bars