Jessica Williams leans forward when she talks. Part of it is nervousness. "I'm an anxious person," she explains after her photo shoot in Hell's Kitchen, belying the hyperconfidence that made her a breakout performer on The Daily Show and the Comedy Central institution's youngest correspondent in 2012. The other part's a sharklike eagerness to insert a joke wherever possible. When I ask about whether it was tough, at the age of 22, to get along with her Daily Show coworkers, she tells me, "Well, there were always dogs running around there. So first of all I made friends with the dogs, and then I made friends with the…. No, I'm just kidding." (Her sunny declarations of "just kidding" pop up throughout our chat.) At 27, Williams knows how to get you to laugh. Now she's ready to conquer new worlds.
Step one is Sundance Film Festival sensation The Incredible Jessica James, a millennial rom-com written as a star vehicle for her by Jim Strouse (Grace Is Gone, The Winning Season). The fictional Jessica is something like Greta Gerwig's titular character in Frances Ha, an aspiring Brooklyn artist (in Jessica's case, a playwright) whose passion can't find an audience. Jessica is a lot flintier than Gerwig's character, though. "Of course you [like me]," the scribe tells her love interest, played by Chris O'Dowd. "Everybody does. I'm freaking dope." Williams's IRL role as the film's executive producer ensures the Brooklyn comedian's voice is all over her breakthrough movie. She tells me you can expect as much from her upcoming series on Comedy Central, too. So it seems like even as her star rises, she plans to put the most authentic version of herself out there. Dope, indeed.
Something notable about The Incredible Jessica James is there's nothing specifically "black" about your protagonist. Does that ring true to your real life?
Oftentimes in my own personal black experience, I wake up and I feel black: Oh, [I'm] a black woman in America. And then some days I wake up and I just forget. I drop into a barre class with my ClassPass, and I go about my day. What was fun about Jessica James was, she is just a girl living in Brooklyn, and that felt liberating. Especially [because] a lot of the roles out there address being black—which is great, but sometimes it's nice to just be.
What did it feel like to have Jim Strouse say, "Hey, Jessica, I'd love to write a script for you"?
Very dope. I will say that was one of the tighter feelings that I've had. I loved [shooting] People Places Things with him, and at the end of that movie, he was saying such sweet things to me, like, "I wish I had more shots with you in it. I can't wait for somebody to write you a movie." And [then] he said, "You know what? Why don't I just write [that] movie?" I met with him a bunch of times, and we talked through the character. He's a white dude, and he was super respectful about my agency as a black woman. I feel like, oftentimes, a black actress is the guest star in somebody else's movie. As a minority, you're like a guest role or something like that.
The best friend.
Totally. And in The Incredible Jessica James, I got to be the star of my own story.
Why do you think there are so many stories about learning how to become a grown-up in Brooklyn?
Because that's the awesome thing about New York City—it's a place where you learn to be self-reliant. That's what I learned when I moved here [from Los Angeles]. I learned to be more outspoken. I learned to be tougher. New York City calls for you to rise to the occasion.
You're incredibly busy right now. What do you do for fun to relax?
You know, right now, I have to try and carve out time to have fun. I have to make sure that I go out with my friends. Some days, fun for me is going out and having a rip-roarin' time.… [Laughs] I said "rip-roarin'." And then other days, fun to me is sitting at home playing RollerCoaster Tycoon and watching Buffy the Vampire Slayer.
Who's your favorite character on Buffy?
That's a great question. Buffy! Obviously it's Buffy.
Buffy's the worst character!
She's literally not the worst character. That's the most disrespectful thing you've ever said in your life.
Team Anya.
No! I know people have gotten onboard for Anya, but I'm not an Anya truther. I'm a Buffy truther. Buffy is the best because one, she's the star of her own story; two, she's a fuckin' slayer!; and three, she's funny.
"Whenever I meet other black women that are involved in this industry, it's like drinking a glass of water on a hot summer day."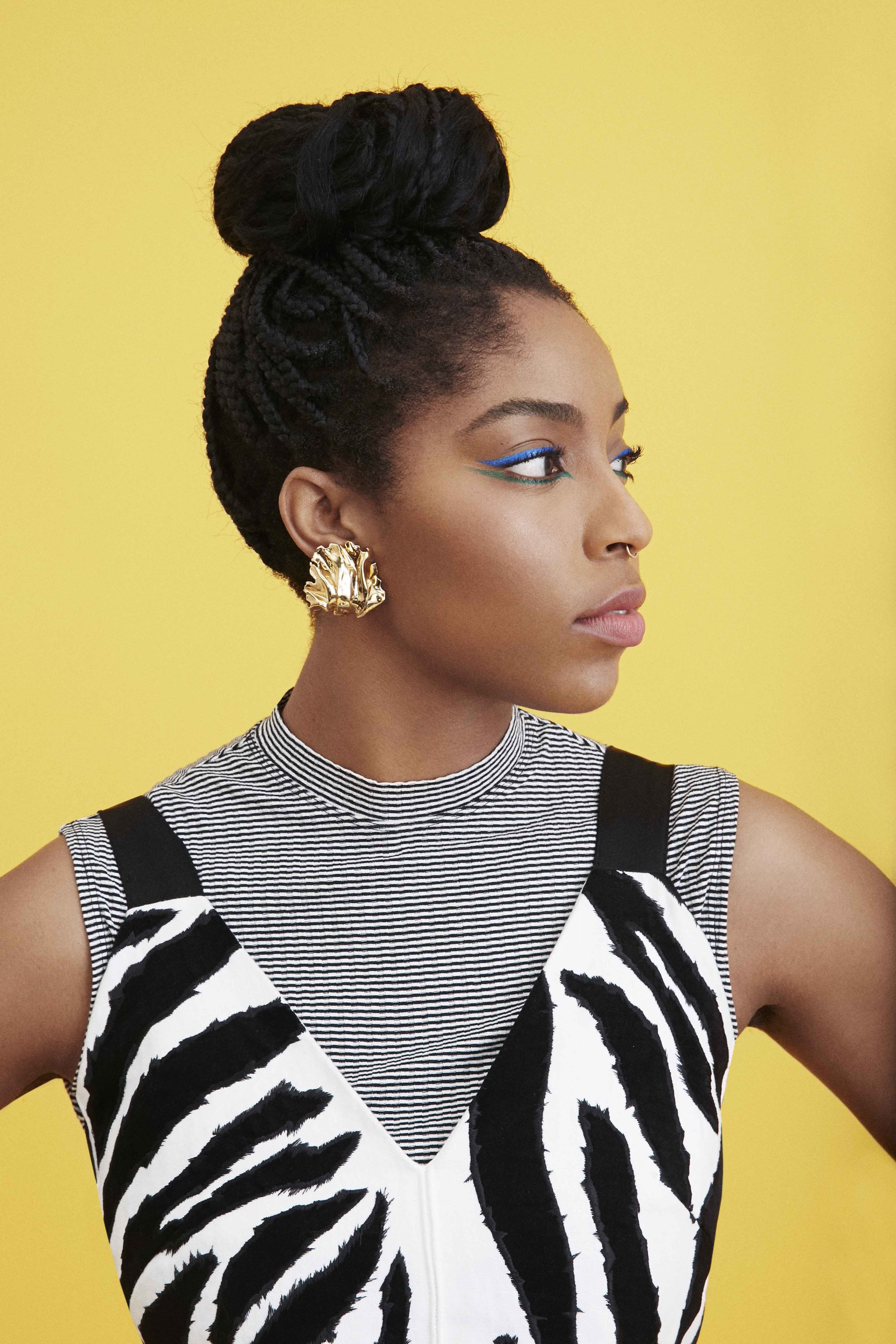 Photograph: Tawni Bannister
Speaking of funny, let's talk about your podcast, 2 Dope Queens. Why do you do it live?
Phoebe Robinson, my work wife/comedian extraordinaire, and I do it live because we love Brooklyn so much that we wanna make sure that we're giving back to [it]. We're also huge fans of comedians we know, and we want to showcase talent that is diverse and that wouldn't normally be able to get elevated on such a cool platform. And because we get to discover things about each other, live onstage, and that's really fun.
How did you get to the place where you feel comfortable discussing, like, bras and vibrators for a podcast and in front of crowds?
It took a little while because I grew up in a super Christian household, but I think that's the beauty of 2 Dope Queens. I get to be myself with one of my best friends, and people just really enjoy that. It's about normalizing those conversations, too; talking about your period shouldn't be taboo. On The Daily Show, I did this piece on women being catcalled, and a lot of the response that I got from women was like, "That was cool because nobody ever talks about it. I don't talk about it." As women, we are conditioned to be apologetic and not as expressive as men can be. I want to do work that feels authentic.
For both 2 Dope Queens and your upcoming Comedy Central project, which is still in development, you partner with other black women. It that something you did intentionally?
Ever since I got out of college, [I've been] reconnecting with my blackness. And so it feels warm and comforting talking to other black women. Whenever I meet other black women that are involved in this industry, it's like drinking a glass of water on a hot summer day: Fuck, I've been needing you. So there's something about having that support system—not only from women but from black women—that is really super important to me.
What's a topic only one of your black female friends would understand?
I have a white bae. So if I'm talking to a black woman that has a white bae, then she knows exactly what I'm talking about a lot of the time.
What does he do?
He's a photographer. He's pretty cool.
Does he photograph you?
Sometimes. It's fun. I can give my sexy eyes better when he photographs me. And it's also pretty cool because it's like, "Oh, wow, you see me this way?" And then we can just sit on the couch and I can, like, fart next to him.
Jessica James is about a young woman who's trying to figure out what it means to be successful, and it sounds as if your TV show will be about a character trying to figure out what it means to be woke. Is that journey of discovery something you're interested in?
I think I am interested in figuring it out. It's hard to make things when everyone's telling me what I need to do. In order for me to make something that feels genuine, it needs to come from me as opposed to listening to other people.
A few months before you quit The Daily Show, Trevor Noah was chosen to take over for Jon Stewart, and some people were really pissed it wasn't you.
I feel like everybody had their opinion of who it should be.
Is it annoying when strangers have a very particular idea about what you should do next?
Yeah. It's just, don't tell other people what to do [laughs], because you don't know them. You don't know what you're talking about. It's important for [people] to be proactive about it, because nobody can tell your story like you can.
The Incredible Jessica James plays at BAM Rose Cinemas Fri 16 at 7pm. $16. The film premieres on Netflix July 28.
Jessica Williams is wearing - Dress: Mara Hoffman, Earrings: Annelise Michelson, Rings: Moorea Seal, Dress: CYCLAS, Top: Nomia