Heads up! We're working hard to be accurate – but these are unusual times, so please always check before heading out.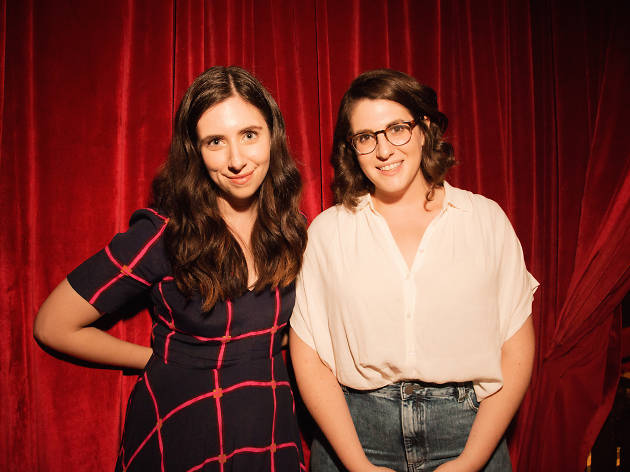 Holiday Gift Guide from Mouth Time's Quenn and Dikoda
The hosts of Reductress's satirical women's lifestyle podcast share their twisted holiday gift guide
Stumped about what holiday gifts to get for every woman you know? Look no further than to Quenn and Dikoda—voiced and conceived by Nicole Silverberg and Rachel Wenitsky, respectively—the hosts of the absolutely batshit satirical women's comedy podcast Mouth Time! Before the very funny New Yorkers and Reductress editors bring their spectacularly warped characters to Littlefield for Mouth Time! Live on December 13, their alter egos share their favorite holiday gift ideas.
A horse
Quenn: "Oh, my gorrrr, you have to buy her a horse! Sorry, you just have to! To me, this is a very classic gift that says, 'I care about you. Here's a horse!' Horses are beautiful, majestic, long, lots of colors, loud, soft and kind of a bitch. Just never make her eat the horse on Christmas. My boyfriend, Chab, once insisted I eat the Christmas horse, and almost everyone had to have surgery."
Dikoda: "For me, actually, a good gift is the promise that I'll never have to look at a horse ever again. One time a horse looked me dead in the eyes and said, 'I could beat you in a race,' and I was like, 'Eff off.' Anyway, I'm not allowed at Medieval Times any more. Even the one in Canada."
Q: "Dikoda, I don't believe that story! Horses don't have eyes."

Hamilton tickets
D: "Oh, my gollllll, you must get your gal tickies to Hamilton!"
Q: "Yes, I love this! Everyone is talking about Hamilton, so just go already!"
D: "If there's one thing I love it's a Hamilton. Such a funny movie! I love the talking snowman!"
Q: "And if there's one thing I love about Hamilton, it's the price! You simply can't beat it!"

Sephora
Q: "'A million dollars isn't cool. You know what's cool? A whole Sephora!' That's a quote from one of my favorite movies, The Breakfast Club. That quote really inspired us, and we realized, if you really want to show a girl you understand what she wants, buy her a whole Sephora. Just make sure it's clean. Don't get her one that has all those samples. Yuck!"
D: "Last year my boyf gave me a million dollars and I was like, Ugh, this sucks. My boyf has a lot of money, and so I was like, do better, ya know? I can't say who he is because he works in politics, but I can say that he did eventually man up and buy me the Sephora in Union Square. I love it so much. My boyf is Newt Gingrich."
Q: "This whole thing is off the record, right?"
Two iPhones
D: "Oh my god if you only have one iPhone, how the ferk are you gonna call it when you lose it in the tub?"
Q: "Yeah, this one is kind of self-explanatory. One is just never enough!"

A big beef
Q: "Bitch, you have to get a big beef! For people who don't know, a big beef is a beef that's fat, but it's also good."
D: "I love a big beef. I can eat the whole big beef in one sitting! This is a great gift. And for vegetarians? A small beef."
Q: "That's really considerate, Dikoda! You just did your holiday charity."
D: "'Tis the season!"

See Mouth Time Live!
Join Quenn (Nicole Silverberg) and Dikoda (Rachel Wenitsky), the cracked, possibly psychotic hosts of the ingenious women's satire podcast Mouth Time at this live taping, which promises bad life advice from special guest experts, silent hot guys and tragic co-dependency from the hosts.