Directly across from a painting of a buff, shirtless Vladimir Putin riding a bear sits a very different image: a petite blond mother of three in a West 92nd Street SoulCycle shirt. I'm in the Hell's Kitchen office of said mom, Samantha Bee, the late-night supernova who gives political injustice the middle finger week after week. After serving as an eccentric correspondent for The Daily Show for 12 years, Bee and her husband, fellow Daily Show vet Jason Jones, departed in 2015 for TBS. The following year saw the debut of their hilariously twisted sitcom, The Detour (Jones stars, Bee co-executive produces), and the arrival of her half-hour political satire, Full Frontal with Samantha Bee.
On her show, which returned for its second season last month, Bee has savaged just about everyone, all with the gleeful come-at-me-bro attitude of a well-read Regina George: the NRA, Russian trolls, nearly every cabinet member—you name it. And the masses have embraced the only woman in the late-night political arena. Recently, Full Frontal reached a ratings record of 2.5 million viewers, and it often beats its Daily Show with Trevor Noah competition and wins where it counts in the world of satire—that is, with viral clips that blow up the following day.
After our interview, I attend a live taping of Full Frontal and watch the host throw down the gauntlet for the President as if she were facing a schoolyard bully: "Slap your meat on the table and face the legal consequences [of the immigration ban] like a man," she demands to rapturous applause. Then she invites fans to her "Not the White House Correspondents Dinner" in Washington, D.C., on April 29 and gets down during commercial breaks to her own playlist of Lady Gaga, Grimes and Missy Elliot.
For Bee, shifting into her foxy firebrand stage persona isn't so much performative as it is liberating. "I'm a very low-key person in actual life," she says. "So for me, it's a great opportunity to get it all out for 21 minutes and then go live life." And what does that life entail? "I can't wait to get in bed and watch Call the Midwife," she admits after the taping. Apparently all of us—even the most relentless of fighters—could use a break sometimes.
I saw you were at the Women's March in Washington, D.C.? How was your experience?
It was fun. I'm really glad we went. Did you go?
Yes. Everyone was so considerate.
It was a good first-protest experience for a lot of people. There are a lot of protests that are rowdier, so that was a very good entry-level way to stand up and be counted.
Some of the criticisms I heard were that protesters were only concerned with "women's issues." That shade sometimes gets thrown at your show.
What's so fortunate for me is that I don't pay attention to any criticism of the show—on any level. But even if we only covered women's issues, I feel that women's issues are human issues, so I would deflect that criticism. We cover as wide a range of subjects as we possibly can in 21 minutes, once a week. And I think if you dig into the ratings, the slight majority of our viewers may be male.
Is that what you expected?
No. I did not expect that. But a lot of Republicans watch our show too.
Really?
A lot. Republicans can take a joke. They have a sense of humor—a robust sense of humor about themselves, I would say. So when we were at the [Republican National Convention], there were tons of people there who watched the show and really appreciated it. People can handle a dissenting point of view…sometimes. [Laughs] I hope the spirit of that continues.
You interviewed Glenn Beck in effort to reach across political divides. Did it work?
It was a surreal moment, for sure. There is such a wide range of subject matter in which I could not disagree with him more. It was a really good interview, and I was really proud of the way we did it. But since that interview, he has said multiple things to his audience that I disagree with in the strongest possible terms. And I'm sure that I've said multiple things on my show that he would disagree with. And yet there is a sliver of an agreement there, a shared humanity, a shared decency. It will be very challenging moving forward to not just pay lip service to the idea of talking to people you don't agree with but [to accept] that it is a daily practice that is incredibly frustrating. There's something about talking with someone you don't agree with, and if all you mean is that once you've had a conversation you expect them to agree with everything you say and do, then it's futile. All is lost. You will not agree. You're not going to change someone's mind just because you magnanimously reach out of your comfort zone and talk to somebody you think is weird.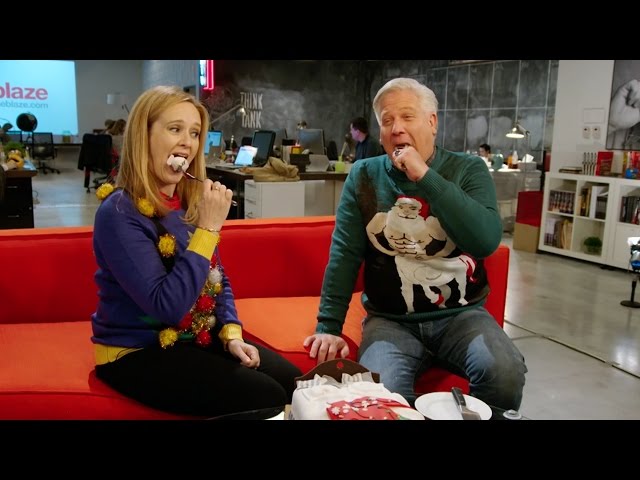 One of my favorite things about the show is that you get to go after bullies.
And to be fair, I will turn the lens on myself as well. No question.
Onscreen, your attacks seem so much more personal than those made by other
late-night hosts.
It is different. I agree. It sounds so dumb, but it's really true: I'm not thinking about what my next step is in the television industry. I don't know that there is a next step for me, quite honestly. And that is important. I'm not thinking about the consequences for my future career when I'm being very bold. At this age, with the television experience I've had, I feel like the only shows I want to watch are honest and have a point of view and feel like they come from something authentic. There is no point in doing a show any other way. I care a lot about laughs, but I don't only care about that.
Can we talk about your blazers now?
I love blazers! If I weren't wearing this piece of crap [points to SoulCycle shirt], I would be wearing a blazer.
I love that you let yourself look bold and colorful, not like you're trying to fit in with male late-night hosts. Was that a conscious choice?
In our test shows, I wore this really slim-fitting tube dress, like a Fox News anchor, with really high heels. I kept poking holes in the stage. To its credit, TBS pulled me aside and was like, "You were having so much fun in rehearsal when you were in a T-shirt and blazer. And you seem to be having zero fun walking around, poking holes in the stage. Why don't you just wear what you like?" I was like, "You can like your outfit? It doesn't have to be a torture chamber? I don't have to wear an iron maiden onstage?"
It sounds like you have a lot of freedom. On your show, you seem to allow yourself to get really emotionally involved, to get angry.
I'm 47. A lot of women my age or older will tell you that getting a little bit older is total freedom. You just don't feel beholden to anybody. You don't have to be as pleasing. It's so much more freeing to not have to be nice all the time. When Jo [Miller, Full Frontal showrunner] and I started, the only thing we really wanted to do was to kick a door in. During the first episode, we said, "Whatever happens, we'll do as many episodes as they let us. It will probably be really obnoxious, and we'll do the show from a real gut place. The only thing we can rely on in life is what happens in here [touches stomach]." And that has been the guiding principle of the show ever since, and we don't even have to think about it anymore.
What was your biggest adjustment after leaving The Daily Show
The main adjustment I made was that the people I work with [on Full Frontal] took away my Twitter. They changed my passwords on my Twitter account so I couldn't see my @ mentions. It's pretty infantilizing, but it was actually really helpful. They did it right after the election. Because…something happened on election night. My @ mentions filled with hatred beyond what I'd ever experienced, like a tsunami of hatred.
"You're not going to change someone's mind just because you magnanimously reach out of your comfort zone and talk to somebody you think is weird."
How else has your life changed?
It hasn't changed that significantly. More people come up to me on the street. But people are very cool here. They're lovely here in my neighborhood [Ed. note: the Upper West Side]. But because I have three kids, I pretty much work and take care of my kids. That's it. So nothing too much has changed. For now. [Knocks on wood]
Does it feel different raising your kids here than the way you grew up?
Well, the way we raise children in general is so different in 2017. We don't ignore children the way we ignored them in the 1970s, which I think is a good thing. There are aspects about raising children here that are more difficult, like figuring out the school situation and getting strollers up big flights of stairs. And it's extremely expensive. But once you cover those types of bases, it's great here. It's the best place to raise a child. Everything is here. Life is so vibrant. It's amazing.
And as an adult?
I love it. We have completely put roots down. No matter what happens, we're in it for the long haul. We're in it to win it.
Full Frontal with Samantha Bee airs Wednesdays at 10:30pm on TBS.