Heads up! We're working hard to be accurate – but these are unusual times, so please always check before heading out.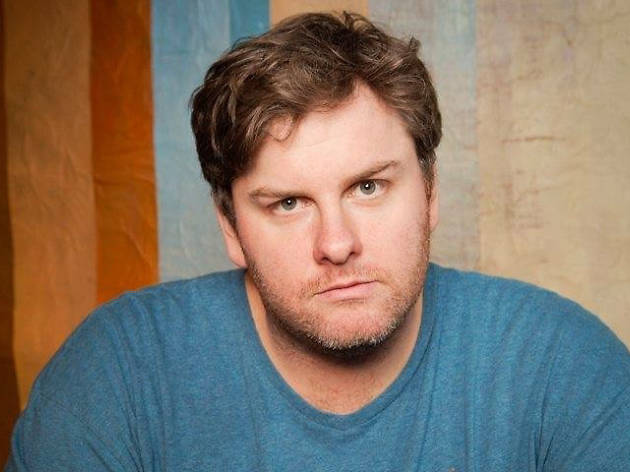 Tim Dillon tells us about his unfiltered bus tour
The Tim Dillon is Going to Hell podcast host tells us about his New York Comedy Festival bus tour and his strangest gigs
Before Tim Dillon was a comedian, he was a guide on a New York City bus tour—but not your average, chipper host. He'd rant, crack jokes and ignore New York attractions like the Empire State Building, unloading thoughts on the commercialization of Broadway. Eventually, Dillon quit and became a successful comedian, named one of "10 Comedians You Need to Know" by Rolling Stone this year. Now, as part of New York Comedy Festival, Dillon hosts a comedy show on a tour bus with the Real New York Bus Tour. We asked the host of the very funny NYC comedy podcast Tim Dillon Is Going to Hell about what to expect on the wild ride.
Why do a show on a bus instead of on a stage?
There was something really fun about when I used to do bus tours. I was on mic all day, trying to be funny and subversive. I really love the idea of taking people out into an environment, bringing humor, and educating them about these things they don't know much about—big money players, real estate and developers. They know that this stuff is going on but they can't really put names and faces to it.
What's the tour like?
Even though I'm only 32, it's the kind of tour you might get from an old curmudgeon who's done his research and is not thrilled with the direction of things. I talk about food and restaurants and hipsters and gentrification, but I try to do it all in a funny way to make people laugh, and also kind of link them up, so people are like: "Wow, this is kind of interesting, we had no idea that some of these things are going on."
What's with your focus on real estate?
It's kind of the pathway into people's lives. You can really see who's running the show—not only in New York but in the rest of America.
On your podcast, you've mentioned that you lost a home.
Yeah, I bought a house with a subprime mortgage in 2007. It was a two-year fixed rate and, like everybody else in America, I had no idea that in two years you wouldn't be able to refinance. It was foreclosed in 2010, right before I started stand-up.
Didn't you used to sell mortgages too?
I tried to sell mortgages for just under a year and saw the tail end of the mortgage crisis. I was not great at it. There was nothing really to sell. The only people at that time who were left in the business were idiots like myself.
Aside from the bus, have you performed in any other strange places?
I've done a lot of strange gigs. Recently I did a sober convention. I also performed at a Russian birthday party where everybody pretty much spoke [only] Russian. The few English speakers were pretty good audience members, until I said Vladimir Putin seemed kind of cool, then it all got very cold and one guy yelled out: "He killed my friend." It's hard to bounce back from that. I did a corporate gig at a pharmaceutical company in a lab where I was standing in front of crazy machines and people in hazmat suits were making Vicodin or whatever the hell they were doing while I performed.
Is that the weirdest gig you've done?
No. I was once contacted by a woman who wanted a comedian to join her and her husband at a high-end Chinese restaurant on the Upper East Side as a present for their anniversary—just me and them at the table. I said to her: "I think this is going to be a bad present. Nobody wants me as the present." The guy didn't know who I was and I just sat down and had to be like: "I'm the comedian." I tried to make fun of the whole situation, but it was hard to do jokes. They were fun people, thank God, from New York. They sold cars, so we were kind of talking about that. I had a great time, but it was one of the strangest gigs I've ever done, if not the strangest. But hey, I'll try whatever. Some of those shows can be really fun.
See more live comedy!
Sure, you could stay home and watch the best stand-up comedians' specials, or you could head out to the best comedy clubs in NYC and see some world-class performances in person. Below you'll find our picks of the absolute best shows happening this month, from improv to open mic nights and everything in-between.