Heads up! We're working hard to be accurate – but these are unusual times, so please always check before heading out.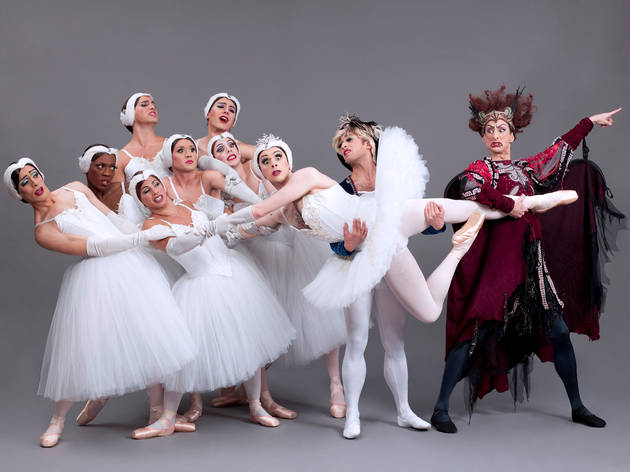 Tory Dobrin talks about Les Ballets Trockadero de Monte Carlo
Tory Dobrin talks about the fabulous male ballerinas of Les Ballets Trockadero de Monte Carlo
Les Ballets Trockadero de Monte Carlo, the delightful dance company of male ballerinas, is back a the Joyce Theater for a three-week season. Artistic director Tory Dobrin talks about Les Ballets Trockadero de Monte Carlo and its newest work, Laurencia. The season also includes hilarious Trockadero versions of Swan Lake and Dying Swan.
The lovely—and sometimes comically not—dancers of Les Ballets Trockadero de Monte Carlo bourrée back into the Joyce Theater for a three-week season beginning December 18. What does that mean? A rollicking good time. But Trockadero, the all-male ballet company, has more going for it than humor. The dancers are exceptional, and the dances themselves render this your tutu destination for classical ballet, Russian style. This season will feature, along with versions of Paquita and Swan Lake, the premiere of Laurencia, a 1939 Soviet ballet by Vakhtang Chabukiani staged by Elena Kunikova. Artistic director Tory Dobrin, a onetime Trockadero dancer, spoke about the upcoming season and more.

Time Out New York: How did you get into dance?
Tory Dobrin: I'm from Los Angeles, and I started to dance when I was in high school. There was an earthquake and it destroyed L.A. High, so L.A. High came over to Fairfax High, where I was going to school, and we had to go to half-days. This was the '60s, and back then you had to take PE. Anyway, there was an earthquake and the men's PE teacher said, "Sorry, everything's full. Go take dance." There was a modern dance teacher at the school and she was a great, great teacher. She was from New York and had a studio on Broadway and was a Martha Graham person. So I studied in and around Los Angeles and went to Paris for my first year of college. None of this was planned. I met somebody who was studying mime at the Étienne Decroux school, and I started going there; I realized, I think I want to do this. But not the mime, actually. I couldn't stand the mime. It was so tedious. I came back to Los Angeles and studied more intensely with different people.

Time Out New York: Were you mainly interested in modern dance?
Tory Dobrin: I started in modern dance, and I was not interested in ballet at all. At 17, who knows what you're interested in? I started taking ballet from this really insane, brilliant woman, Carmelita Maracci. Crazy. But totally inspiring in every way. I studied with a Humphrey-Weidman teacher and a Graham teacher and with all the ballet teachers in Los Angeles, and then I ended up in Texas.

Time Out New York: Where in Texas?
Tory Dobrin: Houston. I studied at the Houston Ballet School, and then I joined Dallas Ballet, and then I moved to New York.

Time Out New York: How long were you with Dallas Ballet?
Tory Dobrin: Just one season.

Time Out New York: Was that your first company experience?
Tory Dobrin: Well, I'd been in a modern company in Los Angeles. I don't know what that means, actually. It wasn't organized. You went to rehearsals and did a show. What is that? The ballet company—I was always an insecure person, so probably I was tortured.

Time Out New York: Was it hard having started training later in life?
Tory Dobrin: I didn't think I was starting late. I just did it. I knew I would have limitations from starting late, but that was okay.

Time Out New York: So why ballet?
Tory Dobrin: I don't know. I liked dance because I was a neurotic kid and it was the only thing that really pulled me out of that crazy mind-set. Most teenagers are neurotic kids, in my experience anyway. Plus, the area of Los Angeles that I grew up in was pretty wacko. It was West Hollywood. It was interesting because it wasn't part of Los Angeles, it was part of the county. That meant that the police department of Los Angeles, which was real thuggish, didn't have any control in West Hollywood. The sheriffs were very lenient. So a lot of really nutty people wanted to live there, including gay people—that's why it became very gay-oriented. What it is now is completely different from what it was then. It was a pretty strange place. It was the beginning of the hippie movement, counterculture, civil rights, gay liberation and the women's movement.

Time Out New York: Were you a wild teenager?
Tory Dobrin: A little bit. But sensible, because I'm sensible.

Time Out New York: Therefore, ballet.
Tory Dobrin: [Laughs] Actually, I didn't really get into ballet until I started watching Bolshoi Ballet videos after I joined Trockadero. I moved to New York not interested in being a ballet dancer. I wanted to do more modern and also Broadway. The company I wanted to be in was Laura Dean's. I moved here in '77.

Time Out New York: Did you audition for Laura Dean?
Tory Dobrin: Oh, yeah. I auditioned and did a workshop. The first time, it didn't work out because she hired someone else—and I think it was Mark Morris! It worked out the second time, but I was already in Trockadero, and I was pretty happy. I used to change everything all the time until I joined Trockadero and then I thought, You shouldn't change so much. You should just stay somewhere, because you learn more by staying rather than leaving.

Time Out New York: How did you end up auditioning for Trockadero?
Tory Dobrin: I was in Finis Jhung's dance class and a friend of mine who had been in Trockadero said, "The Trocks are going on a nine-week tour to South America. They need dancers." My aunt actually had done publicity for them; she was pretty campy and she kept saying, "You should audition." I went. It was 1980, and I think I learned nine ballets in two weeks, including doing pointe work. It was really intense, but it was really fun. We went all over South America—and don't forget, it was the time of the military [regimes], so one of the first stops was Buenos Aires, which was the height of the military, and obviously we were a bunch of gay guys. That was not highlighted, but it was obvious, and we were told, "Be careful," but the audience was using Trockadero as a way to protest against the military government. We were so offbeat, and the government probably didn't realize what we were. So the audience was sensationally boisterous, and it was really amazing. It was nine weeks of total fun.

Time Out New York: Had you seen the company perform before you auditioned?
Tory Dobrin: No. But I knew them. Also, in Texas, I had done some pointe work. We used to take the pointe class every Friday. It's good for your legs and feet, unless you do it wrong and then it's really bad. [Laughs] Actually, I think everyone should do it because it's incredibly strengthening.

Time Out New York: What was that audition like?
Tory Dobrin: It was a ballet barre. First of all, at that time, they were probably so desperate for dancers that they would have taken anyone who could stand up. There were only 11 spots, and I think they had lost seven. There was a…problem. Every company has its problems. There was a problem in the last tour and everyone left, but I didn't know that. The audition was basically a ballet class and then we had some improvisation thing—something about pretending you were Little Red Riding Hood and the Big Bad Wolf was going to come get you. [Laughs] Just about everyone who auditioned got the job. We started that day.

Time Out New York: What ballets did you have affinity for?
Tory Dobrin: I don't think I was that interested in ballet. I had a little bit of that arrogant modern dance thing toward ballet. There was that divide from the '70s into the '80s. After I joined Trockadero, I started getting into it, and then they started showing—on the City University of New York cable channel—older films of the Kirov and the Bolshoi. Like Alla Sizova doing Sleeping Beauty, that was the one I remember the most particularly. The Fountain of Bakhchisarai with Maya Plisetskaya. I'd never been exposed to those ballets, and I remember looking at them thinking, What the hell is that? And then I got hooked. I thought it was so beautiful. It's so ornate and so bizarre. It applies perfectly to Trockadero.

Time Out New York: How was it bizarre?
Tory Dobrin: It was bizarre because at that time, the dancing you could see at American Ballet Theatre and New York City Ballet didn't have a lot of ornamentation in the gesture. And you know that old Russian style had a lot of that affectation, we call it, which I don't necessarily think is a good word for it. The hyperexaggerated. Alla Sizova, I couldn't believe that woman. And in that video was Natalia Dudinskaya. Intense, incredible performances, which you just don't see anymore. And maybe you wouldn't want to, but I would—full of life and exaggeration.

Time Out New York: Why is that so out of fashion?
Tory Dobrin: I really don't know. I think it became out of fashion just because society in general is flattening out a little bit. Everything's getting streamlined. Maybe George Balanchine's style was so streamlined that it took over in America. I don't think it's going to come back around, just like I don't think Bette Davis—those types—will ever come back.

Time Out New York: Ashley Bouder, in her first Swan Lake, reminded me of Bette Davis.
Tory Dobrin: I like her a lot. I like Sara Mearns too, but I really like Ashley Bouder the best. She looks like she's having fun out there, and she's strong. She's just doing it. I don't worry.

Time Out New York: Isn't that relaxing?
Tory Dobrin: It's so relaxing. [Laughs] I don't like to be worried. Especially if you're paying for the ticket.

Time Out New York: Whom do you like at ABT?
Tory Dobrin: I actually like Veronika Part on her good days. She's beautiful. And [Natalia] Osipova. I usually like the Russians.

Time Out New York: Why did you decide to stage Laurencia?
Tory Dobrin: Laurencia has been on the list for a pretty long time, and the thing that was stopping us was that the music was not available. It's always hard to get those older Soviet ballets except through Elena Kunikova, whom we work with quite a lot. Generally speaking, if I'm looking for something, I look on YouTube now—but before YouTube, I used to go over to Elena's house and we'd look at all her videos. She has this incredible library of videos from ballets that were on TV in Russia. I would ask her about certain ballets, and she would say, "Let's watch it." And then I would ask her about the music and she says, "Well, let me see." Finally she could get Laurencia.

Time Out New York: When did you come across Laurencia?
Tory Dobrin: It was one of those videos I saw in the '80s. There's a video called Bolshoi Ballet—it's these little girls dancing, and one of the lines in the video was, "Our guest ballerinas come and dance and entertain us during class." [Laughs] I think it was [Ninel] Kurgapkina doing the variation from Laurencia, which I thought was sensational. It's very famous, so I never forgot that. That was the seed. It's really perfect for Trockadero. It's a ballet that anyone can enjoy. It's also a ballet that people who are interested in dance would be interested in seeing because you can't see it anywhere. It has so much style with the use of the arms and the legs, and there's such an unusual amount of classical ballet vocabulary that you don't see anymore, especially when it mixes with character dancing. It's basically the last part of the ballet, and it's about 16 or 17 minutes. That doesn't sound very long, but it's a lot of dancing: It's a perfect little jewel. And Elena was able to get the music. She's a genius. I'm sure a lot of Russians have the information that she has, but what she has that is exceptional is her ability to articulate it and pull it out of somebody.

Time Out New York: When did she begin working with Trockadero?
Tory Dobrin: Almost 20 years ago. We were going to do a season at the Danny Kaye and the Kirov had come to town and they did the full-length Corsaire, and I saw the pas des [trois des] odalisques and thought, Oh my God, that's perfect for Trockadero. Someone told me about Elena Kunikova, that she was teaching at Steps and was pretty great and also funny and that I should check her out. I took her class and we clicked nicely, and that was the first thing she staged for us.

Time Out New York: What is she like in the studio?
Tory Dobrin: She comes in 100 percent prepared; she's very detailed and she has the knowledge about the style and she knows how it's supposed to look, and she keeps at it until she's satisfied with what it is. And that doesn't happen all the time; people give up. There's no "that's good enough" with her. It's never enough. [Laughs] She has a really intense, wonderful sense of humor and she loves to work. It's the perfect combination.

Time Out New York: What is her sense of humor like?
Tory Dobrin: Russian campy. She's a very smart, funny woman.

Time Out New York: Are you focusing on the ballet's story?
Tory Dobrin: No. We're looking for the style. There's a lot of Spanish-flavored style in the use of fingers. Today, Elena was going over that—it's Spanish inflection, using the shoulders. Where the back goes, the use of the fingers. The use of the face is important. We even mentioned today—there's a clip of Chabukiani, the choreographer who also danced [the lead part of] Frondoso, and Elena talked about the face he made on the film that she watched as a child. I found it on YouTube. He's grimacing. It's incredible and almost embarrassing. They were all such great performers. Why don't we have that anymore? We would all be flocking to the ballet every night. A lot of time dancers today aren't real expressive facially, and it's important for the Trocks—that's part of the show, to have a face. That's what we say: "You have no face!"

Time Out New York: Do you find what's happening in ballet today dull?
Tory Dobrin: No. But I go to things to see how it works in the context of Trockadero, and what doesn't work and things to avoid. It's like a refresher course. I'm not going for enjoyment; I'm going for research.

Time Out New York: What do you want to avoid?
Tory Dobrin: Looking into the audience like this. [He stares and moves his eyes back and forth.] I always ask a dancer, "When you look into an aquarium, you're looking at the fish and the fish are floating around and you're engaged in the fish. How would you feel if the fish were all coming up to the glass and looking right at you? You would be very uncomfortable. We want to look at you; you don't look at us." Especially with the drag element. It's more intense when you have someone in that drag makeup doing that than someone who's not. It's finally called mugging. You don't want to see a bunch of mugging people onstage. That's not good.

Time Out New York: Do you tell them to perform only for themselves like in a Jerome Robbins way?
Tory Dobrin: No. I usually say, "More, more, more—but don't look at the audience." Actually the lead dancers of Trockadero do look out, and they should because that's what we want in specific ballets. But the corps de ballet and the soloists should not be looking out because it then tips the performance into something that is not so good.

Time Out New York: What has been challenging, step-wise, in the new ballet?
Tory Dobrin: It was done for Natalia Dudinskaya and Chabukiani, who were super strong, so there are some super-strong coordinations going on there, especially in the partnering. It does have a lot of technical challenges. The thing about the Trockadero guys is that they are really strong; no girl would want to have the legs that those guys have, because those are male legs. Bobby [Robert Carter] has no problem doing the technique because he's so strong. He actually says it's not that hard. I'm looking at it, and it looks pretty hard to me. [Laughs] And the two soloist ballerinas are doing really hard things. One is called Jacinta and the other is Pascuala. They have adorable variations that are filled with classical ballet vocabulary, which you just don't see anymore because everyone thinks that it's old-fashioned, but it's not—it's just classical ballet vocabulary. There are little runs on pointe, and little bourrées and the way they're dancing with the articulation of the legs and feet, the character use of the arms. We changed it around a little bit, because there's a male duet in it, and the men are usually the partners in the pas de six; we broke it down so the pas de six is three couples and then the male duet is just a male duet.

Time Out New York: Do women ever approach you about dancing with the company?
Tory Dobrin: In the early years, there were women. They didn't last very long, because they couldn't actually do the male roles. And if you see a girl in tights in a male costume, it's not funny because they wear tights anyway. We have had Leanne Benjamin from the Royal Ballet—ten or more years ago she appeared with us in London. She did the Swan Queen in Swan Lake. That was great. But other than that, no. What's the point? There is really a Trockadero sensibility, and it takes time to figure out what that is. In most companies, the choreography is important, but in Trockadero, the performers are the most important element. A lot of times, the younger ones don't understand what it is. It's discombobulating to be in a tutu and pointe shoes and a wig, and you don't know what the hell you're doing, and the audience is laughing. It takes time.

Time Out New York: How long does it take for a dancer to become comfortable?
Tory Dobrin: The rule of thumb is a year. Some people take much longer, but no one takes shorter. It probably takes five years to do it well.

Time Out New York: Did it take that much time for you as a Trockadero dancer?
Tory Dobrin: It was a different company, and I was younger and stupid and didn't even understand anything. Actually, in the '80s we weren't given any direction at all. You were just thrown out there. The show got bad in the '80s—really bad. Have you ever walked into a living room and had every different style and maybe it was dirty and there was too much decoration? There was no cohesive direction and people were mugging. Your foot could be sickled and no one would tell you. All they wanted us to do was get our leg as high as we could. I don't have that kind of body where I can get my leg over my shoulder, but I was told to do it anyway. [Shudders] Dancing on bent knees. Also AIDS was so intense—it was horrible. A lot of people were dying. We weren't told too much as dancers back then. Now they're told a lot. I think that what saved me—because I was looking for direction—was watching those Russian videos. I would watch those videos and copy.

Time Out New York: How did you end up taking over the company?
Tory Dobrin: We were in this downward trajectory, and the company was on its way to going out of business. The general director and the artistic director started being at odds because of the stress of everything—finances, the HIV crisis. The general director fired the artistic director and he was going to close the company down. We had a booking agent, Sheldon Soffer Management. It was the dance management at that time; he had Pilobolus and Momix and Trockadero. There was a really great salesperson there, and he was getting ready to move onto a different agency, and I was talking to him and he said, "I have so much work to do, and I'm leaving in a month," and I said, "We're not doing anything right now—why don't we come in and help you?" So I did and I listened to him on the phone as he was selling the dance companies, write his letters, looked at his files—interning. I learned quite a bit and when he left, Sheldon offered me the job, which was actually really stupid. I'd had one month of training. I was cheap. I took the job, and I was still in Trockadero, but Trockadero wasn't working very much at all. We had no money. We had nothing. So I said to Eugene McDougle, the general director, "Why don't we have a chamber company? Just have six or seven dancers—we'll start slowly trying to pull ourselves together." He said, "Sure, why not?" As I was the booking agent [Laughs] I was able to book the Trockadero into some venues.

Time Out New York: Whoa.
Tory Dobrin: It was really interesting because I heard from the presenters what they needed in order to sell tickets. You're the agent, and you hear truly what they're thinking, which they would never tell the artist or anyone else. I was there for about two years still working with Trockadero, but what I walked away with—this sounds so ridiculous—is that we're all in this together. The presenter, the management, the agency, the dance company, the audience—we're all doing this together for the same reason, which is to put on a good show so that the audience will be happy and come back. That switched my point of view 360 degrees. I also found out what they needed and how important it was that if they ask for X, you give them X. If they ask for Y, don't argue about it—just give it to them and generally speaking, they are reasonable. Slowly but surely, we started building up again. This is 1990-ish.

Time Out New York: Who was the artistic director?
Tory Dobrin: Natch Taylor. He was one of the three who broke away from Larry Ray's company to form Ballet Trockadero. It was Natch, Peter Anastos and Antony Bassae. Back then, they had the same [argument]—Peter always wanted it to be funny with the jokes inside the choreography. Anthony said, "No, just do the steps—characterization is important." They were struggling for that balance, and that's exactly what we still do today. The other thing that happened in the late '80s was that National Endowment [for the Arts] thing. Theaters were afraid to present the Trockadero. Our workload really plummeted. I remember in the early '90s thinking, We're not getting any work because they say we're too far out. We've gone through this horrible health crisis. I thought, Let's just let loose and let's not play the game—let's just have fun in the ballet canon. As opposed to being worried about how we were going to be taken in the dance world or by the public. Because the National Endowment thing was really intense; people were nervous.

Time Out New York: What else is on your bucket list of ballets?
Tory Dobrin: Western Symphony is first on my list. We did Stars and Stripes, but I think Western Symphony is the perfect thing for us. The music, the costumes, the steps are funny.

Time Out New York: How difficult is it to get rights?
Tory Dobrin: Well, we don't have any money. So if we have to pay for it, we won't do it. The thing that stopped us with Western Symphony is that we're not going to go to Boosey & Hawkes and pay whatever it is—I think Stars and Stripes was $150 a performance, and when we went to Japan it was $3,000 a performance. We don't have the money to do that; I would never program that ballet again. Why pay for that when you can do Paquita? Or Raymonda's Wedding? I need to find some Western-style music. That's what's stopping us. I did call the Balanchine Foundation years ago and spoke to Barbara [Horgan]. I guess it was about Tarantella, and she said, "Oh, you know, just change the steps around. No one will know." That's what we did. And the Supreme Court does protect us because we're a parody company. All you have to do is change one step and it's not theirs anymore. But you don't like to do that too much, because that's kind of rude.

Time Out New York: So for the most part, every step is the same?
Tory Dobrin: When Elena's coming in and doing Laurencia, it's the same as on the video. What happens is that we perform it a lot and it starts changing. You have to take it in context of a whole program, and Swan Lake is pretty campy, so we have a lot of stock jokes in there and then we have Dying Swan, which is also pretty campy. We have to make sure we're not doing the same camp all performance long, and that's what happened in the '80s. Awful. So we try to modulate it so you're seeing something different in every act. When we did the Cunningham work, Meg Harper made the connection to the Cunningham Foundation and Merce Cunningham said, "Do Cross Currents." We were not allowed to change one step. I was like, Oh my God, what are we going to do? We decided to move forward and to see what happened; I tried to get the music rights, and it was so expensive. I remember coming into the studio saying, "We can't get that music—we have to think of something else." Our ballet mistress at the time started banging her bottle of water to make music for the dancers, and we started laughing hysterically. That's how the humor came. That's how we approach everything. We don't really think about it too hard. We just move forward. But Elena sets something just like she danced it and then we change it around. What works best for us is the tutu, wig, eyelash, pointe shoes. We have had a Paul Taylor–inspired piece. We dropped it; from a distance, they just look like ugly girls. People don't want to see that. They want to see the tutu, and I want to see it too.

Time Out New York: There aren't enough tutus left in ballet.
Tory Dobrin: You know how this happened? A long time ago, I went to see San Francisco Ballet and there was not one tutu on the stage. I thought, I just spent—whatever I spent—and I'm at City Center, I want to see a tutu. This is ridiculous. That's when I decided that we were only going to do tutu ballets. And that's where the trend in Trockadero really started. I was the director and I thought, Everyone's going forward and we're going to go backward—but it's not really going backward. It's our natural place.

Time Out New York: I love being able to see that many tutus in a night. The Trockadero presentation is great.
Tory Dobrin: If you like ballet, it's what you want to see. In rehearsal, when someone finishes their variation, and they march forward, I say, "You have to point your foot before you come forward." You show the audience how gorgeous it is, even if it's not. You think it's gorgeous. And then you go to see ballet companies and a lot of the girls aren't doing that. You're wondering, Isn't someone telling them to point their foot? It's not because they don't know; no one really has any money or time. In the Kirov, they have two years to get a production together. At New York City Ballet, they're rehearsing all day and performing all night. I'm surprised it can even happen. I think it's a miracle. I don't know how they do it with all those ballets. And they are tired. As you know, people dance better when they're exhausted.

Time Out New York: The tension leaves their bodies.
Tory Dobrin: Yeah. You have your nervous breakdown, and you start enjoying it. It's good to have a nervous breakdown. It clears the air. I tell the dancers, "Guys, people are planning their outfits. They're excited to see the show. You have to put out 100 percent because this is what it is." I plan my outfit if I'm going to the ballet a little bit. They had to buy the tickets; you have to make it special.

Time Out New York: Have you ever done Mark Morris?
Tory Dobrin: I asked him once if he would do a Carmen for us. This was a long time ago. But we don't have the money.

Time Out New York: I thought that you were in a better financial situation because all of your touring.
Tory Dobrin: No. We have nothing. We have no office space. We have the storage unit where we keep our costumes. We rehearse at City Center. Lately, we're usually at Ballet Hispanico. I get the schedule from our management company and then the big stress is when are we going to rehearse? Where are we going to rehearse? Nowadays, tours are coming in late, late, late because of the economy. I have to plan it out a year ahead of time. It's absurd. Fifteen years ago you would call up a studio and be able to book yourself in—it was cheap. It's more complicated than it was before. You can't call on Monday for a Friday studio. You won't find it.

Time Out New York: How does your job still challenge you?
Tory Dobrin: The challenging part is reacting in a positive manner to all situations. And there are lots of situations that require a positive response when your gut reaction is to have a negative response. So until I'm 100 percent able to do that, which will never happen, I will continue to find it challenging.

Time Out New York: Is there anything you'd like to change about Trockadero but you can't because you're afraid to mess with the formula?
Tory Dobrin: No. We're asked to do this or that—have a full Nutcracker, do a Sleeping Beauty or bring in guest stars, expand the company, do a Broadway run. Or have another company. I feel a little guilty about this, but I always say no. You can't have a Trockadero 2. It's too sensitive. You have to be sure that it has a lot of care and that you keep it in a good place; usually when you expand something out too much, it loses that fresh spark. I always think that I'm thinking through a restricted mind frame. I'm a little uncomfortable with that, but I do think it works well as its doing now and when I see that it's not doing well, that will be the time to change. Right now, it seems to be in a good place.

Time Out New York: Why not do a full-length Nutcracker?
Tory Dobrin: The money and logistics are almost impossible. But the other thing is that it's nice to go into the theater and see a lot of different kinds of costuming, personalities and music. And if we did a Nutcracker we would do it mostly around December; IMG would book us into Rochester, and then we'd be competing with the local ballet company who needs that Nutcracker money to survive. That's just bad karma.

Les Ballets Trockadero de Monte Carlo is at the Joyce Theater Dec 18–Jan 6.