Heads up! We're working hard to be accurate – but these are unusual times, so please always check before heading out.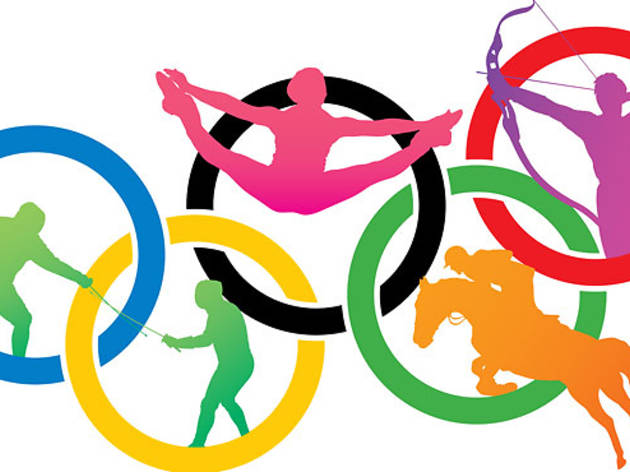 Join the London 2012 Olympic Games craze in NYC
Play and party like an athlete at the London 2012 Olympic Games in the city. Our roundup sports venues and events taps into the fervor across the pond.
Every time the Summer Olympics roll around, we're enthralled by the incredible—and absurd—feats of athleticism on display. As the London 2012 Olympic Games take over our televisions and attention through the closing ceremonies on August 12, there's no better time to try your hand at these sports or seek out a bar for patriotic viewing party. Whether you're interested in riding horses or tumbling, we've collected New York's best spots to embrace the Olympic spirit.
Equestrian
As the U.S. riders look to grab a medal for the eighth consecutive Games, show some American pride by saddling up in the Bronx. The Riverdale Equestrian Centre is located on a 21-acre plot with an 80-horse stable and four riding areas. Even better, the facility abuts Van Cortlandt Park, which has several miles of trails. Make an appointment at least a day in advance for a half-hour or hour lesson (three-, five- and ten-session packages are also available). And suit up appropriately: Long pants and boots with a one-inch heel will keep you comfortably in your stirrups. W 254th St at Broadway, Bronx (718-548-4848, riverdaleriding.com). Mon, Tue, Thu, Fri 11am–9:30pm; Sat, Sun 1am–5pm. Lessons start at $55.
Fencing
Athletes have crossed swords at every one of the Summer Games since the first modern iteration in 1896 in Athens. Learn to wield a sabre (or foil or epée) at the oldest continuously operating tilting organization in the U.S.: Fencers Club, which opened in 1883. Three club members are currently competing in London, so you know the eight world-class coaches take their parries and thrusts seriously. Introductory packages start at $170 for three sessions, which you can use in one-on-one 20-minute classes or 90-minute group lessons. If you don't have a sword lying around, the club loans out gear, starting at $10. 229 W 28th St between Seventh and Eighth Aves, second floor (212-807-6947, fencersclub.com). Mon–Fri 1–10pm, Sat noon–6pm, Sun 10am–5pm.
Gymnastics
You don't need superhuman skills to try to stick a landing worthy of Kerri Strug. The Field House at Chelsea Piers offers the largest adult gymnastics program in the country, currently offering 17 classes from beginner to advanced levels. Learn how to cartwheel or perfect your backflips, or combine these skills in classes that incorporate break dancing, capoeira and parkour. W 23rd St at the Hudson River (212-336-6500, chelseapiers.com). Times vary; single session $20–$28.
Archery
To practice the favorite sport of the Egyptian pharaohs and the Merry Men, head to Queens Archery, the largest indoor range in the city. First-timers can enroll in a complimentary group lesson that attends to basics such as correct posture (don't slouch!) and how to properly hold a bow and release an arrow. After 15 to 30 minutes with an instructor, you'll be ready to take aim. More advanced shooters can sign up for leagues based on interest in target practice or hunting, and skill level. 170-20 39th Ave at 171st St, Flushing, Queens (718-461-1756 bigapplearchery.com). Tue, Wed, Thu 5–11pm; Fri 6–11pm; Sat, Sun 10am–5pm. One-hour session $20 (includes equipment).
---
Join the global party
Just because the Games are across the pond doesn't mean you can't catch the Olympic spirit at these events around the city.
World Passport Program
During the Games, Village Pourhouse will feature quaffs from different nation. Try one and you'll get a stamp; collect all ten and you can win prizes such as a pair of airline tickets. 64 Third Ave at 11th St (212-979-2337, pourhousepassport.com). July 27–Aug 11.
"Olympic Portraits"
Joe Klamar's pictures of Team USA members were criticized for their unpolished backdrops and quirky angles. You can decide if the uproar was warranted at this show. powerHouse Arena, 37 Main St at Water St, Dumbo, Brooklyn (718-666-3049, powerhousearena.com). July 27–Sept 4.
Eventi Olympics
Test your prowess in beer pong, horseshoes, arcade games and other "sports" at this series of screenings of the Games. 851 Sixth Ave at 30th St (212-564-4567, eventihotel.com). Times vary; free. July 27–Aug 12.
You might also like
A New Yorker's guide to London 2012
Score a date with an Olympian
Take an Olympic-themed walk
See more in Things to Do