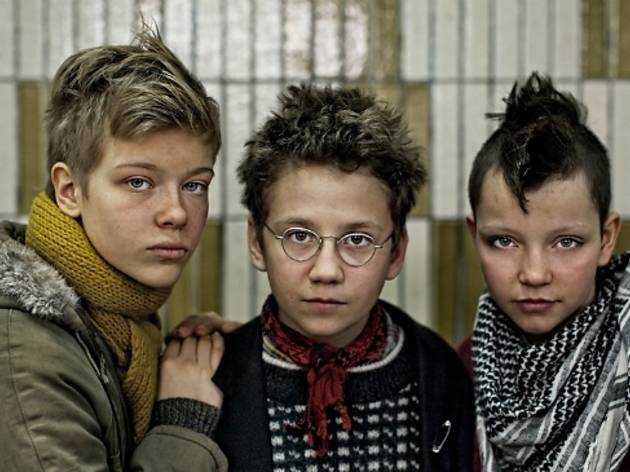 Toronto 2013: We Are the Best!
Lukas Moodysson, the great hope of Swedish teen cinema, is back with an underage punk-rock powerhouse.
Around the time of the millennium, Sweden's Lukas Moodysson was, to me, the most impressive filmmaker in Europe, gifted with wry comic instincts and a direct conduit to teenage emotions. Show Me Love, his 1998 feature debut, was a gloriously positive high-school romance between girls (when such scenarios were radical). Together, his tender commune-set drama, had the cosmic misfortune of being released in the US on September 11, 2001, but I know many who found it comforting. And the heartbreaking Lilya 4-Ever (2002) deserves a rank among Mouchette and the great female tragedies. Ruefully, I came to admit that Moodysson's next decade wasn't as concentrated.

RECOMMENDED: Full coverage of the Toronto Film Festival

Happily, the wheel turns: To say that his euphorically funny latest, We Are the Best!, represents a total rebound is almost too modest. It's a comedy set in 1982 about Stockholm girls on the cusp of adolescence who become snotty punks—very much Moodysson's wheelhouse. Yet the movie has the confidence of an artist who's survived some wild years himself, experimenting with style and dispassion and realizing that sweet abandon is enough. (It is.) Lennon-spectacled Bobo (Mira Barkhammar) and delicately mohawked Klara (Mira Grosin) are still young enough to enjoy jumping on beds and giggling. (The script is based on a graphic novel by Moodysson's wife, Coco; you sense they're fun parents.) At the local rec center, they scowl at some heavy metal emanating from a shared rehearsal space. Scrawling their names on the sign-up sheet, they take a stand against noise pollution; Iron Fist is out and a new band—moniker to be determined—is in. Thrashing randomly on a drum set, they love it.

Magically, rising from the innocent context of girlhood whims, a punk act is born—and why not? Not everybody has to be as sophisticated as Jello Biafra. A postapocalyptic diorama constructed out of burning Legos spawns their nihilist world view; gym-class boredom hatches an instant anthem, "Hate the Sport." It's a lot closer to the spirit of punk than you'd think, especially when the girls' doltish classmates, assembled for the school's annual talent show, mock a timid blond guitarist, Hedvig (Liv LeMoyne), arpeggiating her way through a piece of classical music. Sensing their secret weapon, the duo becomes a trio and much more polished (even if they now have to engage in earnest discussions of faith with Hedwig, a devout Christian who wants to rock).
Moodysson has always been terrific with kids, imbuing them with smarts and trauma beyond their years. But he's never turned them into cute Sid Vicious-like animals and the concept revitalizes him. It also casts new light on his earlier teens-in-trouble breakthroughs, films about young people thrust into adult roles. This time, his characters embrace a childlike rudeness, remaining young, at least for a while. It's a credit to We Are the Best! that even when it dips into boy territory—a leather-jacketed Yoko Ono threatens the band—it doesn't linger there. Moodysson gets more mileage out of an impulsive slumber-party haircut than a territorial fight.
I could go on about this one—it's already luring me to a repeat screening. But the most gratifying thing about We Are the Best! is sensing Moodysson's warmth return to him. The universe of the film is filled with sweet older kids and adults, supporting characters that add immeasurably. There's something knowing and gentle (Swedish?) about these mildly shocked elders, smiling at the industrious rehearsals, asking the girls if they'd like some water or dessert, serving as dutiful roadies. Of course, to the band, they're the enemy and embarrassing. But when I see a Moodysson film, especially this one, I have great hope for the future. Hate the sport, love the players.

Follow Joshua Rothkopf on Twitter: @joshrothkopf