An essential oral history of the NYC Pride March
We've come a long way, baby. Locals share tales of outrageousness, anger and inspiration from the past 44 years of the NYC Pride March.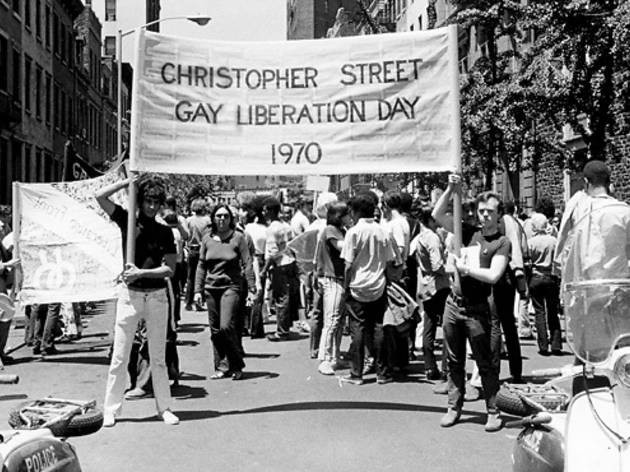 Pride in NYC wasn't always a big week-long bash. In fact, when it started 44 years ago as the Christopher Street Liberation Day March, it was meant to be a one-time commemoration of the Stonewall Riots. During those first few years (hell, make that decades), being out, loud and proud was more of a political statement than a license to party. Veterans of the past four decades of NYC Pride share the memorable moments that helped shape them and the LGBT-rights movement.
RECOMMENDED: Full coverage of the Pride parade in NYC
Photographs: 1970 (2): The LGBT Community Center National History Archive/Leonard Fink; 1974: the New-York Historical Society; 1977: Collection of the New-York Historical Society; 1984: © Eugene Gordon; 1986: Jolie Ruben; 1987: Linda Simpson; 1988: Linda Simpson; 1992: Fabian Garcia; 1994: Filip Wolak; 1998: Erica Freudenstein; 2000: David Shankbone; 2001: REX USA/Erik C. Pendzich; 2005: Pauline Park; 2008: Alexandra Tereshonkova; 2011: Shutterstock; Matinée: Luciana Golcman; Teaze & Pride March: Christopher Gagliardi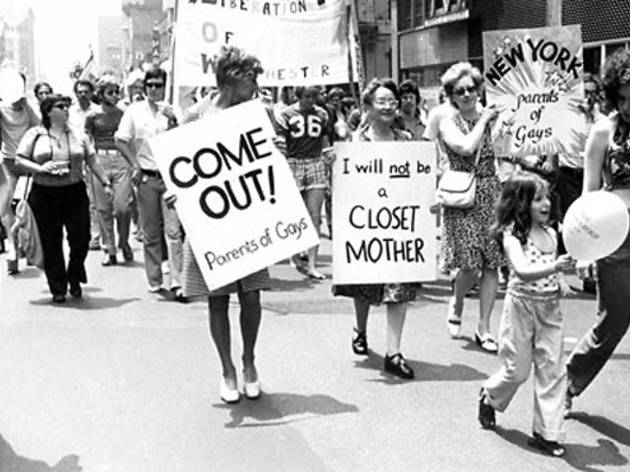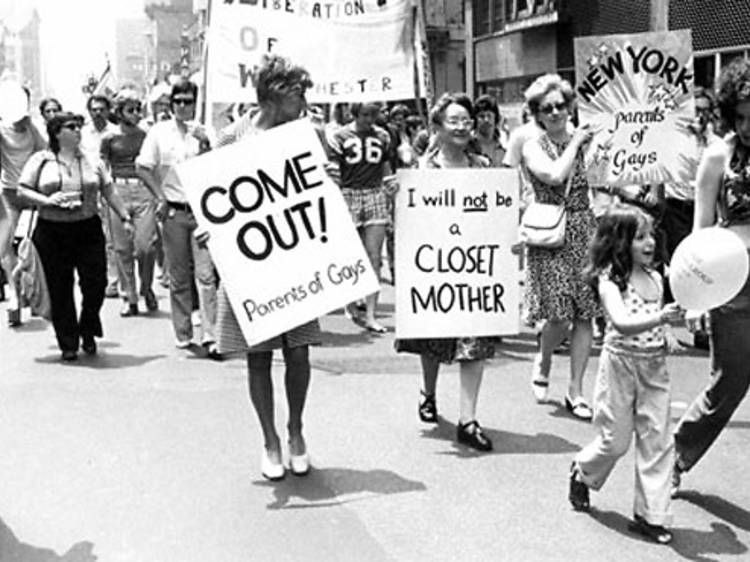 "Craig Rodwell, who owned the Oscar Wilde Bookshop, went around to all the groups that had popped up after Stonewall saying we should organize a first-anniversary march. We had gotten death threats, so we went up Sixth Avenue really fast—it took maybe an hour to get from Christopher Street to Sheep Meadow. When we started, there were maybe a couple hundred people. But as we kept going, the crowd grew and grew and grew. No one who was there can talk about it without getting goose bumps. I always say that gay liberation was conceived at Stonewall in 1969 and was born at that first march."—Jerry Hoose, gay activist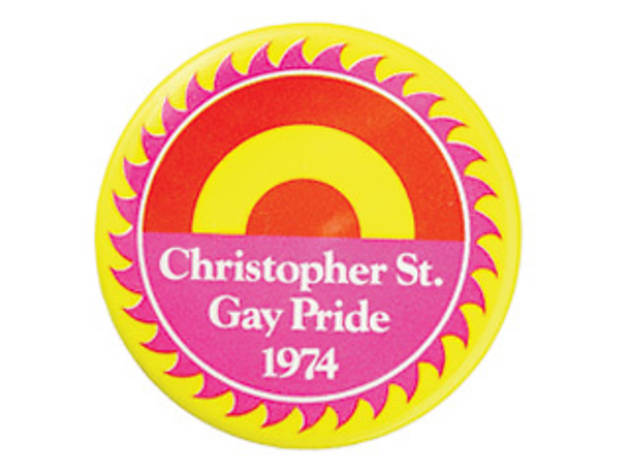 "Some years, the police only gave us a few lanes, alongside traffic. So we resolved to take Fifth Avenue without a permit. Because of homophobic orange-juice queen Anita Bryant, people were in an angry, political mood. It was a year that the political side of the movement really revived and the Coalition for Lesbian and Gay Rights was formed."—Andy Humm, journalist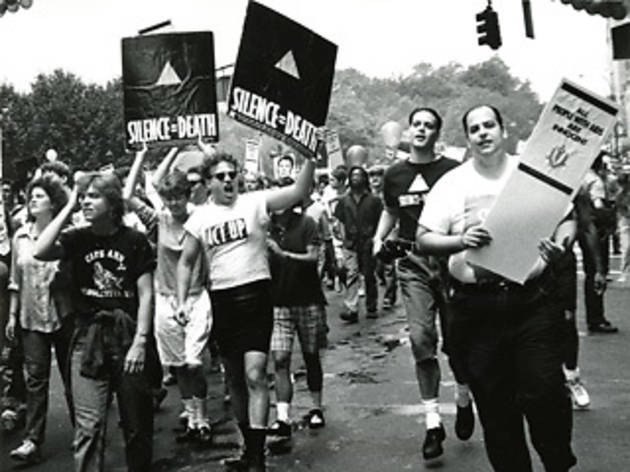 "I was turned off by the frivolity of the march in the face of AIDS. I had lost a boyfriend of 19 years and virtually all of my friends. So I had a shirt printed up that said HAPPY PARADES DON'T CURE AIDS and wore it."—Jerry Hoose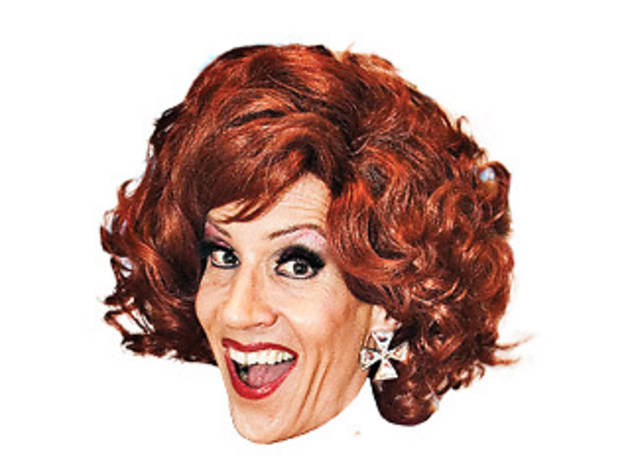 "I organized the East Village Drag Queen Float. Lady Bunny, Dean Johnson and Michael Musto were all in drag on it, and we had a megaphone and a drum set. The march was pretty square back then, so we were about as colorful and different as you could get."—Linda Simpson, drag entertainer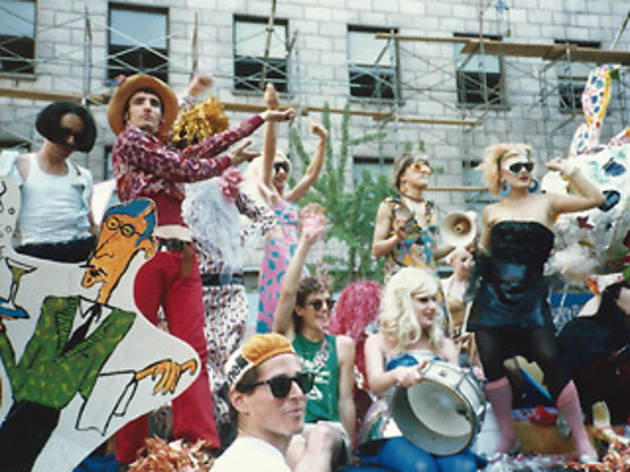 "As a teen, I used to go with my parents and grandparents. The route started further uptown then. I would march and they would watch from in front of Saks Fifth Avenue, go inside and shop a little bit, come out and watch again and then go inside and lunch upstairs. That was the way to do it, outside a place with air conditioning you could retreat to."—Darren Rosenblum, law professor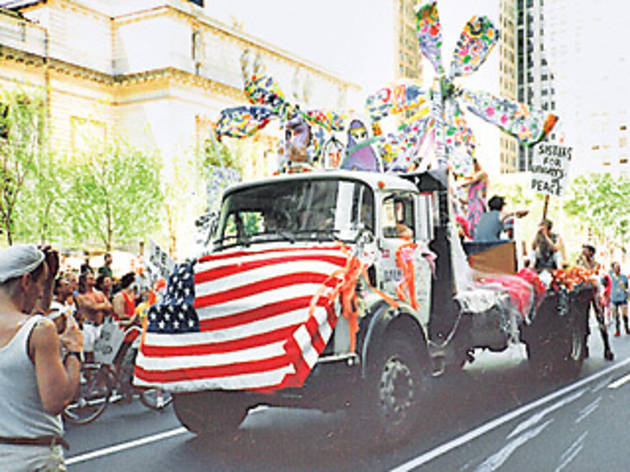 "I was still a teen and told all my gay friends that it was our moral imperative to come out and march. 'Don't worry,' I said. 'There are a million people—you're not going to end up on the news.' Well, a photo of me wound up on the cover of The New York Times. After that, my family got all these harassing phone calls and threats from people at my high school."—Christian Freedom, stylist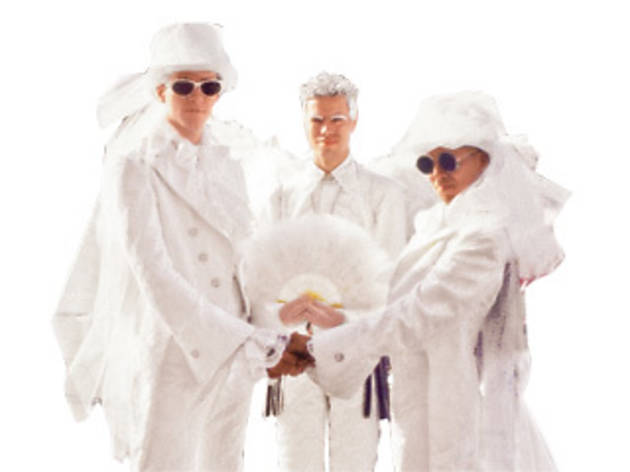 "My now-ex and I had just had a wedding ceremony on Fire Island, so we wore tuxedos made out of lace and satin. At the end, we tied ropes with cans and a sign that said JUST MARRIED. Everyone was applauding as we walked by in big diamond platform shoes."—Fabian Garcia, hair designer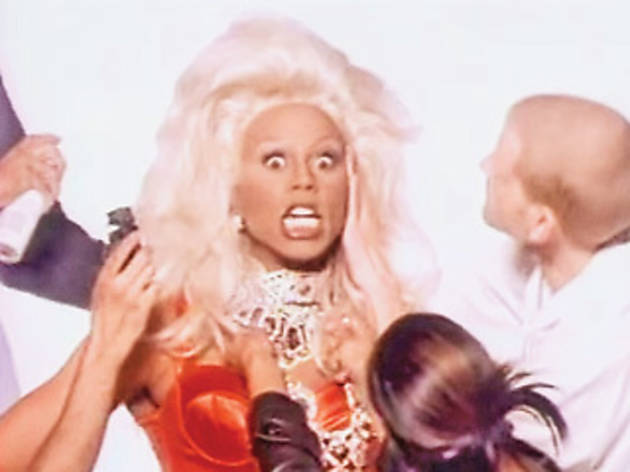 "RuPaul had just broken through as a star, so she was on her own float. I remember this pier queen in the crowd saying, 'Ooh, she thinks she's Ross,' meaning Diana Ross. Usually, the parade is all excitement and positivity, so it was funny to hear her throwing shade."—Michael Musto, writer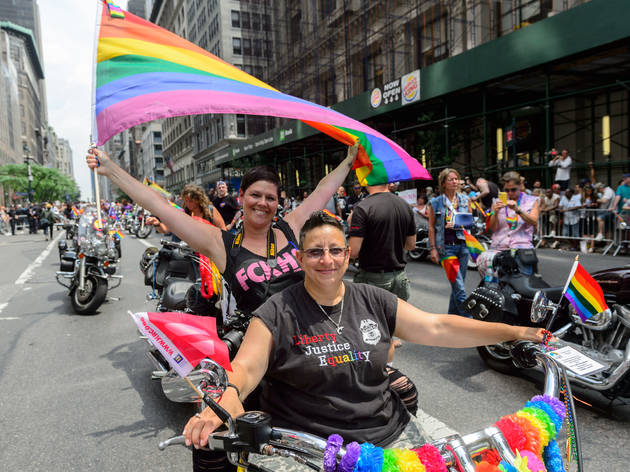 "It was my first Pride, and I was working for then–City Councilman Tom Duane. I was identifying as bisexual at that point. We were part of the rogue march [a second Pride procession], and there I was, topless with TOM DUANE FOR CONGRESS stickers on my nipples, with my boyfriend in tow. Needless to say, that was the last Pride that I had a boyfriend."—Beth Greenfield, writer

"There were two marches for Stonewall 25. The authorized one went up First Avenue because there was some tie-in with the UN. But Act Up and others led a protest march up Fifth Avenue to draw attention to AIDS. We were sure we were going to get arrested but everybody kept walking and soon we were in Central Park meeting the other parade. My favorite part is that a picture with me behind an Act Up banner made the wire services and ended up running in my hometown newspaper in Virginia. My mother cut it out and laminated it and kept it in her wallet until the day she died. She'd show it to people and say, 'This is my son, he's a gay activist.'"—Bob Speck, theater professional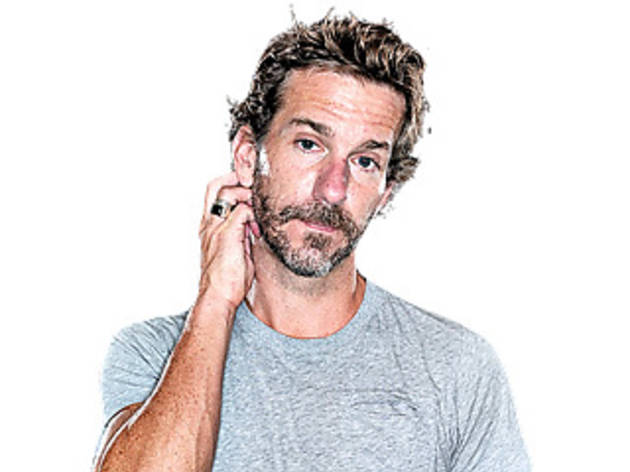 "I remember my artist friend, Larry Shea, created this "discretion booth" at PrideFest where he hoped people would go in and fool around or have sex. Instead, after a long day of marching and doing drugs, I just passed out in it."—Mike Albo, writer and performer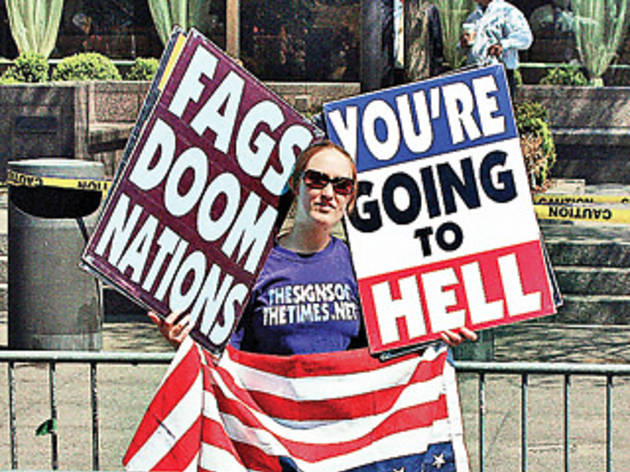 "There've been those Fred Phelps freaks and other protesters, but they're such a joke that they're kind of amusing. They're so out of place and inappropriate, it only adds to the festivities—it becomes part of the freak show!"
—Michael Musto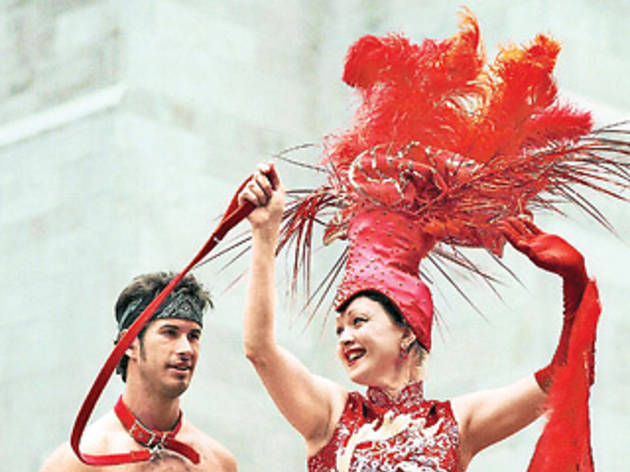 "I was the editor of Next Magazine and on a float with Cyndi Lauper. It was this antique fire truck, and she was on top with a huge headdress. It took hours to get through the parade. I stayed in the back with her mom, and we just complained about everything: It's too hot/loud/crowded/slow. We were kvetching so much, people moved away from us."—Tony Phillips, writer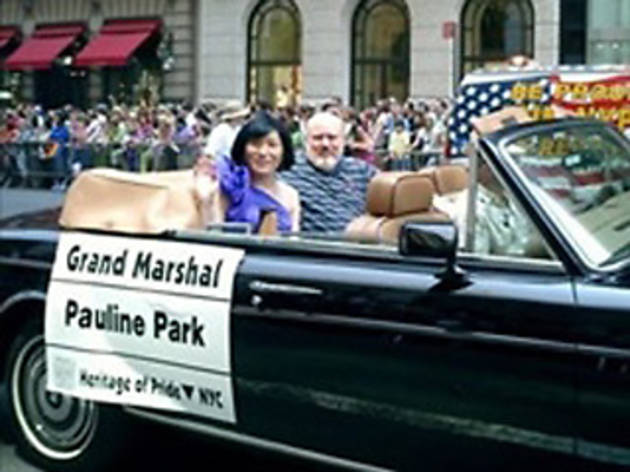 "I was the first openly transgender grand marshal and I was being driven in a classic Rolls Royce. It was a wonderful experience and everyone was screaming my name. But it was hot hell and cars apparently aren't meant to be driven at one mile an hour. So it conked out just as we hit 8th Street. They transferred me to another car but suddenly no one was calling my name. I realized it wasn't that people had known who I was—there had been signs with my name on the Rolls Royce. So I went from celebrity to anonymity within minutes."—Pauline Park, transgender activist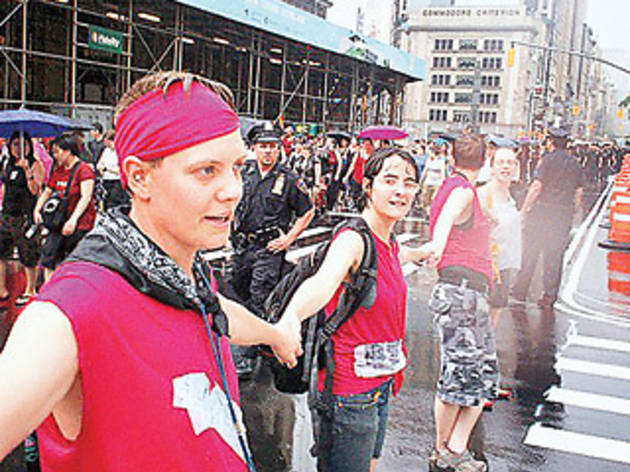 "I had my daughter that year, so I was nursing her while in the Dyke March. The last time I had been topless was when I was this young rebellious kid. Now here I was, a mom, with my baby, my wife and our new mommy friends. It was an amazing evolution; I grew up at Gay Pride."—Beth Greenfield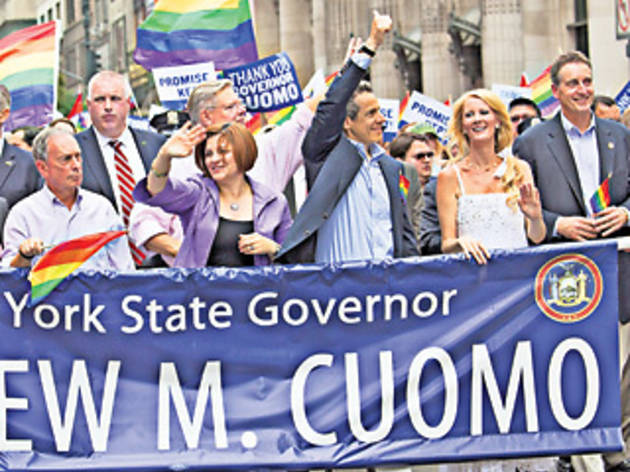 "My now-wife and I had been planning to have some kind of wedding ceremony that fall. So when gay marriage became legal in New York State just a few days before Pride, it felt extra special. We watched the march on 8th Street, and when Governor Cuomo came down the block, everyone was yelling, 'Thank you! Thank you!' It was such an exciting time."—Sharyn Jackson, journalist