New York City's massive Pride celebrations have a deep and important history in the city. The first march was held in 1970 one year after the Stonewall Uprising, and the event has grown into an annual civil rights demonstration.
While many colloquially call the event the Pride Parade, organizers refer to it as The March as a nod to the event's heritage. After all, the first march was an unpermitted political protest of anti-LGBT policies and attitudes.
"Our commitment at Heritage of Pride is to continue recognizing our Pride event as a March until complete and full equality has been achieved for all LGBT people," the organizers said online.
This year, rainbow-clad activists and allies will take to the streets (and later NYC's gay bars) in support of global LGBTQ rights at the NYC Pride March on Sunday, June 25. In recent years, The March has grown to include more than 700 groups with millions of spectators.
RECOMMENDED: The best LGBTQ+ things to do in New York for Pride Month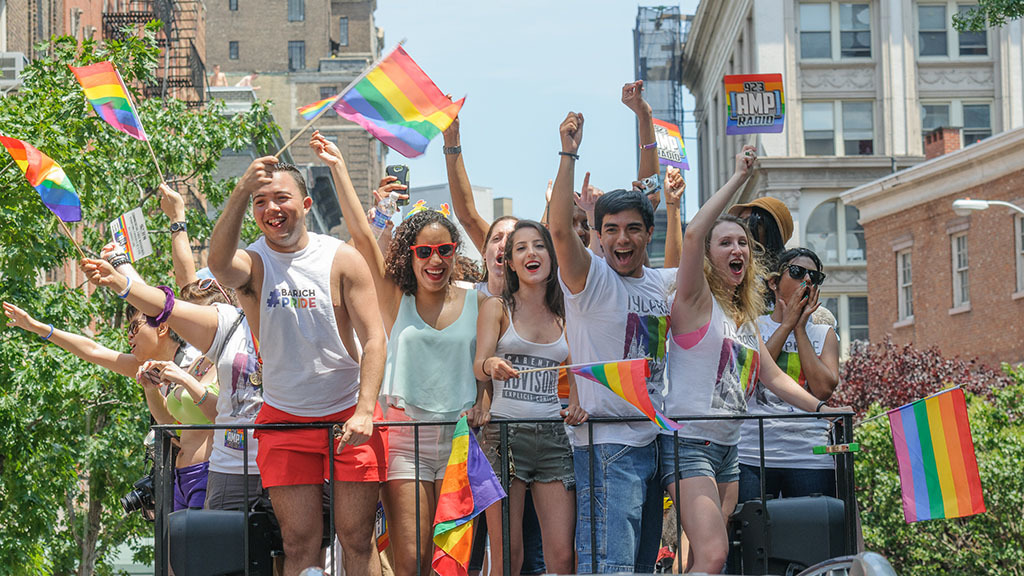 When is the NYC Pride March?
The NYC Pride March is on Sunday, June 25, 2023, starting at noon.
What is the theme for the 2023 Pride March?
The official theme for 2023 is "Strength in Solidarity," announced amidst a backdrop of increased attacks against members of the LGBTQIA+ community, especially in the form of legislation and physical violence that directly targets trans and BIPOC individuals.
"In a world where platforms of hatred and violence are upheld and even celebrated, NYC Pride seeks to illuminate the good that can and has been accomplished through uplifting and supporting one another. Fear and intimidation only serve to isolate and diminish the community and its allies, but when individuals unite, Strength in Solidarity is truly unlimited," per the event organizers.
Who are the 2023 Pride March Grand Marshals?
The Grand Marshals for the 2023 Pride March are actor Billy Porter, asexual activist Yasmin Benoit, nonprofit leader AC Dumlao, activist Hope Giselle and civil rights trailblazer Randolfe "Randy" Wicker. Actress Angelica Ross will return for a third year as co-host and featured performer.
How long does the NYC Pride March last?
In past years, the Pride March celebrations have gone on for between six and 12 hours.
What's the NYC Pride March route?
The Pride March kicks off at 25th Street and 5th Avenue, then proceeds south on 5th Avenue before heading west on 8th Street. After crossing over 6th Avenue, it will continue on Christopher Street passing the Stonewall National Monument. It will then turn north on 7th Avenue, passing the New York City AIDS Memorial, before ending at 16th Street and 7th Avenue.
Where can I see the NYC Pride March 2023?
If you can't make it in person along the route, don't worry. For the sixth year in a row, the NYC Pride March will be broadcast on ABC-7.