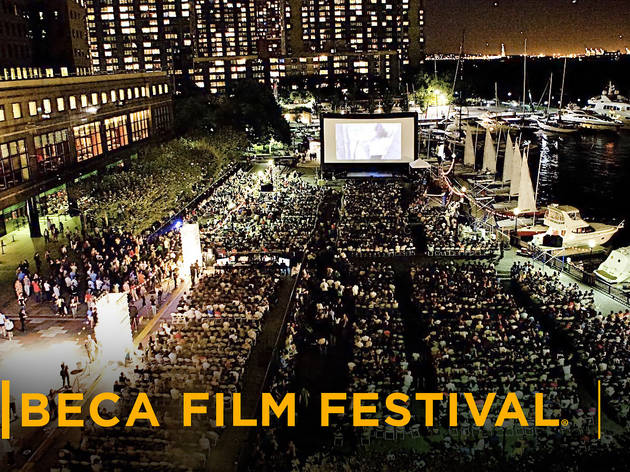 Ten events we're excited about at the Tribeca Film Festival
Special guests and participatory fun turn the festival into an experience like no other
Movie fans young and old will gather from around the world to celebrate Tribeca Film Festival's ® 14th edition, sure to be a highlight of NYC's spring film calendar. Attendees will get a taste of the titles that everyone will be talking about for months to come. But several events will be one-of-a-kind experiences, featuring live music, exclusive conversations and interactions that only the festival atmosphere can provide. You'll want to be able to say you were there for these 10 events.
RECOMMENDED: Full coverage of the Tribeca Film Festival
1. "On the Town" screening
Ol' Blue Eyes, Frank Sinatra, would have been 100 this year. In honor of the anniversary, the fest is proud to present a special digital restoration of Stanley Donen and Gene Kelly's 1949 classic which, apart from being a terrific musical, offers sound geographical information in its lyrics: "The Bronx is up and the Battery's down." Postscreening, tap legend Savion Glover and the legendary Tony Bennett put on an unforgettable concert. Spring Studios (50 Varick Street), Apr 21 at 7:30pm.
2. Monty Python celebration
Inspired, silly and often both at once, Britain's Monty Python continues to mint new fans decades after its '70s heyday. To mark 40 years since the debut of their landmark Monty Python and the Holy Grail, TFF will screen four Python features including a new documentary, Monty Python: The Meaning of Live. The surviving members of the comedy troupe, including John Cleese and Brazil director Terry Gilliam, will assemble and no doubt bask in the admiration. Beacon Theater (2124 Broadway), Apr 24 at 7:30pm.
Read more
3. Directors Christopher Nolan and Bennett Miller
Nolan rewrote the rules of the blockbuster with somber critical hits like The Dark Knight, Inception and Interstellar. Miller is responsible for some of Hollywood's most ambitious real-life dramas of recent years, including Capote, Moneyball and Foxcatcher. Both believe in the transformative power of cinema, and they'll come together for a live one-on-one chat that no self-respecting movie fan can afford to miss. BMCC Tribeca Performing Arts Center (199 Chambers St), Apr 20 at 6pm.
Read more
4. "Secrecy & Power" panel
Who decides what information is kept from the public and what must be shouted far and wide? The question will always be a thorny one for documentarians taking on hot topics. In a panel moderated by NBC News journalist Cynthia McFadden, several notables—including former CIA spy Valerie Plame, Pulitzer-winning journalist Bart Gellman and film director Alex Gibney (recently of the mind-blowing Going Clear: Scientology and the Prison of Belief)—hash out the issue. SVA Theatre (333 W 23rd St), Apr 21 at 6:30pm.
Read more
5. Tribeca Drive-In: "Clue"
When the 1985 mystery-comedy—the first to be based on a board game—debuted in theaters, few knew what to do with it. Now, however, the answer is obvious: Turn it into a participatory, dress-up-as-your-favorite-character event! Attendees of this free screening can camp it up, play the game, join a scavenger hunt, win special prizes and pull out their best Madeline Kahn impressions: "Flames? Flames! On the side of my face!" Brookfield Place (200 Vesey St), Apr 16 at 8:15pm.
6. "Mary J. Blige: The London Sessions"
Singer, songwriter and actor Mary J. Blige has forged a fierce career over two decades, with a shelf of Grammys to show for it. In recent months, Blige has undergone a career reboot, relocating to London and working on a different sound with fresh collaborators. The process was chronicled in a new documentary that will have its world premiere at the Festival, followed by a live performance by Blige. Anyone interested in learning how artists keep it real, here's your jam. American Express Card Members can purchase tickets now for this exclusive event. Beacon Theater (2124 Broadway), Apr 16 at 8pm.
Read more
7. Tribeca Family Festival Street Fair
What could possibly be better than a free street fair, loaded with food tastings, video games, film-related arts and a basketball court? Clearly, it's the chance to pose with a real DeLorean DMC-12, i.e., the stainless-steel car that Doc Brown and Marty McFly turned into a time machine in Back to the Future. Naturally, you'll be able to see the 1985 classic as well, at a free screening to celebrate the film's 30th anniversary. Greenwich St (north of Chambers St), Apr 25, 10am–6pm.
8. "Kurt Cobain: Montage of Heck"
Ever since its Sundance premiere, director Brett Morgen's heartbreaking profile of the late Nirvana frontman has been accruing accolades as the definitive word on Cobain's childhood and career. An immersive experience loaded with animated passages, unearthed archival footage and (of course) plenty of classic music, this profile can't be missed. The screening is followed by a special conversation with Morgan and the always fascinating Courtney Love. Spring Studios (50 Varick Street), Apr 19 at 7pm.
Read more
Arguably the most important movie producer of the past 30 years, Harvey Weinstein has enabled an entire generation of essential directors to achieve their passion projects—names including Quentin Tarantino, Rob Marshall and Martin Scorsese. TFF hosts a special conversation with Weinstein about his methods, his war stories, his Oscar triumphs and his occasional notoriety. Filmmaking hopefuls, your lunch with Harvey is here! SVA Theatre (333 W 23rd St), Apr 18 at noon.
Read more
10. Cary Fukunaga and James Schamus
If you've seen Fukunaga's beautiful indie features Sin Nombre and Jane Eyre, we tip our hat to your adventurous taste—if you've seen his work on TV's True Detective, then we know you're keeping up with the most significant small-screen work being made. Here he's in conversation with producer-screenwriter James Schamus, whose output includes Crouching Tiger, Hidden Dragon, Lost in Translation and The Kids Are All Right. A master class with two true artists. SVA Theatre (333 W 23rd St), Apr 23 at 5pm.
Read more
American Express Card Members can get first access to Tribeca Film Festival tickets. Presale tickets available now – April 5 at 11AM ET.