The Whitney Museum of American Art in NYC guide
Complete guide to the Whitney Museum in NYC, including best artworks to see, current exhibits and ticketing information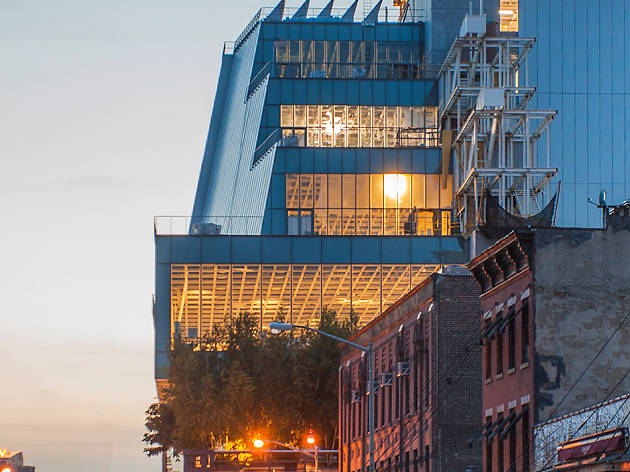 After nearly 50 years in its Marcel-Breur-designed building on Madison Avenue at 75th Street, the Whitney Museum decamped in 2015 to a brand new home in Lower Manhattan's Meatpacking District, conceived by international starchitect Renzo Piano. Planted at the foot of the High Line along Gansevoort Street, the new Whitney building boasts some 63,000 square feet of both indoor and outdoor exhibition space. Founded in 1931 by sculptor and art patron Gertrude Vanderbilt, the Whitney Museum—NYC's top art museum for 20th- and 21st-century American art—is dedicated to presenting the work of several young American artists. Its collection holds about 15,000 pieces including paintings, sculptures, drawings and photographs by nearly 2,000 artists, including Alexander Calder, Willem de Kooning, Edward Hopper (the museum holds his entire estate), Jasper Johns, Louise Nevelson, Georgia O'Keeffe and Claes Oldenburg. Still, the museum's reputation rests mainly on its temporary art shows, particularly the exhibition everyone loves to hate, the Whitney Biennial. Held in even-numbered years, the Biennial remains the most prestigious (and controversial) assessment of contemporary art in America.
RECOMMENDED: Full guide to the Meatpacking District
Where is the Whitney Museum in NYC?
The museum is at 99 Gansevoort Street in the Meatpacking District in Manhattan.
How do I get tickets to the Whitney Museum in NYC?
Tickets can be purchased online at the Whitney Museum website or at the museum entrance.
What's the best way to get to the Whitney Museum in NYC?
Take the A, C, E, 1, 2, 3 subway lines to 14th St.
See a map of the Whitney Museum in NYC
Visit the Whitney Museum in NYC
Archive Whitney Museum coverage