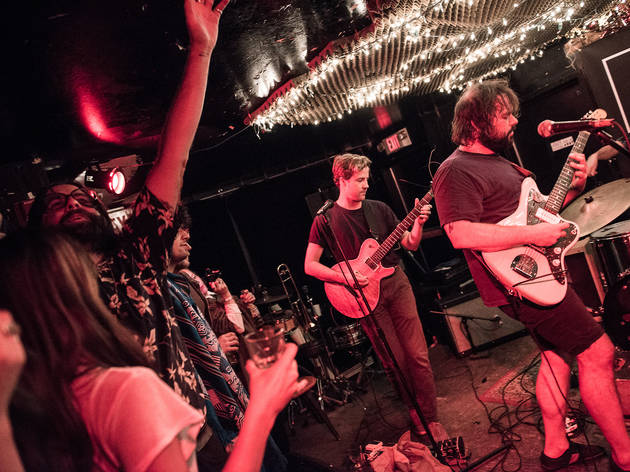 Ah, cheap rock clubs. There are nights when you want to get dressed up, shell out some green and take in a fancy show at a big, name-brand venue. Then there are nights when you just want to chug cheap beer and blow your eardrums out in the music-venue equivalent of a great dive bar. When planning the latter, this list ought to come in handy. Who knows? You might even catch the next Strokes.
This eatery, bar and stage, located on a happening little Williamsburg strip, is well on its way to becoming a local musical institution with its lively schedule of au courant musical acts and DJs that range from experimental (Pharmakon) to the voguish (Ariel Pink). And the food's pretty good too.
Buy tickets
Read more
This Lower East Side hot spot features a big bar and a small back-room stage. Expect to be squished if it's a popular show—but hey, you'll still have a great view.
Buy tickets
Read more
Enjoy indie-rock up-and-comers, excellent DJs and a sweet (working) photo booth at this Williamsburg staple. Beware the hipster crush on weekends, though.
Read more
Cameo Gallery is a performance space situated behind Williamsburg's Lovin' Cup Cafe, typically hosting bills of up-and-coming indie-rockers, booked by local-scene enthusiasts. Though the sound isn't exactly the greatest (the venue's sound engineer has been known to scamper onstage during performances to quickly squash problems), Cameo's a decent place to catch a show and observe that slice of life on the hipster fringe. In between sets, you can take advantage of the café's full bar and menu.
Read more
It's simple: Saint Vitus is heaven for headbangers. Catch world-class acts from all over the metal spectrum: black, death, doom, thrash—you name it. Good sound and cheap beer sweeten the deal.
Buy tickets
Read more
Sponsored listing
Don't Tell Mama
What good is singing alone in your room when you can sing along with show tunes at a Theater District cabaret? Cabaret performers often congregate in the bar area before and after their numbers, and best of all, there's no cover charge there, just a two-drink minimum. Sip a bourbon, hum a few bars, and soak up the Art Deco chic.