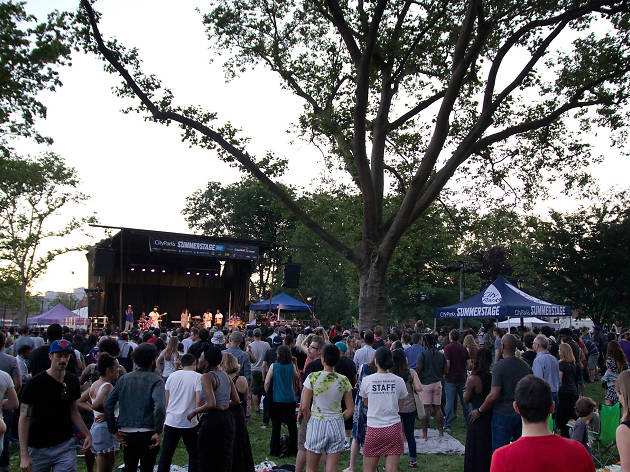 The best free SummerStage 2018 concerts
Here are the shows not to miss at this year's SummerStage festival
Few things signal the coming of NYC's warmer days like the arrival of the annual SummerStage lineup. In its 33rd year, the free music festival continues to be one of the city's top perks: The winter's over—don't you deserve some outdoor tunes? And the calendar for the 2018 festival doesn't disappoint, with more than 100 performers hitting 18 parks in all five boroughs. Did we mention it's completely free? We waded through the plentiful offerings to bring you some highlights.
RECOMMENDED: Full guide to SummerStage
If you're in search of jazzy, agile vocal acrobatics...
Gregory Porter + Victory at Central Park on June 2 (season opener)
If your love for Ziggy Stardust didn't end with Blackstar...
Bowie Symphonic: Ensemble LPR + Donny McCaslin Group at Central Park on June 9
If you're looking for some shout-along rock & roll catharsis...
Broken Social Scene + Mélissa Laveaux + The East Pointers at Central Park on July 1
If you didn't satisfy your craving for "Pony" back in '96...
Ginuwine + The Ladies of Pink Diamond + DJ Stacks at Corporal Thompson Park on July 22
If you're looking for the summer's best hip-hop throwdown...
The Lox + Young M.A + DJ Funk Flex at Ford Amphitheater at Coney Island Boardwalk on July 29
If you want to experience a slice of dancehall history firsthand...
Sister Nancy & Shinehead with DJ Misbehaviour at Crotona Park on August 4
If you want to hear the future of indie rock...
Porches + Sunflower Bean + Crumb at East River Park on August 11
If you want to chill out with instrumental hip-hop...
TOKiMONSTA + Kero One at Central Park on August 11
If you're looking for a thoroughly modern dance party...
Mura Masa + Jessy Lanza at Central Park on August 19
If you want to hear the best jazz the city has to offer...
Charlie Parker Jazz Fest at various locations from August 24 to 26
Looking for more summer concerts?
Check out our top picks for this year's summer concerts in NYC, including info on free and outdoor shows