The Brooklyn Folk Festival guide
Ready yourself for concerts, jam sessions, film screenings, square dances and more at this Brooklyn Heights fest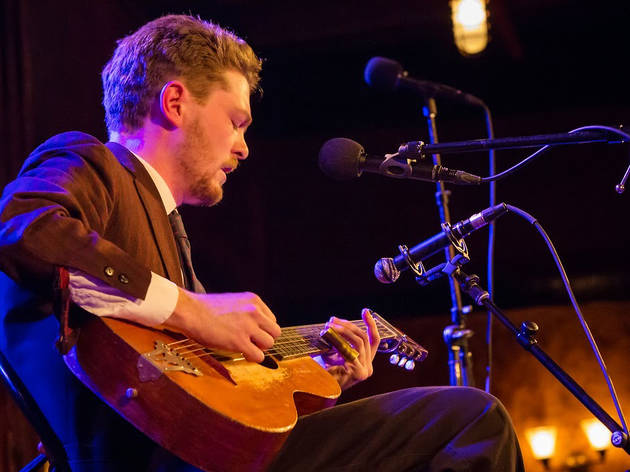 The Brooklyn Folk Festival, which has inhabited Kings County live-music venues like the Jalopy Theater and the Bell House in past years, returns to St. Ann's Church for its tenth-annual iteration. With its cavernous ceilings, the capacious church nave of the historic Brooklyn Heights offers top-notch acoustics rivaling any of the city's best folk music venues or bluegrass music venues. Don't be fooled by the fest's name: The gathering brings together acts that deal in Americana and blues as well as global sounds from places like the Middle East and Guinea. One of the best spring festivals in NYC, the three-day event also has the distinction of hosting an annual banjo toss contest. In terms of instrument destruction, it's not exactly exploding drum sets and incinerated guitars, but it'll do.
When is the Brooklyn Folk Festival?
This year's festival runs Friday, April 6, 2018 to Sunday, April 8, 2018.
Where is the Brooklyn Folk Festival?
The festival takes place at St. Ann's Church, which is located at 157 Montague Street (between Clinton and Henry) in Brooklyn.
Who is playing the Brooklyn Folk Festival?
This year's lineup includes Pokey LaFarge, Jerron Paxton, Spirit Family Reunion, Michael Daves & Chris "Critter" Eldridge, East River String Band with R. Crumb, Elizabeth Mitchell & Suni Paz, Innov Gnawa and Women's Raga Massive.
How do I get tickets to the Brooklyn Folk Festival?
Buy advance tickets at the official festival website or via Time Out. A three-day pass is $85, or $40 per day if bought separately (Saturday and Sunday). Tickets for Friday evening, Saturday afternoon, Saturday evening and Sunday afternoon can be purchased at $25. Tickets for Sunday evening can be purchased at $20.
What's the best way to get to the Brooklyn Folk Festival?
Take the 2, 3, 4, 5 to Borough Hall; R to Court St.
See a map of the Brooklyn Folk Festival
Archive Brooklyn Folk Festival coverage