The best bluegrass music venues in NYC
These are the best bars and venues to hear bluegrass music in NYC, when you want some country in the city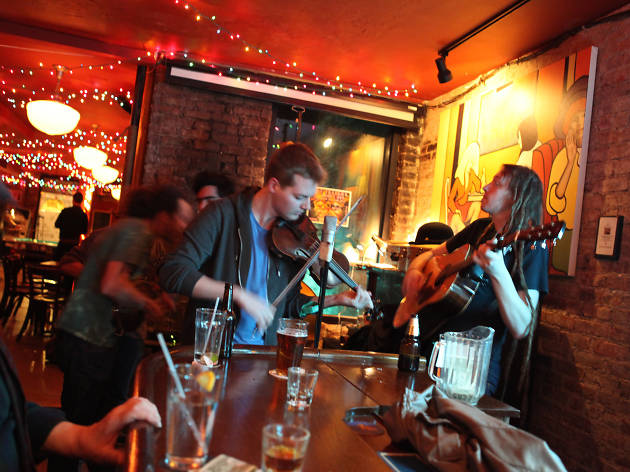 Even if you're not a giant bluegrass music fan, there are few things more soothing than the swift fingerpicking of a deft five-string banjo player, and there are few people more in need of soothing than New Yorkers. When we feel blue, perhaps we should turn more often to bluegrass at these folk music venues and dive bars. Read on to find out where you can get down to country songs here in the Big Apple.
RECOMMENDED: Full guide to the best live music venues in NYC
Best bluegrass music venues in NYC
1
The remoteness of Red Hook has long been its charm, and the backroom of Sunny's Bar has long been a refuge for down-home musicians. Every Wednesday, you can treat yourself to the sweet tang of bluegrass music in an unpretentious watering hole—one that's been serving up cheap booze and good tunes since the 1890s.
Read more
2
From 6:30 to 10:30pm every Monday, you can saddle up to these posh digs and enjoy exotic spirits (read: Japanese whiskey from the menu of more than 400 varieties) and a live bluegrass quartet. Attend a few times and you'll be an expert on bourbon whiskey in no time.
Book now
Read more
3
While the backroom here hosts shows as varied as belly dancing and stand-up comedy, every Wednesday, this rank-and-file dive bar hosts a live bluegrass show hosted by local hero Sheriff Bob. He may just inspire you to take guitar lessons yourself.
Read more
4
Hit up a honky-tonk hoedown at this Williamsburg staple. Savor the Western vibes while imbibing spiked sweet tea in a brimming Mason jar or sipping an outrageous blend of Guinness and Dr. Pepper called the Dr. G.Relax and kick back on a bench made out of a 1981 Ford F100 pickup truck. You know, like they do in the South (or at least south of Greenpoint Avenue).
Read more
5
If you've struggled to find a halfway decent pulled pork sandwich north of the Mason-Dixon line, you aren't alone. Fortunately, this Astoria beer garden delivers some of the best BBQ—and more. It has generous picnic-style seating out back and a long list of creative moonshine-based cocktails. Oh, and of course, lots of worthwhile bluegrass ensembles. Need we say more?
Read more
More of a jazz fan?
Dig into our list of best jazz clubs NYC has to offer including old standbys and cutting-edge faves
Read more