NYC's best summer music festivals of 2019
Get the scoop on all the best summer music festivals happening this year (and don't forget the sunscreen)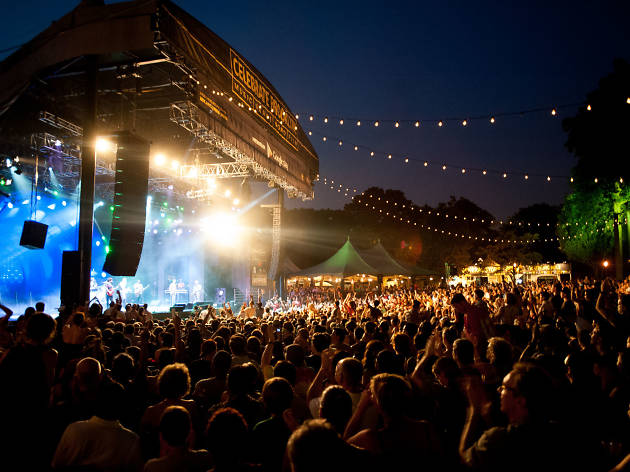 There's more than one kind of New York City music festival. The first events that come to mind might be the big-tent fests like Governors Ball, but just as important are staple series like CityParks SummerStage and BRIC Celebrate Brooklyn!, which keep crowds coming out to our beloved green spaces all season long. Overwhelmed by all the choices? Check out our hand-picked this guide to the very best summer music festivals hitting town this year.
RECOMMENDED: Full guide to summer concerts in NYC

Best summer music festivals in NYC
1
Photograph: Deneka Peniston
Rocks Off Concert Cruises
May 3–September 7
All aboard! Backed up by a fleet of vessels, Rocks Off lets you vibe to ska legends like the Pietasters and the Slackers and jammy outfits like Dead devotees Garcia Peoples while you take in spectacular Manhattan skyline views.
May 19–October 1
For New York music fans, CityParks SummerStage is the gold standard for outdoor summer concerts, with everything from classic New York hip-hop artists in outer borough NYC parks to big-name indie-rock bands on the Central Park recently remodeled mainstage. Gear up for sets by intergalactic funk godfather George Clinton, local guitar heroes Parquet Courts, indie-pop It girl Japanese Breakfast and many others.
May 31–June 2

The annual Randalls Island event is the one of the best big local fests, hosting top talent from an array of genres over three days. Catch the new generation of hip-hop stars (Noname, Brockhampton), pop sounds of every ilk (from the party-starting Charlie XCX to the moody sounds of Blood Orange), indie rock (Mitski, Soccer Mommy) and more. The headliners are The Strokes, Florence + The Machine and Tyler, the Creator.
4
Photograph: Courtesy Industry City
City Farm Presents Summer Series
June 1–September 28
The team behind Gowanus go-to venue The Bell House book this fest, which focuses on indie rock (lo-fi heroes Guided by Voices, local punk hell-raisers Surfbort) and international
sounds (dub-reggae innovator Lee "Scratch" Perry, Tuareg guitar shredder Mdou Moctar).
June 2
The radio station's annual blowout doubles as hip-hop's spectacle-filled State of the Union. This year's lineup features requisite chart-toppers like Cardi B and Migos, but they could be overshadowed by an undercard full of young talent—City Girls and Blueface, for example—who have blown up on Instagram and TikTok.
June 4–August
Unlike CityParks SummerStage, which spreads out across the five boroughs, all BRIC Celebrate Brooklyn! shows take place at the beautiful bandshell in Prospect Park, a scenic amphitheater surrounded by trees. Catching one of these gigs is guaranteed to be a highlight of your summer, whether you're seeing a buzzy indie-rock band, a classic soul or funk group, or one of the best hip-hop artists around. This year, diva of divas Patti LaBelle, indie-rock royalty The National and n eo-slacker icon Mac DeMarco grace the stage, among others.
Music, Classical and opera
June 6–15
The nine-day Chelsea Music Festival commemorates its tenth season with the theme "200° Due Clara" inspired by the 200th anniversary of the birth of celebrated Romantic composer Clara Schumann. In addition to classical, jazz, and contemporary music, expect sound sculptures from from artist Julianne Swartz (June 13), food from renowned culinary artists, walking tours, family events and more over the course of this event's ten days.
July–August
MoMA PS1's Warm Up can be crowded and distractingly scene-y, but it's also the best place in the city to get turned on to boundary-pushing (but danceable) beats.
July 24–August 11
Lincoln Center programs its annual series with accessibility in mind—this year's offerings include Wilco frontman Jeff Tweedy and a screening of Coco preceded by a set from Mexican-American band La Santa Cecilia—but just reading the words Lincoln Center on your (free) ticket is enough to turn anyone into a highbrow culture maven.
10
Photograph: Mel D. Cole
August 10
Brooklyn DJs A-Trak and Nick Catchdubs have spent their careers blending hip-hop and dance music for an audience that stays on the cutting edge of street-level aesthetics, and their daylong lit-uation always mixes next-generation crossover stars with trailblazing vets.
August 24, 25
Afropunk has always boasted the edgiest and most eclectic lineups of any festival in the city, and this year's bill is no different, with acts ranging from Death Grips' noise-rap to Jill Scott's honeyed neo-soul. Also the most fashion-forward, it's a place where boho "festival-style" clichés fear to tread and a mosh pit can double as a preview of next year's biggest fashion trends.
Show more