The Winter Jazzfest guide
The annual multivenue Winter Jazzfest brings yet another stellar lineup to New York City over six nights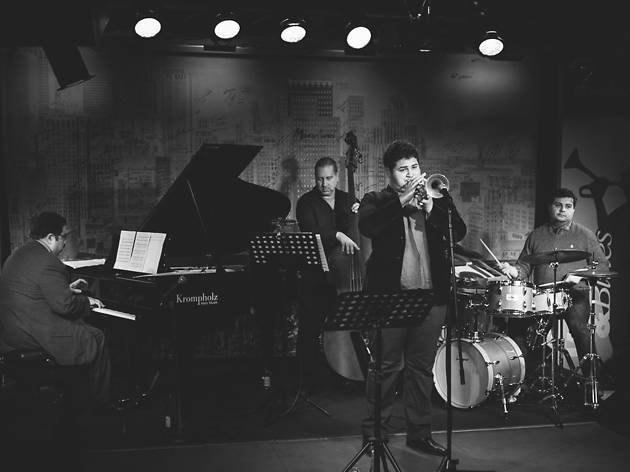 Each January, Winter Jazzfest, perennially one of the best concerts in NYC, hosts the genre's top talent over the better part of a week. Its signature two-night Greenwich Village marathon brings vets and up-and-comers, hordes of music fans and a palpable air of excitement to an array of cozy downtown venues. The shows aren't individually ticketed, so a wristband grants you access to any of each night's shows—as long as a given club doesn't hit capacity, that is. It's a model that encourages sampling and venue-hopping. The event also requires patience and an open mind: If your preferred show is full, pull out the schedule, and head to one of the nearby spots for something unexpected. During the typically bleak post–New Year's Eve concert lull, Winter Jazzfest is the rare early-January standout.
RECOMMENDED: Full coverage of jazz in NYC
When is Winter Jazzfest?
This year's fest runs Thursday, January 5, 2017 to Tuesday, January 10, 2017, with the marathon happening Friday, January 6, 2017 and Saturday, January 7, 2017.
Where is Winter Jazzfest?
The marathon portion is held at a dozen Manhattan venues including Subculture, S.O.B.'s and several New School theaters. It's preceded by two separately ticketed kickoff events—Pharoah Sanders at Le Poisson Rouge and the Jazz Legends for Disability Pride benefit at Quaker Friends Meeting Hall—both on January 5. Also included are Thelonious Monk 100th Birthday Improv Show on January 8 at Littlefield, Sam Amidon Extended on January 9 at Le Poisson Rouge, and Charlie Haden's Liberation Music Orchestra on January 10 at Le Poisson Rouge.
How do I get tickets to Winter Jazzfest?
Buy advance tickets at the official festival website. A two-day marathon pass is $80–$90, or $45–$55 per day if bought separately. A six-day pass can be purchased at $160 (this pass doesn't include the Jazz Legends for Disability Pride benefit). You can also purchase tickets for individual shows on January 5, January 8 and January 10.
Winter Jazzfest
Archive Winter Jazzfest content