The WNBA season is in full swing! And as a New Yorker, you should probably be cheering on the New York Liberty.
Currently ranked second in the entire league, the Brooklyn-based team is excelling in 2023, filling more seats, attracting more fans, and looking promising as contenders for this year's WNBA championship, the Liberty are a team to watch.
Whether you're a longtime fan from your couch or just dipping into the world of women's basketball, it's time to get yourself to the Barclays Center to cheer on your hometown team, which is easy, because it's stacked with power players.
Here's how to best take in a game.
RECOMMENDED: 8 reasons you should add a New York Liberty game to your summer bucket list
1. Get tickets on Ticketmaster or from a ticket rep
Ticketmaster is the official ticketing partner of the New York Liberty in case you want to purchase single-game tickets directly. You can also work with a ticket rep if you're interested in season tickets, partial season, premium tickets, a group experience or just want some human interaction when picking where to sit to cheer on your team. The typical resale sites, of course, also resell tickets in all sections.
2. Pick your seats carefully
The Barclays Center has over 17,000 seats for basketball games, and none of them are bad. The arena is split between the lower bowl and the upper bowl (the mezzanine if you're a theater person). Two rows of courtside seats are also available if you want to be on the same level as all the action (and maybe bounce back a ball).
An arena map can help you pick your seats, but here are a few tips: If you want to sit on the same side as the players, and more likely be on TV, choose the side with the press and scorers table, sections 7, 8 and 9. If you want a better view of the sitting teams and coaching, sit across from them, in sections 23, 24, and 25. Halftime performances and more entertainment are also typically focused in this direction, as that's where the cameras are. The next highest sections in the lower bowl, 102-126 are also pretty close to the court, and typically less expensive seats.
3. Use Amex to skip lines
Barclays Center is full of food and drink vendors, but note that not all of them are open for New York Liberty games (this should change, but that's not our call). The pro move is to grab a fried chicken sandwich at Fuku. Biaggio's Pizza also makes solid personal pies. If you're just drinking and snacking, tap your AmEx into the American Express shop (a friend's can work too) to easily shop beverages (beer, soda, etc), packaged snacks and souvenirs, and leave without a line (all alcohol sales will be ID checked). If you're hungry after the game, pre-order Shake Shack via the app to skip the post-game lines, or walk down a few blocks to Fulton Hall, which usually plays recaps of the game, and offers a full bar and food menu.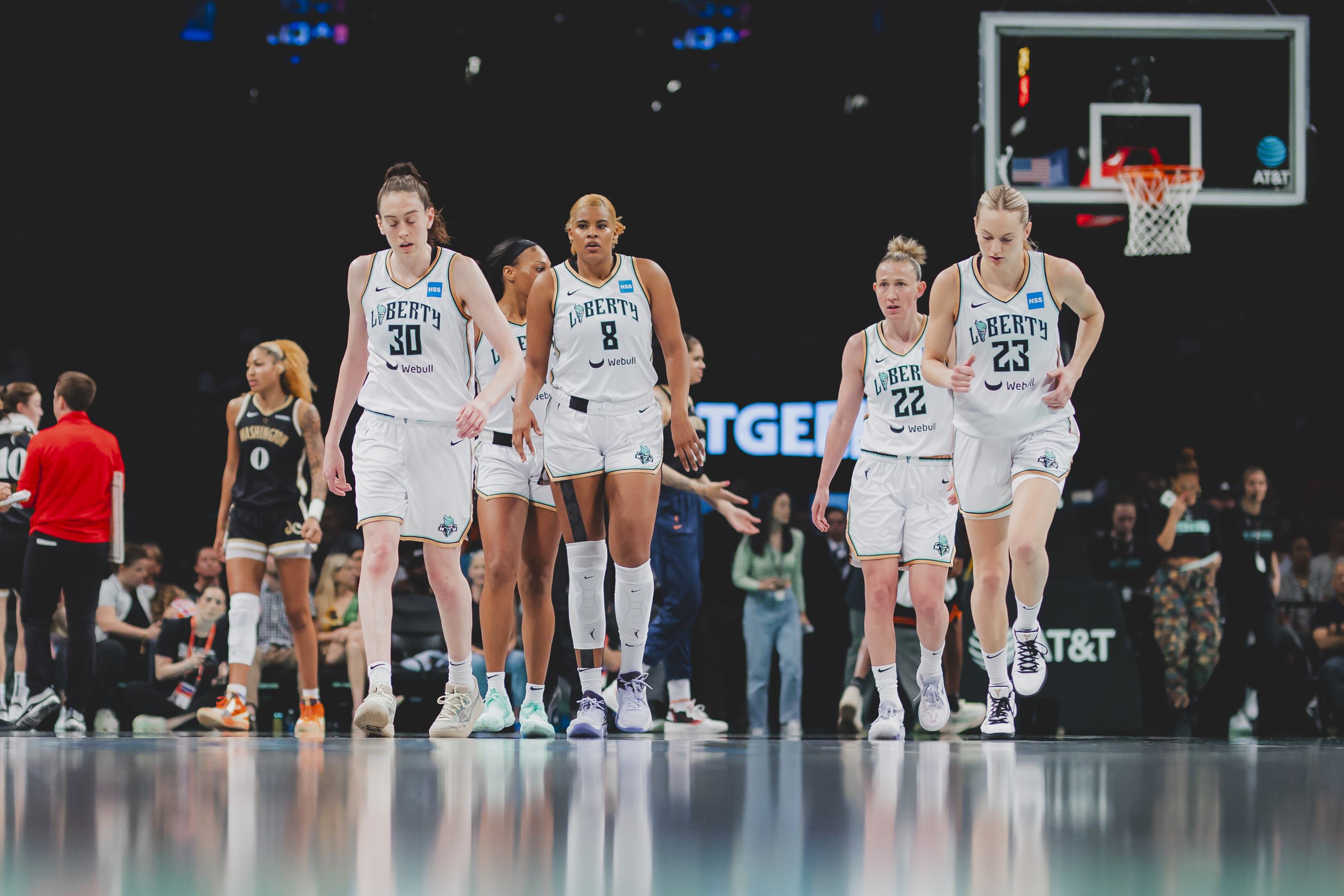 4. Go big
If you're ready to ball out, go for a VIP experience at Barclays, of which there are many. Season ticket holders can get exclusive access to The Crown Club, which serves a complimentary menu of Major Food Group favorites, including Carbone's spicy vodka rigatoni, plus free stadium snacks to take to your seats. A full bar is offered too, to mingle with fans, players and WNBA enthusiasts. VIP ticket holders can visit the Qatar Airways Club, which has an ample airport lounge-style buffet, a bar, ice cream and more.
5. Buy some swag
On game days, drop into the official Barclays Center Team Store for New York Liberty merch including apparel, accessories, and of course, foam fingers. Another merch stand by the main entrance offers more WNBA and NY Liberty items.
6. Make a weekend of it
If you're commuting into Brooklyn or just want a fun staycation, check into Moxy Williamsburg in South Williamsburg, the WNBA's partner hotel. Guests have exclusive access to discounted game tickets, and the Barclays Center is just a 15-minute drive or 35-minute subway ride from the property. You'll likely be surrounded by fans the morning after the game over free coffee in the lobby bar.
7. Watch Unfinished Business before the game
If you're into sports for the facts (we see you Googling the players' height, marital status and sponsorships), this 2023 documentary offers a comprehensive history of the WNBA, through the lens of the New York Liberty. Going into a sporting event with a little extra cultural context is always a good thing. Stream it on Prime.